Allum & Prevost

Penumbrae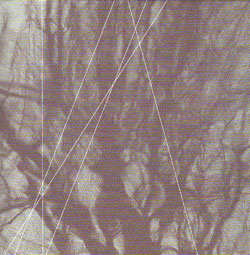 AMM percussionist Eddie Prevost playing all bowed sources in a subtle and ringing duet of bowing approaches with violinist Jennifer Allum of the London Post Quartet.


Sample The Album:


product information:

Personnel:


Jennifer Allum-violin

Eddie Prevost-bowed percussion

Click an artist name above to see in-stock items for that artist.
---


UPC: 502049207926

Label: Matchless
Catalog ID: MRCD79
Squidco Product Code: 14273

Format: CD
Condition: New
Released: 2011
Country: Great Britain
Packaging: Cardstock foldover
The Investigative Studies were recorded at The Welsh Chapel in London on July 13th, 2010 by Sebastian Lexer. Dolwilym Penumbra was recorded at Mwnci Studios in west Wales on October 12th, 2010 by Jethro Chaplin.


Descriptions, Reviews, &c.
"The co-bowed industry recorded here sounds exactly as you will discover, contingent on your subsequent listens. It interrogates, employs and deploys a common system - the bow and its range of purchase.
The bows here-used follow parallel clines of provenance, from the generic to the unique. Jennifer Allum alternates two, a 17th century German and a 'conveyor-belt' bow. Eddie Prevost switches between a similarly mass-produced model and two bows of historic largesse, gifts from his friends, and erstwhile AMM colleagues, Lou Gare and Lawrence Sheaff. The latter bass bow arcs us, from now, back to the point, some time in 1966, when AMM in situ heuristics engendered an extension of the hard-bop-drum-kit norm. Prevost made the transition from discrete, percussion-struck sounds to a rhythmic practice able, suddenly, to accommodate an endless beat. He intuited the bowed sustain of, first, the arco-potential of a room's features, and naturally, soon after, cymbal edges.
Allum's even older bow harks back centuries earlier to the same late-Renaissance Mitteleuropan locale that also bore the violin she plays, and much of its historic repertoires. Her history of bowing has followed, and more recently departed from, a trajectory of violin convention of similar origin. Via the self-described repertory 'predominantly of experimental and indeterminate music post-1945' of the Post Quartet - the London string quartet of which she is a founding and current member - her music making has become increasingly concerned with, and public in, its focus on improvisation and investigation. Or, perhaps, more properly and accurately an interest in investigation through improvisation, as she explains.
"As time has gone on [my] interest in sound has remained, but has been superseded or equaled by other things. Things like language, human interaction, and politics. Improvising, to me, is another voice. I have the opportunity to develop a language that might permit me to communicate better with others. Rather like getting to know somebody, one develops the ability to (hopefully) know when not to say something, or how to say it in the 'right' way. In part this is also about knowing myself better through this kind of exploration - testing to find out where my parameters are too. It is also quite a democratic activity. In other music making ones technical ability almost always comes into it. Sometimes technical skill is a good thing, but not always, and it can often get in the way."
The nature and motives of the investigations in which she is involved are, to her,
"to do with focusing on potential - in music, in sound, and in relationships with the other musicians and my violin - and remaining alert to this. The investigation is something like working on a mental attitude to not presume, take anything for granted, and to always be open to the possibility of an alternative. For these recordings, I am surprised by how much of a constraint I found only using the bow on the violin - no fingers. So these dedicated sessions that were centered on the bow, forced me to start reexamining and reevaluating it in quite a contained way - to a greater extent than perhaps in the workshop."
Mutual study is explicit here; three of these duets are titled thus, 'investigative studies'. The fourth, longer, piece is similar in practice, if not in name. All four present the socio-sonic activity that Prevost and Allum agree is consistent with a broader, evolving investigative study encompassed by and largely shared within the weekly workshop that both regularly attend. This workshop was the site of their initial meeting; Jenny recalls first playing with Eddie there in a combination of some form, in the Autumn of 2005. Curious, she had found her way there on moving to London.
"I first came to the workshop because I was interested in the inherent qualities of sound. I had become more heavily interested in contemporary music when I was [studying] at York, but became increasingly aware that the aesthetics of High Modernism were dominating - Boulez, Birtwistle and so on - ideas that weren't even new by then! There were obviously other ways that music might happen, so I was digging around for them [...] coming in the first year or so was originally about trying to explore the boundaries of sound for myself. As I'd always played the violin this was the obvious instrument to be doing it on. I love playing my violin, but I don't always enjoy a lot of the music that goes with being a violinist."
Prevost had already been convening the workshop, to the extent that convention is an appropriate term, weekly, since the late autumn of 1999; in some ways redolent of his hebdomadal AMM work, decades previous, from which his apparatus here date. In fact, by 2005 the workshop had in a certain sense come to convene itself on Friday nights,a collective, equal exchange of ideas and energies. It was less a result of their shared weekly activity that the idea to produce this recording came about five years later, than a continuation of the on-going activity itself. For, Jenny suggests, the practice here documented is that of the workshop, 'as far as I am aware and intend'. Eddie agrees. 'After all' he adds, such activity 'is the basis of [their] musical association. The extended sessions (as it were) are a development'. Further, as such a development, they are development itself and this, in a fundamental sense, corollary to investigation, is the workshop practice.
Everywhere, the orthodox systems of our times anticipate the careful and clear presentation of ready-worked-out on-tap outcomes, throughout our lives. Said systems seldom afford focused vantage on the vagaries, protean problems, the awkward wealth, of investigation itself. Generally, the on-goings of development are hidden, edited or simply unseen; what has been developed over time is rendered public, honed for appreciation after the fact, variously knowable, reproducible and endorsable qua final product or record. So what, given its explicitly investigative, on-going nature is the thinking behind making this recorded document, this working study, public? Whence the quality, the value in listening to a man and a woman, using similar tools, explore, discover, perhaps have ideas, or not, as the case may be? Jenny's response is, as the practice, itself modally uncertain, but purposeful.
"It would be that I often find the process of something more interesting than, or equal to, the final product. I don't see this practice as having the possibility of 'private background work'. The studies are the work, which hopefully will extend across a lifetime, and this is a (form of) document of what Eddie and I did at these times."
Eddie, similarly, suggests that,
"the 'investigative nature' of the enterprise is its core aesthetic. It only becomes presentational (for an audience) after the fact. Out of this process can come a positive sonic offering that (embraces, embodies and perhaps) transcends the immediate practice of investigation. Those disposed to its philosophy may find something of interest and possibly beauty. I think this example more than sufficiently confirms these objectives and hopes."
[...]"-Seymour Wright. 2011.

Artist Biographies

Track Listing:


1. Investigative Study I 8:45

2. Investigative Study II 9:21

3. Investigative Study III 11:00

4. Dolwilym Penumbra 37:10

Related Categories of Interest:

Matchless

Improvised Music
European Improv, Free Jazz & Related
Percussion & Drums
Stringed Instruments
London & UK Improv & Related Scenes
Free Improvisation
Duo Recordings
Instant Rewards

Search for other titles on the label:
Matchless.
---

Recommended & Related Releases: