Pateras, Anthony

A Dread of Voids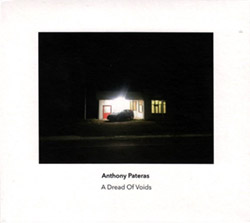 Two works written for a group of Australian performers living in Berlin--Jon Heilbron, Rebecca Lane, Jess Aszodi & Sam Dunscombe--by Australian composer and pianist Anthony Pateras, A Dread Of Voids developed for a residency at the Archipel Festival in Geneva after enduring a pandemic quarantine; and Patterned Language, composed for the Astra Chamber Music Society.

Price:

$15.95






In Stock
Quantity in Basket: None

Log In to use our Wish List
Shipping Weight: 2.00 units


product information:



Label: Another Timbre
Catalog ID: at214
Squidco Product Code: 33458

Format: CD
Condition: New
Released: 2023
Country: UK
Packaging: Cardboard Gatefold
Track 1 recorded at Church of All Nations, in Naarm/Melbourne, Australia, on November 5th, 2022, by Anthony Pateras.

Track 2 recorded at studioboerne45, in Berlin, Germany, on August 31st, 2021, by Sam Dunscombe.


---
Personnel:


Lizzy Welsh-violin

Erkki Veltheim-violin

Chloe Sobek-double bass

Alexander Garsden-guitar

Anthony Pateras-piano, conductor, celeste, sines

Jess Aszodi-voice

Jon Heilbron-double bass

Sam Dunscombe-bass clarinet

Rebecca Lane-bass flute

Click an artist name above to see in-stock items for that artist.

Sample The Album:


Descriptions, Reviews, &c.
Another Timbre Interview with Anthony Pateras
Firstly can you tell us a bit about yourself and your background?
I was born to Macedonian immigrants from Northern Greece in Naarm/Melbourne in the late 70s. My grandfather came to Australia to seek a better life for his family to escape the poverty of that region in the late 40s, and they all arrived by boat, from villages ruined by civil war, in the early 1950s. I saw this poverty first hand, during the only time I met my grandmother when I visited her in the European winter of 1986/87, and it was brutal.
Most of my early musical engagement was with the music at village dances & picnics in Australia - monthly events where people would gather and talk about the old country. In retrospect, the spectrum of whatever the band played depended on the nationalist tendencies of whoever was paying them. Sometimes, they would play a lot of Greek music, and not much Macedonian music. Other times, it would be the reverse. There was always heated debate between the people who accepted, to use the current geo-political parlance, "southern" Macedonia's fate as Greek territory after the Balkan Wars of 1913, and those who believed it was extension of the territory now known as North Macedonia.
Personally, I grew up with these politics, but have ultimately rejected them and with that, any associated identity. I recognise that I'm basically a suburban music nerd who has made a life outside of that bickering and diasporic posturing, which I figure is precisely what my grandfather wanted to leave behind. I do feel very lucky to have had those early musical experiences though. Hearing that dance music live at an early age, alongside LPs of Vaska Ilieva, Rembetika, Bulgarian choral music, Pece Atanasovski, Mikis Theodorakis, also seeing the Macedonian Women's Choir which was my sister was in; this Balkan melting pot shaped my understanding of rhythm and harmony forever.
Through all of this, I had been studying classical piano since I was about 4 or 5. When I started studying Schoenberg and Stravinsky in high school, especially the latter, it immediately made a lot of sense; the expanding and contracting rhythmic structures, the modal polytonality, the intricacy and energy. I was also into 80s hip hop, metal, indie rock, 80s coin-op soundtracks like Marble Madness and R-Type, all things that would probably be considered very cheesy now. I always say though, it was seeing the group Machine For Making Sense at LaTrobe University when I was 18 that changed everything. That concert synthesised all of my interests and gave me an "in" to something which would drive me until now, 25 years later.
From that point, I soon started two life-changing projects: an electro-acoustic duo with Robin Fox and a prepared instrumental trio called Pateras/Baxter/Brown. While studying from 1997-2008, I was organising concerts in Melbourne, booking my bands in Europe while writing chamber pieces simultaneously. It was when Melbourne was still cheap to live, the community was creatively charged and it was a glorious time to be a musician in the city.
After I got my PhD, Cat Hope asked me to fill in for her at WAAPA in Perth; I taught one semester, and quickly decided that it wasn't for me. Instead, I started a piano grind-core band called PIVIXKI around the same time as forming Thymolphthalein to do the New Jazz Meeting in Baden-Baden, which was wild for me because I was in love with that Penderecki/Don Cherry record Actions at the time. Since then, I've dedicated 100% of my time to composing and performing experimental music in some form or another, with a very brief stint in wine-making, which lasted about a week.
Can you tell us about the two pieces on the CD: when did you write them, and in what contexts?
Before the pandemic, I had a residency at La Becque near Vevey. While there, I met Marie Jeanson, who co-runs this amazing festival in Geneva called Archipel. She invited me to do a three night residency, featuring solos I'd written for my friends Jon Heilbron, Rebecca Lane, Jess Aszodi & Sam Dunscombe, who significantly, are all from Naarm/Melbourne but live in Berlin. For the last concert, she asked me to write a quintet for all of us, and that piece is A Dread Of Voids.
I don't know if you know, but Australia closed its borders entirely during the pandemic. No one was allowed in or out, unless you got a travel exemption for special circumstances. I had already left once in 2020 for both a commission from the City of Modena called Syncopes and a concert at Wien Modern, which I was able to convince the government were imperative to leave for so I could survive. On the way back from Vienna however, the woman at the ticketing counter in Vienna printed out my border pass, tore it up in front of me, told me to go to a desk which no one was attending and wait. After a while waiting there with no one coming, I clocked I was marooned in Europe without a flight home.
I secured a seat to Perth four days later, then was locked in a hotel room for two weeks on arrival, across the road from a techno club (Perth did not have lockdowns). I eventually made it home, but this was all not an experience I wanted to repeat anytime soon, so I took a long break from music; about 4 months. After I'd recovered from what now I'm pretty sure was a mild version of PTSD, I managed to start writing Voids, and found that in my absence, my music had gotten a lot quieter.
More and more, my composing comes out of playing; working at the piano and listening. Composing-wise, I used to be involved with a mixture of post-Webern organisational strategies, Xenakian orchestration and Feldman's rhythm and repetition. Through writing quite a few open works and a series of electro-acoustic solos during the 2010s, I feel I'm much more receptive to my own instincts now, whereas maybe before, my strategies were tied more to what I learnt in the academy. Basically, now I have more confidence in what I find at the keys, just working with my ear.
So for Voids, I found myself attracted to the same four notes every day at morning practise. Just very quietly playing this collection in different octaves with different permutations. Eventually I figured out I liked playing them twice, with a different rhythm the second time around. This diptych idea was also assumed in the form: about half way through, I transpose the collection up a fourth and increase the tempo. I didn't even know I was able to leave Australia before I finished the piece, but eventually I got the approval to leave, and immediately started rehearsing with everyone when I made it back to Berlin. We then we took the train down to Geneva a few days later and premiered it to about 15 people, all in masks of course.
Afterwards I stayed on in Europe for work, then had to do hotel quarantine a second time on returning months later, this time in Melbourne. This happened to coincide with the first earthquake the city has experienced since the 1800s, and I was stuck in a hotel room on the 17th floor while the building shook. Given I had recently moved to the countryside, where this kind of thing was avoidable as there are no buildings above two floors, I couldn't help feeling this was fairly bad luck. Thus, the whole process around A Dread Of Voids is bookended by two stints of hotel quarantine, compliments of the Australian Border Force.
By comparison, Patterned Language is a fairly boring story! I want to say though that it was written for the Astra Chamber Music Society, who have a community choir which I used to sing in, and I had some heavy listening experiences with them in the late 90s. Notably, hearing Helen Gifford's Choral Scenes, Poulenc's La Voix Humaine, Milhaud's La Mort du Tyran, and also lots of Keith Humble's works for instruments and electronics, especially KAL IDA'S COPE written for the trombonist Simone de Haan.
Patterned Language feels more traditional to me out of the two pieces on the CD, although to other ears, it may be the inverse. Again, I'm working with limited pitch material, but within a distinct set of performative rules that trigger/mute various actions and events. Also, it was basically written within a week, whereas Voids took around three months. This is not to say it's slapdash, but it does have a certain vitality that Voids doesn't. Also, it's a live recording, whereas Voids was recorded by Sam Dunscombe at Alexander Frangenheim's studio in Berlin. That makes this a satisfying release for me; to comparatively listen to these two different approaches of documentation and still not be able to tell which works better.
Both pieces are written for groups of friends, which is where I find the most rewarding processes these days. That could change, but I do find the personal connection and learning attained through the kinds of collaborations heard here manifest in the best kind of music-making, at least for me.

Artist Biographies

Track Listing:


1. Patterned Language 20:06

2. A Dread Of Voids 32:50

Related Categories of Interest:


Compositional Forms
Chamber Rock
Unusual Vocal Forms
Australian Improvisers, Composers and Experimenters
European Improvisation, Composition and Experimental Forms
Quintet Recordings
Staff Picks & Recommended Items
New in Compositional Music
Recent Releases and Best Sellers

Search for other titles on the label:
Another Timbre.
---

Recommended & Related Releases: