Bosshard, Patricia

Onceim-CoO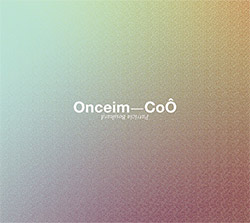 Two major works of evolving acoustic soundscape from Swiss violinist & composer Patricia Bosshard realized by the 27-member Orchestra des Nouvelles Creations, which includes Bosshard, Stephane Rives, Bertrand Denzler, &c.; "Sillon" employs a percussive pulse over 27 independently transforming grooves; "Reflets" a harmonic composition for bowed strings, including three double basses.

Price:

$15.95






In Stock
Quantity in Basket: None

Log In to use our Wish List Shipping Weight: 2.00 units


product information:


Sample The Album:


Descriptions, Reviews, &c.
"Patricia Bosshard's compositions performed by ONCEIM and string ensemble CoO Recorded on June 2018 at Saint-Merry church (Paris)To interpret her two compositions, "Sillons" and "Reflets", Patricia Bosshard could not have hoped for better than the ONCEIM and the CoO ensemble, two groups of which she is also a member as a violinist. These two ensembles bring together instrumentalists of a very high level, from very diverse musical backgrounds: improvised music, jazz, free jazz, classical and contemporary music, experimental music.
The collaboration between the musicians and the composer is organized around playing modes that favor minimalist and innovative forms. The scores allow the musicians to experiment with the proposed material, and to appropriate the form, while highlighting the sound potential of the collective."-Potlatch
"With "Sillons" I went to meet each of the musicians in order to record what I would call a heart cell: A loved sound, a gesture, a short sentence. The successful harvest allowed me to create a field of 27 furrows, small, deep channels ready to subtly transform over time.
With these various grooves, I composed a repetitive, bewitching piece which, in its form, evolves from the individual to the large orchestra, including groups and sub-groups united by affinities of material, timbre, sound. The result is an orchestral material of unheard-of richness, a field of possibilities where each musician plays only with his cell, kneaded, hollowed out and associated with other cells.
The "Reflections" composition revolves around harmonics. Bowed string instruments generate a lot of harmonics, which is one of their richness and the specificity of their timbres. I analyzed which harmonics emerge according to the playing mode: bow halfway between the bridge and the fingerboard (usual), bow near the bridge (ponticello) and bow close to the fingerboard. I redistributed these harmonics within the ensemble, played at different octaves, as notes, as harmonics or even ponticello, thus generating new harmonics. The playing modes are defined by the desire to create an atmosphere which oscillates between affirmation and suggestion, led by repetitive gestures which leave a part of improvisation to the performer as to the full or harmonic sound."-Patricia bosshard
"Aside from the music, the best thing about this album is that its release signals the Potlatch label is alive and well. (Having released four CDs in 2016 and three in 2017, Potlatch released none in 2018, one in 2019, none in 2020.) In addition to this album, 2021 sees the release of a second, a duo album by Pascal Battus and Michel Doneda. Good news.
The music itself comprises two 2018 compositions-"Sillons" and "Reflets"-by violinist Patricia Bosshard, who was born in Switzerland, studied classical music in Montreal then composition and electroacoustics in Geneva, then jazz in Lausanne. The two pieces are, respectively, played by the 26-member orchestra Onceim (Orchestra des Nouvelles Creations, Experimentations et Improvisations Musicales)-which includes such experienced improvisers as Bertrand Denzler, Stephane Rives and Jean-Sebastien Mariage-and by the string ensemble CoO; Bosshard plays violin in both. This means that she knew the musicians she was writing for as she had frequently played alongside them. "Sillons" runs for thirty-and-a-half minutes, "Reflets" for eighteen-and-a-half. So, two different pieces for two very different ensembles.
Opening to the sound of slow resounding percussion, "Sillons" evolves steadily without any sudden movements or surprises along the way. The number of players in Onceim ensure that there are enough instruments present to easily fill out the soundscape. To Bosshard's credit, she uses them sparingly and sensibly so that they never sound as if they get in each other's way. Throughout, the heartbeat of the piece is provided by that resounding percussion, with other instruments layered above the pulse. Despite the presence of those improvisers, none of the music here sounds improvised; instead, everything sounds planned, with everyone knowing what they are doing, and all of the component parts combining together into an entrancing whole, one which handsomely repays repeated listening.
Although it is very different to "Sillons," "Reflets" does have its similarities, despite all the instruments being strings. For instance, Bosshard makes good use of the three double basses at her disposal to lay down a solid foundation, with resounding bass sounds recurring throughout. Again, all the players contribute to the totality, with everyone doing their part and no one noticeably dominating. Together, the two tracks make this an album which will stand the test of time and merit frequent listening. Yes, Potlatch is back with a vengeance..."-John Eyles, All About Jazz
Get additional information at All About Jazz

Artist Biographies

Track Listing:


1. Sillons 30:29

2. Reflets 18:32

Related Categories of Interest:


Compositional Forms
Improvised Music
European Improvisation, Composition and Experimental Forms
Large Ensembles
Stringed Instruments

Staff Picks & Recommended Items
New in Compositional Music

Search for other titles on the label:
Potlatch.
---

Recommended & Related Releases: