Grisey, Gerard / Iancu Dumitrescu / Niels Christian Rasmussen / Thanos Chrysakis / Salvatore Sciarrino / Lori Freedman / Tim Hodgkinson

Music for Violas, Bass Clarinets & Flutes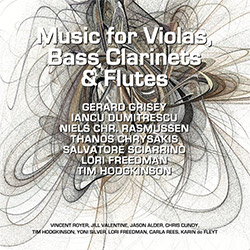 Compositions for violas, bass clarinets and flutes performed by Vincent Royer, Jill Valentine, Jason Alder, Chris Cundy, Tim Hodgkinson, Yoni Silver, Lori Freedman, Carla Rees, Karin de Fleyt, Thanos Chrysakis, Katrina Lauder, with compositions from Gerard Grisey, Iancu Dumitrescu, Thanos Chrysakis, Niels Rasmussen, Salvatore Sciarrino, Lori Freedman, and Tim Hodgkinson.


product information:



Label: Aural Terrains
Catalog ID: TRRN1545
Squidco Product Code: 30181

Format: CD
Condition: New
Released: 2021
Country: UK / EU
Packaging: Jewel Case
Recorded live at Cafe OTO in London, UK, on December 14th, 2019, by Shaun Crook.


---
Personnel:


Jason Alder-contra bass clarinet, baritone saxophone

Vincent Royer-viola

Jill Valentine-viola

Tim Hodgkinson-bass clarinet, composer

Chris Cundy-bass clarinet

Yoni Silver-bass clarinet

Carla Rees-alto flute

Karin de Fleyt-alto flute, flute

Katrina Lauder-conductor

Gerard Grisey-composer

Iancu Dumitrescu-composer

Niels Christian Rasmussen-composer

Thanos Chrysakis-composer

Salvatore Sciarrino-composer

Lori Freedman-bass clarinet, composer



Click an artist name above to see in-stock items for that artist.

Sample The Album:


Descriptions, Reviews, &c.
About the Artists:
"The French violist and composer Vincent Royer was born in Strasbourg. He studied in Freiburg and Cologne, performing early in various ensembles (Ensemble Köln, Ensemble Modern), dedicating himself intensely to chamber music, improvisation and to the dialogue between various art forms, music, dance and the visual arts.
Besides several fellowships, in 1991 he earned the "Prix Xenakis" for his performance of new music. Royer collaborated closely with contemporary composers including Gérard Grisey, Pascal Dusapin, Horatiu Radulescu, Luc Ferrari and Vinko Globokar. He developed the spectral sonic language for his compositions during an artistic Residence in Banff (Canada), as fellow of the "Bourse Lavoisier" and in the electronic studio "Centre Henri Pousseur" in Liège (Belgium). Numerous composers dedicated new works to Royer and his duo, which involves the Belgian pianist Jean-Philippe Collard-Neven. Exhibiting his creativity in many different forms and aesthetics, he conceived the work Traverse for viola and computer with Gerhard Eckel, selected by the International Computer Music Conference in Berlin in 2000. His encounter with visual artists Joëlle Tuerlinckx and Bob Verschueren led to intense experimental projects. The BRAC Quartet (violin, viola, cello, double bass), which he co-founded, explores new directions of spontaneous composition.
His world premiere of the complete works for viola by Horatiu Radulescu earned worldwide recognition and received the highest award of the music journal Crescendo. In 2008-09 the Duo Royer/Collard-Neven was awarded the "Coup de Coeur" by the Académie Charles Cros for their recordings of works by Luc Ferrari and Jean-Luc Fafchamps. Royer regularly conducts seminars and workshops at European and American conservatories and universities. Since 2010 he is professor for chamber music at the Conservatoire Royal de Liège.
American Violist Jill Valentine is a busy freelancer in London's top orchestras and recording studios. She works regularly with the London Symphony, Royal Philharmonic, and London Philharmonic orchestras and as well as with English National Opera and Royal Ballet Sinfonia. As asoloist Jill has been featured in BBC Radio 3's contemporary music series Late Junction, premiering works for viola and piano. As a studio musician with Chamber Orchestra of London, Jill regularly records for popular films and series such as The Crown, Downton Abbey, Yesterday and the Planet Earth franchise, among others. Jill completed her BM and MM degrees in Viola Performance with honours at Rice University, Shepherd School of Music in Houston, USA, in 2016.
Jason Alder is a low clarinet specialist and holds degrees in clarinet performance (Michigan State University- US), bass clarinet performance (Conservatorium van Amsterdam- NL), creative improvisation (Artez Conservatorium- NL), as well as post-graduate study in the application of the advanced rhythmic principles of South Indian Karnatic music to contemporary Western classical and jazz music (Contemporary Music and Improvisation through Non-Western Techniques). He is currently conducting PhD research on the sonic possibilities on the contrabass clarinet (Royal Northern College of Music- UK). He is well-established as a performer of contemporary music and frequently works with composers to develop and premiere new works either as a soloist, with his flute-clarinet Shadanga Duo, the Four New Brothers Bass Clarinet Quartet, or in a variety of other formations. As well as composed music, Jason regularly performs internationally as an improviser, electroacoustic musician, and in world music and jazz bands. He is often found performing, lecturing, or on panel discussion at festivals around the world, including the International ClarinetFests, European Clarinet Festivals, Istanbul Woodwind Festival, American Single Reed Summit, Netherlands Gaudeamus New Music Festival, Ultima Oslo Contemporary Music Festival, Havana Festival of Contemporary Music, and Leeds International Festival of Artistic Innovation. He is also sought after as a recording engineer for many classical and jazz musicians around Europe. Originally from metro-Detroit, Jason has lived in Europe since 2006 and is an endorsing Artist for Selmer clarinets, D'Addario reeds, Behn mouthpieces, and Silverstein ligatures.
"swirling around the songs was bass clarinet player Chris Cundy, like a birdsong interrupting an argument" - Los Angeles Times
Playing bass clarinet and rarified woodwind instruments Chris Cundy is a composer and performer with a practice rooted in experimental and improvised settings. His work also crosses over into popular music and he has worked with a variety of songwriters and groups including Timber Timbre, Cold Specks (aka Ladan Hussein), Thor & Friends, Baby Dee & Little Annie, and Guillemots.
Growing up in the Medway towns Chris became friends with artist and punk musician Billy Childish who introduced him to the exploits of homemade music-making at an early age. This led to a lasting DIY attitude and by the time he was 12 Chris had already started out as a street performer and busker. After hearing Eric Dolphy's music he took up the bass clarinet. He remains self-taught.
Also a visual artist, Chris studied painting at Cheltenham where he discovered a synergy between drawing practices and improvised music. This led to self-developed playing techniques using multi-phonics, circular breathing, exploring micro tonality and generally speaking a more tactile approach to the instrument. Chris also performs contemporary classical music and has premiered works by Greek composer Thanos Chrysakis. He performs as a soloist and as a member of The Set Ensemble.
He is also involved with theatre music, and recently contributed to an original soundtrack for Florian Zeller's stage play The Mother starring Gina McKee. Chris has performed at Shakespeare's Globe and toured with circus companies NoFit State, and Imagineer.
One off sessions have seen Chris performing alongside Moby, The Blind Boys of Alabama, Bonnie 'Prince' Billy, Lol Coxhill, Vieux Farka Touré, Fatoumata Diawara, Alexander Hawkins, City of Birmingham Symphony Orchestra and Lisa Hannigan.
He has released three solo albums, Gustav Lost in 2016 (FMR Records), The Disruptive Forest in 2017 (Confront), and the mini-album Crude Attempt in 2020 (Pressing Records). A further album of acoustic bass clarinet compositions is expected in 2021 titled Of All The Common Flowers.
Tim Hodgkinson is an English experimental music composer and performer, principally on reeds, lap steel guitar, and keyboards. He first became known as one of the core members of the British avant-rock group Henry Cow, which he formed with Fred Frith in 1968. After the demise of Henry Cow, he participated in numerous bands and projects, eventually concentrating on composing contemporary music and performing as an improviser.
Yoni Silver is a London based performer, bass clarinetist and multi-instrumentalist.
He works within a wide array of different and mostly experimental frameworks: different forms of improvisation, Noise, (Hyper)Spectral music, Performance and composition. Besides his main instrument, the bass clarinet, he plays on the alto sax, violin, piano, computer, voice and other instruments.
His bass clarinet sound is characterised by unique techniques and 'instrumental prosthetics' which he has developed and which have allowed him to shift the woodwind sound palette into the realm of electronics and Noise.
He has appeared on such labels as Creative Sources, Confront Recordings, Wasted Capital, Chocolate Monk, Edition Modern, and has collaborated and performed with musicians Mark Sanders, Tim Hodgkinson, Dylan Nyoukis, Sharon Gal, Hatam/Hacklander, Primate Arena, Thanos Chrysakis, Birgit Ulher, the Israeli Contemporary Players and the Hyperion Ensemble (Iancu Dumitrescu and Ana Maria Avram) and many others.
"Quite simply, Lori Freedman is a rare musician of true genius ... a monumental musician"
(Roger Woodward, Australian pianist)
Lori Freedman is a member of a small group of people coined as "the renaissance musicians." Freedman's artistic practice spans the gamut. With full throttle in contemporary music of both scored and improvised music streams she is known internationally for her provocative and creative performance works.
As an interpreter of written music for clarinet hundreds of works have been dedicated to and/or premiered by her. While managing a full performance schedule (more than 75 concerts a year), making recordings, touring and leading workshops, Freedman has also been receiving commissions to write music for an eclectic group of musicians, dancers, film and theatre artists: NAIL, Mercury, BeingFive, Arraymusic Ensemble, Ensemble Transmission, Continuum Contemporary Music Ensemble, Ensemble SuperMusique, Upstream Orchestra, NOW Orchestra, Grand groupe régional d'improvisation libérée (GGRIL), Now&Then, Queen Mab Trio, Lott Dance, Oberlander Films and Foresite Theatre.
Her solo works have been presented internationally (Eastern and Western Europe, USA) and she has received performance invitations from organizations essential for the advancement of all new music such as the Festival international de musique actuelle de Victoriaville (QC), Huddersfield Festival (UK), International Society of Contemporary Music, the Gaudeamus Festival (Holland), Radio France, Redcat Theatre and The Stone (USA). In 2017 she was elected Fellow of the Royal Society of Canada for "outstanding artistic achievement," twenty years after having received the Freddie Stone Award (1998) for the "demonstration of outstanding leadership, integrity and excellence in the area of contemporary music and jazz."
Her current discography comprises 61 recordings, the most recent features of which include Solor (Ambiances Magnétiques), Excess (Collection QB/DAME), Réunion-Queen Mab Trio (MKR), Greffes (Empreints digitales), On No (Mode records), Bridge (Collection QB/DAME), Plumb (Barnyard Records), 3 and À un moment donné (Ambiances Magnétiques), See Saw and Thin Air (Wig) and Huskless! (Artifact). Highlight collaborations have been with Joëlle Léandre, Roscoe Mitchell, Frances-Marie Uitti, Helmut Lachenmann, Monique Jean, Barre Phillips, Axel Dörner, George Lewis, the Jack Quartet, Rohan de Saram and Richard Barrett.
She is Artistic Director of rarescale, a contemporary chamber ensemble with whom she works to create and promote new repertoire for her instruments. She is also a member of the Edison Ensemble and Goldfield Ensemble and plays in a trio focussing on Feldman's music with pianist John Tilbury and percussionist Simon Allen.
An active collaborator, Carla's projects improvised interdisciplinary work with ecosystemic electronic composer Scott Miller, and artist Caroline Wright. Other collaborations include the International Superflutes Collective and Hønk, the first European Contrabass Flute Ensemble.
Carla's passion for the development of recital repertoire has resulted in the development of several hundred new works written for her by a wide range of composers. Premieres include works by Simon Emmerson, Claes Biehl, Dan Di Maggio, Alexander Goehr, Sungji Hong, Robert Fokkens, Daniel Kessner, Nicola LeFanu, Adam Melvin, Scott Miller, Patrick Nunn, David Bennett Thomas, Ian Wilson, Scott Wilson, Elizabeth Winters and long-term collaborative partner, Michael Oliva. Her most recent project sees the creation of new contemporary works for baroque flute, which she has combined with studies in early music performance with Serge Saitta.
Carla leads rarescale Flute Academy, an acclaimed flute ensemble for university level players, for whom she arranges numerous works. The ensemble has performed in Greece, Poland and the United States, and is currently collaborating with a number of composers to create new repertoire.
Karin is an internationally renowned flautist and soloist in contemporary music, with many works dedicated to her. She is flautist of the HERMES Ensemble www.hermesensemble.be and plays the flute, alto flute, piccolo and bass flute, as well as shakuhachi and bansuri flute. Karin is a performer constantly looking for new experiments with flute, often resulting in great collaborations with many well known composers, one of the most memorable is a ten year long collaboration with Karlheinz Stockhausen.
Karin took her masters degree (MA) at the Royal Music Conservatoire in Gent (1995), where she already specialised in contemporary flute solo and chamber music repertoire. QTS at the Royal Music Conservatoire in Gent (1996), Laureate (PGCE) at the Orpheus Institute in Gent (1997 - 2001) during which she taught contemporary music and live electronics at the Royal Music Conservatoire in Gent. Karin de Fleyt vast experience in teaching flute, both at music school and Higher Education level, including MMus and Advanced Master. She is senior lecturer at Leeds College of Music since 2013 and together with Carla Rees forms the low flutes duo NewFLow. Karin is also senior lecturer in the professional teachers program at the School of Arts/Royal Music Conservatoire in Gent since 2009. She regularly gives masterclasses and workshops all over the world.
Thanos Chrysakis' output consists of composition, performance, and installation. He was born in Athens in 1971. After residing in the UK between 1998-2014 he moved in 2015 to Belarus.
With several albums to his name his work has appeared in festivals and events in many countries, including CYNETart Festival, Festspielhaus Hellerau - Dresden, Diapason Gallery - New York, XXII "Sound Ways" International New Music Festival - St Petersburg, Spektrum - Berlin, Artus Contemporary Arts Studio - Budapest, CRUCE Gallery - Madrid, Fylkingen - Stockholm, Relative (Cross) Hearings festival - Budapest, ZEPPELIN festival - Barcelona, Festival Futura 2013 - Crest-Drôme, XIII Festival Internacional de Música Nueva - Monterrey, Areté Gallery - Brooklyn-New York, Nádor Terem - Budapest, Konserthuset, Grünewaldsalen - Stockholm, Utzon Centre - Aalborg, Oosterkerk - Amsterdam, Störung festival - Barcelona, Fabricca del Vapore - Milan, Center for New Music - San Francisco, Västerås Konstmuseum -Västerås, BMIC Cutting Edge concert series - The Warehouse - London.
His music has been frequently aired by BBC Radio 3, RAI Radio 3, RTP Antena 2, RTV España Radio 3, RTÉ Lyric FM, Polskie Radio, RTS - Radio Belgrade 3, and Sveriges Radio P2 among other radio-stations.
His work was amongst the selected works at the International Competition de Musique et d'Art Sonore Electroacoustiques de Bourges 2005, in the category œuvre d'art sonore électroacoustique, while received an honorary mention in 2006 at the 7th International Electroacoustic Competition Musica Viva in Lisbon.
Katrina Lauder is a freelance Conductor and French Horn player based in the UK. She plays with world renowned symphony orchestras from all over the globe. Including Principal horn with The City of Birmingham Symphony Orchestra, Co-Principal horn with The London Philharmonic Orchestra and The Symphony Orchestra of India, as well as playing for shows in London's west end. She has recorded albums with the likes of Annie Lennox and Ebe Oke and has toured with Sting on the album If on a Winter's Night. She is principal horn of The National Festival Orchestra and features on their recording of Tom Jones.
Having studied Conducting with Denise Ham and Colin Metters in London, Katrina enjoys a varied career as a Conductor. She's held a positions as Co-Musical Director of The London Gay Symphonic Winds and assistant Musical director at The Tulse Hill Choir. Kensington Philharmonic Orchestra Wind Coach, Angel Orchestra Wind Sectional Coach, UCL Concert Band Deputy and has conducted The Women of the World Orchestra at The Royal Festival Hall.
This album has been reviewed on our magazine:




The Squid's Ear!

Artist Biographies

Track Listing:


1. Nout 5:26

2. Gestalten 6:41

3. Octet 15:22

4. Hermes 10:26

5. Aura 9:16

6. To the Bridge 10:03

7. Parautika 7:52

8. Selva Oscura 14:44

Related Categories of Interest:


Compositional Forms
Electro-Acoustic
Recordings by or featuring Reed & Wind Players
Stringed Instruments
Woodwinds
Solo Artist Recordings
Duo Recordings
Quintet Recordings
Large Ensembles
New in Compositional Music
Staff Picks & Recommended Items

Search for other titles on the label:
Aural Terrains.
---

Recommended & Related Releases: