Squid

Bright Green Field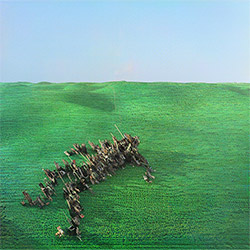 Blurring the boundaries of popular rock, composed and electro/experimental/ea forms, with hints of The Ex, Gang of Four, Talking Heads, LCD Soundsystem and their own happily quirky sound, Squid was formed in Brigton by Ollie Judge (Drums & Lead Vocals), Louis Borlase (Guitars), Arthur Leadbetter (Keys, Strings & Percussion), Laurie Nankivell (Bass & Brass) and Anton Pearson (Guitars).


Sample The Album:


product information:

Personnel:


Louise Borlase-composer, performer

Ollie Judge-composer, performer

Arthur Leadbetter-composer, performer

Laurie Nankivell-composer, performer

Anton Pearson-composer, performer

Martha Skye Murphy-vocals

Lewis Evans-alto saxophone

Emma-Jean Thackery-trumpet

Charlie Keen-trombone

Nataly Corolscaia-violin

Yulia Knowles-viola

George Hannington-cell

Keith McGovan-racket

Click an artist name above to see in-stock items for that artist.
---


UPC: 801061031428

Label: Warp Records
Catalog ID: CD-WRP-314
Squidco Product Code: 30065

Format: CD
Condition: New
Released: 2021
Country: UK
Packaging: Digipack
Recorded by Daniel Carey and Alexis Smith.


Descriptions, Reviews, &c.
"Bright Green Field is an album of towering scope and ambition, it is deeply considered, paced and intricately constructed. With all band members playing such a vital and equal role, this album is very much the product of five heads operating as one. Some bands might be tempted to include previous singles on their debut - and the band already released two more in 2020 via 'Sludge' and 'Broadcaster' - but instead Bright Green Field is completely new.
This sense of limitlessness and perpetual forward motion is one of the the key ingredients that makes Squid so loved by fans and critics alike, from BBC Radio 6 Music who have A-Listed previous singles, 'Houseplants', 'The Cleaner' and 'Match Bet' to publications such as, The Guardian, NME, The Face, The Quietus and countless others. The band was also on the longlist for the BBC Music Sound of 2020 poll."-Warp Records
"The word "island" is usually synonymous with "paradise"-someplace tropical and warm, skewered by beach umbrellas. We're less likely to think of Alcatraz. But when English rock band Squid mention a "concrete island" in the first minutes of Bright Green Field, it's closer to the infamous prison than a Sandals resort. The isle in "G.S.K." is a dystopian slab ruled by Big Pharma, and the record's opening scene, as shouted by drummer and vocalist Ollie Judge, confines us to this grim locale: "As the sun sets, on the Glaxo Klein/Well it's the only way that I can tell the time," he sings. On this barren rock, the British drug conglomerate is the towering center of daily life-so big, it acts like a sundial. "Island" never sounded so angry or claustrophobic.
Bright Green Field is packed with these moments of compression-lean phrases that steadily inflate into three-dimensional scenes. Driving their expansion are vigorous and detailed arrangements, music that rattles against Judge's agitated lyrics until it erupts. A sickly undercurrent of strings propels his role as a white-collar drudge on "G.S.K."; when he embarks on his evening commute, dreaming of the warm dinner that awaits, the music seems to pursue him. The horn section sounds like a fleet of motorbikes trying to run him off of the road.
Squid's music has always toyed with discomfort. Six years after forming at college in coastal England, Judge, Louis Borlase, Arthur Leadbetter, Laurie Nankivell, and Anton Pearson have pushed that unrest to the point of catharsis. Like Squid's best singles-last year's "Sludge," 2019's "Houseplants"-the songs on Bright Green Field set out on one course, only to flail in another direction just as you've settled in. "Boy Racers" kicks off as a linear groove, its noodling bassline and clipped rhythm guitar among the album's more pared-back arrangements. Roughly halfway through, the beat drops out, giving way to a bleak, distorted drone. A faint mechanical voice speaks, like Daft Punk with a dead battery: "You're always small/And there are things that you'll never know." It's unnerving but effective, like the moment in Alien when we discover Ash is really a robot.
Squid approach their music like skilled choreographers; though every move is carefully plotted, the dance maintains the illusion of spontaneity. Each track feels on the verge of some massive release, but all meltdowns are carefully preordained. "Narrator," the album's best song, exemplifies the band's calculated pandemonium. Its opening measures recall early Talking Heads and James Chance: Quick ripples of electric guitar and sharp basslines squiggle on top of a crisp snare beat. But it's the abandonment of this structure that's most interesting. At the song's midpoint, guest vocalist Martha Skye Murphy slowly creeps in, lingering around the edges. As Squid explode into a frenzied coda, Murphy wails her voice raw, shrieking like a slasher-flick victim. It's the album's most exhilarating stretch of sound.
Like magpies, Squid stockpile scraps of jazz, funk, krautrock, dub, and punk, uninterested in adopting a single identity. Their genre agnosticism extends to equipment: In addition to drums, bass, and guitar, Bright Green Field's sense of disorientation is aided by alto saxophone, violin, trumpet, cello, trombone, and rackett-a 16th-century wind instrument also known as the sausage bassoon. (Leadbetter's father, who specializes in medieval rock and Renaissance instruments, handles sausage bassoon duties on "Boy Racers.") Even amid all these choices, Squid's spinouts are orchestrated stunts, never heady jam-band accidents. More than a canonized style, it's their level of control that sets them apart.
Yet Squid's characters and the world they inhabit are in constant friction. On "Global Groove," Judge deadpans about wearing "tight Lycra," trudging through the day like a weary Zumba instructor. The pace is a narcotized march, nudged along by stabs of guitar and saxophone. The song offers only a few visuals: mindless TV shows, the oppressive titular dance. Is it a wry take on fitness culture, or sheer drudgery? (The two haven't always been distinct: Treadmills were once instruments of penal discipline.) "Pamphlets" twists another innocuous item into a symbol of suffocating conformity: "Pamphlets through my door/And pamphlets on my floor," Judge screeches, as though he's being crushed by the leaflets blasting through his mail slot. Bright Green Field is filled with these imaginative dispatches from capitalist hell, but it's Squid's exacting ruckus that exposes their true nature. The field isn't green with grass, but radioactive sludge."-Madison Bloom, Pitchfork Media
Get additional information at Pitchfork Media

Artist Biographies

Track Listing:


1. Resolution Square 0:40

2. G.S.K. 3:11

3. Narrator 8:29

4. Boy Racers 7:34

5. Paddling 6:17

6. Documentary Filmmaker 4:56

7. 2010 4:28

8. The Flyover 1:11

9. Peel St. 4:52

10. Global Groove 5:08

11. Pamphlets 8:04

Related Categories of Interest:


Rock and Related
Improvised Rock
Improvised Music
Electro-Acoustic
Song Based Music
Staff Picks & Recommended Items
New in Rock Forms

Search for other titles on the label:
Warp Records.
---

Recommended & Related Releases: