AMM (Rowe / Prevost + Tilbury)

Last Calls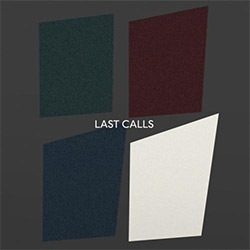 To celebrate drummer/percussionist Eddie Prévost's 80th birthday, Café Oto hosted four concerts once a week in June, 2022, each a differing configuration from Prévost's history; this final concert reconvened for an extended improvisation between Prévost & guitarist Keith Rowe, with a "Postscript" from pianist John Tilbury recorded at his home in January, 2023.

Price:

$17.95






In Stock
Quantity in Basket: None

Log In to use our Wish List Shipping Weight: 4.00 units


product information:



Includes a 22-page booklet with liner notes by Eddie Prévost, a letter exchange, a brief biography of John Tilbury, and b&w photos of the performers.

UPC: 5020492011228

Label: Matchless
Catalog ID: MRCD112
Squidco Product Code: 33461

Format: CD
Condition: New
Released: 2023
Country: UK
Packaging: Cardboard Gatefold w/ booklet
Recorded at Cafe OTO, in London, UK, on July 30th, 2022, by Billy Steiger.

Track two recorded at the artists home in Kent, UK, on Janurary 18th, 2023, by Sebastian Lexer.


---
Personnel:


Keith Rowe-guitar

Eddie Prevost-drums

John Tilbury-piano

Click an artist name above to see in-stock items for that artist.

Sample The Album:


Descriptions, Reviews, &c.
"[...] The final week drew the most attention and marked the inevitable stage to which the preceding concerts had been building: not only was it the final performance in the series, but the last ever gig by AMM, of which Prévost has been a member since 1965. Having missed the workshop gig due to Covid, he had, remarkably, recovered in time for the gig. As he announced from the stage, each gig had encountered some kind of hiccup: two of the eight saxophonists absent from the first gig, one musician absent from the second, Prévost himself from the third. And in the event, the AMM gig — sold-out, on a stiflingly muggy day, in the middle of a transport strike — transpired, not as the usual Prévost-John Tilbury-Keith Rowe trio, but as a Prévost-Rowe duo, the piano symbolically covered and moved to the side. As Prévost explained from the stage, Tilbury's mobility issues and health vulnerabilities ultimately meant that live performance is no longer a sensible option.
Given this, and given the finality of the occasion, this was an event in many ways of ghosts and absences. Sombre and intense, the roughly hour-long performance that followed was characterised by a highly concentrated restraint in which past history spoke through the gaps, the breaks, the silences. Mourning has increasingly been a part of AMM and its satellites as the years pass. Nowhere is this more apparent than in Rowe and Tilbury's two duo records, Duos for Doris (2003) and EE — Tension and Circumstances (2011), dedicated to the respective memories of their mothers, women of working-class origins, raised in poverty, who lived into the new century. And in the Q&A that followed after the break, Prévost mentioned that he still thinks of AMM music as "in dialogue" with the long-dead Cornelius Cardew: it was in looking for musicians to play his then-newly composed Treatise that Cardew came across the group, and that score has long been a source for those members who survived him. Now Tilbury, too, though still living, was absent, and Rowe made sure that Tilbury, too, retained a virtual presence, at times sampling portions of his playing: bell-like, circling piano figures like lights flickering and dying away on the music's horizon.
Rowe has had Parkinson's for some years: able to use only one hand while performing, his playing has had to adapt, as he movingly describes Bob Burnett and Alan F. Jones' recent short film What is Man and What is Guitar? (2021), recently made available on YouTube by The Wire. Since his diagnosis eight years ago, he's set aside his tabletop guitar, and on the night seemed to work almost entirely with pre-recorded and sampled material, including what sounded like Rowe's own guitar playing, Tilbury playing Feldman's For Bunita Marcus, sounds from a gagaku performance — alluding to AMM's debut recording session for Elektra, which had been double-booked with a gagaku ensemble — the march from Purcell's Music for the Funeral of Queen Mary, and various sine-tone swells. Yet even prior to the diagnosis, Rowe had begun to move away from the chance mechanism of the radio and towards a more curated set of samples, often from classical music. The approach creates, more than ever, a compositional approach to improvisation: structured, sculpted from pre-existing materials, though one might argue that this is no different to the improviser's practice of bringing an instrument, its history, and a set of resources — woodshedded, defined by the possibility and range of personal taste, placement within the history of the music, and of the instrumental means to hand.
Prévost, meanwhile, is less interested in referentiality, more in working with a range of materials in which percussion is treated as textural element: on this occasion, bass drum, snare, bowed tam-tam and cymbals. Prévost has tended towards this approach in recent years — compare earlier AMM performances, particularly when Lou Gare is present, in which broiling rhythmic bursts briefly invoke free jazz, to latter-day AMM, or to a record like Prévost and Jennifer Allum's Penumbræ (2011), on which the duo conduct "investigations" into bowed surfaces, Prévost putting those percussive practices John Mowitt calls "drumming, beating, striking" entirely to the side. Bowed metal and rubbed drumskins form a sound that's continuous yet jagged, pitched yet wavering, percussion treated somewhere between a rhythmic and a timbral entity. There are harsh edges — particularly when Prévost bows the cymbal, even though there is something lulling about the process. It at once emphasizes physicality — minute variations in pressure and strength of arm can alter the nature of the sound — while de-emphasizing the kinds of physical display associated with the drumkit and with percussion. At times, indeed, the percussion effectively plays itself: in this final AMM performance, Prévost left an electric toothbrush vibrating for lengthy periods on the bass drum, added a droning, continuous element in the spirit of AMM's "laminal," evolving textures.
Rowe's and Prévost's respective approaches certainly meshed, at times more than others, but that's not really the point. If early AMM's achievement was to create a group texture in which the lines between instruments and between individuals blurred, AMM as it has come down in history — that's to say, in the Prévost-Rowe-Tilbury line-up — has been more about the negotiation, within certain collective parameters, of three distinct individual approaches. At the same time, the point of AMM is as a kind of holding space: as suggested when, in the post-performance Q&A, Rowe and Prévost good-humouredly refused audience requests to divulge what the AMM acronym stands for. "It stands for this", one of them said, gesturing around the room to indicate, not only the musicians and the still-palpable presence of the music they'd made, but the space that music had been made in, including the audience in the room. There's perhaps a paradox here: an identifiable style — "AMM music" — which has been established for decades now is also about the music as an opening up which is not limited to the musicians on stage. This might be the ghostly dialogue with Cardew, or the virtual dialogue with the sampled Tilbury, but it's not simply a case of the literal inclusion of other voices through Rowe's samples or radio. "AMM has influenced my musical life ... has influenced my life", Prévost remarked before they began to play. AMM is about an approach to material, to liveness, to conceiving a group, that is highly specific to its members, but that also reaches somewhere else. Once more, we come back to "ethic of improvisation" that Cardew emphasized. Cardew quotes Wittgenstein: "To imagine a language means to imagine a form of life". Or, in his own words: "My attitude is that the musical and the real worlds are one. Musicality is a dimension of perfectly ordinary reality. The musician's pursuit is to recognize the musical composition of the world (rather as Shelley does in Prometheus Unbound) ... The subtlest interplay on the physical level can throw into high relief some of the mystery of being alive." In his essay, written ten years before his own death, Cardew further suggests that musical improvisation is a way of reckoning with the fact of death — that "the performance of any vital action brings us closer to death; if it didn't it would lack vitality". But this reckoning — what Cardew calls "acceptance of death" — is not the same as fatalism.
AMM's final concert was both apotheosis and relinquishment. Rowe performed with a cardboard tube on the tabletop: in the Q&A it turned out this this contained the original AMM "icon," a painting that had been proposed for the front cover of their first album on Elektra Records, only to be turned down and replaced by Rowe's now-familiar image of a yellow truck, making its own journey to a bright nowhere. As Rowe explained, the image-apparently a bright, Pop-Art style still life — was a kind of variant on the Annunciation scene, in this case announcing the inception of AMM. Things come full circle. At times, Rowe, bent over the tabletop so that his upper body was almost horizontal, his arm stretched out over his equipment, resembled one of the art-historical depictions he so admires: a Caravaggio, Rembrandt, Dürer's St Jerome, a Rembrandt self-portrait, a meditation on ageing and creativity and continuance.
For the first ten or fifteen minutes, the music was weightily sparse, scratching around the edge of silence: Prévost bowing tam-tam, Rowe providing scratchy flickers and dim washes of Purcell that disappeared almost as soon as they'd appeared. The music was most engaging when it reached higher density: a point at which Rowe had in play four or five layers at once, the laminal thickness of texture at which AMM specialise, an emotive force, a denseness, a thickness, an open and opened area. But success is not the point. As Prévost once remarked in a profile of the group by the writer and composer Kyle Gann: "Ultimately, AMM will fail. There may be rare moments when we, or others, sense a kind of success, but there can never be 'ultimate' success ... The paradox is that continual failure on one plane is success on another". If failure was a preoccupation of AMM's from the beginning, as Prévost relates in the liner notes to AMMMusic, this concern has perhaps assumed greater urgency of late. In recent years, Tilbury has made a series of performances in which he recites Samuel Beckett's text of gradual bodily collapse over sparse keyboard sounds. I saw him give a devastating rendition in the vast surroundings of King's College Chapel a few years ago, an intensely moving meditations on bodily frailty and decay I've witnessed. Likewise, Rowe's reckoning with the deaths of family members, and his coming to terms with his own Parkinson's diagnosis, has reflected itself in how he conceives of the music he makes and the way it's presented. On the live performances released as EE-Tension and Circumstance, on which Rowe and Tilbury paid homage to Rowe's late mother, who'd raised him as a single mother in conditions of post-war poverty. Of the album design, in which Rowe mimics his late mother's handwriting, Rowe remarked: "I wanted it to recall a trace of old age and an increasing lack of facility: I wanted it to look shoddy, with errors, away from those slick images of conceit."
And despite the particular sense of focused intensity when the music thickened and opened out, in this final performance AMM was perhaps most itself when the music was most rebarbatively quiet or activity-free: Rowe bent over his equipment making almost no sound; passages where the music seemed to have frozen, to meander, to have become lost inside a reverie of itself; and, above all, the extraordinary silence that concluded the performance, and AMM itself. Rowe having fallen quiet and sat back a minute or so before, Prévost, too, came to a pause, and they both sat poised, for around a minute or so, the music, the musicians and the audience alike all deciding whether or not it should continue.
The last music AMM made together was that silence: a silence full, replenished, and drained out; an ending that was also an opening. This silence was heavily inflected by the framing, the history, the circumstances and the occasion of the concert and could not accrue the intensity and meaning it did outside those: and why should it? Instead, it felt as if AMM was opening up to us — everyone in the room, and all the listeners and players not in the room, living and dead. [...]"-David Grundy, Point of Departure
---
"Eddie Prévost turned eighty in June 2022 and to celebrate, Café Oto invited Prévost to convene four separate concerts, held every Saturday of July. Prévost named the residency for a line from Seamus Heaney's "Clearances" — "its heft and hush become a bright nowhere" — which he took as a model for the kinds of utopia modelled in musical improvisation; the series was further dedicated to the late impresario Victor Schonfield, who died early in May. As curator of the Music Now charity in the '60s, Schonfield played a key role in bringing American jazz and free jazz musicians from Ornette Coleman and Sun Ra to Miles Davis to the UK. He also served as part-time manager for AMM, the group with which Prévost over the years has been most indelibly associated — to the extent that Schonfield was jokingly referred to as a member of the group. In the '70s and '80s, Schonfield was active in left politics as chief trade union organiser and treasurer of the Campaign for Labour Party Democracy: in his biography of Michael Foot, Mervyn Jones writes of Schonfield, Vladimir Derer and Jon Lansmann, later founder of Momentum, "they were unreservedly dedicated, they had no political ambitions of their own and they were in a position to work day and night for the cause without pay." And though, during this time, Schonfield's activities as a promoter had taken a back seat, in later years, he was a regular at Oto and a mentor to younger musicians.
The dedication to Schonfield highlighted the importance of those who, though not themselves musicians, are indispensable in facilitating and enabling the music and the culture it creates. It also harked back to that moment in the mid-'60s of a counter-cultural London, where musicians of working-class backgrounds like Prévost and Keith Rowe were able to some sort of lead in reinventing what music might be, even as that music has tended to fly under the radar of national and international cultural institutions. All those decades on, the series, with Prévost himself in the role of curator and organiser that Schonfield occupied, manifested a continuing dedication to improvised music as collective, social endeavour. Its generational sweep reflected the various stages and facets of Prévost's career and his firmly collaborative ethos, both centring and moving beyond his own individual role. As a music that is about collaboration, removing the format of the solo for an entirely collective music, free improvisation does not naturally lend itself to narratives of heroic, solitary genius, though sometimes those narratives inflect the way its history has been passed down to us. For Prévost, however, the approach to — or enabled by — improvisation, first discovered in AMM, and later expanded in his various theoretical books on improvisation, insists on the collective dimension first and foremost. As he wrote in the liner notes for the CD reissue of AMMMusic, "A preoccupation with ... with one's own ego at the expense of the ensemble is destructive."
Over the course of Bright Nowhere, watching each event unfold in its difference was watching process at work: not just a historical assembly, a chronological survey, or a potpourri, but a manifestation of the simultaneous openness and focus that can still be found in freely improvised music nearly sixty years since Prévost first began playing it. The figure of travel that Prévost added to Heaney's phrase — "marking a journey to a bright nowhere" — might suggest progression towards a goal, but-as in the fascination with notions of wandering, errancy, and travelling in Luigi Nono's late work — it instead complicates these ideas, blurring borders and boundaries, while refusing to give up on the hopes for better — political, social, human — brought to bear on aesthetic experimentation."-David Grundy, Point of Departure
Includes a 22-page booklet with liner notes by Eddie Prévost, a letter exchange, a brief biography of John Tilbury, and b&w photos of the performers.
Get additional information at Point of Departure

Artist Biographies

Track Listing:


1. Last Calls 53:04

2. Postscript 13:22

Related Categories of Interest:


Matchless
Improvised Music
Free Improvisation
European Improvisation, Composition and Experimental Forms
Jazz
Trio Recordings
Keith Rowe
Staff Picks & Recommended Items
New in Improvised Music
Recent Releases and Best Sellers

Search for other titles on the label:
Matchless.
---

Recommended & Related Releases: