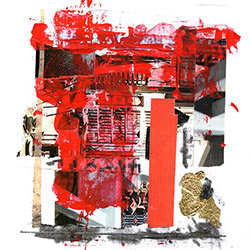 Composed, constructed and mixed by bassist, improviser and composer David Menestres, this extended electroacoustic work features work from a tremendous set of performers: Jeb Bishop, Olie Brice, Sean Clancy, D. Edward Davis, Laurent Estoppey, Chris Eubank, David Grubbs, Michael Thomas Jackson, David Jordan, David Menestres, & Catherine Sikora.


product information:


Sample The Album:


Descriptions, Reviews, &c.
"Perhaps I'm in a pessimistic mood right now but immediately upon listening to scree/n I thought of the end. I thought, well maybe we've come to the end of thinking of the end in a certain way. We were sure there was no end, not an end in any way relevant to creatures alive now or alive within any time frame that we can understand because even though the planet will explode and burn in 4 billion years, that might as well be infinity to us.
This is what I was told in an environmental science class. But then we came to know that there is a very close end to the way that plants and animals live now, very close in that we can conceive of it within an understandable span of time. But when I was listening, it occurred to me that there are also many ends coming including an end to being able to understand the end that it is probably here right now. I then began thinking about power technology. How we have to use it. How we will probably have to use it past many of the ends. And then I began thinking about how it's been the hottest it's ever been here. It's so hot that even walking or sitting outside is not something to do if you can help it.
Then I began thinking about being inside. Inside in the house and inside of this music. I cannot say anything at all about it in a way that uses music theory or even just regular music language, that which musicians use to talk about notes or scales or whatever. All I can do is describe how beginning in early 2019, I started thinking about hiding, having to hide. A calamity coming. And how people had survived in the past, the people who had survived that is. And the sound of my mind while thinking about hiding while lying in the dark on a mattress close to the ground was like this unfolding of certainty amidst uncertainty.
This was a real feeling. A feeling I've known all my life. Confounding. It doesn't always end how or where or when you think it is going to end, even if sometimes it does. And I remember thinking about how once when I was a child I thought I was trapped in time between 11:59 and midnight because I didn't want it to become midnight. And how horrible a fear it was that I had possibly made myself remain there forever. But of course that isn't what happened. It turned midnight. And I got older and older and got to here.
It is 1 AM. It's gotten quieter. Right now there is a saxophone. Right now there is a voice. Right now there is a guitar. There is the sound of electricity. Something conducting the electricity so it makes a sound that we can hear that is electronic, a proposition. It sounds like a rattlesnake, even though I've never heard or seen a rattlesnake before, alerting me to its presence, not hiding. Warning. Or maybe just playing, living. But that is what I'm thinking about now.
When I was thinking about it before, I remember wondering if the piece was somehow all played by one person. Or one person was somehow causing all of the sounds. Causing them to move in a certain direction, with a certain strange unity of purpose while seemingly also difficult to ascertain what the larger plan or structure is really all about. And as the piece moves forward, it becomes even more commanding of my attention, the flow making me forget about thinking about so many other things or so many questions or concepts and then I know it has me completely.
And I will listen to the end. There is more space and silence towards the end. And bowing. It's beautiful, I think, like a fleeting, breathing lullaby turned electrical storm."-Triptick tapes

Artist Biographies

Track Listing:

Related Categories of Interest:


Improvised Music
Jazz
Large Ensembles
Electroacoustic Composition
Organized Sound and Sample Based Music
New in Improvised Music
New in Experimental & Electronic Music
Recent Releases and Best Sellers

Search for other titles on the label:
Tripticks Tapes.
---

Recommended & Related Releases: