Vinkeloe, Biggi / Mark Weaver / Damon Smith

Desert Sweets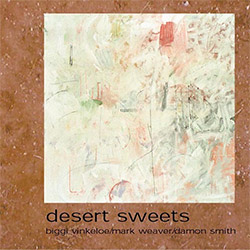 Twenty two vignettes of improvised conversations named for desert fauna between alto saxophonist & flutist Biggi Vinkeloe, tuba & trombonist Mark Weaver, and double bassist Damon Smith, using a unique tuning choice for the band suggested by Vinkeloe, and applying a quality to the studio to create a uniquely orchestrated and resonant album of masterful playing.

Price:

$9.95






In Stock
Quantity in Basket: None

Log In to use our Wish List
Shipping Weight: 4.00 units


product information:



Label: Balance Point Acoustics
Catalog ID: BPA 004/PLU 005
Squidco Product Code: 32447

Format: CD
Condition: New
Released: 2023
Country: USA
Packaging: Jewel Case
Recorded in Oakland, California, April 5, 2001, by Scott R. Looney.


---
Personnel:


Biggi Vinkeloe-alto saxophone, flute

Mark Weaver-tuba, trombone

Damon Smith-double bass

Click an artist name above to see in-stock items for that artist.

Sample The Album:


Descriptions, Reviews, &c.
"Contemporary improvisation has a beautifully strong tradition and profoundly meaningful tradition of exploration. Explorations in sound production for instance have lead to new instrumental techniques, which in turn have lead to new sonic vocabularies, , which in turn have lead to entirely new sonic vocabularies. Improvisors from Bubber Miley to Coltrane to Kowald took their instruments and discovered ways to play them which were previously unfathomable. In doing so they enriched our lives as listeners and established entirely avenues of musical expression. Another important area of exploration has been orchestration. Improvisors have often created ensembles that combine instruments Some examples include: saxophone duos, double bass duos, double bass quartets, three baritone saxophones and a double bass, two woodwinds and voice, guitar/drums/turntables, jazz orchestras plus basketball team, plus Coltrane's and Ornette's explorations of the double quartet. The trio of Biggi Vinkeloe, Damon Smith and Mark Weaver offers us an exploratory best of both worlds. Here we have a trio of master improvisors who have deftly crafted new ways of sound productions as individuals and represent a most unlikely sonic combination as a group. Together they reveal sounds that will surprise and delight right from the first listening.
There are some fascinating sonic qualities of this band that will stand out immediately. The sound they achieved in the studio is one, This is a hauntingly beautiful sound; a sound compliments the music being performed perfectly. All the instruments are clear and present, but there is a curious and deliberate distance as to the sounds as well. Biggi was meticulous about getting this exact sound from the studio and engineer Scott R. Looney skillfully obliged.
A more subtle sonic aspect of the group sound heard on this album is the use of a slightly different tuning. Biggi tunes her alto Saxophone to a442, and the rest of the band tunes to her. This is only slightly sharper than the standard 440, but slight or not it make the whole band sound different. Beautifully and uniquely different. Taking both the tuning issue together with the studio choices, we can see this is a band that understands and embraces creative expression on a multi-dimensional level. They understand how to work creatively with the space they perform in, how to capture their sounds with a specific creative goal in mind, and how they deal with tuning in a way that thoughtfully influences the total sonic results of their creative efforts.
In other words, this is a band that has a total concept of creativity: a concept where the improvisor(s) understands that that sound production and the development of the creative voice (as an individual or as a band) extends well beyond notes one chooses to play. Another sonic quality of this band worthy of noting is the orchestration. This is a fascinating choice of sounds to work with. the higher pitches of the alto saxophone and flute combine beautifully with the lower (and at times upper) ranges of the double bass and tuba. Together this bands sounds as no other. But you can't just put a bassist, a reed player and tuba player together in the same studio and expect results. You need improvisors who understand their instruments and understand how their instrumental voice will function in the context of the compositions they are spontaneously and collectively constructing. these are three improvisors who are able to do just that. They are three unique voices that work remarkably well together listen to the interplay between Biggi and the two lower voices. Listen to the long flowing songlike improvisation she constructs in the first track. This is a fascinating melodic journey she takes us on. Hear how she floatsabove both Damon and Mark and each of her phrases to their unexpected conclusions. This is a melodic statement of clarity and one that clearly demonstrates the work of a master improvisor. Listen to her flute playing on track 18, "Chili Coyote"and hear the timbral limits she pushes on the flute and beautifully it compliments the lethargic tuba and percussive bass. Biggi is clearly and without question one of the strongest voices in today's large pool of improvising reeds. her melodic sensibility is unparalleled and her expression is alway fascinating. Listen to all she does on this album: you'll hear the work of one of true masters of improvisation.
Turn your attention now to both Damon and Mark. and go back to "Chili Coyote". This is fascinating music. Listen to the choices Damon is making. Each sound is carefully placed in the mix, punctuating the composition perfectly. Throughout this album you'll hear from Damon a bassist of extraordinary technical talent and an improvisor who seems to an uncanny ability to place sonic events in exactly their proper place. At any given time Damon can and does provide melodic counterpoint, percussive accompaniment, or expressive drive. He compliments Biggi perfectly. and offer an intriguing contrast to Mark. Listen to his arc work on track 2 "Red Bud"; how his lines offer both a high-pitched melodic compliment and a percussive drive. Listen to his sonic exploration on tracks 5 "Calabazilla" and track 6 "Mesquitilla" or his strong pizzicato sound on track 16 "Inkweed".This is one of the strongest voices in improvised bass playing, with an extended vocabulary and a keen orchestration sense.
And Mark's contribution is just as fascinating and poignant. He is a perfect low-end compliment to Biggi, constructing beautiful melodic lines that flow, and wind and take the most curious and interesting detours. Listen to the cascade of sound he creates on track 14 "Arizona Poppy"; hear the jagged percussive feel he imparts and how that drives the band. Or listen to his low rumblings on track 20 "Incenso". This is a glorious composition with all players working three different timbral planes. Mark's lines flow so casulally here and take the piece to farthest reaches of the tuba's low end until the piece abruptly concludes. Listen to his work on track 9 "Cholla"; how he has total and complete command of his instrument. His vocalizing is so profound on this piece it adds an otherworldly dimension that function as an almost mystical sounding conclusion to entirety of this album.
A final aspect worth noting is the large amount of pieces the disc contains. This is a very unique approach the band takes: many shorter pieces as opposed to a few longer ones. This concept was one contributed by Biggi and Damon and you can hear how the idea of shorter improvised statements fits with both their particular creative voices: ones that seem more concerned with brief timbral or melodic explorations than epic sound constructions. It makes perfect musical sense and again offers an example of a total concept of improvisation. Here time becomes an important parameter of creative expression, and the use of time, or time limits, becomes as meaningful a part of the creative statement as any note that is played. The concise improvised statement also razes some interesting issues regarding where a band like this situates itself in history. In the wake of people like Coltrane or Cecil Taylor we can wonder how many young improvisors want to deal with the construction of a 30 to60 minute improvisation/collective composition? Of course there are plenty, but certainly the 30 + minute improvisation is an important creative aspect of many of the master improvisors the 1960s. With the Dessert Sweets trio we hear a band that draws from the vocabulary of those earlier masters, yet takes a decidedly different approach regarding their use of time. For a bassist like Damon Smith it clearly distances him from one of his admitted heros, Peter Kowald. Although Damon Draws from the Kowald vocabulary his sense of time is so different that is charts an entirely new course of improvised bass playing. (Edit/Disclosure: Damon got this idea from late Kowald albums!).
This is a band worthy of attention. They tap into the rich improvising tradition of exploration and offer superior sonic results. There are 22 tracks on this album all with examples of outstanding technical virtuosity and dazzling musical moments. anyone familiar with numerology knows that the number 22 is a special number it is one of the master numbers (along with 11) that represent the master cosmic vibrations in the universe and signify a highly enlightened experience beyond the range of Human understanding. The listening experience offered here is certainly one that stretches our previous understandings as listeners. This is a sonic journey that travels through some fascinating and beautiful new terrain and offers a totally unique and rewarding listening experience. Enjoy the ride!"-Adam Lane, NY/Oakland, 2002.

Artist Biographies

Track Listing:


1. Blue Lupine 2:42

2. Red Bud 1:57

3. Yellow Sweetclover 2:53

4. Purplemat 2:24

5. Calabazilla 3:07

6. Mesquitilla 2:21

7. Canatilla 2:44

8. Palo-de-hierro 3:22

9. Cholla 1:51

10. Hierba-del-pasmo 3:22

11. Tasajillo 2:58

12. Saguaro 2:36

13. Dakota Verbena 3:05

14. Arizona Poppy 3:07

15. Utah Juniper 4:01

16. Inkweed 2:14

17. Biting Cactus 1:31

18. Chili Coyote 4:54

19. Senna 2:38

20. Incienso 2:12

21. Zinnia 2:52

22. Jojoba 1:43

Related Categories of Interest:


Improvised Music
Free Improvisation
Jazz
West Coast/Pacific US Jazz
Trio Recordings
Recordings Utilizing the Natural Resonance of a Space
New in Improvised Music
Recent Releases and Best Sellers

Search for other titles on the label:
Balance Point Acoustics.
---

Recommended & Related Releases: