Branciforte, Joseph / Theo Bleckmann

LP1 [VINYL]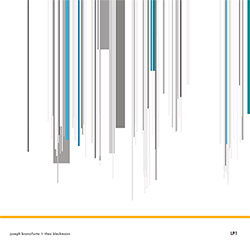 Like a blanket of twilight sound and insidiously fragile detail, the results of two days of uninterrupted sonic exploration between New York multi-instrumentalist, composer, sound artist & recording engineer Joseph Branciforte and German vocal innovator & electronic artist Theo Bleckmann are heard in four compositions from their collaboration: gorgeous, lulling and edgy.


Sample The Album:


product information:

Personnel:


Joseph Branciforte-modular synthesizer, fender rhodes, tape loops, processing

Theo Bleckmann-voice & electronics

Click an artist name above to see in-stock items for that artist.
---


12" on clear vinyl, mastered at 96k/24b, cut by lacquer channel toronto. edition of 150.

Label: Greyfade
Catalog ID: 001
Squidco Product Code: 30766

Format: LP
Condition: New
Released: 2019
Country: USA
Packaging: LP
Recorded at Greyfade Studio, in Brooklyn, New York, on April 23rd and 24th, 2018.


Descriptions, Reviews, &c.
"The debut recording from Grammy-nominated vocalist Theo Bleckmann (ECM) and electronic musician & producer Joseph Branciforte. Vocal loops of hushed beauty framed by artificially-synthesized tones, deep subharmonic oscillations, and gently layered sheets of noise, with a shared musical language drawing upon ambient, choral, microsound, and free improvisation.
In the early days of spring 2018, Theo Bleckmann and Joseph Branciforte retreated for two days of uninterrupted sonic exploration. In some ways it was a meeting years in the making, in others a wholly spontaneous encounter. Without a note of music prepared or a word of discussion, the two arrived at Branciforte's Brooklyn studio, armed with an array of looping devices, guitar pedals, found objects, and sound-making machines. The results can be heard on LP1, a debut recording as finely distilled as it is wildly exploratory.
Branciforte had long been a deep admirer of Bleckmann's work -- he grew up obsessively listening to records like Bleckmann's Origami and Ben Monder's Excavation, later working as producer & recording engineer on Monder's Hydra (2013), in which Bleckmann played a prominent role. It wasn't until 2017, however, that the two collided creatively: Bleckmann stumbled upon an online sound journal that Branciforte had been maintaining, which contained his ongoing studio experiments with Fender Rhodes & synthesizers, elaborately manipulated via pedals and modular processing. A musical friendship was born, and two successful duo performances followed later that year.
In 2018, the pair was invited to perform alongside pioneering electronic musician & composer Ryuichi Sakamoto. In the days leading up to the performance, the two met at Branciforte's studio to experiment, their first time making music together in a non-public setting. The four tracks comprising LP1 represent a musical snapshot of those improvised sessions, ranging from the edgy and dark to the delicate and pastoral. Through the process of live asynchronous looping, the pair builds and dissolves complex sonic structures in realtime, achieving an impressively immersive sound without the use of studio overdubbing.­
Having amassed a substantial amount of raw material, catalogue numbers were assigned to the improvisations and their subsections, a system whose logic is reflected in the final track titles. Editing, mixing, and further manipulation by Branciforte continued through the summer and early fall, with the album pared down to a concentrated 35 minutes in the end. The set is bookended by two darker pieces that stretch the harmonic and textural language of ambient, while the record's center cuts tend towards sensuous and sublime abstraction.
Bleckmann is widely known for his arresting and hauntingly emotive voice, an instrument capable of producing all manner of tones and otherworldly textures. Contextualized here by Branciforte's contrasting palette, his sound can be apprehended in a wholly new light. The warmth and fragility of the human voice is merged with the clicks and whirs of machines, the rawness of analogue synthesizers, and the grainy imperfections of decaying tape loops. Branciforte uses the entire surface area of the audio spectrum as counterpoint, extending Bleckmann's three-and-a-half octave range into impossibly sub- and super-sonic realms. At other times, the two performers appear to merge together into a single sonic entity, the lines between voice and machine blurred beyond recognition.
While these pieces were born of improvisation, they display a patient and deeply compositional logic. LP1 manages to walk a fine line between discovery and restraint, emotion and form, identity and dissolution -- outlining an expanded vision of ambient music that embraces narrative and arc as much as landscape and line."-Greyfade
"Late in June, vocalist Theo Bleckmann and multi-instrumentalist/producer Joseph Branciforte celebrated the release of LP1, their debut collaboration, by reveling in otherworldly, all-improvised soundscapes the pair sent skittering through New York's Fridman Gallery.
Bleckmann-a Grammy-nominated sui generis singer who ranked third in the Male Vocalist category in this year's DownBeat Critics Poll-has tackled the songbooks of Kate Bush and Charles Ives, among other endeavors, and currently is at work on his second effort as leader for ECM Records. As a vocalist and composer, he blurs the lines of modern jazz, contemporary classical, pop and cabaret with aplomb. But Bleckmann's just as daring as a sound sculptor, manipulating his voice using effects processing and looping to angelic results.
"I've done ambient records before," Bleckmann explained when asked if the wordless experiments on LP1 rank as an aesthetic departure. "I've done electronic improvisation or electronic contemporary music for years, so it's not completely new to me ... . I've done a solo record called Anteroom, an ambient record with only my voice overdubbed, so there was no looping; it was just overdubbed a hundred-million-thousand times. I did that record in 2005, then I did a record a couple of years ago with Caleb Burhans, Skúli Sverrisson and Grey McMurray called This I, which is also very much in the spirit of Joe and I free-improvising."
Perched directly across from each other in the middle of the gallery and flanked by the audience during their album-release show, it was easy to be induced into a trance-like state by the beatific drones dreamily unfolding and the idiosyncratic effects-laden vocalizations that enveloped the space. Branciforte said theirs "was a shared understanding and language that developed pretty quickly. It felt effortless, like we've been doing it for a while."
Tracing the path of their union actually reaches years back and ultimately counts as a dream collaboration for Branciforte. As a teenager, he first discovered Bleckmann through his solo recordings, like Origami and Anteroom, then on Excavation and Oceana by guitarist Ben Monder, albums that proved influential for the experimentalist. Later, as a producer and engineer, Branciforte racked up a long list of avant-garde jazz credits. From Vijay Iyer and Tim Berne to Mary Halvorson, he's been a choice pick to helm the boards. Producing Monder's Hydra was actually a catalyst for his crossing paths with Bleckmann, who provided vocals for the 2013 Sunnyside set. That helped plant the seeds of their collaboration, which came to fruition a few years later when Bleckmann fortuitously stumbled upon sonic experiments Branciforte was uploading to Soundcloud.
"I'd been keeping this 'sound journal,' where I would record a short minute or two of improvisation using some different pedals on the Fender Rhodes and modular synthesizers and just exploring gear and writing stuff about my process," Branciforte explained. "[Theo] was digging some of the sounds, so he got in touch and we talked about getting together and playing some shows."
While the collaboration has manifested in the form of a valuable musical partnership, it's also presented another opportunity for Branciforte: launching his own imprint. Dubbed Greyfade (the same name as his Brooklyn studio), LP1 ranks as the label's inaugural release. Branciforte's vision for the endeavor is focused on collaboration-with an eye toward algorithmic composition, ambient, sound art and minimalist chamber music.
Free-improvisation also is a crucial part of Greyfade's mission, an artform Bleckmann and Branciforte seem to excel at together.
"For me, it requires a certain personality or certain mindset of a player, and Joe definitely has that, meaning that I don't have to solo," Bleckmann said of their musical bond. "He comes at it with a blank slate and that's really nice. We could do something crazy-wild; it could go anywhere ... that's actually the mark of true free-improvisation. If you call it free, but all you're doing is regurgitating Albert Ayler's '60s aggressive free-improv, then to me that's not really that free. So, the nice thing with Joe is that we can do that and it could go there, but for the most part, that's not really where we're starting. We're starting at the microcosm of just looking into the DNA of sound and slowing down, digging and slowly excavating what's in there. That's where we feel we click." "-DownBeat Magazine
12" on clear vinyl, mastered at 96k/24b, cut by lacquer channel toronto. edition of 150.
Get additional information at Downbeat Magazine

Artist Biographies

Track Listing:


SIDE A



1. 6.15 8:30

2. 3.4.26 8:42

SIDE B



1. 4.19 8:06

2. 5.5.9 9:22

Related Categories of Interest:


Vinyl Recordings
Improvised Music
Free Improvisation
Electro-Acoustic
Electro-Acoustic Improv
Piano & Keyboards
Electronic Forms
Unusual Vocal Forms
Ambient & Minimal Music
Duo Recordings
NY Downtown & Metropolitan Jazz/Improv
Staff Picks & Recommended Items
New in Experimental & Electronic Music
Friends of Squid

Search for other titles on the label:
Greyfade.
---

Recommended & Related Releases: