RED trio and Celebration Band

Suite 10 Years Anniversary [2 CDs]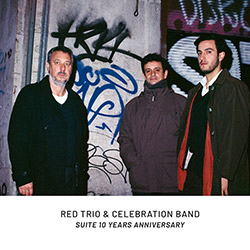 The Red Trio of pianist Rodrigo Pinheiro, bassist Hernâni Faustino and drummer Gabriel Ferrandini mark their 10th anniversary as a trio on this 2-CD set of an outstanding concert in Lisboa, PT, joining forces with the 13-member Celebration Band, whose members include John Butcher, Ernesto Rodrigues, Luis Vicente, Sei Miguel, Rodrigo Amado, Mattias Stahl, Carlos Santos, &c.

Price:

$15.95






In Stock
Quantity in Basket: None

Log In to use our Wish List Shipping Weight: 4.00 units


product information:


Sample The Album:


Descriptions, Reviews, &c.
"This two-CD set documents a 2018 concert marking the tenth anniversary of Lisbon's Red Trio: pianist Rodrigo Pinheiro, bassist Hernâni Faustino and drummer Gabriel Ferrandini. It's a longstanding band of equals, creating a three-way music in one of the most traditional formats in jazz. Since its inception, the group has distinguished itself not only in terms of the piano trio, but also as a superb collaborative unit, including a series of quartet recordings with John Butcher, Mattias Ståhl and Nate Wooley.
This commemorative concert combines the trio with the Celebration Band, a pool of 13 musicians, and employs the title Suite to link three pieces, each trio member composing/structuring his individual ensemble and segment. The pool includes both Red Trio collaborators from previous tours ‒ Butcher (who appears twice) and Mattias Ståhl (a constant along with the trio itself) ‒ and 11 Lisboan associates from whom each trio member will choose four or five. While each piece covers a range of improvisational practices, each member creates a kind of self-portrait, but one realized by nine or ten musicians.
Rodrigo Pinheiro's work resides at the intersection of free improvisation and high modernism, with quicksilver meetings of design, impulse and chance. Along with Butcher, Ståhl and Red Trio, he draws on several musicians associated with Creative Sources Records' large ensembles: violist Ernesto Rodrigues, electronic musician Carlos Santos and alto saxophonist Nuno Torres, along with trumpeter Luis Vicente and cellist Ricardo Jacinto. "Corrente" (chain) begins at the edge of inaudibility until Ernesto Rodrigues' skittering, splintering viola and Ricardo Jacinto's plucked cello emerge against the plosives of Faustino's bass, all eventually linked by the swirl of Ståhl's abstracted vibraphone and Pinheiro's drum-like prepared piano. The work stretches to 33 minutes, momentarily thinning, becoming more spacious, then creating contrasting phases of dense activity.
Butcher brings complex multiphonics to a field in which Pinheiro, Faustino and Ferrandini are the initial links. The other winds enter against splashes of piano, and there's a sudden trio of Butcher, Torres and Vicente, spinning rapid lines knotted with flutters, bleats and choked shrieks, continuous threads formed in the rapid overlapping of compound events. A previously unheard sound occurs, between run and blip, so strange it takes relistening to yield Santos's identity. Ferrandini has become a master of rapid, complex storms, sometimes drumming so quietly it can be mistaken for precipitation and making a trio of electronics, bowed cello and drum kit seem perfectly plausible. Red Trio is so highly attuned, yet open, that visitors can move with and through it in ways that suggest membership, Ståhl and Pinheiro at times creating the illusion that they are one another's supplementary limbs. There's a collective musical wisdom at work here, from the slow-quick-near-silence of Butcher's soprano to Faustino's bass as a central pivot amidst the swirl. Vicente's point and edge stand out, as things somehow soften to a walk amidst field noise and some advanced collectivist sputter, a music containing various levels of quiet and pulse that have somehow synchronized.
Drummer Gabriel Ferrandini has spread his musical interests into several areas: free improvisation, jazz, noise rock and composition and his group make-up on the 28-minute "Mais Vale" (more value) represents those associations. Tenor saxophonist Rodrigo Amado and cellist Miguel Mira are here from Motion Trio; Other long-time associates are sometimes distant rock/noise bands: tenor saxophonist Pedro Sousa (also from the tuneful and subtle trio of Volúpias [Clean Feed] with Ferrandini and Faustino, and numerous other associations), percussionist David Maranha (from a percussion duo) and vocalist/ electric bassist Miguel Abreu (from the band Cabeira).
"Mais Vale" begins with spacious, somber piano chords hanging in air, resonance massaging time as overtones die away and new tones are added, all strongly suggestive of Morton Feldman's piano music and superbly articulated by Pinheiro. Ferrandini has demonstrated a knack for spacious, minimalist melodic composition (see Volúpias) in which reverie and menace can seem like intimates, unlikely but oddly secure. He has also ventured far into other idioms, some of which appear here. One of the principal elements is a vocal part, Abreu repeating an echoing phrase, almost a dirge, that hangs, for this listener, between hypnotic and irritating, something that may be a result of the mix or more likely the original hall acoustics. While it may compromise the ultimate effect of the piece, there's much that's brilliant here, including Amado's extended tenor solo, almost a monotone of rapid-fire tonguing, like sped-up speech operating within the narrowest spectra of inflected pitch. There's also a mercurial vibraphone solo, during which Ferrandini and Ståhl seem to pass through one another's voices.
The longest work at 42:11, Faustino's "Ditirambo" occupies the second of the two CDs. The band includes Butcher and Ståhl but its distinguishing mark is the presence of Sei Miguel, the pocket trumpeter who is almost a father figure to Lisboan free jazz, an introspective musician whose shafts of sound can be at once muffled and spiky and who appears here with his long-time partner Fala Mariam on trombone. The other musicians are Santos on electronics and Jacinto on cello, making this the hardest of these ensembles to characterize. It hardly matters. Like Sei Miguel, Faustino's roots run deep in free jazz and the music is ultimately a triumph of these extended roots.
"Ditirambo" begins with a long stretch by the trio itself, richly dramatic, gestural music in which the three display the near telepathic empathy that can develop between musicians who play together for over a decade in multiple contexts. The first additional voice to enter is Butcher's, at once machine-like and warm, elegiac and multiply-traditioned. It's a mark of good improvisors that they can find the richest common ground available, and that is what every one in this band ultimately does, reflecting but not disturbing common roots that run to blues, Ornette, bop, Mingus, and some diverse version of swing. There is a long minimalist stretch towards the end when very few musicians are playing, but the sonic detail is so subtle as to blur bass, piano, drum, saxophone, and electronics together. Gradually welling pedal points call up a wondrously Mingus/ Ellington texture (where many bassists' hearts reside). Though unexpected in the preceding terrain, it's all achieved with no small thanks to trombonist Fala Miriam, whose subtly guttural smears and wails summon up voices like Britt Woodman and Quentin Jackson. The roiling piano and vocalic brass pull up something of unthinkable drama and tradition, a measure of the musicians' and Faustino's depth of musical personality, a dream of soul and community that can never be ideally realized but which cannot be escaped.
Lisbon is a remarkable outpost for improvising orchestras, from the continuously evolving ensembles of Ernesto Rodrigues and brilliant one-offs like Luis Lopes' Lisbon Free Improvisation Unit in which many of these musicians play. Red Trio + Celebration Band is another important development."-Stuart Broomer, Point of Departure
Get additional information at Point of Departure

Artist Biographies

Track Listing:


CD1



1. Corrente (Rodrigo Pinheiro) 32:58

2. Mais Vale (Gabriel Ferrandini) 28:13

CD1



1. Ditirambo (Hernani Faustino) 42:12

Related Categories of Interest:


Improvised Music
Jazz
Free Improvisation
European Improvisation, Composition and Experimental Forms
Trio Recordings
Large Ensembles
John Butcher
Staff Picks & Recommended Items


Search for other titles on the label:
NoBusiness.
---

Recommended & Related Releases: