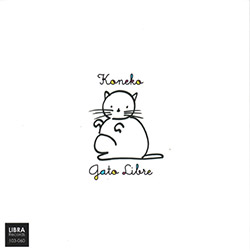 The 8th album from Gato Libre with compositions from trumpeter Natsuki Tamura in a trio with Yasuko Kaneko on trombone and pianist Satoko Fujii here on accordion, Koneko translating to "Kitten", as Tamura explores 8 new cats from strays to shop cats through deceptively simple pieces of melodic appeal of warm color, tone & texture; absolutely charming.


product information:



UPC: 4562162308609

Label: Libra
Catalog ID: 103-060
Squidco Product Code: 29572

Format: CD
Condition: New
Released: 2020
Country: Japan
Packaging: Cardboard Gatefold
Recorded at UEN Studio, in Tokyo, Japan, on December 5th, 2019, by Tatsuya Yoshida.


---
Personnel:


Satoko Fujii-accordion

Natsuki Tamura-trumpet, composer

Yasuko Kaneko-trombone

Click an artist name above to see in-stock items for that artist.

Sample The Album:


Descriptions, Reviews, &c.
"Koneko, the latest release by Gato Libre, draws listeners in with its lyricism and simple melodies. But it is a deceptive simplicity. The trio, led by trumpeter-composer Natuski Tamura and featuring Satoko Fujii on accordion and trombonist Yasuko Kaneko, develop their solos to sustain a meditative atmosphere as they play, blending improvisation and composition into an integrated whole. It all sounds effortless and relaxed, but it is the product of great musical discipline, close listening, and a sophisticated understanding of form. The group's eighth album is a quiet masterpiece of virtuosity masquerading as folk-like simplicity.
There is a lot of sonic variety and musical detail in the meditative unfolding of the performances. Tempos may be slow, but there is always something interesting happening. On "Yameneko," the accordion and brass split the melody, providing contrast. The stately flow of improvisations start to unfold over Fujii's accordion drone, with trumpet and trombone working individually and together. A trumpet-accordion duet features some of Tamura's best soloing on the album as Fujii creates a shimmering background punctuated by chords. A trombone-accordion duet provides a delicate setting for the graceful legato phrasing and subtle inflections of Kaneko's trombone. "Kaineko" opens with a poignant melody and evolves into some of the most turbulent music on the disc before settling back into the original wistful theme. The group's deep understanding of Tamura's intentions makes it all cohere into a balanced whole. Each piece reveals new sounds and feelings as it progresses, from the intimate, tender exchange of musical ideas between Tamura and Fujii on "Doreneko" to the contrasting tones and textures of Tamura and Kaneko on "Noraneko" to the rhythmic tensions that propel "Ieneko."-Libra
"A combo that begin life as a trumpet/accordion/bass/guitar quartet continues life as a trumpet/accordion/trombone trio, and thrives on the changes foisted on them by tragedy. Koneko, out July 10, 2020 from Libra Records, marks a bit of what has to be some welcome stability for the quiet combo headed by trumpeter Natsuki Tamura and featuring his composer/pianist wife Satoko Fujii on accordion. Yasuko Kaneko is the trombonist originally brought on to replace original bassist Norikatsu Koreyasu, who passed in 2011. The group was reduced to a trio when it was decided that nylon string guitarist Kazuhiko Tsumura would not be replaced after he died in 2015.
Koneko is the first album in some time where the personnel is the same as the prior Gato Libre album. The previous time out Neko was that first Gato Libre release as a threesome, and it was very surprisingly resilient in how this configuration stayed true to the original mission even after two instruments and personalities were exchanged for one different instrument and personality. It's a testament to Tamura's vision for the band. You see, Gato Libre is not really jazz, not even the avant-garde variety that Tamura and Fujii do better than just about anybody, currently. It's folk music, folk music that has no boundaries.
That doesn't change at all for Koneko. The familiar solitude of Tamura's horn opens "Kaineko," a solemnness that continues even as Koneko and Fujii gently nudge their way in. Even in an understated manner Fujii plays the accordion like no other, it's in the small ways she harmonizes her notes and holds them. She also is tasked with taking the song to the next pattern and Tamura completes the sonic painting one puff at a time. When Koneko re-enters, it soon devolves into something just short of chaos, but then the three collect themselves and find themselves where they started.
As is so often the case with a Tamura/Fujii project, they mind little details that set them apart from anyone else. For instance, you rarely hear all three of them play at once. More often, songs are arranged as series of duos and solos and where each instrument is deployed at certain points of the song is critical to the character of the song, as is how that instrument is played. On "Noraneko," Fujii's 'saws' her accordion like an arco bass or cello, virtually assuming that role. As she moves into the spotlight, she makes that instrument breathe, injecting soul into her featured moment.
"Yamaneko" contains a series of calls and responses, first between the brass and Fujii and then between the two brass players. Each section - including the solos - comes with its own motif, too. Tamura and Fujii harmonize on "Ieneko" as Koneko blurts low notes that serve as a sort of bass pattern.
The delicate dance between the horn players make for some of the most poignant moments of the album. On "Noraneko," Tamura and Kaneko engage in simultaneous expression that's affective and fragile, while on "Yamaneko" they gently reach out to the listener in tandem.
Tamura is inclined to go for emotionally alluring over technically dazzling but his solo turn during "Koneko" is both of those things. On "Kanbanneko," it's the first thing and then the second thing, ending with a return back to the first. Regardless, his bag of tricks is deep and is never at a loss for something unique to say on the trumpet.
Things take a caustic turn on "Bakeneko," a taste of the Tamura/Fujii cheekiness that's found way on up to the orchestra level. Even here, there's a generous utilization of space and silence that keeps this track from being out of place on the overall album.
Music that relaxes doesn't necessarily have to be devoid of subtlety and rich complexities. Gato Libre has proven that time and again, and Koneko makes it an open-and-shut case."-S. Victor Aaron, Something Else Reviews

Artist Biographies

Track Listing:


1. Kaineko 6:51

2. Noraneko 8:37

3. Yamaneko 7:18

4. Koneko 7:18

5. Ieneko 5:34

6. Bakeneko 5:15

7. Doraneko 6:41

8. Kanbanneko 3:39



Related Categories of Interest:


Improvised Music
Jazz
Free Improvisation
Melodic and Lyrical Jazz
Trio Recordings
Asian Improvisation & Jazz
Satoko Fujii & Natsuki Tamura's Libra Label

Search for other titles on the label:
Libra.
---

Recommended & Related Releases: