Ensemble SuperMusique / Symon Henry

voir dans le vent qui hurle les etoiles rire et rire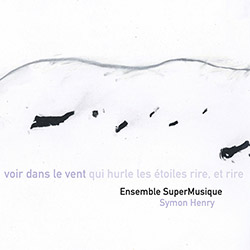 Montreal's true supergroup since 1998 with many of the city's essential Musique Actuelle performers and composers, directed by Danielle Palardy Roger and including Jean Derome, Joane Hetu, Scott Thomson, Lori Freedman, Alexander St. Onge, &c. &c., as they take on a piece by Quebec composer Symon Henry, performed in an exceptional concert in the Chapel in Bon-Pasteur.


Sample The Album:


product information:

Descriptions, Reviews, &c.
"This album was recorded live in concert as part of the exhibition of composer Symon Henry's graphic score "Voir dans le vent qui hurle les etoiles rire, et rire" at Chapelle historique du Bon-Pasteur in Montreal. This outstanding 168-page score, hand-drawn by the composer himself, was performed by ten improvisers from the Ensemble SuperMusique under the direction of Danielle Palardy Roger.
Each musician had to follow the score unfolding on his/her own iPad, while it was simultaneously projected on a screen for the audience to be seen. Divided into five movements followed by an Epilogue, this piece allows us, amongst other things, to visit a few "nuages d'etoiles" and "entrelacs", and a series of "formidables Nues". Referring to himself as a "sound draughtsman", musicians from ESM delicately play both the outlines of Symon Henry's drawings - whether they are thick or thin, pale or dark, straight or curved, - as well as all points making up the whole image... It is with great pleasure that the Ensemble SuperMusique has performed his graphic work."-Ambiances Magnetiques
"voir dans le vent qui hurle les étoiles rire et rire by Symon Henry already had a life. Created for the opening of the new Pavilion Lassonde at the Musée des Beaux-Arts du Québec by the Québec symphonic orchestra, it is under the arrangement of Danielle Palardy Roger for the ensemble Supermusique it has been recorded in 2018. The music of Symon Henry is particular by being partly improvised, their scores being drawn instead of being written with traditional notation. Curves, ascents and descents lines define the melody when the density of the traits and the colors define the orchestration and the volume of the sounds. The part of the musicians playing this music is then huge in the interpretation being done. But the listeners also have their voice in the interpretation of this music. Symon Henry writes (draws) their music as poetry, leaving space for diverse ways of understanding. Then, in order to review the listening I have done, you reader have to accept this is nothing more nothing less than my personal way of hearing this music. One between thousands.
The piece has six sections which will be played without stop. voir dans le vent qui hurle les étoiles rire et rire begins with Grandes horizontales et nuages d'étoiles. We can guess that these long horizontal lines will not touch each other, these lines, as unstable as they are, do not meet. This premiss is quite contemplative and ecstatic and express the impossibility of some connections, some communications. Les rencontres (meetings) happen in the second part. The straight lines are superposed to a clattering background from the strings and the piano. A solo by the cellist, took back by the saxophone shows a greater dramatic tension, what meetings and splittings sometimes also have. This movement ends on animals songs, those animals sounds like they are suffering, are breathless. With a transition at the cello -decidedly, Rémy Bélanger de Beauport hits it here- into the third part, Entrelacs et épurations, see the cello and the piano put down the marks for what will be following. After a stop in the flow, the sounds are shorter, sparser. Which brings to the almost death of this long breath that lead the piece from the very beginning. The fourth part, Accords et impulsions will be the catalyst for the end of the piece. The piano leads with a strong pointillism through Les nues. -we have here to define what " nues " means. In French it is a word frequently used in idioms without anyone knowing what it really means. It should be understood as the skies, cloudy or not, the clouds- On an almost dancing beat with a lot of pats is superposed huge descending glissandos, rocket ascending lines, exacerbated climaxes, ecstatic coitus. Here is the big earthquake, where everything happens. It ends on a plateau of high pitched strings and woodwinds, not coming back from their cloud until the end of the last section, Résonances. Once again, we hear long horizontal lines. The piano, the percussions and the cello are in the low of their respective register. Everything ends without having these extremes meet. Soaring each on their side, those lines live their grand ecstasy apart.
Until the end of the 20th Century, music mostly was an art of reproduction. Musicians damned to reproduce as well as they could what is a Beethoven sonata, what is a Bruckner Symphony, what is a Berg opera. Symon Henry, with many other composers writes a music which offers a lot of freedom to the performance, to the expression of views by the musicians-interpreters. They also leave a lot of space for the listener to hear, see and feel what the listener wants. I heard a lot of ecstasy, a lot of breath in voir dans le vent qui hurle les étoiles rire et rire. I feel some influences, maybe from Ligeti, Stockhausen or even Messiaen. But I am totally conscious that it is only one in a million ways to listen to this music. Other ensembles or orchestras will play eventually this work. The standard will be pretty high considering how this recording is very inspired and has a brilliant technical render. But those who will perform this music anew will give us eventually a pretty different version from this one. As in poetry, everything happens between the words, between the notes. The breath and the rests modify the meaning and embody the interpretation. This beautiful production is plural: it shows drawings, extracts from the score, of course this has a lot of music and also some poetry, as you can read the list of the titles as a haiku."-Symon Henry, Neomemoire
Includes an 8-page foldout with text in French and English and drawings from the score.
Get additional information at Neomemoire

Artist Biographies

Track Listing:


1. I. Grandes Horizontales Et Nuages D'etoiles (Premisses) 12:29

2. II. Rencontres (Sur Fond De Grandes Horizontales) 9:37

3. III. Entrelacs Et Epuration 6:30

4. IV. Accords Et Impulsions 7:42

5. V. Les Nues (Autoportraits En Liesse) 10:22

6. VI. Resonances (Grandes Horizontales II) 4:52

Related Categories of Interest:


Ambiances Magnetiques
Improvised Music
Free Improvisation
Jazz
Musique Actuelle
Large Ensembles
Jean Derome
Hetu, Joane
Canadian Composition & Improvisation
Staff Picks & Recommended Items

Search for other titles on the label:
Ambiances Magnetiques.
---

Recommended & Related Releases: