Leap of Faith Orchestra

SuperClusters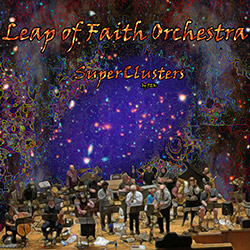 The 4th work using composer, band-leader and multi-instrumentalist David Peck's Frame Notation Scores for his large ensemble Leap of Faith Orchestra, his graphic notation allowing exceptional, unexpected and truly unusual results in large-scale improvisation, an amazing evolution of the big band concept executed by the some of the finest players in the Boston area; amazing!


Sample The Album:


product information:

Personnel:


David Peck (PEK)-saxophones, clarinets, double reeds, daxophone, sheng

Glynis Lomon-cello, aquasonic, voice

Charlie Kohlhase-saxophones

Dan OBrien-flutes, clarinets, saxophones

Kat Dobbins-trombone

Bob Moores-trumpet

Dave Harris-trombone, tuba

Zack Grass-bass trombone, tuba

Matt Scutchfield-violin

Junko Fujiwara-cello

Eric Zinman-piano

Tony Leva-bass

Silvain Castellano-bass

Sydney Smart-drums, glockenspeil, gong, metal, wood

Joe Hartigan-drums, vibraphone, gong, metal, wood

Yuri Zbitnoff-drums, log drums, gong, metal, wood, daxophone

Click an artist name above to see in-stock items for that artist.
---


Label: Evil Clown
Catalog ID: 9164
Squidco Product Code: 25852

Format: CD
Condition: New
Released: 2018
Country: USA
Packaging: Digipack - 3 panel
Recorded at Longy School of Music, in Cambridge Mass on December 1st, 2017.


Descriptions, Reviews, &c.
"We have now performed 4 of my Frame Notation scores: SuperClusters, The Expanding Universe, Supernovae and Possible Universes. I am giving all of my Frame Notation compositions for the full LOFO astronomical titles - It seems fitting with the scale of these events and fits well with my usual Leap of Faith/ Evil Clown titles which largely draw on Scientific and Mathematical ideas. These very special full orchestra events occur only twice a qyear. For each performance I prepare a score specifically for that event which is simultaneously a Density and Sonority map prescribing the improvised development of the work
These scores are very special compositions intended to solve a very tricky problem of composition for large improvisation ensembles: How do you rehearse complex works for large ensembles when all of the participants are extremely busy? Answer: Compose works that do not need to be rehearsed. The scores use a device call Frame Notation where written English descriptions of the overall sonority desired and simple graphic symbols are given durations on a timeline for each player indicating when and how to play and when not to play. The directions are put in little boxes called frames which are simple enough to be immediately understood by the performers. The players track the elapsed time on a very large sports clock. There is no melodic, harmonic or rhythmic information specified
This system allows me to compose detailed Events without having to notate pitches or rhythms which would require significant rehearsal to accurately achieve. Skilled improvisers, like the ones I have recruited, can easily follow these instructions to create a highly structured improvisation without the need for specific rehearsal even when the ensemble is quite large as it is here. This allows enormous freedom and decision making for each performer and means that we do not have to rehearse these pieces prior to performance. We rely on all of the work of the overall Evil Clown project to tighten the ensembles' improvisation across its many cross sections while the score provides directions on timing, sonority and transformation
Each of the scores has continued to utilize the compositional symbols and devices of the previous scores while adding something new to my notational system. Some examples are large texture blocks with much of the ensemble playing auxiliary instruments (like wood or metal texture), using the decay from large gongs as structural divisions of the work to pivot into a new sonority, group action frames assigned to named groups in the ensemble, and changing the scale of the score so each page covers less time on the timeline and therefore can express more detailed events. The average event duration has become shorter on each score, thereby significantly increasing the rate of transformation
For SuperClusters, I realized that there is no reason why the musicians cannot pay attention to the second position of the sports clock when tracking the time. It is just as easy (for the performers) for me to trigger an event at 2:17 as it is on a nice round number like 2:30. The difficulty is in clearly expressing the directions with the notation. The solution is to change the scale of the score to one minute width per page - the parts will have two systems on each page with the lower system repeated at the top of the next page to assist with page turns. I have used this scale for the opening and conclusion sections of SuperClusters, and used the 3 minutes per page with 2 minute overlap scale from Possible Universes for the balance of the work (the first two scores used a scale of 5 minutes per page with 2 minute overlap)
SuperCluster's big new idea relies on this 1 minute scale. The work opens with an accelerando over the first 3 minutes. Six different action groups have unison single attacks spaced on a reverse Fibinachi series: the attacks get progressively more frequent in an irregular fashion. Each of the attack groups plays their series at a different time-scale. The net effect is a system of irregular attacks increasing in frequency and converging just after the 3 minute mark. Each attack group also includes a single strike on a metal instrument (gong or bowl) that has a lengthy sustain. Some of the time the gong decay rings out while the ensemble remains tacit, but some of the time a soloist plays a very brief solo from one attack to the next
The accelerando idea is used again later in the score in the percussion section. At 31:00, the score direct the percussion section in three groups through an acceleration event while the strings glissando and I play the Sheng ... This device is used several more times in the score, each time with a different percussion timbre, and then the work concludes with a deacceleration event which is structurally retrograde from the opening. All of the other contemporaneous Evil Clown performances and recordings by all of the ensembles - Leap of Faith, String Theory, Mekaniks, Metal Chaos Ensemble and the Sub-Units - are preparation for these full Leap of Faith Orchestra performances. The performances by these smaller ensembles stand by themselves as improvisation performances as well as getting us ready to improvise in a full orchestra setting. Please look for our regular concerts at Outpost 186 and Third Life Studios."-David Peck, Evil Clown
Review by Dick Metcalf at Contemporary Fusion Reviews:http://contemporaryfusionreviews.com/leapoffaithorchestra/
Leap of Faith Orchestra brilliantly bizarre improvised ensemble Leap of Faith Orchestra - Superclusters: I want to say I'm amazed by the discoveries a day can bring... OTOH, though, I've been in a constant state of amazement since I emerged from the womb... LOFO is the source of my current wonder, no doubt... the composition uses a graphic notation system called Frame Notation, and the music they produce is full of power, as well as lots of "wide open spaces" - all executed flawlessly, as you'll witness in the video below:
...if you aren't blown away by their performance at Pickman Hall at the Longy School of Music in Cambridge, MA, you more than likely listen to "middle of the road" music all day long. Just kidding, you wouldn't be here at our magazine unless you wanted to see and hear music that challenges the mind as well as the spirit.
[...]
As you will hear, this is truly improvised music... the frame notation uses graphic symbols to evoke different moods and timbres as the clock (they are watching) progresses through the piece... my friends Davey Williams, LaDonna Smith and Harlan Mark Vale would just love this music, as do I. The intricate weave of bells and gongs into the "attack groups", as they're called, epitomizes "creativity on the go", and is both refreshing and intriguing
I give Leap of Faith Orchestra a MOST HIGHLY RECOMMENDED, as well as an "EQ" (energy quotient) rating of 4.99... just superb creative effort that will blow your mind. [...]"
Review by Karl Ackermann at AllAboutJazz:https://www.allaboutjazz.com/SuperClusters-pek-evil-clown-review-by-karl-ackermann.php
"On two occasions each year, composer and multi-instrumentalist PEK (David M. Peck), gathers together his Evil Clown collective for live recordings. Culled from Leap of Faith, String Theory, Mekaniks, Metal Chaos Ensemble and their respective off-shoots of each, the players form his massive, eighteen-member Leap of Faith Orchestra. For the SuperClusters session, the group assembled at Longy School of Music at Bard College with a specially written score that takes advantage of the individual sub-groups' previous experiences
As LOFO had done with their Supernovae (2016) and Possible Universes (2017), SuperClusters entails a single title track composition, here running seventy-six minutes. PEK continues the use of his Frame Notation technique where the score is seen in written descriptions and archetypal symbols within duration bars. The system provides the musicians with instantaneous grasp of their individual performances and an overview of the total piece. Over the course of these large group performances, PEK has tinkered with the technicalities of the process but not the prevailing principle. The piece, though structured by group sections and intervals, is improvised within those parameters
There are some of the usual array of unconventional "instruments" that PEK favors, such as rachets and flex-a-tones, but in an ensemble of this size, even the most peculiar of them are absorbed into the larger sound. There are few conventional elements in the structure of the composition; melodies are passing shimmers of invention and solos are the exception rather than the rule. Still, there are episodic instances where players and sections stand out -four minutes in, a swirl of brass and horns fills the soundscape, dissipating as quickly as it had formed. At thirteen minutes, Dave Harris' tuba takes the entire orchestra to a point of near silence that breaks out into a succession of subdivision passages. Among them, is an absorbing percussion solo from Joe Hartigan
PEK points out, in his album notes, "The performances by these smaller ensembles (those mentioned above) stand by themselves as improvisation performances as well as getting us ready to improvise in a full orchestra setting." SuperClusters appeals on at least two levels; the technical aspects of PEK's approach are intriguing and though provoking. From a musical perspective those techniques translate to a listening experience that seems to change with each successive play of the disc. [...]"
This album has been reviewed on our magazine:




The Squid's Ear!

Artist Biographies

Track Listing:


1. Super Clusters 1:16:01

Related Categories of Interest:


Improvised Music
Free Improvisation
Jazz
Large Ensembles
Boston Area Improvisers
Staff Picks & Recommended Items

Search for other titles on the label:
Evil Clown.
---

Recommended & Related Releases: