Musicworks

#119 Summer 2014 [MAGAZINE + CD]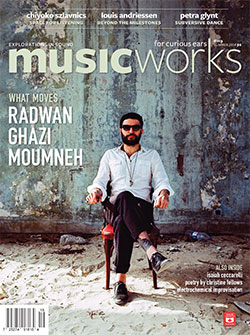 The summer 2014 issue of Canada's premiere new music magazine and accompanying CD, with articles on Isaiah Ceccarelli, Petra Glynt, Erin Sexton, Caduc, Chiyoko Szlavnics, Louis Andriessen, Gil Delindro, plus reviews, listings, &c. &c.


product information:



UPC: 725274918164

Label: Musicworks
Catalog ID: #119
Squidco Product Code: 19115

Format: MAGAZINE + CD
Condition: New
Released: 2014
Country: Canada

---
Personnel:


Jerusalem In My Heart (Radwan Ghazi Moumneh

Malena Szlam Salazar

Jermie Regnier)



Chiyoko Szlavnics-composition

Eve Egoyan



Louis Andriessen-piano

Cristina Zavalloni-voice

Isaiah Ceccarelli-percussion



Petra Glynt-Alexandra Mackenzie, using samples, recorded drums, voice, kazoo, and chimes



Erin Sexton-water, epsom salt, oscillators, electromagnetic amplifiers, copper wire, and nine-volt batteries



Gil Delindro



Michael Trommer

Edirol R-09HR audio recorder, Audio-Technica AT822 microphone, Cold Gold hydrophone, home-made microphone array, contact microphone

Click an artist name above to see in-stock items for that artist.

Sample The Album:


Descriptions, Reviews, &c.
Isaiah Ceccarelli

"I know it may sound crazy, but I am interested in making beautiful music-music that sounds good. I'm not saying this just to be different, and it might not be in line with a [...]

Petra Glynt experiments in celebration

Ancient rock carvings at Petroglyphs Provincial Park in eastern Ontario inspired Alexandra Mackenzie to call her latest solo musical project Petra Glynt. Evoking rock, ancient cultures, [...]

Caduc

The word caduc translates from French as both obsolete and deciduous. Appropriately, the roster of Mathieu Ruhlmann's humble Vancouver imprint, Caduc, plays right at the intersection of [...]

Features

The Restless Art of Radwan Ghazi Moumneh

It's Friday night in Montreal, and a who's who of local musicians is packed into the back room of Casa del Popolo to check out the first public appearance of Master of Masters My Master. Nobody[...]

Erin Sexton

tunes in to the eternal music of matter

Erin Sexton is in awe of the universe. By situating her creative practice in relation to the stars and the planets, the Montreal sound artist seeks to engage in conversations with the cosmos. Her[...]

Chiyoko Szlavnics draws the ear towards infinity

"I keep coming back to light on water," says Chiyoko Szlavnics, explaining her interest in beating, that intriguing fluttering effect that arises when sound waves of slightly differing frequencies[...]

Louis Andriessen brings the noise

Louis Andriessen arrived on the international scene with a bang. In 1976 he unleashed De Staat (The Republic) on unsuspecting audiences. The political charge of the composition came from[...]

Visions of sound

Gil Delindro's instruments of nature

Earlier this year, an eight-foot-across circle of solid ice was hung from the ceiling of Winnipeg's RAW: Gallery of Architecture and Design. Why would anyone in the world's second- [...]

Reviews

Adrian Verdejo. Modern Hearts.

Redshift Records, TR429.

Digital Primitives. Lipsomuch & Soul Searchin'...

Hopscotch Records, Hop 51.

Hecker. Articulação.

Editions Mego, eMEGO 180.

Jean Derome, Malcolm Goldstein, Rainer Weins. 6 improvisations.

Ambiances Magnétiques, AM 214.

David Grubbs. Records Ruin the Landscape: John Cage, the Sixties and Sound Recording.

Duke University Press, ISBN 978-0-8223-5576-2.

On Listening. Edited by Angus Carlyle and Cathy Lane.

Uniform Books, ISBN 978 1 910010 01 3.

Whitney Biennial 2014

Whitney Museum, New York, New York. March 7-May 25, 2014.

&c. &c.

Artist Biographies

Track Listing:


1. Amanem
Composed and performed by Jerusalem In My Heart (Radwan Ghazi Moumneh, Malena Szlam Salazar, and Jérémie Regnier) using buzuk, Analog Solutions Telemark synth, Oberheim two-voice synth and voice, and tape delay.

The track is a very intimate conversation between a person and god, and the conversation is a critique by the person of god and one of god's disciples. -Radwan Moumneh

Recorded and produced by Radwan Moumneh in Montreal. Mastered by Harris Newman. From the 2013 album Mo7it Al-Mo7it (Constellation Records, CST093). Licensed courtesy of Constellation Records.

8:54

2. Constellations I
Composed by Chiyoko Szlavnics for Eve Egoyan.
Performed by Eve Egoyan (solo piano & sine waves).

Recorded in concert by Paul Hodge at the Music Gallery in Toronto.

(The credits above apply to tracks 3 and 4.)3:19

3. Constellations II
Audio available on CD only.3:11

4. Constellations III
Audio available on CD only.3:15

5. Improvisation-Louis and Cristina
Performed by Louis Andriessen (piano) and Cristina Zavalloni (voice).

This improvisation was recorded during a program of free improvisation that was part of Andriessen at 70, a festival celebrating the music and ideas of Louis Andriessen and presented by Music On Main, April 3-8, 2009, in Vancouver.

Recorded in concert by Marc L'Esperance at Heritage Hall in Vancouver on April 7, 2009.
11:03

6. Solo IV
Composed and performed by Isaiah Ceccarelli (percussion).

This improvisation for solo percussion was recorded in concert by Antoine Polin at Chapelle Sainte-Anne in Tours, France, in March 2011.

7. Of This Land
Composed and performed by Petra Glynt (Alexandra Mackenzie), using samples, recorded drums, voice, kazoo, and chimes.

Released in June 2013 on the EP Of This Land (Healing Power Records, HPR 14).
3:13

8. For MA
Electrochemical improvisation by Erin Sexton, using water, epsom salt, oscillators, electromagnetic amplifiers, copper wire, and nine-volt batteries.

Using simple analog circuits, I experiment with salt solutions as signal processors, searching for links between the cosmic and the molecular through sound. Multiple wires converge in a single solution, creating fragile and chaotic feedback systems from which both noise and strange patterns emerge. The process of ions separating from molecules is sonified, creating a tactile link with matter, while changing both the colour and composition of the solution, which I then crystallize. -Erin Sexton

Recorded in the artist's studio in Montreal in April 2014.
6:07

9. Live in Silent Barn Audio available on CD only.
Live improvisation by Gil Delindro.

In this performance, I extended the variety of sounds I've been working with through my Canadian tour-mixing inputs from amplified ice cracking, water, feedback, sound sculptures, and field recordings. The several layers of sounds are processed and performed in real time, using the mixer as a main instrument-a new approach that brought me a strange acousmatic feeling while playing .
-Gil Delindro

Recorded in concert at Silent Barn in Brooklyn, N.Y., on March 24, 2014.
12:58

10. The Night Paddler Audio available on CD only.
Composed and performed by Michael Trommer, using Edirol R-09HR audio recorder, Audio-Technica AT822 microphone, Cold Gold hydrophone, home-made microphone array, and contact microphone.

This piece consists of field recordings made during solo late-night paddles in the summer of 2013. The intense darkness and sonic filtering effects of the local landscape during these treks engendered what were striking and uncanny acousmatic experiences.
-Michael Trommer

Recorded and composed at Big Bob Lake, Ontario, in Summer 2013.

Related Categories of Interest:

Book

Various Artists & Compilations
Compositional Forms
Improvised Music
Electro-Acoustic
Electroacoustic Composition
Canadian Composition & Improvisation

Search for other titles on the label:
Musicworks.
---

Recommended & Related Releases: