Gratkowski, Frank / Damon Smith / Jerome Bryerton

The Voice Imitator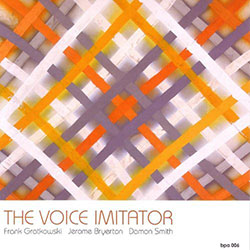 German reeidst Frank Gratkowski in a trio with West Coast percussionist Jerome Bryerton and bassist Damon Smith, in an album of free music that blends the sensibilities of free improv with contemporary compositional music.


Sample The Album:


product information:

Personnel:


Frank Gratkowski-clarinet, bass clarinet, alto saxophone

Jerome Bryerton-percussion

Damon Smith-doublebass

Click an artist name above to see in-stock items for that artist.
---


Label: Balance Point Acoustics
Catalog ID: BPA006
Squidco Product Code: 18161

Format: CD
Condition: New
Released: 2003
Country: USA
Packaging: Jewel Tray
Recorded by Scott R. Looney at 509 Cultural Center in San Francisco, CA and at 21 Grand in Oakland, CA.


Descriptions, Reviews, &c.
"What do you get when you put a German and two Americans together in a small room or unite a Norwegian and two Englishmen? While those situations may sound like the set up for a joke from the Second World War, the correct answer, from the evidence of these CDs, is exemplary improvisation.
The Norwegian-British concord involves veteran Nordic alto saxophonist Frode Gjerstad --who at one point led a band featuring the late British drum pioneer John Stevens -- and two players from a younger British generation. Singly and together Londoners bassist John Edwards and drummer Mark Sanders have played with many of the United Kingdom's reed heavy hitters: John Butcher, Paul Dunmall and Evan Parker. When they connect with Gjerstad on these five instant compositions the result is superior free jazz.
To grasp the distinction between free jazz and free music all you have to do is listen to the second disc featuring another woodwind player with the initials FG. German reedist Frank Gratkowski never reaches the ecstatic heights of Gjerstad's improvising, but his carefully modulated output meshes with that of his rhythm section to produce low-key group music. Gratkowski spreads his improvising among the alto saxophone, clarinet, and bass clarinet. His American confreres -- Bay area bassist Damon Smith and Chicago percussionist Jerome Bryerton -- are also closer to his age than the Brits are to Gjerstad's. Furthermore the Yanks' singular or collective experience with European reedmen such as Wolfgang Fuchs, Tony Bevan and Butcher has led them to synthesize European aesthetics in their work. You can hear this most clearly on "Profound and shallow", The Voice Imitator's almost 25-minute core composition, which clocks in at more than twice the length of anything else on the CD.
Probably the most abstract of all the tracks, it features Gratkowski's amplification of a single, growling reed whine on bass clarinet gradually reconstituting itself into a replication of the practice scale heard through the prism of sheets of sound. As swifter and swifter reed tones slide into one another then dissolve into bird-like squeaks, Smith holds things together with impressionistic bowed bass lines. Limiting himself to single note excursions, Bryerton splashes out a pressure point on orchestral metal, ethnic percussion and Chinese cymbals, often emphasizing his points with mallets. At times, Gratkowski sounds a sonorous clarinet note that is echoed by the drummer's cymbal top and strummed by the bassist. No one tries to outplay the other, though. All three are sidemen or all are soloists. Closely follow a single rhythm section solo phrase for example, and suddenly you realize that the bass and drums have turned to accompanying the reedist, who is warbling out a series of high-powered split tones.
Throughout the disc, silences are as important to the output as concentrated notes. Gratkowski hisses colored air through his mouthpiece then concentrate on mouth pulses, until occasional notes escape in between the air and spit tones. He overblows to expand his tone and mixes his output with reed kisses, tongue slaps, Bronx cheers, monkey-like gibbering and basso snorts that could come from a baritone. Moving in-and-out of false registers, he uses many of the techniques he's developed for solo playing in this group situation.
Meanwhile Bryerton counters with rumbling drum rolls, abrasive scratches on his ride cymbal, shimmering sizzle cymbals and bull's eye whacks on his Chinese gong. Some timbres seem to result from rim shots on the side of his drums or on wood blocks or from sounds created by hitting the cymbal holder or clamp rather than the instrument itself. More often than not on purpose, his time is beveled rather than operating in a straight line.
The dense blanket of pulses the bassist creates is used by the others as a launching pad for their improvisations. Sometimes, in fact, Smith even plays standard jazz time. Rarely, though, does he have a chance to display the sort of spectacular virtuosity he has shown on discs with Fuchs and the late bass master Peter Kowald.
The set up is a little less democratic on The Welsh Chapel, where, without slighting the contributions of the rhythm section, it's definitely the saxist's show. Moreover, the sort of side-slipping, screeching alto tone Gratkowski sometimes exhibits on the first disc is stock in trade for Gjerstad in his many solos. Irregular honks, prolonged squeal, a Rudy Wiedoeft-wide vibrato and playing entire passages in dog whistle territory are favored.
Not that he's an empty show-off though. On the rare occasions when the energy music subsides to a less frantic pace, a strain of Nordic melancholy infects his solos. The Norwegian has played clarinet and bass clarinet on other discs, and while he's listed as only playing alto saxophone here, some of the more vehement, tone-sliding passages sound like they may come from those wooden horns.
"The Welsh chapel: Part 3" has more than enough space to indicate how the trio setting plays out. With a wheezing bass line and drum and cymbal brush work underneath, Gjerstad first begins mutating and bending his alto work from trills to clenched squeaks and hollow whistles. The crack of a drumstick on the snare introduces speedier altered and slurred tones, violent triple tonguing and honking. Cycling through many keys and pitches, the saxman introduces a feeling of constant motion, using glosolalia as extreme as anything blown in the energy music years. Cymbals and cowbell pressure from Sanders and a vamping ostinato from Edwards move the accompaniment up a notch, as Gjerstad plows on regardless. Wiggling raw excitement, his staccato phrasing and foghorn honks seem to consume the music in one gulp.
A resonating bass solo plus indirect cymbal pings calm the presentation. Here in this lower-pitched, more pacific output is where Gjerstad sounds as if he's playing a bass clarinet. With the rhythm section occupied with passing tones, he slides chromatically further down the scale, ending with a crescendo of trills matched by the drone of arco bass strings.
Perhaps due to the recording process, there always seems to be an echoing drone emanating from Edwards' strings, unlike the clear sound of Smith produces form his axe. Be that as it may, the Englishman still produces timbres that range from ones that resemble Charlie Haden's foursquare work with Ornette Coleman to steely, Dobro-like finger picking. Sanders, who isn't adverse to exercising his cowbell, sometimes produces tones that sound as if miniature cymbals have been placed on top of his ride and sizzle cymbals. At times he also appears to be using his hands on the snare skin for a more African-style sound.
As for the Norwegian, between his swirl of shrieking high notes and wet bubbles of clearly emphasized split tones -- among other reed exercises -- he exposes a constant fount of ideas, confirming his leadership here, as well as his long tenure as an outside musician in his native country.
Choosing between two woodwind players with the initials FG who both work with bass and drums is impossible. In their hands-across-the-sea meetings both reedists expose two equally valid ways of creating improvised music on these fine CDs."-Ken Waxman

Artist Biographies

Track Listing:


1. Three Character Attacks: Photographers 8:24

2. Three Character Attacks: The Prince 12:02

3. Three Character Attacks: Profound And Shallow 24:46

4. Two Instances Of Libel / One Memory Lapse: Increased (A) 10:28

5. Two Instances Of Libel / One Memory Lapse: Increased (B) 6:53

6. Two Instances Of Libel / One Memory Lapse: Impossible 9:56

Related Categories of Interest:


Improvised Music
Free Improvisation
West Coast/Pacific US Jazz
European Improvisation, Composition and Experimental Forms
Trio Recordings
Trio Recordings

Search for other titles on the label:
Balance Point Acoustics.
---

Recommended & Related Releases: