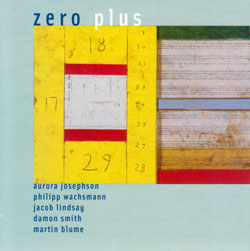 The Triple D Trio of Aurora Josephson (voice), Jacob Lindsay (clarinet) & Damon Smith (bass) met with visiting European improvisers Philipp Wachsmann (violin) and Martin Blume (drums) to record these live concerts in Oakland and SF.


Sample The Album:


product information:

Personnel:


Aurora Josephson-voice

Philipp Wachsmann-violin, electronics

Jacob Lindsay-Ab clarinet, Bb clarinet, bass clarinet

Damon Smith-doublebass

Martin Blume-drums

Click an artist name above to see in-stock items for that artist.
---


UPC: B00BV1KR00

Label: Balance Point Acoustics
Catalog ID: bpa007
Squidco Product Code: 15201

Format: CD
Condition: New
Released: 2004
Country: USA
Packaging: Jewel Tray
Recorded by Scott R. Looney. Tracks 1-4 recorded April 16th, 2003 live at 21 Grand, Oakland, CA. Tracks 5-6 recorded April 17th, 2003 live at The Luggage Store, San Francisco, CA. Tracks 7-11 recorded on April 18th, 2003 in studio at 1502 8th St., Oakland, CA.


Descriptions, Reviews, &c.
"Singer Aurora Josephson, clarinetist Jacob Lindsay, and bassist (and Balance Point Acoustics owner) Damon Smith perform regularly as the Triple D trio. Keen on developing projects with European free improvisers visiting the United States, the latter arranged for three consecutive days of concerts and recording sessions in April 2003, with violinist Philipp Wachsmann and drummer Martin Blume. The two concerts at 21 Grand (Oakland, CA) and the Luggage Store (San Francisco, CA) were recorded on a multi-track machine by Scott R. Looney, who also presided over the studio session. As a result, Zero Plus offers very good and consistent sound quality throughout, the shift from one venue to another detectable only through the few extra seconds of silence separating the three "chapters" of the CD.
The music could easily have taken the form of a "trio plus two" setting, the guests attempting to find a niche amidst the existing dynamics of the core unit. Instead, they assist in forming a total reconfiguration of the group. Lindsay and Wachsmann team up, developing intricate dialogues as they interact with the other voices. Smith and Blume form a partnership that answers the modus operandi of a bona fide rhythm section, even if they never actually sound like one (the bass also establishes a strong connection with the violin at times). Josephson either leads the way -- her warm tone and extended techniques captivate the listener's attention in a way that gives her predominance over the other improvisers -- or integrates a subunit by mimicking a particular sound that has attracted her. In the quieter passages, her voice can often be confused with the clarinet or violin. Highlights include "Tiger, Tiger!" and "Zero," but the level of involvement is high from start to finish, with excellent balance between the pensive and the frantic ends of the free improv spectrum. Recommended."-François Couture, All Music
"So often a dedication can seemed forced, especially between the visual arts and music, like trying to draw a line we all hope is there. In this instance, it happened very spontaneously and it was exciting to be able to connect my two strongest interests this way.
Toward the end of the session, while listening to the earlier takes, I felt like we needed another approach, with more distance from the instruments. I thought of Brice Marden drawing with a long stick cut from a tree to distance himself from the canvas or paper -- and then I saw a shop broom.I immediately thought of Joseph Beuys and his performance/vitrine "Ausfegen," where he swept Karl-Marx-Platz, Berlin in 1972, the year Kristian and I were born. He deposited the contents (see titles) and the broom in a vitrine and a recording of the action plays from a speaker next to it.
For the next piece we recorded, which ended up being track 7, I asked Kristian to play his guitar with the shop broom, and I used two double basses (thanks to Tony Dryer for the second bass), both prepared, laying on their backs, played standing with two bows."-Damon Smith, May 2007
"Recently, in a conversation with Anthony Braxton, I mentioned a new group I'd organized and the way I'd written the music for it. Braxton said, "that sounds like a real new millennium ensemble."Of course Braxton is the master of finding exactly the right words to describe subtle things that exist in new and primarily improvised music. He might say the same thing about the music on this recording. This recording is certainly music of the new millennium, and not just because we have turned the calendar over, but because it is made by a group of focused musicians who function in a small community creating music using a vocabulary of rarefied materials to express themselves in a contemporary way. That vocabulary has developed over the past few decades in a similar way to that of early jazz music, by daring artists working in an underground culture. Different material used in a different "time space reality" (to use another Braxtonism) but which to me functions much like its predecessor. On this recording, "newness" is the goal and the norm. Just like in the old days.Dissonance, dynamics, harmonics, conversational interaction, extended techniques and energy, are, in certain places, the standard material of the day. The early standard material meant playing the blues, or a Tin Pan Alley tune. The jazz player's challenge was in embellishing a standard tune in a strict form with a personal interpretation and the use of a unique set of techniques. The reward for the listener then was in hearing the obvious be transformed into something special and maybe even spectacular or superhuman. The results were a new way to see the world through music. One could say that the music here is more inspired by contemporary classical music than jazz. Maybe. There certainly are things here that suggest that, but improvising musicians have always drawn from every source they feel is relevant with the goal of turning it into something else altogether. I hear a connection to early jazz in this music in the way the players communicate with each other. There is an open exchange of ideas and a sense of playfulness and discovery. The challenge for the musicians making the music on this recording is to use the new vocabulary to create the form instantly and with the same amount of technical control and vitality as in the old days, while never relying on the obvious. The reward for the listener of this music comes from the discovery of the uniqueness of the form rendered in personal technique, and the possibility that the results could suggest a new viewpoint that hasn't existed before.When the world catches up, it will find that there are just as many future-seeking musicians now as there ever were. The amount of soul needed to persevere with new ideas and with the goal of suggesting a new viewpoint is the same as it ever was, and is present on this recording."-Joe Morris, May 2007
Get additional information at All Music

Artist Biographies

Track Listing:


1. Scissors Cut Paper (The Hairy Heel Of Achilles) 13:08

2. Tiger, Tiger! (The Hairy Heel Of Achilles) 9:08

3. Long Tail on a Ghost (The Hairy Heel Of Achilles) 3:51

4. The Deadly Tube (The Hairy Heel Of Achilles) 7:20

5. Two Men In Straw Hats / Big Fleas Have Little Fleas (La Tricoteuse) 8:02

6. A Bird with a Wing Down (La Tricoteuse) 4:45

7. Facts or Figures (Zerotables) 3:53

8. Table Z (Zerotables) 4:00

9. Zero Minus (Zerotables) 3:24

10. Zero (Zerotables) 8:19

11. Zero Plus (Zerotables) 3:42

Related Categories of Interest:


Improvised Music
Jazz
West Coast/Pacific US Jazz
Unusual Vocal Forms
Quintet Recordings

Search for other titles on the label:
Balance Point Acoustics.
---

Recommended & Related Releases: