Thollem's Astral Traveling Sessions

Compilation Cassette [CASSETTE w/ DOWNLOAD]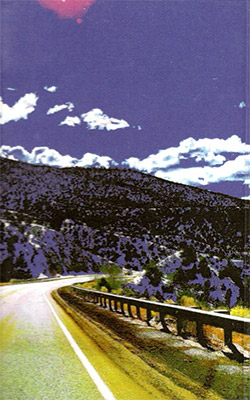 Travelling through the US & Greece to join with performers for duos and trios, in six recordings between pianist Thollem McDonas in a trio with Amy Denio & Samantha Boshnack; a duo with Seetha Shivaswamy; a trio with Mat Weisman and Rick Kodramaz; a duo with Djallo Djakate; a hand percussion duo with Jason Finkelman; and a vocal duo with Maria Karamouza.


Sample The Album:


product information:

Descriptions, Reviews, &c.
"This is a compilation of segments from 6 different recordings throughout the U.S. and Greece including: a trio with Amy Denio and Samantha Boshnack at the Good Shepherd Chapel in Seattle, part of the Wayward Series; a duo with Seetha Shivaswamy in Austin for NMASS; a trio at the BopStop in Cleveland with Mat Weisman and Rick Kodramaz; a duo with Djallo Djakate in Djallo's studio in Detroit; a hand percussion duo with Jason Finkelman in Allen Hall at the University of Illinois; and a vocal duo with Maria Karamouza at the Music Conservatory of Thessaloniki. Thanks to all the venues, presenters, and my fellow musicians!"-Thollem McDonas
MARIA KARAMOUZA was born and raised in Thessaloniki. She is 29 years old. She studied in the domain of Forestry and Natural Environment at Aristotle University of Thessaloniki (AUTH) and took her classical singing diploma at the State Conservatory of Thessaloniki (SCT), in '19. She participated as a chorister in festivals at various cities across Europe. She attended traditional Greek, Arabic and Italian percussion lessons and performed aside great musicians. She attended seminars, master classes of classical singing and music improvisation with numerous teams, directors and artists of the global music scene. She has sung at her own music vocal groups, but also with other polyphonic choirs, traditional schemas, rock bands, music producers and djs of electronic music. She participated in Opera Studio of Thessaloniki and performed at famous operas and premieres. She starred at project "Bathtub Memory Project" in Biennale of New Music Theatre, in Germany, in '18. She has taken up activities concerning circus , such as juggling and balance skills and also aerial silks and aerial acrobatic routines. She performed in theaters and clubs and offered public circus experiences of educational perspectives for young and older people. Meanwhile she works as a conductor of managerial researches that consider environmental factors.
RICK KODRAMAZ - Basses. Rick has been performing around Cleveland for over 40 years. He studied Composition and Arranging with Phil Rizzo - The Modern Music School in Bedford. He also studied Classical Bass at Willoughby Fine Arts. Rick was a founding member of The Contemporary Music Coalition - did four European tours with CMC in addition to Jazz seminars along the way. He was a founding member of MoKo BoVo and KMOB Trio. Performed at FIMU in Belfort France twice. Rick has also performed in ensembles that backed or were on the bill with: John Lewis, McCoy Tyner, Oliver Lake, Coco Montoya & Gatemouth Brown, Richard Pinhas and Tatsuya Nakatani. Recently Rick has co-hosted OutLab at The BopStop once a month, also performing with the bands Lost Head, Mars Trio, Desert Noir, Octopod, Broken Ornaments and various collaborations at 1 Way.
MAT WEISMAN is a Cleveland based drummer, improvisor, and woodworker who strives to bring life and breath to a moment, piece, or project. Currently playing with Outis duo, Magnetic West, and Bad Actors.
DJALLO DJAKATE, drummer/synthesist/percussionist/DJ born in Detroit, is one of the most dynamic and sought-after sidemen on the Detroit scene. His style ranges from traditional jazz, through avant garde, funk reggae, and traditional New Orleans music as well as Afro-Cuban and African drumming. He has toured the U.S. and Europe; performing with such diverse artists as Martha Reeves, Harrold McKinney, A. Spencer Barefield, Taslimah Bey, Charles Gabriel and Straight Ahead.
SEETHA SHIVASWAMY performs as a soloist and chamber musician in concerts throughout Europe, Asia, and North America. She has toured the USA with Global Rhythms World Music Ensemble, performed as a guest flutist with the Orquesta Sinfónica in Monterrey, Mexico, and performed a solo flute recital at the Hong Kong City Centre. She has toured internationally with and recorded for Grammy/Oscar winning composer A.R. Rahman, and is the featured flutist on his single 'Pray for Me Brother' written for the United Nations. Her flute playing can also be heard on NYC-based experimental artist DJ Spooky's album 'The Secret Song', the soundtrack to 2012 film 'Bernie' starring Jack Black and Shirley MacClaine, the UK feature 'Bombil and Beatrice', released at the Cannes Film Festival in 2007, and on the soundtrack for Terrence Malick's film 'To The Wonder', starring Ben Affleck and Rachel McAdams. She has been a featured performer at South by Southwest Music Festival, Fusebox Festival, SAARANG at IIT Madras, and Austin Chamber Music Festival. Seetha's flute playing can also be heard on several recordings for PBS documentaries, TV commercials, and video games.Seetha holds a Master's Degree from the University of Texas at Austin and a Bachelor's Degree from Ball State University, where she studied classical flute performance with Karl Kraber and Julia Larson Mattern. She has a certificate in contemporary flute technique and improvisation from her studies in Europe with the Dutch Flute Virtuoso Wil Offermans. Other mentors include Emmanuel Pahud of the Berlin Philharmonic, Ransom Wilson of Yale University, Edward Beckett of London Symphony Orchestra, and many other esteemed flute pedagogues. Seetha has done research and practice in yoga, Alexander Technique, Indonesian gamelan, Indian classical music, and various other modalities related to performance and education. Seetha is a faculty artist with Austin Chamber Music Center, mentors students at the El- Sistema inspired program Austin Soundwaves, and maintains an active private flute studio. She is proud to be a resident of Austin, Texas, the live music capital of the world.
AMY DENIO (Seattle Jazz Hall of Fame) is an award-winning composer, improviser and multi- instrumentalist (guitar, bass, alto sax, clarinet, accordion) and singer. She has composed 500+ works and has produced 50 recordings. She operates Spoot Music, her recording studio, record label and publishing company. Denio produces music for theater, film, television, and audio installations. Her commissions have been performed at Carnegie Hall, Brooklyn Academy of Music, live on Italian National Radio, and at festivals worldwide. A composer for modern dance, film and theater, she has been commissioned by award- winning choreographers such as Pat Graney, David Dorfman, Chiao-Ping Li, and Vickie Marks. She has also composed scores for feature films, theater works, multi-media performances, and television. Her newest work for 22-piece orchestra 'Truth Is Up For Grabs' was funded by Seattle Mayor's Office of Arts and Culture and 4Culture and sponsored by the Seattle Composers Alliance. She co-founded Tone Dogs, The Entropics, her all-women sax quartet The Tiptons (1988- present), joined Bosnian folk metal band Kultur Shock in 1999, and has been playing with Abel Rocha and Madeleine Sosin in Correo Aereo/Ama Trio since 2003. She is currentlywriting 'Applause for the Bridge', a bilingual book of her travel stories in Italian and English.
SAMANTHA BOSHNACK leads three ensembles dedicated to playing her compositions; Samantha Boshnack's Seismic Belt, B'shnorkestra and the Sam Boshnack Quintet. She is also a member of the composer-collective Alchemy Sound Project and co-led Reptet. She has released five critically-acclaimed albums as a bandleader and toured extensively. In 2021, she has been selected for two programs: Mutual Mentorship for Musicians for which she is collaborating with Fay Victor on a new composition; and the Gabriela Lena Frank Creative Academy of Music's Composing Earth program for which she is composing for string quartet. She has performed or recorded with artists such as Wayne Horvitz, Butch Morris, Eyvind Kang, Jessica Lurie, Bobby Previte, Jim Black, David Byrne, Terry Riley, Robin Holcomb, among others.
JASON FINKELMAN combines laptop electronics and acoustic instrumentation to create a distinct ambient, avant-world sound. A specialist on the single string musical bow berimbau, Finkelman is a Philadelphia-born percussionist who performs on African and Brazilian instruments handcrafted by Adimu Kuumba. His roots in improvised music include founding the trio Straylight in 1992, which enjoyed a wide range of collaborative performances in the Straylight Dialogues series at the Knitting Factory. Urbana-Champaign-based since 2000, Finkelman performs continually with a host of genre-blurring improvisers, is a community radio host at WEFT 90.1FM and leads the ever-evolving ensemble Kuroshio, which recently released an eponymous CD on Asian Improv Records (2020). As a composer for dance, Finkelman has collaborated with choreographer Cynthia Oliver for over twenty-three years and received a "Bessie" award as a composer for SHEMAD (2000). At the University of Illinois, Finkelman directs Global Arts Performance Initiatives at Krannert Center for the Performing Arts and leads Improvisers Exchange, a performance ensemble of the School of Music.

Artist Biographies

Track Listing:


SIDE A



Duo with Maria Karamouza 09:42

Trio with Rick Kodramaz & Mat Weisman 09:31

Duo with Djallo Djakate 09:46

1 Minute Solo Electric at KFJC 01:04

SIDE B



1. Duo with Seetha Shvaswamy 10:06

2. Trio with Amy Denio & Samantha Boshnack 09:57

3. Duo with Jason Finkelman 09:44

Related Categories of Interest:


Cassettes
Physical Releases that include Download Codes
Improvised Music
Jazz
Free Improvisation
Duo Recordings
Trio Recordings

Search for other titles on the label:
Astral Spirits.
---

Recommended & Related Releases: