Ground-Zero was Otomo Yoshihide's 1990's amazing collission band, devised to allow and perhaps prefer a changeable lineup. The basic orchestration was sax, bass and drums, playing a rapid combination of improvised rock and free jazz, over which Yoshihide would play guitar and turntable. As a guitarist Yoshihide deals mostly in the world of distortion and psychedelic sound; as a turntablist his scratching, drop-ins and collection of outrageously odd records is somewhat mind-boggling, as is his ability to attack the machine itself to find noise, sound and beauty. Ground-Zero's music is thematic and, particularly in the early, shorter works, dementedly deliberate, while later constructing longer and elegant self-propelled virtual soundtracks. The band also incorporated many unusual, electronic, vocal, sampling (and sampled) artists, including Yamataka Eye, Jon Rose, Steve Beresford, Tenko, Tony Buck, Alfred 23 Harth, Sachiko M, Sergey Kuryokhin, and Christian Marclay. Regular members include guitarist Uchihashi Kazuhisu who added his personal pyrotechnics into the lot; Kato Hideki on bass, who eventually transplanted to New York City; and Ruins bassist Kimoto Kazuyoshi. Ground-Zero was an amazing weave and clash of styles that walked a weird path.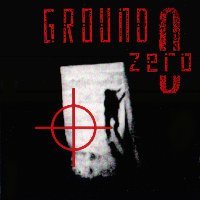 Ground-Zero's first album on Japan's God Mountain label is simply titled "Ground-Zero." It's a series of short and weird experiments, with names that nod to other like-minded artists, such as "Topography of the Black Lungs" or "Massacring". An intelligent and bizarre album of incredible strength, using turntables, spoken word drop ins, and a rock-oriented approach to playing otherwise improvised music. It's a freestyle affair in many ways, but over thick grooves primarily thanks to Kato Hideki's rock solid bass work, while Yamataka screams and Otomo scratches. The quick screaming sax work of Hirose Junji eventually settles in for some aching and lyrical playing - a distinctive voice who's versatility and attitude reminds a bit of Zorn. Meanwhile Yoshihide is dropping in and punctuating the music with concise and really odd sources. Everything has a drive and determination and it's incredibly well put together, a concise and crazy album.

Ground Zero: Null and Void
(Tzadik) Null and Void is a meatier and more brutal affair, but also shows a more elegant and refined Ground-Zero, if controlled chaos can be as such. The band was well received in New York's Downtown scene. Falling in with like-minded improvisers, Yoshihide was able to release several albums on John Zorn's Tzadik label, which includes this second Ground-Zero release in 1995. Two years after the first release, Null and Void's pieces feel more refined, and are often longer and thematically based, with languorous sections contrasting the tendency towards full-on propulsion. Hideki Kato plays sampled double bass on two of the larger works, "Movie 1" and "International 2" and Jon Rose provides a shopping list on "International 1." The album cover conveys a sense of foreboding, and with the look of the packaging one might believe that this was some off-shoot of Painkiller or Naked City. An easy comparison, as the bands work the same area of oft-frantic, genre-bending and technically superb improvisation. Ground-Zero, howevers, speaks in their own twisted tongue, and on this album tell some very strange stories. A well sequenced album, Null and Void is an impressive achievement.

Ground Zero: Revolutionary Pekinese Opera (Ver 1.28)
(Recommended Records) Revolutionary Pekinese Opera expands upon the concept considerably. Existing in four official versions, (this review applies to Version 1.28 on Recommended Records), the palette is broad, using found sounds and recordings in, well, an operatic approach. Yoshihide leads the longer works with his increasingly confident turntable drop ins - the action is rarely slow, and the music itself factors more prominently than the bizarre punctuation and bedlam. The album is designed as a remix of Peking Opera by Heiner Goebbels and Alfred 23 Harth, a complex multi-instrumental work of live improvisation following a pre-recorded tape. Guitar wizard Uchihashi Kazuhisu now factors in the front line, with a number of guest musicians either playing live or sampled - violinist Jon Rose is one of the latter, as is fellow turntablist Christian Marclay, along with Goebbels and Harth themselves. This is an amazing album by any account, with so much motion and so many ideas that work together in an amazing mesh of sound. It's dynamic in pacing and timbre, has no caution for mixing styles, and takes off in many directions, often at the same time. There are layered spoken words, marches, Henry Cow like guitar progressions, mash-up's of music and soundtracks, and other indescribable sound. Yoshihide builds up and releases tension using a variety of approaches, generally yielding to lyrical and gorgeously lush sections. Even those passages use unlikely tools to accomplish their means, and it's that sort of fractured beauty that defines this version of Ground-Zero.
1997's Plays Standards, is the most digestible of this set, and is in fact an album of standards reflecting Yoshihide's personal relationship with music and sound - he explains that a childhood passion for Japanese music, with its straightforward power, affects his relationship with writing songs and in developing sound track work. Ground-Zero songs are, not surprisingly, odd interpretations of the originals, technically wonderful but taking the melodies in unexpected directions using a wide array of sonic beauty and assault.
The first piece, Chile's "El Derecho de Vivir en Paz" (Jara/Sosa) was introduced to Yoshihide by Lijma Akira, the noise guitarist in Takayanagi Masayuki's New Direction. "Ultra Q" reinforces his soundtrack interest by recreating the theme show to the Japanese TV show of the same name, a piece of music which Yoshihide explains both frightened and enticed him as a child, and still affected him at the writing of this piece. Perhaps one of the best examples on the release is the old chestnut, "Those Were the Days," an infectious pop song. A version of the song was covered by the great Russian players Sergey Kuryokhin and Keshavan Maslak, which is sampled in this version. Ground-Zero's interpretations starts out very straight, introducing the melody, until about 3 minutes in when a motorcycle starts. Saxophonist Kikuchi Naruyoshi then starts a quick series of riffs, and the piece begins to fall apart, or come together, depending on your preference. A wonderful and fun chaos follows, which samples, smashes and scatters the melody along with traffic sounds and an unidentifiable maelstrom of interjections. The melody picks up again, but is continually beaten down and resurrected in incredible ways.
Other pieces includes an interpretation of the Massacre piece "Bones" (Frith/Laswell/Maher), which is hard to recognize until the end when the stacatto signature of the piece becomes apparent. This follows by a cover of Misha Mengelberg & Steve Beresford's "The Bath of Surprise," including real bath samples over it's loping melody. The album ends with Burt Bacharach's "A Better Tomorrow" combined with Joseph Koo's "I Say a Little Prayer." The concept here was to work from the Roland Kirk version of the Bacharach song, but to load the song with mountains of Coltrane riffs, crossed with fragments from 80's Hong Kong films. It's an ebullient and uplifting interpretation, ending the album on a joyful and somewhat crazy note. Talk about a well-informed record!

Ground-Zero: Consume Red
(Recommended Records)1996's Consume Red is one of the odder of the set, a single long track that starts out with the cry of a hojok, an eastern double reed, which calls and responds in a singular cry. This continues for about 6 minutes until the band starts breaking in, fragmenting the work with strange punctuations, and manipulating and layering the reed sound. the piece gets heavier and heavier as it goes, until taking up a drum beat marking out a heavy rhythm. With its sometimes rigid repetitions the piece borders on arduous, but the complexity of the sound texture keeps it fascinating in a Painkiller kind of way. The piece further devolves into a chaotic and desctructive soup, with signal noises, reeds, guitars, submerged bass riffs and perhaps a few kitchen sinks. In many ways an unsettling release and suited to those interested in Yoshihide's other experimental solo releases.

Ground-Zero: Live 1992 +
(Doubtmusic) The latest Ground-Zero release is actually the earliest, Live 1992 +. Yoshihide explains that he had been rummaging around in his closet for lost and unused recordings, and found two recordings that stood out from the rest. The first 11 tracks of Live 1992 + are from a live recording in Tokyo, 1992, before the release of their first album. The band performs a series of short, bombastic and intense pieces. The sounds quality is a bit rough, but the cry of Yamataka Eye that starts the album off tells you that you're in for something unusual, born out of the intensity of this young version of the band. The second half of the release is taken from the recording of their first self-titled release on God Mountain, Ground-Zero. According to Yoshihide, there was a great deal more material to the recording sessions for the first self-titled release, all of which were destroyed in a fire at GOK Studio. Yoshihide discovered a DAT of some of that material which had been dubbed. The last two tracks of this album are taken from those recordings, giving the listener a longer look at Ground-Zero's early studio efforts.
---
Here is a list of the official Ground-Zero releases releases released after those listed above, from the JapanImprov.com site

Ground-Zero. Conflagration. Sank-ohso /Creativeman, CMDD-00047. 1997.

Cassiber. Live in Tokyo. off note, ON-25, 1997.

Ground-Zero. Consummation. Sank-ohso / Creativeman, CMDD-00048, 1998.

Ground-Zero. Last Concert. Valve / Amoebic, AMO-VA-02, 1999 (Japan); Alcohol, ALGZ1CD, 1999 (UK).

Ground-Zero. Live 1992 +. doubtmusic, dmh-114, 2007.





Comments and Feedback: