The last couple of weeks have been quiet here at Squidco as I traveled for a week to North Carolina to visit with the folks. Patrick kept things running, and we're back into our order cycles, so expect a number of new releases on the store by the end of week.
This entry isn't about vacations though... more importantly, it's to announce a great week of shows at New York City's excellent concert venue, The Stone. This month The Stone is curated by Fred Frith, who draws near a close in a month of amazing music with the Montreal collective surrounding the label Ambiances Magnetiques. Anyone who follows our catalog knows that we're serious fans of this remarkable set of musicians, documented by Jean Derome and Joane Hétu's great label Ambiances Magnetiques. The scene is populated with such notable names as Derome and Hétu themselves, as well as Lori Freedman (Queen Mab) and Danielle Palardy Roger, all four of whom will be in NYC with other Montreal compatriots. For those unfamiliar, other collective members current and past include Robert M. Lepage, René Lussier, André Duchesne, Martin Tetrault, Michel F. Cote and Diane Labrosse.
The last time this collective tried to play in NYC was for several nights at Tonic, an event which was wiped away by the events of 9/11. We've waited almost six years for them to return, and for three nights from May 25 through May 27, we'll finally get the concerts we've waited so long for. Three particularly excellent shows should be SuperMusique Ensemble, which brings Derome and Hétu together with Danielle Palardy Rogers and Lori Freedman, along with Nicolas Caloia and Isaiah Cecceralli. Nous perçons les oreilles joins Derome and Hétu, who share their life in marriage along with their incredible musical efforts. Last, Wondeur Quartet, echoing the wonderful Wondeur Brass from 1988, paving the way for Justine, who released two impressive albums in the 1990's. Sunday night's FReC with Lori Freedman, Nicolas Caloia and Danielle Palardy Roger, should also be an excellent and rewarding show.
Here's the full poster for the event - more info can be found at The Stone's website.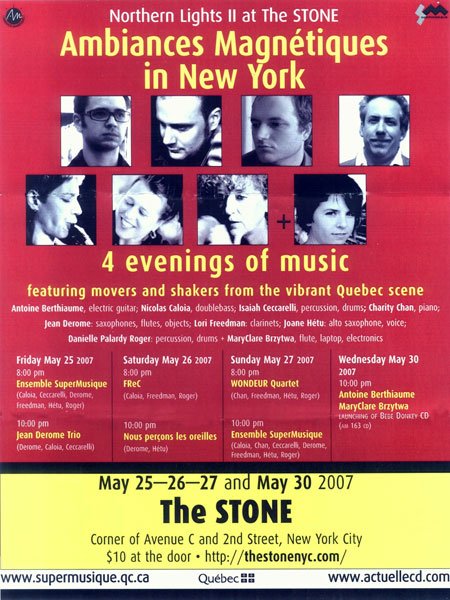 Comments and Feedback: