Pride, Mike

I Hate Work [ORANGE VINYL 2xLP]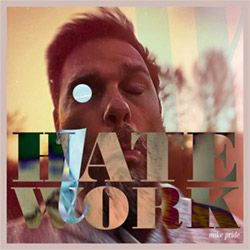 A warmly lyrical, mostly instrumental album of modern jazz that surprisingly takes it's title from legendary punk band MDC, and its songs from their 1982 debut album Millions of Dead Cops, led by NY drummer Mike Pride and performed with Jamie Saft (keys), Brad Jones (bass), Mick Bar (guitars) and on a few songs, vocalists JG Thirlwell (Foetus), Sam Mickens (The Dead Science) and Dave Dictor from MDC itself.

Price:

$13.95






In Stock
Quantity in Basket: None

Log In to use our Wish List
Shipping Weight: 34.00 units


product information:



UPC: 5060197762285

Label: Rarenoise Records
Catalog ID: RNR132LP
Squidco Product Code: 33345

Format: 2 LPs
Condition: New
Released: 2021
Country: UK
Packaging: Double LP in a Gatefold Sleeve
Recorded at Potterville International Sound, in Kingston, New York, by Jamie Saft.


---
Personnel:


Mike Pride-drums, percussion, keyboards

Jamie Saft-piano, mellotron

Brad Jones-double bass

JG Thirlwell-vocals

Sam Mickens-vocals

Dave Dictor-vocals

Mick Barr-electric guitar, electric 12 string banjo

Click an artist name above to see in-stock items for that artist.

Sample The Album:


Descriptions, Reviews, &c.
Mike Pride was not a fan of legendary punk band MDC - a straight-edge hardcore devotee, you could even say he had a chip on his shoulder about this more mainstream, less disciplined form of punk - when he suddenly found himself on a tour of Europe as their drummer sometime in the early '00s. Twenty years later, now a longtime fan and friend of the band, Pride unexpectedly turns to the band's raucous catalogue as a source for jazz standards on his warped new album, I Hate Work.
I Hate Work draws its material exclusively from MDC's iconic 1982 debut album, Millions of Dead Cops. Despite his long-established passion for bringing the extremes of hardcore and heavy rock into the jazz and improvised music realm (and vice versa), Pride instead does the unexpected, transforming MDC's pummeling punk into swinging acoustic jazz.
For the occasion he enlisted pianist Jamie Saft and bassist Bradley Christopher Jones, both master re-interpreters of a wide swath of pop and rock music, as well as special guests Mick Barr (Ocrilim, Krallice), JG Thirlwell (Foetus), Sam Mickens (The Dead Science) and MDC frontman Dave Dictor.
"I literally didn't know anybody when I moved to New York in 2000," Pride recalls. "So to go from that to joining MDC, not realizing their history and how famous they were in certain aspects of the music world, was really eye opening. And doing 90-day tours without a day off was a serious ass kicking. In hindsight it was a great experience. I would never do it again, but it was a great experience."
Pride quit the band in December 2004 after two years of touring and recording the album Magnus Dominus Corpus, though he's maintained a close relationship with both vocalist Dave Dictor and guitarist/songwriter Ron Posner. Not long after, he began incorporating his experiences in the punk realm and his hardcore roots into "jazz" projects like his bands From Bacteria To Boys and Pulverize the Sound.
"Those projects really reflected my idea of the popular music I was into," Pride explains. "I was getting to a phase of my musical output where I was trying to reflect the music that surrounds me rather than just following my id. I wanted to take tunes from my musical history and started thinking about ways to incorporate more aggressive music in the same way that certain pop tunes became jazz standards. That led me to think about trying to do something with these MDC tunes."
The strangeness of the songs on the original Millions of Dead Cops was a product of its unusual recording, a marathon, speed-fueled session in which the entire album was recorded without a break. When he landed the gig two decades later, Pride had to transcribe every dropped beat and missed eighth note; he ended up reading from sheet music for his first year with the band, a definite curiosity in the largely untrained punk world that endeared him to his older bandmates.
That attention to detail paid off when it came time to revisit the songs for I Hate Work. "There's a lot of meat on the bones of some of these tunes," Pride says. "Originally I thought we could just play them really fast and blasty, which is probably what people would expect of me anyway. Then I decided it would be even cooler to slow them way down, figure out some chord progressions other than the usual I-IV-V stuff, and reimagine the melodies Dave might sing if everything wasn't happening at a breakneck tempo and he was able to really sing."
That approach is in direct opposition to Pride's actual tenure in the band, when the goal was to attempt the fastest possible version of each song on stage. The record came one night in Amsterdam, when this album's title track, "I Hate Work," clocked in at a blistering 24 seconds, nearly half the previous record. For its album-closing rendition on the present recording, the song is stretched into an 8-minute nightclub crooner, with Dictor bizarrely channeling his inner Sinatra (albeit Ol' Blue Eyes in his present condition, disinterred and martini thrust into his decomposed clutches).
I Hate Work opens with Pride's chattering cymbal patterns setting the pace for a finger-snapping "Corporate Death Burger," with Saft eloquently exploring the unearthed melody in much the same way as the eclectic pianist has songs by the likes of ZZ Top or Bob Dylan in his own projects. The serrated shredding of Mick Barr enters as the tune transitions into "Business on Parade," where the guitarist plays like a death metal Sonny Sharrock.
Barr's presence on the album was a must, as the guitarist, along with Mr. Bungle bassist Trevor Dunn, was integral in encouraging Pride to join MDC in the first place. He returns for the funhouse mirror cabaret take on "Greedy and Pathetic," featuring Pride's frequent collaborator Sam Mickens on vocals. The drummer played with and served as musical director for the ex-Dead Silence singer's Ecstatic Showband and Revue.
Foetus mastermind JG Thirlwell contributes his rasping purr to "America's So Straight," sounding like a showtune for a musical not only off Broadway but deep below it, in some subterranean lair. Saft switches to a calliope-like mellotron for the lilting "Dick for Brains," trading buoyantly with Pride in the solo section. "Dead Cops" begins with a precision intro before settling into a lurching swing, with Saft essaying another dazzling turn at the keys.
In keeping with a series of threes marking the project - a 3-sided LP, a trio of guest vocalists - Pride also contributes three original compositions to the album, which take the ideas he derived from exploring and expanding the MDC songs into wholly different territory. He plays whispering brushes on the dirge-like "And So You Know," and propels "Annie Olivia," named for his young daughter," with a methodical rumble. Jones' vehement bowed bass and Saft's droning mellotron combine in the ominous melody of "She Wants a Partner With a Lust for Life," dedicated to Pride's wife.
Family is central to Pride's philosophy, perhaps helped by his tenure in MDC. I Hate Work is dedicated to bassist Mikey Donaldson, who died of an overdose at the age of 46. "It's important to me that my family isn't subjected to a terrible home life because their dad is a musician," he says. "So I try to always give them some love on the albums."
As Dictor's memorable vocal turn implies, the members of MDC have given the project their blessing, which also was important to Pride. "They're very excited about it," says the drummer, whose nickname during his time in the band was Baby Mongo. "With the generational divide, they definitely feel like proud uncles in some way. I hope it comes off respectful and sheds some light on their music, which is much more interesting than I ever would have assumed previous to joining the band."-Rarenoise

Artist Biographies

Track Listing:


SIDE A



1. Corporate Death Burger 7:24

2. Business on Parade 6:53

3. America's so Straight 2:48

SIDE B



1. And so You Know 4:04

2. Dick for Brains 4:05

3. Greedy and Pathetic 5:43

4. Annie Olivia 4:02

SIDE C



1. Dead Cops 3:28

2. She Wants A Partner With A Lust For Life 8:58

3. I Hate Work 8:05

Related Categories of Interest:


Vinyl Recordings
Improvised Music
Jazz
Free Improvisation
Rock and Related
Song Based Music
NY Downtown & Metropolitan Jazz/Improv
Quartet Recordings
New in Improvised Music
Recent Releases and Best Sellers

Search for other titles on the label:
Rarenoise Records.
---

Recommended & Related Releases: