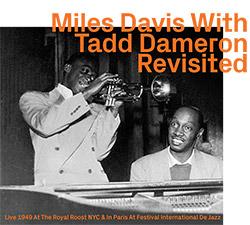 Between his work with Charlie Parker and before his own personal success, trumpeter Miles Davis joined the influential ensemble of pianist, composer and arranger Tadd Dameron, heard in six large ensemble pieces at New York's Royal Roost in 1949, and then in a quintet at the Paris Festival International De Jazz the same year, in both hearing a unique and confident facet to Miles' playing.


Sample The Album:


product information:

Personnel:


Miles Davis-trumpet

Tadd Dameron-piano

Kai Winding-trombone

Benjamin Lundy-tenor saxophone

Sahib Shihab-alto saxophone

Cecil Payne-baritone saxophone

John Collins McCormick-guitar

Curly Russell-double bass

Kenny Clarke-drums

Carlos Vidal-conga

James Moody-tenor saxophone

Barney Spieler-double bass

Click an artist name above to see in-stock items for that artist.
---


Sound restoration & mastering by Michael Brändli, Hardstudios AG.

UPC: 752156114420

Label: ezz-thetics by Hat Hut Records Ltd
Catalog ID: ezz-thetics 1144
Squidco Product Code: 32994

Format: CD
Condition: New
Released: 2023
Country: Austria
Packaging: Cardboard Gatefold
Track 1-6 recorded live at the Royal Roost, in NYC, on February 19th and 26th, 1949.

Track 7-15 recorded at the Paris Festival Internation De Jazz, at Salle Pleyel, in Paris, France, between May 8th and 15th, 1949.


Descriptions, Reviews, &c.
"We have a curious preference for the old and distressed over the young and fresh. Greek and Roman sculpture needs to be broken for us to appreciate it; we forget that it was once bright, painted, maybe even a little vulgar. We claim to appreciate the "late" works of great artists, often when their most important skills - voice, finger-speed, vision - are already fading. What a privilege it is to hear a great artist in youth and health, brimming with energy. So it is with the recordings here, taken of the 22 year old Miles Davis, working in the company of Tadd Dameron, the most creative arranger of the new bebop style.
Just as the majority of Elvis impersonators tend to mimic the older, overweight, Vegas-bound Elvis, we tend to think of Miles Davis's most defining feature, whether we think of the young, sharp-suited Miles, or the balding, extravagantly dressed wraith he was to become, as the ruined whisper that his voice had become. What a delightful shock to hear him announcing songs to a Parisian audience in clear, bright tones. And then to turn to the music and think, guiltily, of all the times that we've given even tacit support to the notion that Miles was a poor technician, an only awkward exponent of the fast complex transitions of bebop.
Miles's playing in 1949 gives the lie to any notion that he was technically deficient. Apart from anything else, Tadd Dameron expected a certain level of competence in his musicians and when Miles joined the Big Ten for a date at the Royal Roost, the former chicken restaurant at 1580 Broadway that had become known as the "Metropolitan Bopera House", he found himself again in the shadow of another player of exceptional brilliance, as he had been with Dizzy Gillespie in Charlie Parker's group.
Dameron's trumpet player of choice was the slightly older Fats Navarro, a twenty five year old Floridan of complex heritage, composer of "Nostalgia" and possessor of a tight, rounded trumpet tone that seemed destined to become an industry standard for modern jazz.
Navarro, though, was in poor physical and mental health. He had a narcotic addiction and struggled to control his weight, two problems that don't often go together. As a result, and aware that his word-of-mouth reputation was already high, Navarro expected generous payment for his services, and it may well be that Dameron, who was experimenting with a larger ensemble than the usual bebop combo, simply couldn't afford him. It was a happy circumstance, whatever the exact detail, that brought the arranger together with Miles Davis, who had quit Charlie Parker's group, again because he was not being paid by the strung-out saxophonist. Miles, along with John Lewis and Gerry Mulligan, had been experimenting with his own controversially multi-racial and orchestrally minded nonet, a group that aimed to move away from the intensity and speed - sometimes for its own sake - of bebop. Miles was looking for a cool, centred style that mimicked the range of the human voice and his own trumpet tone, which had less high-note sting than was fashionable, but also less of a bass component. The new "cool" jazz was also a chance to move beyond the contrafacts on popular songs that constituted the main diet of bop.
In the spring of 1949, that music was ready to undergo a transformation. Both Miles and Dameron were experimenting with their larger groups, but they were also presented with the opportunity to travel to Paris, a city that still vied with New York for the title of capital of the 20th century, to present a programme of new music at an international jazz festival there. Paris represented many different kinds of freedom to Miles Davis, personal, political, creative, sexual. It was a refuge from American racism and from the narrowness of American music criticism that imposed orthodoxy on a music that thrived on steady evolutionary change.
And yet it was with a relatively conventional group that Miles and Dameron took the stage at Salle Pleyel - where just four years before an American general had dismissed his victorious officers at the end of the war - on May 8, a little under three months after their Royal Roost encounter. Miles is playing with extraordinary freedom and clarity. Right from the opening "Rifftide", all through the numbers he was to play on a succeeding appearance at the same venue, his tone is open, strong and accurate. If again we tend to think of the "typical" Miles Davis sound as muted and husky, it's a revelation to hear him in this character on something like "Good Bait" or Dameron's "Lady Bird". Compare the impact of hearing the young Billie Holiday after long exposure to the wreckage of her later delivery. Almost every uneasy generalisation about Miles's sound and approach crumbles in the face of these remarkable recordings. Dameron was not a great piano stylist and James Moody had not yet emerged as the singular talent and personality he was to become. The Paris performances emphatically belonged to Miles and as the city embraced him, so he, too, blossomed in the spring sunshine. Back in murky February in New York, he had played "April In Paris" with Dameron's "Big Ten", an arrangement that already moves beyond the topline chordal gymnastics of bebop. The month was slightly out, but May in Paris was to be an important moment for Miles, both musically and personally. A few years later, he was to enjoy further revelations in the city as he explored themeless and more abstract playing for a movie soundtrack. He was to enjoy glamour and romance as well, but the French visit was more important to him musically, a neglected highpoint in a career that had already stuttered and would do so again. Fats Navarro, who might well have played a role in both these recordings, is one of jazz's most intriguing and upsetting might-have-beens. By the summer of 1950, he was dead, his lungs weakened by tuberculosis, his frame compromised by heroin addiction. Miles, though he returned to America from his Paris sojourn and a love affair with Juliette Greco that would have been difficult to sustain in the US, depressed and out of work. One version of the next chapter is that out of this slump and a widely publicised arrest for possession of heroin that had cost him work, he began to work on the trumpet sound that would establish his mature reputation. But listening to the Paris tracks it's clear that while the voice did become lower and more softly articulated, it was already there in more than embryo when he took the stage with Dameron, Moody, Barney Spieler and Kenny Clarke. So iconic did Miles become that we forgot to listen to him. These recordings are not just a critical corrective, though. They are an undiluted joy."-Brian Morton, December 31, 2022
Sound restoration & mastering by Michael Brändli, Hardstudios AG.
This album has been reviewed on our magazine:




The Squid's Ear!

Artist Biographies

Track Listing:


1. Good Bait 3:23

2. Focus 3:56

3. April In Paris 2:56

4. Webb's Delight 3:38

5. Milano 3:38

6. Casbah 3:37

7. Rifftide 4:34

8. Good Bait 5:48

9. Don't Blame Me 4:19

10. Lady Bird 5:00

11. Wah Hoo 5:32

12. Allen's Alley 4:25

13. Embracable You 4:03

14. Ornithology 3:46

15. All The Things You Are 4:16

Related Categories of Interest:


Hat Art
Improvised Music
Jazz
Melodic and Lyrical Jazz
NY Downtown & Metropolitan Jazz/Improv
Quintet Recordings
Large Ensembles
Jazz Reissues
Staff Picks & Recommended Items
New in Improvised Music
Recent Releases and Best Sellers

Search for other titles on the label:
ezz-thetics by Hat Hut Records Ltd.
---

Recommended & Related Releases: