Cage, John / Apartment House

Hymnkus / Thoreau Drawings / Two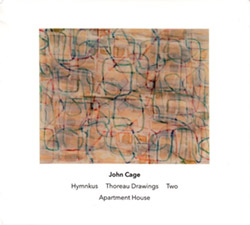 The UK avant ensemble Apartment House performs three of John Cage's later works: Two (1987), a number piece using randomly-determined time brackets specifying pitch & dynamic; Hymnkus for up to 14 instrumental parts each of 17 elements blending the concepts of a hymn and a haiku; and Thoreau Drawings, the score twenty unnumbered pages on which Cage drew shapes onto a grid of six systems, each divided into 5+7+5 parts, following the form of a haiku.


Sample The Album:


product information:

Descriptions, Reviews, &c.
"Three pieces from relatively late in Cage's output.
Two (1987) was the first of the 'number pieces' that Cage composed in the final years of his life, using randomly-determined time brackets which specify pitches, and in this case dynamics, but leave the exact duration and timing of the sounds to the performer's discretion.
Hymnkus, composed just one year earlier in 1986, contains 14 instrumental parts, any number of which may be used in performance. There is no overall score. For this realisation seven of the parts were used. The title combines the words 'hymn' and 'haiku': hymn because the piece contains repeated parts, like verses in a hymn, haiku because each of the 'verses' contains 17 elements, which are repeated 4, 5 or 6 times at different tempi, giving the music a staggered, chaotic feel, circling round rather than progressing from A to B. The repetitions have been interpreted as a nod towards the minimalism of Riley, Reich etc, but the feel of the music is much more anarchic, with the musicians operating independently rather than as part of an unfolding overall pattern.
The full title of the Thoreau Drawings piece is: Score (40 Drawings by Thoreau) and 23 Parts (for any Instruments and/or Voices): Twelve Haiku followed by a Recording of the Dawn at Stony Point, New York, August 6, 1974'
The piece, which has been very rarely performed, consists of twenty unnumbered pages on which Cage drew shapes onto a grid of six systems, each divided into 5+7+5 parts, following the form of a haiku."-Another Timbre
Anton Lukoszevieze writes:
"Some years ago we performed the Cage Thoreau Drawings work at dawn break in the Yorkshire Sculpture Park on a rather chilly November morning. As a visual artist I have always delighted in Cage's own visual art and its connections to nature and Henry David Thoreau. The graphical notational elements used in Cage's score are not, however, his own, but derived from the many small sketches of plants and other natural ephemera found in Thoreau's Journal, (which I highly recommend also as a portal into understanding much of Cage's work of the 1970's and 80's.)
Since that dawn performance I have long wished to make a recording of the work. In our version (different numbers of parts and durations can be decided on in advance), I wanted there to be quite a number of instruments. The work was originally composed for a chamber orchestra and we decided to record one layer of the 7 instruments at our disposal and then add two others on top, mixed together. Each version adhered to the same timeline, thus we had a fuller sounding texture containing 21 musicians.
The resultant sound is a curious yet striking one, and each utterance of a line of notation is bookended with an equivalent duration of silence, as indicated in Cage's instructions. The music is like a meta-forest of animal sounds, perhaps sounding not just 'like' nature, but more 'of' nature. When the music ends, and we are presented with the field recording made at Stony Point, NY, (where Cage lived at the time), by David Behrman in the early 1970's, one is almost shocked by reality, and the artifice of Cage's music is almost surreal in the memory."

Artist Biographies

Track Listing:


1. Two 10:23

2. Thoreau Drawings 27:30

3. Hymnkus 30:09

Related Categories of Interest:


Compositional Forms
John Cage
Avant-Garde
Graphic Scores
NY Downtown & Metropolitan Jazz/Improv
London & UK Improv & Related Scenes
Large Ensembles
Staff Picks & Recommended Items
New in Compositional Music
Recent Releases and Best Sellers

Search for other titles on the label:
Another Timbre.
---

Recommended & Related Releases: