Smith, Wadada Leo

The Emerald Duets [5 CD BOX SET]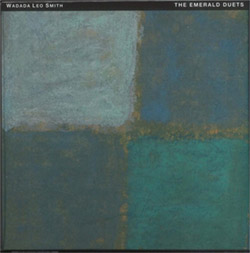 Part of his 80th Anniversary celebration and subtitled "The Art Of The Trumpeter And Drummers", this 5-CD box set brings legendary improviser Wadada Leo Smith together with four long-time collaborators and masterful drummers--Andrew Cyrille, Jack DeJohnette, Pheeroan akLaff and Han Bennink--with Smith performing on both piano and trumpet.


Sample The Album:


product information:

Personnel:


Wadada Leo Smith-piano

Andrew Cyrille-drums

Jack DeJohnette-drums, piano, electric piano

Pheeroan akLaff-drums

Han Bennink-drums, percussion

Click an artist name above to see in-stock items for that artist.
---


UPC: 6430015288065

Label: Tum
Catalog ID: TUMR806.2
Squidco Product Code: 32198

Format: 5 CDs
Condition: New
Released: 2022
Country: Finland
Packaging: Box Set - 5 CDs + Booklet
Disc 1 recorded at Sear Sound Studios in Manhattan, New York City, on December 3rd and 4th, 2019, by James A. Farber, and Owen Mulholland.

Disc 2 recorded at Sear Sound Studios in Manhattan, New York City, on September 20th and 21st, 2019, by James A. Farber, and Owen Mulholland.

Disc 3 recorded at Electric Monkey Studios in Amsterdam, The Netherlands, on July 29th, 2014, by Kasper Frenkel Frank.

Discs 4 and 5 recorded at Sear Sound Studios in Manhattan, New York City, on January 9th and 10th, 2020, by James A. Farber, and Owen Mulholland.


Descriptions, Reviews, &c.
"As part of its celebration of the 80th Anniversary of composer and trumpeter Wadada Leo Smith, TUM Records releases The Emerald Duets, a five-CD boxed set that includes Smith's collaborations with four leading drummers of our time, Pheeroan akLaff, Andrew Cyrille, Han Bennink and Jack DeJohnette. The Emerald Duets features four master drummers who have, each in their own unique fashion, contributed to the way modern drumming has developed over the past six decades and is now perceived.
Cyrille, Bennink and DeJohnette broke through to the elite of modern drummers already in the 1960s whereas akLaff became a household name after being featured by some of the most exciting group leaders in creative music in the 1970s and 1980s. DeJohnette and akLaff in particular have performed and recorded with Smith extensively over the past decades but Bennink and Cyrille have also performed with him in different connections before these recordings were made. Pheeroan akLaff, Andrew Cyrille and Han Bennink are each featured on one disc and Jack DeJohnette appears on two discs, including on Smith's five-part composition "Paradise: The Gardens and Fountains," which fills the fifth disc of this boxed set in its entirety.
The sessions with akLaff, Cyrille and DeJohnette were recorded in New York City in 2019 or 2020 and mostly feature compositions by Wadada Leo Smith, including three very different versions of Smith's "The Patriot Act, Unconstitutional and a Force that Destroys Democracy," his powerful statement about the need to protect freedom and democracy. The duets with Bennink were recorded in Amsterdam in 2014 and include a combination of Smith's compositions and collectively created tracks.
The five-CD boxed set represents a crowning achievement among Wadada Leo Smith´s already legendary series of duo recordings with some of the greatest drummers in the history of creative music, which has seen collaborations with such creative giants as Ed Blackwell, Jack DeJohnette, Milford Graves (TUM BOX 003), Louis Moholo-Moholo (TUM CD 029), Adam Rudolph and Günter Sommer, among others.
"On this recording, drummers DeJohnette, Cyrille, Bennink and akLaff and their drum-sets become a team unified as one, forming uncommon music-making ideas," says Wadada Leo Smith. "Their philosophy of drumming elevates the melodic and rhythmical elements of their instruments. They create thundering sounds and beautifully articulated melodic textures, constructing a permeating resonant range, stacking complex sonic waves layered from top to bottom, wave by wave, depending on the type of cymbals and drums in their ensemble kits."
"Smith really hears drummers He is deeply attuned to what is unique about each one, and he relates to them all quite differently,"writes Vijay Iyer in his liner notes. "Music-makers of this level display a crystalline quality: hard-won and authentic luminosity, poise, composure, conviction, and in Smith´s phrase, 'maximum sincerity.´ Each of these five beings has entered that phase of creative life known to some as 'late style,´ in which everything they do is magical. These five discs are wondrous monuments to the art of living." "-TUM
"Inspiration is the event of authenticity, which brings an influx of new information and creates new memory. It is a solitary moment that exists prior to creating a musical work or an art-object. It occurs before the artist begins to think about or reflect on the essential elements of a new work.
It's a moment that is a quiet fire, filled with an energetic spark that lights up a ritualistic space that might be imaged as a thin layer of particles touching the core of creation where within a split second the artist experiences a fresh acquisition of new information which must be transferred into an art-object.
Inspirational energy carries no weight nor reveals any resistant motion.
Before the artist is inspired that moment is already present inside of him and her and it is felt and known. Otherwise, there can be no artist or art.
What is that and where does it come from?
It's the untraceable unseen inspiration recognized as coming from everywhere and from within everything that is known and unknown.
It's the seed and sight of pure awareness experienced and realized without interference.
Inspiration is close to light in nature but different, the former being the "object" discovered and the latter being the light that exposes the "object."
It's a pure seed, a splendor of awareness experienced and realized directly and only witnessed by the person in the present moment.
In creative art making and other performative art activities, the Inspirational moment is unique. It brings a code of new information, and a dream/discovery energy at play.
The artist engraves with that inspired material which is essential to the art-object and its vitality as a work of art.
Next, transferring that energy into a creative form.
And the practice and shaping of the information into an art-object.
Afterwards conditioning the score for public exhibition through preparation, an individual act, rehearsal, the re-hearing and putting into place the musical properties as conceived; and the performance and recording.
These stages are defined as reflection, meditation, research-based and realization.
Think of the art-object and ensemble as performance.
All art practices are performative.
Writing, painting, oratory, dancing, composing/performing and listening."-Wadada Leo Smith, New Haven, Connecticut, March 21, 2022
"Wadada Leo Smith (b. 1941) was born in Leland, Mississippi. Smith´s early musical life began in the concert and marching bands of Lincoln High School in Leland, first on the mellophone, then moving on to the French horn and finally receiving his first trumpet at the age of 12. At the same age, he composed a work for three trumpets, his first composition.
Smith received his initial musical education from his stepfather, Alex "Little Bill" Wallace, who was one of the first Delta blues singers to begin playing the electric guitar. His family home in Leland was a meeting place for musicians where blues artists such as Elmore James, B.B. King and Little Minton were frequent guests, often performing in the family´s living room. Accordingly, Smith has said that: "The Blues was my first language and it never went away." As a trumpeter, Smith considers himself a descendant of Louis Armstrong, although Miles Davis, Booker Little, Clifford Brown and, a bit later, Don Cherry had the strongest impact on his own playing as a young musician.
Smith´s formal music studies began with Oneal Jones and Henderson Howard, who were his school bandmasters at Lincoln High, with the latter also being his first trumpet teacher. Smith later studied in the U.S. Army Music Program at Fort Leonard Wood in Missouri (1963), the Sherwood School of Music in Chicago, Illinois (1967-69), and Wesleyan University in Middletown, Connecticut (1975-76).
Following high school, Smith travelled for about a year with various blues, rhythm ´n´ blues and soul groups before entering the U.S. Army. After attending the U.S. Army Music Program, Smith played for a total of about five years in six different army bands, touring not only in the Southern United States, but also in France and Italy. He also continued to broaden his musical horizons and was leading his own Ornette Coleman-inspired trio while still in the military. In 1967, Smith left the army and moved to Chicago to work with saxophonist Anthony Braxton and other members of the Association for the Advancement of Creative Musicians (AACM), the groundbreaking creative music collective that combined the music´s African roots with an improvisational approach.
Soon after arriving in Chicago, Smith met Anthony Braxton and violinist Leroy Jenkins for an impromptu session and, as a result, the three founded a collaborative group, Braxton, Jenkins and Smith (later expanded into a quartet with the addition of drummer Steve McCall and named Creative Construction Company although they never actually performed live either as a trio or as a quartet under that name). Braxton, Jenkins and Smith became one of the key early ensembles of the AACM. Smith´s other collaborators in the pioneering work of the AACM also included saxophonists Joseph Jarman, Roscoe Mitchell and Kalaparusha Maurice McIntyre, trumpeter Lester Bowie, trombonist George Lewis and pianist Muhal Richard Abrams, among others.
Smith´s first recordings were made in Chicago during this period with Anthony Braxton (with Braxton, Smith, Jenkins and Muhal Richard Abrams, 3 compositions of new jazz in 1968 and, with Braxton, Smith and Jenkins, Silence in 1969), Kalaparusha Maurice McIntyre (with McIntyre, Smith, saxophonist John Stubblefield, pianist Amina Claudine Myers, bassists Malachi Favors Maghostut and M´Chaka Uba, and drummer Thurman Barker, Humility In The Light Of The Creator in 1969) and Muhal Richard Abrams (with Abrams, Smith, Henry Threadgill, bassist Lester Lashley and Thurman Barker, Young At Heart, Wise In Time in 1969).
Braxton´s 3 compositions of new jazz and Silence also included Smith´s first recorded compositions, "The Bell" and "Silence," respectively. These two compositions already used the rhythm-units concept, a framework for improvisation that Smith developed more fully in the 1970s.
Smith´s own Ankhrasmation Symbol Languagehas been significant in his development as an artist and educator. Smith published his music philosophy in the early 1970s in notes (8 pieces), source a new world music: creative music (Kiom Press, 1973). Notes (8 pieces) has been translated into Japanese (1976), Italian (1981) and Icelandic (2018). An expanded edition of the work in English was published in 2015.
As part of his music theory, Smith developed the two basic systems of music that he has utilized in his compositions ever since: the system of rhythm-units and the notation system he termed "ahkreanvention," which literally means to create and invent musical ideas simultaneously, utilizing the fundamental laws of improvisation and composition. With the rhythm-unit concept, each single sound or rhythm, or a series of sounds or rhythms, is accepted as a complete piece of music. Each performer, in turn, is considered as a complete unit with each having his or her own center from which each performs independently of any other, whether performing in a small group or in an orchestral context. The independence of each sound-rhythm and the independence of each performer contributes to the liberation from time as a period of development and to its employment as an element of space instead.
Like many other AACM members, Smith supported himself in Chicago by playing in the horn sections of various rhythm 'n´ blues and soul bands, including blues singer and guitarist Little Milton Campbell´s group. In 1969, Smith turned down Little Milton´s offer to become the straw-boss of his road band and moved to Paris along with Anthony Braxton and Leroy Jenkins as well as a few other key members of the AACM. During his year in Paris, Smith took part in two important recordings by Braxton and continued to perform and record with Braxton throughout the 1970s. Since that time, Braxton and Smith have continued to play together from time to time.
After returning from Paris, Smith led his own group, Integral, with saxophonist Henry Threadgill, trombonist Lester Lashley and drummer Thurman Barker, for a few months in Chicago before settling in New Haven, Connecticut, during the summer of 1970 for a period of ten years. In New Haven, Smith concentrated on his own music as well as studying and teaching rather than touring and recording all over the world like many of his compatriots. In addition to leading his own groups and teaching at the University of New Haven, he studied ethnomusicology at the Wesleyan University, focusing on West African, Japanese, Indonesian and Native American music cultures. Soon after arriving in New Haven, Smith organized the Creative Improvisation Ensemble with saxophonist Marion Brown and the duo also recorded an album in December 1970 in New York City (Creative Improvisation Ensemble/Duets).
Smith´s first recording as a leader was a solo album (Creative Music-1: Six Solo Improvisations in 1971), which was the first album released on Kabell, the independent record label he founded. After this first solo recording, Smith has continued to perform solo concerts and has released several additional solo albums (Red Chrysanthemums Solos in1977, Solo Music/Ahkreanvention in 1979, Kulture Jazz in 1992 and Red Sulphur Sky in 2001). In 2015, Smith featured his solo trumpet on four classic Thelonious Monk compositions and four new compositions by Smith inspired by Monk (Solo: Reflections And Meditations On Monk, TUM CD 053). Smith´s most recent solo trumpet recording is Trumpet, a three-CD boxed set thatfeatures fourteen compositions by Smith, including four extended multi-part works, recorded at a medieval stone church in the town of Pohja, on the Southern Coast of Finland (TUM BOX 002 in 2016).
Smith´s principal ensemble in New Haven, New Dalta Akhri, was comprised of his students and other young musicians based in the area and recorded a number of albums (Reflectativity in 1974, Song Of Humanity in 1976, The Mass Of The World in 1978, Divine Love in 1978, Spirit Catcher in 1979and Go In Numbers in 1980). At various times, its members included saxophonists Dwight Andrews, Oliver Lake and Henry Threadgill, pianist Anthony Davis, vibraphonist Bobby Naughton, guitarist Michael Gregory Jackson, bassist Wes Brown and drummer Pheeroan akLaff. Members of New Dalta Akhri were also part of the two large orchestras responsible for Smith´s first big band recordings, Leo Smith Creative Orchestra (Budding Of A Rose in 1979) and Creative Improvisors Orchestra (The Sky Cries The Blues in 1981).
In the early 1980s, Smith recorded a series of albums that reflected the spirituality of Rastafarianism, including Procession Of The Great Ancestry and Rastafari in 1983. The music that Smith performed around this time sometimes featured lyrics inspired by Rastafarianism and introduced elements of fusion jazz, reggae, funk and the blues into the music. Smith also became increasingly interested in presenting multimedia performances incorporating song, dance and drama.
In 1986, Smith began a series of duo releases with drums/percussion by recording a live concert with drummer Ed Blackwell (The Blue Mountain´s Sun Drummer,released on Smith´s Kabell label in 2010). This series includes duo recordings with Sabu Toyozumi (Burning Meditation in 1994), Adam Rudolph (Compassion in 2002), Günter "Baby" Sommer (Wisdom In Time in 2006), Jack DeJohnette (America in 2008) and Louis Moholo-Moholo (Ancestors, TUM CD 029, in 2011). Smith has also made a number of other duo recordings, including those with Anthony Braxton (Organic Resonance and Saturn, Conjunct The Grand Canyon In A Sweet Embrace, both in 2003), bassist John Lindberg (Celestial Weather, TUM CD 046, in 2012), pianist Angelica Sanchez (Twine Forest in 2013), sound designer Hardedge (The Nile in 2014) and pianist Vijay Iyer (A Cosmic Rhythm With Each Stroke in 2015), among others. Sacred Ceremonies, a three-CD boxed set, comprises a duo CD featuring Smith with drummer/percussionist Milford Graves, a duo CD featuring Smith with bassist Bill Laswell and a trio CD featuring Smith, Laswell and Graves (TUM BOX 003 in 2015/2016).
In 1992, Smith accepted a teaching position at the California Institute of the Arts (CalArts) and made Southern California his home. Alongside teaching, Smith continued to lead his own groups, in particular N´Da Kulture, and recorded a number of highly acclaimed albums as a leader (e.g., Tao-Njia in 1995, Golden Hearts Remembrance in 1997, Light Upon Light in 1998, Reflectativity in 2000 and Luminous Axis in 2002). In the mid-1990s, Smith converted to Islam, which further strengthened and made more apparent his longstanding interest in the musical cultures of the East, including those of Japan and India.
After moving to California, Smith began performing and recording more with musicians based on the West Coast, including guitarist Henry Kaiser in Yo Miles!, a group co-led by Kaiser and Smith and dedicated to the music of Miles Davis´ electric period (Yo Miles! in 1998 as well as Upriver and Sky Garden in 2001), among many others. He also continued his occasional collaborations with his old comrades from the AACM, including Anthony Braxton, Douglas Ewart (visionfest - visionlive in 2002 and Velvet Fire in 2009) and Roscoe Mitchell (The Bad Guys in 2000), as well as many others, including saxophonist John Zorn (with Zorn, Smith and Susie Ibarra, Birthday Series 50/8 in 2003 and, with Zorn, Smith and George Lewis, Sonic Rivers in 2013) and bassist John Lindberg (The Catbird Sings in 1999 and A Tree Frog Tonality in 2000).
In recent years, Smith has led five principal ensembles of his own: the Golden Quartet, an all-star group that originally included pianist Anthony Davis, bassist Malachi Favors Maghostut and drummer Jack DeJohnette and, in later editions, pianist Anthony Davis, Vijay Iyer or Angelica Sanchez, bassist John Lindberg and drummer Pheeroan akLaff or Ronald Shannon Jackson (Golden Quartet in 2000, The Year Of The Elephant in 2002, Tabligh in 2005 and, expanded into the Golden Quintet with drummer Don Moye, Spiritual Dimensions - CD1 in 2008, or with cellist Ashley Walters, America´s National Parks in 2016); the Great Lakes Quartet, another all-star group with Henry Threadgill, John Lindberg and Jack DeJohnette (The Great Lakes Suites, TUM CD 041-2, in 2012 and The Chicago Symphonies, TUM BOX 004, in 2015/18); Mbira, a trio with pipa player Min Xiao-Fen and Pheeroan akLaff (Dark Lady Of The Sonnets, TUM CD 023, in 2007); Organic, a larger group with instrumentation consisting primarily of electric string instruments (Spiritual Dimensions - CD2 in 2009 and Heart´s Reflections in 2010); and the Silver Orchestra, a large orchestra that recorded its first album in 2004 (Lake Biwa).
After retiring from CalArts in 2013, Smith again settled in New Haven and has focused on composing and performing more than ever before during his career. He has also reconnected with many of the East Coast musicians he worked with in the past, including two weeklong residences with multiple ensembles at the Stone. In April 2017, Smith organized the CREATE Festival in New Haven, which featured a total of eight ensembles over two days, followed by a two-day festival in San Francisco in December 2017 and the second and third annual CREATE Festival in New Haven in April 2018 and April 2019.
Smith has been a prolific composer throughout his career with works ranging from solo piano pieces to compositions for multiple orchestras. Already while in the military in the 1960s, Smith arranged both popular and classical music for the various military bands in which he played and increasingly also began composing his own music both for jazz groups and for other ensembles. By the time Smith moved to Chicago in 1967, he had already composed several works for a string quartet or larger orchestras. When working with other members of the AACM, and in the large ensembles led by Muhal Richard Abrams and others in particular, Smith began to combine his compositional skills and the improvisational spirit of the early AACM ensembles in search of his own approach to orchestral music.
Smith´s music for large ensembles has been performed throughout the world since 1969, developing from early works for more traditional big bands to compositions for multi-ensembles. Smith has received a number of awards and commissions as a composer and his compositions have been performed by numerous contemporary music ensembles, including the AACM Orchestra, the Kronos Quartet, the Da Capo Chamber Players, the New Century Players, the San Francisco Contemporary Music Players, the Contemporary Chamber Players (University of Chicago), the S.E.M. Ensemble, Southwest Chamber Music, the Del Sol String Quartet, the New York New Music Ensemble, ne(x)tworks,theCalifornia E.A.R. Unit,the Oxford Improvisers Orchestra, Orkiestra Symfoniczna NFM (Wroclaw) and the Jack Quartet, among others.
For over two decades, Smith has been creating music for multiple ensembles. Some of these works take several days to perform. "Ten Freedom Summers" was premiered by the Golden Quartet and Southwest Chamber Music at the Roy and Edna Disney/CalArts Theater (REDCAT) in Los Angeles over three nights in October 2011. "Tabligh" for double-ensemble was performed by the Golden Quartet and the Classical Persian Ensemble at Merkin Concert Hall in New York City in 2006 and by the Golden Quartet and Suleyman Erguner´s Classical Turkish Ensemble at Akbank Music Festival in Istanbul in 2007. Smith´s largest work to date, "Odwira" for 12 multi-ensembles (a total of 52 instrumentalists), was premiered at the California Institute of the Arts in March 1995.
In 2012, Smith released his most extensive recording to date, Ten Freedom Summers, a four-CD collection of 19 works composed over a period of 34 years and inspired by the civil rights movement in the United States. Ten Freedom Summerswas recorded by the Golden Quartet(Smith, Anthony Davis, John Lindberg and Pheeroan akLaff) and the Golden Quintet (add drummer Susie Ibarra) together with Southwest Chamber Music and was a finalist for the Pulitzer Prize in Music.
In 2013, Smith released another important recording of works for a large ensemble, Occupy The World (TUM CD 037-2), a two-CD collection comprised of six extended compositions performed by Smith with TUMO, a 22-member orchestra.
In 2016, Smith released America´s National Parks, a two-CD recording by the Golden Quintet that features six extended compositions celebrating America´s national parks and its culture and, in 2017, Najwa (TUM CD 049) that features four compositions in tribute to past masters of creative music, Ornette Coleman, John Coltrane, Ronald Shannon Jackson and Billie Holiday, as well as the title composition, all performed by a group that includes Smith´s trumpet with four electric guitars, electric bass, drums and percussion.
In 2018, Smith released a recording of an extended composition dedicated to the civil rights icon Rosa Parks, "Rosa Parks: Pure Love. An Oratorio of Seven Songs," which features three vocalists, a string quartet, a trumpet quartet, electronics and a drummer as well as pre-recorded musical excerpts (TUM CD 057). An early version of "Rosa Parks: Pure Love" was premiered in 2016 at The New School in New York City as part of the program for the Festival of New Trumpet Music and the full version was performed four times over three successive days in April 2019 at The Kitchen in New York City, featuring also video in live performance and a butoh dancer.
In 2021, Smith released A Love Sonnet For Billie Holiday (TUM CD 060) that brought him together with two frequent collaborators, Jack DeJohnette and Vijay Iyer, in a first meeting of these three creative giants.
Smith has been on the faculty of the University of New Haven (1975-76), The Creative Music Studio in Woodstock, New York (1975-78), and Bard College in Annandale-on-Hudson, New York (1987-92). In 1992-2013, he served as the director of the African-American Improvisational Music Program at The Herb Alpert School of Music at CalArts. In 2016, Smith received the Doris Duke Artist Award and an honorary Doctorate of Arts degree from CalArts, where he was celebrated as Faculty Emeritus. In 2016, Smith also received the Mohn Award for Career Achievement honoring brilliance and resilience from the Hammer Museum at the University of California, Los Angeles (UCLA). In November 2019, Smith received the UCLA Medal, the campus´s highest honor, and, in February 2021, he received the United States Artists Fellowship. In June 2022, Wadada Leo Smith is scheduled to receive the Vision Festival´s Lifetime Achievement Award in New York City.
Wadada Leo Smith´s Ankhrasmation Symbol Language Art Scores have been exhibited at several major American museums. In October 2015, The Renaissance Society at The University of Chicago presented the first comprehensive exhibition of the Ankhrasmation Symbol Language Art Scores. In 2016, a number of the scores were featured in the Hammer Museum´s "Made in L. A." exhibition in Los Angeles. Smith´s scores have also been shown at the Kalamazoo Institute of Arts in Michigan in 2016-17 and the Kadist Art Foundation in San Francisco, California, in 2016-17.
Pheeroan akLaff (b.1955) grew up in a musical family in Detroit, Michigan. While studying speech and drama at the Eastern Michigan University (1972-74), he came to the attention of a fellow student, Travis Biggs, who was a Motown-trained arranger, producer and multi-instrumentalist. During their time at the Eastern Michigan University, Biggs both tutored akLaff and employed him as a drummer.
In l975, akLaff moved to New Haven, Connecticut, and assembled a jazz and reggae band, DeJaVu, with another Detroit native, saxophonist Dwight Andrews. In New Haven, he also played with saxophonist Bill Barron and met one of his heroes, drummer Rashied Ali, sitting in with him at Ali´s Alley before moving to New York City. As a young musician, akLaff toured extensively in Africa, Asia and Europe. He studied urban popular music, folk drums and dance in Abidjan, Cote D´Ivoire, and Lagos, Nigeria, in 1981.
In New Haven, akLaff performed with Wadada Leo Smith and with many of the other young musicians then working with Smith. AkLaff´s first recordings were with Smith´s New Dalta Akhri(Song Of Humanity in 1976) and with Oliver Lake (Holding Together, with Lake, Michael Gregory Jackson and bassist Fred Hopkins, in 1976). These were followed by more recordings with both Smith (Spirit Catcher and Budding Of A Rose, both in 1979) and Lake (Life Dance Of Is in 1978, Shine! in 1978, Zaki in 1979, Prophet in 1980 and Clement Fitzhubert (A Good Friend Of Mine) in 1981) as well as recordings with Michael Gregory Jackson (Frequency Equilibrium Koan in 1977, Gifts in 1978 and Heart & Center in 1979), Anthony Davis (Of Blues And Dreams in 1978, Hidden Voices in 1979, Episteme in 1981, Variations In Dream Time in 1982 and Hemisphere in 1983), guitarist Allan Jaffe (Soundscape in 1978), bassist Mario Pavone (Digit in 1979 and Shodo in 1981), saxophonist Roscoe Mitchell (Sketches From Bamboo in 1979) and pianist Amina Claudine Myers (Song For Mother E in 1979).
By the time akLaff moved to New York City in 1978, he was already known as a versatile and highly individualistic drummer. Although he was usually associated with improvised music or the avant-garde, he also soon demonstrated his knowledge of other forms of African-American music from funk to reggae and his growing interest in world music. In 1979, akLaff recorded his first album as a leader, House Of Spirits: "Mirth", a solo recording which has been re-issued by Soul Jazz Records. AkLaff´s recordings as a leader also include Fits Like A Glove in 1983, Sonogram in 1989 and Global Mantras in 1997. AkLaff´s most recent solo recording is Drumß et Variations. AkLaff has also recorded a duo album with Indian table player Milesh Thandukar with proceeds going to Nepal earthquake relief efforts and, in 2015, the Pheeroan akLaff Quartet recorded The Willisau Concert (with saxophonist John Stubblefield, guitarist Ed Cherry and bassist Mark Helias).
In the early 1980s, akLaff joined Oliver Lake´s reggae-influenced band, Jump Up(Jump Up in 1981 and Plug It in 1983) and has continued to work with Lake´s other groups (Expandable Language in 1984, Gallery in 1986, Impala in 1987, Again And Again in 1991, Virtual Reality in 1991, Kind 'Up in 1999 and Have Yourself A Merry... in 2002). AkLaff also became a member of Henry Threadgill´s highly acclaimed Sextett (When Was That? in 1981, Just The Facts And Pass The Bucket in 1983, Subject To Change in 1984, You Know The Number in 1986 and Easily Slip Into Another World in 1987) and New Air(Live At Montreal International Jazz Festival in 1983 and Air Show No. 1: New Air Featuring Cassandra Wilson in 1986), followed by Threadgill´s Make A Move (Makin´ A Move in 1995). Another longstanding collaborator during this period was Jay Hoggard (Love Survives in 1983, Riverside Dance in 1985, Love Is The Answer in 1994, Something 'Bout Believing in 1999 and The Right Place in 2003).
In the mid-1990s, akLaff also worked with Anthony Braxton (Anthony Braxton's Charlie Parker Project 1993in 1993, Knitting Factory (Piano/Quartet) 1994, Vol. 1 and Vol.2 and Seven Standards 1995).
In 1988, akLaff started his cooperation with Japanese pianist Yōsuke Yamashita that has so far resulted in about 20 recordings (typically, by a trio with Yamashita, akLaff and bassist Cecil McBee) and has helped create a strong following for akLaff in Japan and in Asia more broadly. In addition, akLaff has performed in a duo with the venerable Min Tanaka in Japan and with the cultural icon Liu Sola in China.
Since the 1980s, in addition to continuing his collaborations with Smith, Oliver Lake, Anthony Davis, Jay Hoggard, Henry Threadgill and others, akLaff has also performed and/or recorded with saxophonists Anthony Braxton, Marty Ehrlich, Julius Hemphill, Steve Lehman, Kalaparusha Maurice McIntyre, David Murray, Rob Reddy, Sam Rivers and Carlos Ward, clarinetist Don Byron, trumpeter Baikida Carroll, trombonists Ray Anderson and Craig Harris, flutist James Newton, pianists Geri Allen, Andrew Hill, Tom Pierson, Michele Rosewoman, Fred Simmons, Cecil Taylor and Mal Waldron, guitarists Jerome Harris and Sonny Sharrock, bassists Mark Helias and Reggie Workman, vocalist Dorothy Cowfield and poet Amiri Baraka, among many others.
Throughout the years, akLaff has led his own groups, including various trios, quartets and quintets that have both toured in North America and headlined at a number of international jazz festivals. He also led the Double Duoensemble dedicated to the spiritual music of John Coltrane using the sound of two saxophonists, Lee "Mixashawn" Rozie and Ravi Coltrane, and two drummers, akLaff and his mentor Rashied Ali. His solo performances have taken place both in Japanese temples and on theater stages.
AkLaff has also participated in the New York Jazz Collective with Marty Ehrlich, James Zollar, Ray Anderson, Mike Formanek and Mike Nock (Everybody Wants To Go To Heaven in 2000), recorded a trio album with pianist Michael Cain and bassist Florain Fueser (Brooklyn Waters in 2000), presented Mixed Erato, a duo combining classical piano music with a drum set (with pianist Qi Liu) and been featured with Dear Freedom Suite, a tribute to Sonny Rollins´ classic recording (Dear Freedom Suiter - Live In Japan Volume One in 2012).
AkLaff first met Wadada Leo Smith in New Haven, Connecticut, in the mid-1970s and was sooninvited to join his ensemble New Dalta Ahkri (Wildflowers 2 and Song Of Humanity, both in 1976, and Spirit Catcher in 1979). AkLaff also participated in Smith´s early projects for a large ensemble (Budding Of A Rose in 1979). More recent projects with Smith have included Mbira (Dark Lady Of The Sonnets, TUM CD 023, in 2007), the Golden Quartet and Golden Quintet (Spiritual Dimensions in 2008, Ten Freedom Summers in 2011 and America´s National Parks in 2016), Organic (Spiritual Dimensions in 2009 and Heart´s Reflections in 2010), Najwa (Najwa, TUM CD 049,in 2014) and the Rosa Park: Pure Love oratorio (TUM CD 049 in 2016/17). AkLaff and Smith have also occasionally performed as a duo.
Ever since his drama studies, akLaff has had an interest in combining drama and dance with music and has participated in a number of theatrical projects, including his "Frederick Douglass Chronicles", which uses words of the 19th Century statesman. He has also performed with the Brooklyn Mime Troop
Since 1991, akLaff has taught drums to university students. He began by teaching master classes at The New School in New York (1991-92) and has been on the faculty of Wesleyan University since 1993. He has also taught students in Asia, Europe and Latin America.
Andrew Cyrille (b. 1939) was born in Brooklyn, New York, into a family with Haitian parents. At age 11, Cyrille began to learn drumming at St. Peter Claver grammar school´s drum and bugle corps in Brooklyn. After graduating from high school, he began studying at St. John´s University with science as his major. However, he was already playing jazz in the evenings having been mentored in the art of drumming by the great Philly Joe Jones circa 1958. Cyrille soon switched to the Juilliard School of Music.
During his studies at Juilliard and the Hartnett School of Music (1961-64), Cyrille played both with a number of well-established jazz musicians, such as saxophonists Coleman Hawkins and Illinois Jacquet and pianist Mary Lou Williams, and with younger representatives of modern jazz like saxophonists Bill Barron and Rahsaan Roland Kirk, trumpeter Kenny Dorham and vibraphonist Walt Dickerson as well as with the Nigerian master drummer Babatunde Olatunji. Cyrille is considered one of the most creative and versatile percussionists in modern jazz, equally at home in a modern mainstream setting as with more avant-garde music.
Cyrille first began making a name for himself with his 1961 recordings with Coleman Hawkins (The Hawk Relaxes), Walt Dickerson (This Is Walt Dickerson!) and bassist Ahmed Abdul-Malik (The Music Of Ahmed Abdul-Malik). His collaborations with Dickerson in particular continued into the 1980s, resulting in such other classic recordings as Relativity and To My Queen in 1962, Jazz Impressions Of "Lawrence Of Arabia" in 1963, Unity in 1964, Tell Us Only The Beautiful Things and Peace in 1975, and Dickerson´s final recording as a leader, Life Rays, in 1982.
However, Cyrille may still be best known for his membership in the Cecil Taylor Unit, which lasted for over a decade (1964-75). During this time, Cyrille established his position as one of the leading percussionists in improvised music. His close to 10 recordings with Cecil Taylor began with two legendary sessions (Unit Structures and Conquistador!, both in 1966) for Blue Note Records and also included Cecil Taylor´s recording with the Jazz Composer´s Orchestra ("Communications No. 11, Part 1 and Part 2", The Jazz Composer´s Orchestra) in 1968, Nuits De La Fondation Maeght, Volumes 1-3, in 1969 as well as Akisakila and Spring Of Two Blue-J´s in 1973.
Since the 1970s, Cyrille has led or co-led a number of ensembles, including Maono (with trumpeter Ted Daniel, saxophonist David S. Ware, pianist Donald Smith and bassist Nick DiGeronimo et. al.), The Group (with trumpeter Ahmed Abdullah, saxophonist Marion Brown, violinist Billy Bang and bassists Sirone and Fred Hopkins; Live in 1986) and the percussion quartet Pieces Of Time (with Kenny Clarke, Milford Graves and Famoudou Don Moye; Pieces Of Time in 1983).
Cyrille has released more than 30 recordings as a leader or co-leader, ranging from two solo recordings (What About? in 1969 and The Loop in 1978) and a number of duo recordings beginning with his legendary duo with fellow drummer Milford Graves (Dialogue Of The Drums in 1974) and continuing over the years with his duos with saxophonists Anthony Braxton, Peter Brötzmann, Mikko Innanen (Song For A New Decade, TUM CD 042-2, in 2010/12), Jimmy Lyons, Bill McHenry and Greg Osby (Low Blue Flame, TUM CD 016, in 2005), pianists Armando Battiston and Irène Schweizer, synthesizer player Richard Teitelbaum, bassist Peter Kowald and drummers Michael Carvin and Vladimir Tarasov, among others, to recordings with small groups and larger ensembles.
Cyrille´s first recordings as a group leader were with Maono, including Celebration (with Daniel, Ware, Smith, synthesizer player Romulus Franceschini, bassist Stafford James, percussionist Alphonse Cimber, vocalist Jeanne Lee and poet Elouise Loftin) in 1975, Junction (with Daniel, Ware, and Lisle Atkinson) in 1976 and Metamusicians´ Stomp (with Daniel, Ware and DiGeronimo) in 1978. These were followed by Nuba (with Jimmy Lyons and Jeanne Lee) in 1979, Special People (with Daniel, Ware and DiGeronimo) in 1980, The Navigator (with Daniel, pianist Sonelius Smith and DiGeronimo) in 1982, My Friend Louis (with trumpeter Hannibal Marvin Peterson, saxophonist Oliver Lake, pianist Adegoke Steve Colson and bassist Reggie Workman) in 1991, X Man (with flutist James Newton, guitarist Alix "Tit" Pascal and bassist Anthony Cox) in 1993, Ode To The Living Tree (with saxophonists Oliver Lake and David Murray, Adegoke Steve Colson, bassist Fred Hopkins and percussionist Mor Thiam) in 1994, and Good To Go, With A Tribute To Bu (with James Newton and Lisle Atkinson) in 1995.
During the 1980s, Cyrille recorded a particularly important series of albums with clarinetist John Carter (Castles Of Ghana, Dance Of The Love Ghosts and Fields and Shadows On A Wall) and several albums with pianist Muhal Richard Abrams (Mama And Daddy, Blues Forever, Rejoicing With The Light, Colors In Thirty-third and The Hearing Suite). In the past five decades, he has also performed and recorded with Juhani Aaltonen (Strings Revisited, TUM CD 003, and Reflections, TUM CD 007, both in 2002), Geri Allen, Billy Bang (A Tribute to Stuff Smith, notable for being the last studio session of Sun Ra), A. Spencer Barefield, Carla Bley, Charles Brackeen, Bobby Bradford, Marion Brown, Dave Burrell, Adegoke Steve Colson, Marilyn Crispell, Richard Davis, Dave Douglas, Charlie Haden, Kip Hanrahan, Sir Roland Hanna, Bill McHenry, Leroy Jenkins, Oliver Lake, John Lindberg, Jimmy Lyons, Mark Masters, Grachan Moncur, III, Lawrence "Butch" Morris, David Murray, Aruan Ortiz, Ivo Perelman, Paul Plimley, Hugh Ragin, Roswell Rudd, Archie Shepp, Lonnie Liston Smith, Steve Swell, Horace Tapscott, John Tchicai (Witch´s Scream, TUM CD 014, in 2004), Mal Waldron and Reggie Workman, among many others.
In 1992, Oliver Lake, Reggie Workman and Cyrille founded Trio 3, a cooperative group that over time became one of the main performing vehicles for all three of its members, recording more than 10 albums with several of the later ones also featuring a visiting pianist (Live In Willisau in 1997; Encounter in 1999; Open Ideas in 2001; Time Being in 2005; What´s Nine - Live At The Sunset in 2007; Berne Concert, with Irène Schweizer, in 2007; At This Time, with Geri Allen, in 2008; Celebrating Mary Lou Williams, with Allen, in 2010; Refraction - Breakin´ Glass, with Jason Moran, in 2012; Wiring, with Vijay Iyer, in 2013; and Visiting Texture in 2016).
In the new millennium, Cyrille has led the Haitian Fascination, an ensemble that pays homage to his Haitian roots (Route De Frères, with baritone saxophonist Hamiet Bluiett, Alix Pascal, Lisle Atkinson and Frisner Augustin on vocals and percussion, TUM CD 027, in 2005) and co-led the CDE Trio (with saxophonist Marty Ehrlich and bassist Mark Dresser), the Mary Lou Williams Collective (Zodiac Suite: Revisited, with Geri Allen, Buster Williams and Billy Hart, in 2000-2003) and the Soren Kjaergaard, Ben Street & Andrew Cyrille Trio (Optics in 2007, Open Opus in 2008 and Femklang in 2012), among a number of other ensembles. He was also a member of the Roswell Rudd/Archie Shepp Group (Live In New York, with Shepp, Rudd, Grachan Moncur III, Reggie Workman and poet Amiri Baraka, in 2000).
Beginning with a trio performance of trumpeter Enrico Rava, bassist William Parker and Cyrille in a tribute concert to Cecil Taylor at the Whitney Museum in New York City in April 2016, the three have occasionally continued to perform together and recorded 2 Blues For Cecil(TUM CD 059) in February 2020.
Cyrille´s most recent recordings as a leader have included Duology (with Ted Daniel and clarinetist Michael Marcus) in 2011, The Declaration Of Musical Independence (with Richard Teitelbaum, guitarist Bill Frisell and bassist Ben Street) in 2014, Lebroba (with trumpeter Wadada Leo Smith and Bill Frisell) in 2017 and The News (with pianist David Virelles, Bill Frisell and Ben Street) in 2019.
Cyrille has been involved in jazz education since the early 1970s. From 1971-1973, he was artist in residence and instructor at Antioch College, Ohio, and also taught at the Graham Windham Home for Children in New York. Cyrille is currently a faculty member of the New School of Jazz and Contemporary Music operating as part of The New School university in New York City.
Cyrille has been recognized with several awards and prizes over the years. In 2019, he received the first Jazz Laureate Award in Montclair, New Jersey, and the Lifetime Achievement Award by Arts for Art, Inc. at the Vision Festival in New York City. In 2020, Cyrille received the Doris Duke Artist Award.
Han Bennink (b. 1942) is the son of a concert percussionist who also played the clarinet in the style of Benny Goodman and the tenor saxophone in the style of Coleman Hawkins. Bennink began both of his favorite activities - making art and playing the drums - at an early age under the tutelage and influence of his father. When Bennink was a teenager he used to accompany his father on the drums and then played in his dance bands. He is a brother of saxophonist Peter Bennink.
In the late 1950s, Bennink was attracted to the energetic jazz pouring out of the United States and began perfecting his hard swinging style on the drums with Kenny Clarke as an early hero. Beginning in the early 1960s, Bennink frequently had opportunities to play with the many of the American musicians visiting Holland, including saxophonists Dexter Gordon (Live At The "Amsterdam Paradiso" in 1969), Johnny Griffin, Hank Mobley (To One So Sweet - Stay That Way: Hank Mobley In Holland in 1968), Sonny Rollins (Rollins In Holland in 1967) and Ben Webster, pianist Kenny Drew, guitarist Wes Montgomery (Radio 1965) and many others. From this period, modern jazz fans will always remember Bennink as the drummer of saxophonist Eric Dolphy´s final recording (Last Date, also pianist Misha Mengelberg and bassist Jacques Schols, in 1964).
Bennink quickly established himself as a compelling drummer. In 1963, he formed a quartet with Misha Mengelberg and saxophonist Piet Noordijk, which performed at the Newport Jazz Festival in 1966 (Driekusman Total Loss, featuring bassist Gary Peacock,in 1964; The Misha Mengelberg Quartet As Featured At The Newport Jazz Festival 1966 and Journey - Jazz At The Concertgebouw, each with bassist Rob Langereis,in 1966).
Bennink was heavily involved with the nascent European free improvisation scene. With fellow Dutch pioneers, Mengelberg and saxophonist Willem Breuker, he founded the musicians´ collective Instant Composers Pool in 1967 (Instant Composers Pool, Mengelberg and Bennink with saxophonist John Tchicai, in 1968). He also anchored various groups led by Mengelberg or Breuker and appeared in their comic music-theatre productions.
Misha Melgelberg in particular became a frequent collaborator of Bennink and their joint projects continued for four decades (Groupcomposing, with Peter Brötzmann, Evan Parker, Peter Bennink, Paul Rutherford and Derek Bailey, in 1970, Instant Composers Pool in 1971; Het Scharrebroekse in 1972; EinePartieTischtennis in 1974; Coincidents in 1975; Midwoud in 1977, Fragments, with John Tchicai and Derek Bailey, in 1978; Bennink Mengelberg in 1982; Change Of Season (Music Of Herbie Nichols), with Steve Lacy, George E. Lewis and Arjen Gorter, in 1985; Dutch Masters, with Steve Lacy, George Lewis and Ernst Reyseger, in 1991; Mix in 1994; The Instant Composers Pool 30 Years in 1996; MiHa in 1998; Four In One, with the Misha Mengelberg Quartet including Dave Douglas, Brad Jones and Han Bennink, in 2001; and Senne Sing Song in 2004).
With Breuker, Bennink occasionally performed as the New Acoustic SwingDuo (The New Acoustic Swing Duo in 1967 and Sendai Sjors And Sendai Sjimmie: The New Acoustic Swing Duo In Japan in 1984)
On Breuker´s recommendation, Bennink came into contact with saxophonist Peter Brötzmann and participated in two classic recordings with him in 1968, Fuck de Boere: Dedicated To Johnny Dyani and Machine Gun, as one of the two featured drummers, with Sven-Åke Johansson as the other. Around the same time, he also recorded with pianists Fred Van Hove (Requiem For Che Guevara in 1968) and Alexander von Schlippenbach (The Living Music in 1969) as well as trumpeter Manfred Schoof (European Echoes in 1969). These initials recordings led to numerous performances and other recordings particularly with Brötzmann over the following five decades (Nipplesin 1969; Balls, with Fred Van Hove, in 1970; Total Music Meeting 1977 Berlin, Ein Halber Hund Kann Nicht Pinkeln and Schwarzwaldfahrt in 1977; 3 Points And A Mountain, with Misha Mengelberg, in 1979; Atsugi Concert in 1980; Still Quite Popular After All Those Years in 2005; In Amherst 2006; and Fifty Years After - Live At The Lila Eule, with Alexander von Schlippenbach, in 2018). With Van Hove, Brötzmann and Bennink had a longstanding trio in which Bennink showcased his talents on the clarinet, trombone, soprano saxophone, banjo, piano and many other instruments (Brötzmann/Van Hove/Bennink in 1973).
Bennink also began collaborating with guitarist Derek Bailey, recording the first of his duo albums with Bailey (Derek Bailey & Han Bennink) in 1969.
In addition to playing in various groups with his long-standing collaborators, Bennink has frequently performed and recorded as a solo artist (Solo in 1971-72, Nerve Beats in 1973, Solo in 1978, Solo - West/East in 1979, Tempo Comodo in 1982, Serpentine in 1997, Nerve Beats in 2001 and Parken in 2009) and led his own groups (A European Proposal (Live In Cremona), with Misha Mengelberg, Paul Rutherford and Mario Schiano, in 1979; 3, with Michiel Borstlap and Ernst Glerum, 1997; Jazz Bunker, with Eugene Chadbourne and Toshinori Kondo, in 2000; Free Touching (Live In Beijing At Keep In Touch), with Wong Young, Andreas Schreiber, Dennis Rea, Steffen Schorn and Claudio Puntin, in 2004; Home Safely, with Curtis Clark and Ernst Glerum, in 2004; 3, with Michiel Borstlap and Ernst Glerum, in 2004; BBG, with Michiel Borstlap and Ernst Glerum, in 2005; Amplified Trio, with John Coxon and Ashley Waters, in 2006, Monk Volume One, with Michiel Borstlap and Ernst Glerum, in 2008; Parken, with Joachim Badenhorst , Simon Toldam and Qarin Wikstrom, in 2009; Laiv, with Fabrizio Puglisi and Ernst Glerum, in 2010; and Bennink & Co., with Joachim Badenhorst and Simon Toldam, in 2011.
Over the years, Bennink´s many duo collaborators have included saxophonists Willem Breuker, Ellery Eskelin, Frode Gjerstad, Mikko Innanen, Keshavan Maslak, Evan Parker and Brodie West, clarinetist Joris Roelofs, trumpeter Dave Douglas, pianists Uri Caine, Alexander Hawkins, Misha Mengelberg, Myra Melford , Simon Nabatov, Irene Schweizer, Aki Takase and Cecil Taylor, guitarists Derek Bailey, Eugene Chadbourne, Terrie Ex and Mark O´Leary, bassist Peter Kowald and drummer Steve Noble, among others. With Willem Breuker, Bennink has occasionally performed under the name of the New Acoustic SwingDuo (The New Acoustic Swing Duo in 1967 and Sendai Sjors And Sendai Sjimmie: The New Acoustic Swing Duo In Japan in 1984).
Bennink´s other collaborators over the years have included saxophonists Anthony Braxton, Marion Brown, Steve Lacy, Evan Parker, Dudu Pukwana, Andy Sheppard and John Tchicai, trumpeters Don Cherry, Enrico Rava and Manfred Schoof, trombonists Ray Anderson, George Lewis and Roswell Rudd, pianists Steve Beresford, Paul Bley, Leo Cuypers, Irene Schweizre and Fred van Hove, guitarists Christy Doran and Jaak Sooäär and bassist Harry Miller, among many others.
From 1988 to 1998, Bennink´s main performing vehicle was Clusone 3, with saxophonist and clarinetist Michael Moore and cellist Ernst Rejsiger, which toured globally and recorded several highly acclaimed albums (Clusone 3 in 1990, I´m An Indian Too in 1993, Soft Lights And Sweet Music in 1993, What Is Jazz? and Love Henry in 1996, Rara Avis in 1997 and An Hour With... in 1998). From the late 1980s through the early 2000s, Bennik also collaborated closely with Dutch post-punk band The Ex, appearing on their 1995 album Instantand travelling and playing with them on their first tour of Ethiopia.
More recently, Bennink has frequently been heard with tenor saxophonist Tobias Delius´ quartet (The Heron in 1997, Toby´s Mloby in 1999, Pelikanismus in 2001 and Luftlucht in 2009) and in a trio with pianist/keyboardist Cor Fuhler and bassist Wilbert de Joode (Bellagram in 1998, Zilch in 1998 and Tinderbox in 2003).
Bennink has been a fixture on the European scene for improvised music for nearly six decades. In addition to his own projects as well as his numerous performances and recordings with smaller groups under the collective name Instant Composers Pool beginning in the late 1960s and with the ICP Orchestra starting in the 1980s (most recently, De Hondemepper in 2018 and Komen & Gaan in 2020), Bennink has been featured with many other European improvising ensembles, including Company, Globe Unity Orchestra, Cecil Taylor´s European Orchestra, Royal Improvisers Orchestra and Spring Heel Jack.
Jack DeJohnette (b.1942) was born in Chicago and grew up in a family where music had a high priority. Beginning at the age of four, he studied classical piano at the Chicago Conservatory of Music, then added the drums to his repertoire when he joined his high school concert band at the age of 14.
By the mid-1960s, DeJohnette had entered the Chicago jazz scene - not just as a leader of his own groups, but also as a sideman on both piano and drums. He experimented with rhythm, melody and harmony as part of the AACM during the organization´s early days, and later drummed alongside Rashied Ali in the John Coltrane Quintet.
Although DeJohnette´s first published recording was with saxophonist Jackie McLean (Jacknif in 1965; also Demon´s Dance in 1967), he began garnering international recognition during his tenure with the Charles Lloyd Quartet (with saxophonist Charles Lloyd, pianist Keith Jarrett and bassist Cecil McBee or Ron McLure; Dream Weaver, Forest Flowerand In Europe in 1966, Love-In - At The Fillmore and In The Soviet Union in 1967, and Soundtrack in 1968), one of the first jazz groups to receive true crossover attention.
DeJohnette soon also began performing and recording with the likes of pianist Herbie Hancock (Blow-Up in 1966), guitarist Jerry Hahn (Ara-be-in in 1967), saxophonist Joe Henderson (Tetragon in 1968, Power To The People in 1969, Black Is The Colour in 1972, Multiple in 1973 and Black Narcissus in 1974), pianist Cedar Walton (Spectrum in 1968), pianist Bill Evans (At The Montreux Festival in 1968), pianist Bobby Timmons (Do You Know The Way in 1968), saxophonist Lee Konitz (Peacemeal in 1968 and Satori in 1974), saxophonist Eric Kloss (Sky Shadows in 1968, To Hear Is To See in 1969 and Consciousness in 1970), pianist Chick Corea (Is in 1969 and The Sun in 1970), saxophonist Wayne Shorter (Super Nova in 1969), bassist Miroslav Vitous (Infinite Search in 1969), saxophonist Joe Farrell (Joe Farrell Quartet in 1970 and Moongerms in 1972), trumpeter Freddie Hubbard (Straight Life in 1970,First Light in 1971 and In Concert, Vol 1 & 2 in 1973), guitarist George Benson (Beyond The Blue Horizon in 1971 and Body Talk in 1973), pianist/harpist Alice Coltrane (Universal Consciousness in 1971 and, with guitarist Carlos Santana, Illuminations in 1974), flutist Hubert Laws (The Rite Of Spring in 1971), vibraphonist Bobby Hutcherson (Natural Illusions in 1972), saxophonist Sonny Rollins (Next Album in 1972), bassist Richard Davis (Song For The Wounded Knee in 1973), saxophonist Paul Desmond (Skylark in 1973), saxophonist David Liebman (First Visit in 1973), trumpeter Enrico Rava (Pupa O Crisalide and Quotation Marks, both in 1973) and trumpeter Luis Gasca (Born To Love You in 1973), among others, thereby beginning one of the most extensive recording careers in modern jazz.
In 1968, DeJohnette joined Miles Davis´s group shortly before the recording of Bitches Brew, an album that triggered a seismic shift in jazz and permanently changed the direction of the music. DeJohnette stayed with Davis for three years, making important contributions to a number of Davis recordings, including Big Fun, Black Beauty, Live At The Fillmore East, Live/Evil and The Cellar Door Sessions in 1970, A Tribute To Jack Johnson in 1971 and On The Corner in 1972.
During this same period, DeJohnette also recorded his first albums as a leader, including The DeJohnette Complex (with saxophonist Bennie Maupin, pianist Stanley Cowell, Miroslav Vitous and drummer Roy Haynes) in 1968, Have You Heard? (with Maupin, pianist Hideo Ichikawa and bassist Gary Peacock) in 1970, Sorcery (with Maupin, trombonist Michael Fellerman, guitarists John Abercrombie and Mike Goodrich, and bassist Dave Holland) in 1974 and Cosmic Chicken (with saxophonist Alex Foster, John Abercrombie and bassist Peter Warren) in 1975.
In the early 1970s, DeJohnette recorded twice with the group Compost that included him mostly on keyboards, saxophonist Harold Vick, bassist Jack Gregg, drummer Bob Moses and percussionist Jumma Santos (Take Off Your Body in 1971 and, with guitarists Roland Prince and Ed Finney as well as vocalists Lou Courtney and Jeanne Lee, Life Is Round in 1973).
DeJohnette has also occasionally recorded as a pianist, including trio recording Jackeyboard (with bassist Mitsuaki Furuno and drummer George Ohtsuka) in 1973 and solo recordings Cosmic Chicken in 1975 and Return in 2015.
The mid-1970s were marked by a series of short-lived groups and projects - many of them leaning toward the more experimental side of jazz, including The Gateway Trio (featuring Dave Holland and John Abercrombie; Gateway in 1975 and Gateway 2 in 1977 as well as Homecoming and In the Moment in 1994), Directions (with Abercrombie, Alex Foster et. al.; Directions in 1975 and Untitled in 1976) and New Directions (with Abercrombie, trumpeter Lester Bowie and bassist Eddie Gomez; New Directions in 1978 and New Directions in Europe in 1979). These were followed by Special Edition, which helped launch the careers of several lesser-known musicians, such as saxophonists Arthur Blythe, Chico Freeman, David Murray and John Purcell as well as bassist Rufus Reid, and remained active for almost two decades, with some personnel changes along the way (Special Edition in 1976, Tin Can Alley in 1980, Inflation Blues in 1982, Album Album in 1984, Irresistible Forces in 1987, Audio-Visualscapes in 1988, Earth Walk in 1991 and Extra Special Edition in 1994), although the group´s schedule was frequently interrupted by DeJohnette´s various collaborative ventures and other commitments.
Over the years, DeJohnette has recorded numerous duo albums including with Keith Jarrett (Ruta And Daitya in 1971), Dave Holland (Time & Space in 1973), saxophonist John Surman (The Amazing Adventures of Simon Simon in 1981 and Invisible Nature in 2000), Lester Bowie (Zepra in 1985), guitarist Bill Frisell (The Elephant Sleeps But Still Remembers in 2001), Gambian kora player Foday Musa Suso (Music From The Heart Of The Masters in 2002) and Wadada Leo Smith (America in 2008).
Alongside his own groups and other projects, DeJohnette has worked extensively with Keith Jarrett as part of a longstanding trio also including Gary Peacock. In a rare feat for a modern jazz group, this trio celebrated its 30th anniversary in 2013. The trio´s first recording session took place in 1983 producing Standards, Volume 1 and Volume 2 as well as Changes, and their oeuvre totals at least 20 recordings.
Another of DeJohnette´s high-profile projects in the early 1990s was a trio with Herbie Hancock and guitarist Pat Metheny (Parallel Realities in 1990), which developed into a touring quartet also including Dave Holland (Parallel Realities Live in 1990). In 1992, DeJohnette released Music For A Fifth World, an album inspired by Native American culture that included appearances by guitarists Vernon Reid and John Scofield, among others.
In the new millennium, DeJohnette performed with the Jack DeJohnette Quartet, featuring pianist Danilo Perez, bassist John Patitucci and bassist/guitarist Jerome Harris, and a trio with Perez and Patitucci (Music We Are in 2008) as well as the Trio Beyond, a group that celebrated the music of Tony Williams, featuring John Scofield and bassist Larry Goldings (Sausades in 2004).
Among DeJohnette´s most recent recordings as a leader are Sound Travels (2011), a genre-spanning album that features guest players such as Esperanza Spalding, Bobby McFerrin, Bruce Hornsby and Jason Moran, Made In Chicago (2013) dedicated to his hometown and featuring three elders of the AACM, Muhal Richard Abrams, Roscoe Mitchell and Henry Threadgill, as well as the legendary Chicago bassist Larry Gray, In Movement (2015) with his own trio featuring saxophonist Ravi Coltrane and bassist Matthew Garrison and Hudson (2017) with John Medeski, John Scofield and Larry Grenadier.
Although identified by many with his most high-profile associations, such as Miles Davis, Herbie Hancock and Keith Jarrett, DeJohnette has always stayed true to his roots in the creative music of Chicago in the 1960s as evidenced by the personnel of many of his own groups and recordings as well as his collaborations with the likes of Ornette Coleman and Pat Metheny (Song X in 1985), David Murray (In Our Style in 1986), Dave Holland (Triplicate in 1988), Gary Thomas (Exile´s Game in 1993), the World Saxophone Quartet (Selim Sivad in 1998), Don Byron (Romance With The Unseen in 1999 and Ivey-Divey in 2004), John Surman (Free And Equal in 2001, Hybrids in 2005 and Brewster´s Rooster in 2007), Michel Portal (Ballador in 2010), Anouar Brahem (Blue Maqams in 2017), Gonzalo Rubalcaba (Skyline in 2018), David Liebman (Fire in 2016 and Lifelines in 2019), Franco Ambrosetti (Cheers in 2017, Long Waves in 2019 and Lost Within You in 2020) and Ethan Iverson (Every Note Is True in 2021), among many others.
For over two decades, DeJohnette has performed with Wadada Leo Smith, with whom he first played in Chicago in the late 1960s during an informal trio session at the invitation of AACM founder, pianist Muhal Richard Abrams. DeJohnette was one of the original members of Smith´s Golden Quartet (with Anthony Davis and Malachi Favors Maghostut; Golden Quartet in 2000 and The Year of the Elephant in 2002) and also recorded a highly acclaimed duo album with Smith (America in 2008). In 2012, he participated in the first recording by Smith´s Great Lakes Quartet (The Great Lakes Suites, TUM CD 041-2) that, in 2015/18, was followed by The Chicago Symphonies (TUM BOX 004), a four-CD boxed set comprised of four extended compositions celebrating Chicago and the rich contributions of the Midwestern artistic, musical and political culture to the United States of America. In 2016, Smith, DeJohnette and pianist Vijay Iyer recorded A Love Sonnet For Billie Holiday (TUM CD 060).
In a career that spans six decades and includes collaborations with some of the most iconic figures in modern jazz, DeJohnette has established an unchallenged reputation as one of the greatest drummers in the history of the genre. In addition to those mentioned above, the list of creative associations throughout his career also includes Chet Baker, Gary Bartz, Joanne Brackeen, Michael Brecker, Kenny Burrell, Gary Burton, Betty Carter, Eliane Elias, Stan Getz, Hank Jones, Steve Khan, Eero Koivistoinen, Steve Kuhn, Harold Mabern, Thelonious Monk, Milton Nascimento, Mike Stern, Steve Swallow, Stanley Turrentine, McCoy Tyner, Bennie Wallace and Kenny Wheeler, among many others. Along the way, he has developed a versatility that allows room for hard bop, rhythm 'n´ blues, world music, avant-garde and just about every other style to emerge in the past six decades.
Marking his 70th birthday in 2012, DeJohnette received from the National Endowment for the Arts the NEA Jazz Masters Fellowship, the highest U.S. honor for a jazz musician, in recognition of his extraordinary life achievements, his contributions to advancing the jazz art form and for serving as a mentor for a new generation of aspiring young jazz musicians. In 2012, he also received the United States Artists Fellowship."-Tum Records

Artist Biographies

Track Listing:


CD1



1. The Prayer (For Keith Jarrett) 13:31

2. First Meditation From The Heart: The Beauty, The Beloved 12:03

3. The Uyghur In Xinjiang, China 6:55

4. Rumi's Masnavi: A Sonic Expression Part I 4:02

5. Rumi's Masnavi: A Sonic Expression Part II 1:05

6. Rumi's Masnavi: A Sonic Expression Part III 6:37

7. Rumi's Masnavi: A Sonic Expression Part IV 1:59

8. A Sonic Litany On Peace 7:50

9. The Patriot Act, Unconstitutional And A Force That Destroys Democracy 11:17

10. A Sonic Litany On Justice 3:18

11. Second Meditation From The Heart: The Beloved, The Beauty 6:21

CD2



1. The Patriot Act, Unconstitutional And A Force That Destroys Democracy 10:48

2. Havana, The Maghrib Prayer And Reflections 10:42

3. United States Representative Ilhan Omar 3:52

4. Jeanne Lee: In A Jupiter Mood 6:28

5. Donald Ayler: The Master Of The Sound And Energy Forms 9:28

6. A Rainbow Sonic Ark For Tomasz Ludwik Sta ko (1942-2018) 6:38

7. Haiti, An Independent Nation In 1804 But Not Recognized By Britain, France, Germany, The United States And Others: A Designed Tragedy! 6:42

8. Mongezi Feza 10:58

CD3



1. Chrysanthemum Flowers On A Mountaintop (For Katherine Johnson, Dorothy Vaughan And Mary Jackson) 5:00

2. Largo: A Mysterious Love Sonic (For Shana, Robeson And Sarah) 5:00

3. Louis Armstrong In New York City And Accra, Ghana 8:49

4. Albert Einstein: Particles Of Light, A Study In Perception 4:58

5. Ornette Coleman At The World´s Fair Of Science And Art In Fort Worth, Texas 5:59

6. The Call - A Duet Between Joseph "King" Oliver And Jelly Roll Morton 4:41

7. Light Garden In A Dream-Space, A Remembrance Of Shaba Of Ethiopia 5:44

8. Han Bennink On Fifth Avenue, NYC 5:15

9. Johnny Dyani, The Artist Who Imagined A New South Africa. A Celebration 5:49

CD4



1. Sandalwood And Sage 5:08

2. Freedom Summer 9:18

3. Meditation: A Sonic Circle Of Double Piano Resonances 8:57

4. ThePatriot Act, Unconstitutional And A Force That Destroys Democracy 20:03

5. Silence, Quietness And Very Still 9:52

CD5



1. Part I The River Of Abundance 8:32

2. Part II The Fountain Of Tasnim 9:40

3. Part III The Supreme Fountain 8:13

4. Part IV Exaltation And Musk 9:18

5. Part V Pomegranates And Herbal Teas 2:02

Related Categories of Interest:


Improvised Music
Jazz
Free Improvisation
NY Downtown & Metropolitan Jazz/Improv
Duo Recordings
Smith, Leo
Percussion & Drums
Piano & Keyboards
Recordings featuring brass instruments - trumpets, trombones, tubas, other horns
Staff Picks & Recommended Items
New in Improvised Music
Recent Releases and Best Sellers
Top Sellers for 2022 by Customer Sales

Search for other titles on the label:
Tum.
---

Recommended & Related Releases: