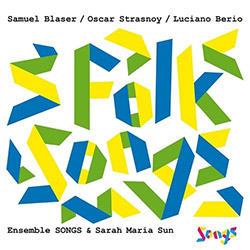 The project and ensemble "Songs" brings together Swiss trombonist & composer Samuel Blaser and pianist & composer Oscar Strasnoy, taking the instrumentation and concept of Lucio Berio's Folksongs and expanding it into Blaser's "Worksongs", a set of songs around Mississippi Delta blues, and Strasnoy's "Chanzuns Popularas Rumanchas" based on the traditional music of the Canton of Grisons.

Price:

$18.95






In Stock
Quantity in Basket: None

Log In to use our Wish List Shipping Weight: 2.00 units


product information:


Sample The Album:


Descriptions, Reviews, &c.
"SONGS revolves around one of the most iconic pieces of 20th century repertoire, a series of popular folk songs by Italian composer Luciano Berio for mezzo-soprano and small ensemble. Inspired by Berio's approach in the mid-1960's, Oscar Strasnoy and Samuel Blaser's musical work here is anchored in that same folk tradition. Strasnoy works with traditional music of the Canton of Grisons (interesting for its very special language spoken here, and because of its "minority" status). The jazzman from Chaux-de-Fonds moves in the footsteps of a Bartók or a Kurtág with Mississippi Delta blues inspiration creating a remarkably personal works."-Samuel Blaser
"The decades between the two world wars witnessed vast changes in the way folksongs and other music of proud and disappearing populations and traditions were captured. From the beginning of the century Cecil Sharp (his ideology and motivation much criticized in later decades) had been passionate about the musical and folkloric value of folksong, which he notated on his extended forages through English villages and, during the First World War, Appalachia. Yet the advances in recording technology in the 1920s made Sharp's pencil and field notebook, his staunchly diatonic framework and proto nationalism, seem old fashioned and undesirable. Others differently motivated signed up to this new discipline - in Truro, Somerset, Mississippi, the Carpathian Basin and beyond - with nascent recording technology their ally. In so doing they etched and forever altered the sound of the twentieth century.
The results were part anthropology, part art. Composer-collectors a generation younger than Sharp used these recordings and transcriptions in their own works. Percy Grainger, Benjamin Britten and Luciano Berio spurned Sharp's literalism in exchange for something far more harmonically inventive (though each left the transcribed vocal line pretty much alone), while Leoš Janáček and Béla Bartók infused their own concert works with the asymmetrical speech rhythms and modal freedom they lifted from the folk music they diligently unearthed and recorded.
Samuel Blaser (b. 1981) and Oscar Strasnoy (b. 1970) are also inspired by the great resource folk music and field recordings represent, but there any similarity with Sharp swiftly ends. Taking the instrumentation of Berio's Folk Songs (1964) as their starting point (flute/piccolo, clarinet, harp, viola, cello and percussion, two players), each composer has immersed himself in the language and sounds of a particular community. For Strasnoy it is the Swiss canton of Graubünden (Grisons), its Romansh language today spoken by fewer than 40,000 people. For Blaser it is the music of America's south, though sourced from three very disparate groups. Blaser's great trick in Work Songs (2019) is to replace Sharp's studied harmonic simplicity with an accompaniment of glorious complexity, aided by the addition to Berio's line-up of trombone (Blaser's own instrument), piano and judiciously employed sound recordings - a gentle nod to the origins of the material he so deftly elevates.
'I've got a horse darlin' 'n a buggy too,' the soprano sings at the cycle's commencement, and we're off immediately into a world of early country music. It's almost literally a four-note country song, yet Blaser's tonal palette transforms it into something resembling a country-music dystopia. The moto-perpetuo figure, shared evenly between instrumental families, and the sparse soundtrack that appears periodically ('Death Chant Honor Song', Blaser names the track) show us that this is not your usual rodeo. Nor indeed is it Blaser's first; there is nothing in the least bit coltish about the surefooted instrumental texture here.
'Sur le bord de l'eau' (On the water's edge) is a shift in time and place. Using an historical recording by Louisianan vocalist, guitarist, and songwriter Blind Uncle Gaspard (1878-1937), Blaser places us at the heart of Cajun balladry, a tradition celebrating the culture and Cajun language of the communities that emerged in Lower Louisiana following French colonisation in the late-seventeenth century. There's an other-worldly quality to the setting - with haunting sounds like those that emanate from the Dutchman's ship - which well suits the tale. In a neat inversion of a few thousand years of Greek mythology, the two youngest of thirty sailors living and working on a barge, moored close to the edge of an island, sing an enchanting song. A beautiful maiden walking in her garden nearby is entranced, and approaches the water, curious to learn the source of this beguiling music. Yet even with the chromatic scamperings, the disembodied whistlings and dislocating syncopation, Blind Uncle Gaspard's spirit remains ever present.
Two of the most enterprising American ethnomusicologists working in these decades were John Lomax and his son Alan. John, a self-described 'ballad hunter', was astonishingly open-minded regarding whence these ballads came. ('Go get this material while it can be found,' was his admirable philosophy.) At the height of the Depression and with his son unavailable, John employed ex-con Huddie William Leadbetter (1888- 1949) as driver. Together they spent months travelling through the deep south of the country, recording songs at every stop on Lomax's portable gramophone.
'Lead Belly' was himself a gifted folk and blues singer, and a distinctive twelve-string guitar player to boot, his style shaped by the music in the bars, brothels and dance halls
of St. Paul's Bottoms, the infamous red-light district of Shreveport. Between 1944 and 1948 Lead Belly made multiple recordings of 'Where did you sleep last night', to which Blaser has responded with harp harmonics, an insistent ostinato viola drone, and an improvised trombone solo, all stitched around a bluesy, drowsy vocal line. Porgy's Charleston seems only a few towns away, not 1200 kilometres.
The list of 'crimes' that pushed Lead Belly and so many black Americans into Louisiana's penitentiary system was remarkably catholic: vagrancy, mischief, curfew, loitering, insulting gestures. In 1947 - ten years after Life magazine's headline about Lead Belly: 'Bad Nigger Makes Good Minstrel' - Alan Lomax recorded 'No More my Lawd' in Parchman Farm, a benign name for such a sinister feature of Mississippi's prison network. In Lomax's field recording, regular axe blows punctuate the spiritual sung by the work gang (which Blaser leaves unadorned), which to Blaser's ear are deathly hammer blows. Underneath, he creates an organum effect with woodwinds, brass, and viola harmonics. It is a mesmerizing, dissonant backdrop to the heartfelt lament. The rich music of the plantations - accompaniment to all the rowing, chopping, cane cutting and rice fanning - ended up as the music of the jails. It was hardly progress.
Yet all of those in Parchman dreamed and sang of getting their 'role' (parole); 'I'm going to Memphis' was a popular explication of that dream. Alan Lomax recorded this also in Parchman - a quite lovely three-part homophonic version (the harmonies sometimes taking a while to land . . .) - which Blaser has transformed in a great, frenetic train ride out of Mississippi and towards the busy ports and lumberyards of Memphis. The crackly gramophone record left skipping at the end of the piece - singer and ensemble completely spent - underlines both the origin of the material and the bold sophistication of Blaser's settings and series of homages, the irresistible gauntlet of Berio's instrumentation persistently and skilfully grabbed with both hands.
In his Chanzuns Popularas Rumanchas (2019) Strasnoy has picked up this same gauntlet and created a sort of Graubündner Des Knaben Wunderhorn. The canton of Graubünden is the dramatic Rorschach blot nestled high in the Alps, Lichtenstein to the north, Lugano to the south. If a Swiss Wunderhorn is the source material, the auteur here is more Wes Anderson. Strasnoy's song-cycle mountainscape features an eccentric
collision of ghouls and god-botherers, low-rent hunters and farmers, the unhappily married, and pretty girls sitting in the moonlight. It is an Alpine caper movie, with yodelling mountaineers and alphornists in lederhosen playing bit parts. As in Arnim and Brentano's Wunderhorn collection of German folk poems and songs, chance encounters and unexpected juxtapositions in the canton are the order of the day (and night). And from these chance encounters, magic escapes the mundane.
Never shy of making a dramatic narrative from unrepentantly resistant material - it was his idea to adapt Irène Némirovsky's novella Le Bal into an opera (2010), a comic- bittersweet story of Jewish aspiration and attempted assimilation in Paris before the war, written long before we'd learn of its author's fate at the hands of the Nazis - Strasnoy has ingeniously solved the matter of different voices and narrative perspectives in the source material. Whereas Blaser singled out five individual songs and distinct narrators, Strasnoy has fashioned his five folksongs into a single scena, dropping a few of Blaser's armoury of percussion instruments, yet adding others of his own.
It's not that Strasnoy has created a single protagonist, but there is a single sensibility to the characters that rub up against each other, whether in arousal or enmity, much as Anderson manages in his films. The recorded track helps creates the sense of a macabre fun fair, a carousel punctuating a woman's recalled pain at being rejected ('O schi di tü bella'), which soon enough turns into a saloon bar, with its own trombone improvisation. As the piece continues there is an uneasy sense that we are inside a hall of mirrors, for nothing is quite what it seems - a brilliant reflection and refraction of the most unusual language in which the cycle unfolds, at once both familiar and foreign.
The siren in 'Chanzun de la bella Sirena' is every bit as alluring and dangerous as that in Blaser's 'Sur le bord de l'eau'. In 'La sfranzinella', piccolo traces singer in impossible coloratura, each daring the other on, and when the score designates 'groaning, moaning & whining', the singer does just that. (In the world premiere of the cycle, Sarah Sun's physical gestures were equally grotesque and enthralling.) When the opening melody returns at the very end of the scena, the listener is not left assured by the familiarity of the phrase but is instead left decidedly unsettled.
It's the greatest tribute to Blaser and Strasnoy that Berio is not a spectre at this mad feast but is instead a welcome and honoured guest - an elder statesman, if you like. His collection of eleven folksong settings - from an almost UN assortment of countries - is still a monument of twentieth-century miniatures, much like Chopin's Preludes in the previous century. A single direction at the top of Berio's score gives a flavour of his intentions: 'like a wistful "country dance fiddler"', he writes, before the viola unwinds a plaintive, open-stringed melody, all fifths and chains of dissonance and resolution. Except of course it's anything but open stringed: this is one sophisticated country-dance fiddler.
The whole cycle is a series of encounters with the folk sounds and traditions of a handful of countries: USA (as in 'Black is the colour', the opening song), Armenia, France, Sicily, Italy, Sardinia, Auvergne, and the rousing finale from Azerbaijan. The moods match the languages in which they are established, or so it seems. The graveyard feeling in 'Motettu de Tristura' (Sardinia), with churning harp and piccolo singing like a nightingale, independently of its environment, lost in its own world; the joyous Azerbaijan village folk band in the final song, its transcription unclear, its meaning self- evident. In 'Malurous quo'o uno fenno' ('Wretched is he who has a wife') we are on the same ground as Strasnoy's 'Elsbet', though quite some distance from Canteloube's view of the same Auvergne countryside, with its shepherdesses and plaintive mountain whistling, despite the shared language. Every encounter, every snapshot, is exhilarating.
The ubiquity of Berio's Folk Songs in no way undermines their genius and originality. Yet now Berio has two twentieth-first century confrères, and worthy ones too."-Paul Kildea, from the liner notes
Includes a 12 page color booklet with text, lyrics, photos and credits.

Artist Biographies

Track Listing:


1. Worksongs 1 2:17

2. Worksongs 2 3:31

3. Worksongs 3 3:17

4. Worksongs 4 4:09

5. Worksongs 5 2:47

6. Chanzuns Popularas Rumanchas 17:23

7. Folks Songs 1 3:14

8. Folks Songs 2 2:05

9. Folks Songs 3 2:42

10. Folks Songs 4 1:41

11. Folks Songs 5 1:26

12. Folks Songs 6 1:22

13. Folks Songs 7 1:30

14. Folks Songs 8 2:05

15. Folks Songs 9 0:59

16. Folks Songs 10 2:58

17. Folks Songs 11 2:29

Related Categories of Interest:


Compositional Forms
Improvised Music
Jazz
European Improvisation, Composition and Experimental Forms
Large Ensembles
Song Based Music


New in Compositional Music
New in Improvised Music
New in Improvised Music

Search for other titles on the label:
Blaser Music.
---

Recommended & Related Releases: