Consorts

Distinctions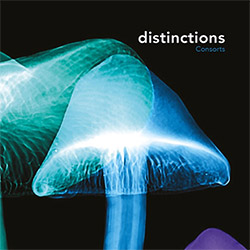 Composer Dominic Lash's Consort ensemble explores the possibilities of combining sustained-tone music, guided & free improvisation, and the relationship between acoustic and amplified sound, heard in this evolving, extended concert at Café Oto on Lash's 40th birthday, in a unique mix of acoustic & electronic instruments that even includes an amplified kitchen sink!


Sample The Album:


product information:

Descriptions, Reviews, &c.
"For upwards of a decade, Dominic Lash has been a humbly major presence on the UK experimental music scene, his numerous collaborations manifesting the catholic expansiveness so heartening in the current generation of experimental musicians. Lash performs relatively infrequently as a leader, and this album, recorded live at Café Oto at his 40th Birthday Concert, represents the largest group he has thus far assembled.
Lash writes: "Consorts is a flexible ensemble formed in 2013 to explore the possibilities of combining sustained-tone music, improvisation (both guided and free), and the relationship between acoustic and amplified sound." Within English court music of the 16th and 17th century, the consort named a configuration somewhere between orchestral and chamber music, providing a usefully ambiguous model for the flexible line-ups of Lash's ensemble(s).
Consorts might be either 'whole' - comprised of instruments of the same family - or 'mixed'- comprised of different instrumental families. This group clearly manifests the latter type. As well as a range of wind and string instruments, we find more unusual choices: Bristol-based Seth Cooke, curator of the Bang the Bore series, plays an amplified kitchen sink (giving new meaning to the metaphorical phrase), along with a metal detector; several musicians are credited with amplifiers as well as conventional instruments. This range of soundproducing possibilities and approaches is reflected in the music.
Approaches to large groups have been a challenge for free improvisers, but Lash's distinctions manifests a remarkably fresh approach to the problem - and excitement - of large-group playing. The title lends itself to intriguing structural speculations: does 'distinctions' refer to time divisions? Distinctions between instrumental groups? Distinctions between composed and improvised sections? "Furtively and visibly" runs a phrase from the Mallarmé poem Pierre Boulez used to give some sense of his Pli Selon Pli (Fold Upon Fold) which also usefully suggests the particular character of the present album: its combination of stealth, strategy, methods hidden or obscured, with the 'visible sense' of improvised interaction and structured patterning.
Favouring lower-end instruments and instruments capable of sustaining longer tones, distinctions opens with brief drones, electronic sine waves, saxophone harmonics, the mellow thud of a bass clarinet. The boxy quality of what sounds like a stylophone disrupts the music's tendency to reverie, mixing grit and grace as tones rise and shift in alternation, the crack of shifting seats and the movement of instruments in hands a part of the music's patient, open texture. Instruments are heard in alternating segments, rather than simultaneously, giving a sense of line and finely gradated texture. What's stressed is neither soloistic voicing, nor an all-over collective texture: individual instruments are readily identifiable, yet tones and voices uncannily cross and weave. A
s the piece progresses, Consorts revel in the timbral possibilities of high-volume instrumental combinations: a particularly rich whorl of caterwauling bass clarinets, baritone saxophone and rising ensemble tones at the 29-minute mark renders dissonance positively sensuous. As the piece moves towards its conclusion, the clarinets reach for the upper frequencies over a resounding, quasi Doom Metal repeated bass note of indeterminate source: the closest analogy I can think of is the London Improvisers' Orchestra meets Sunn 0))). It's cathartic, glorious: a cross between an aural bath and a cold shower. 'Cacophony', ecstasy, chaos, are the words critics tend to reach for to describe such moments. But this music resists any readily-drawn binaries between 'structure' and 'feeling', improvisation and composition, dissonance and consonance. Distinctions brings together in thick chorus a rich panoply of voices and influences that sets the stall for future work. Hear for yourself."-David Grundy

Artist Biographies

Track Listing:

Related Categories of Interest:


Improvised Music
Free Improvisation
Electro-Acoustic
Electro-Acoustic Improv
Large Ensembles
London & UK Improv & Related Scenes

Search for other titles on the label:
Spoonhunt.
---

Recommended & Related Releases: