London Jazz Composer's Orchestra

Zurich Concerts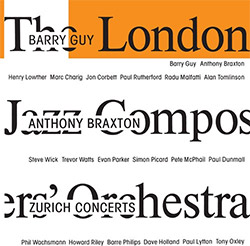 This 1995 double CD presents the London Jazz Composer's Orchestra 1987 performances at Rote Fabrik, in Zurich, Switzerland and at the 1988 Taktlos-Festival, in a large ensemble that included Barre Philips, Dave Holland, Paul Lytton, Tony Oxley, Howard Riley, Evan Parker, Paul Dunmall, Trevor Watts, Paul Rutherford, Radu Malfatti, Jon Corbett, Phillip Wachsmann, &c.


Sample The Album:


product information:

Personnel:


Barre Phillips-bass

Barry Guy-bass

Dave Holland-bass

Marc Charig-cornet

Paul Lytton-drums

Tony Oxley-drums

Howard Riley-piano

Evan Parker-reeds

Paul Dunmall-reeds

Peter McPhail-reeds

Simon Picard-reeds

Trevor Watts-reeds

Alan Tomlinson-trombone

Paul Rutherford-trombone

Radu Malfatti-trombone

Henry Lowther-trumpet

Jon Corbett-trumpet

Steve Wick-tuba

Philipp Wachsmann-violin, electronics

Click an artist name above to see in-stock items for that artist.
---


UPC: 7619942500528

Label: Intakt
Catalog ID: ITK5.2
Squidco Product Code: 30134

Format: 2 CDs
Condition: New
Released: 1995
Country: Switzerland
Packaging: Jewel Case
CD 1 recorded at Rote Fabrik, in Zurich, Switzerland, on November 11th, 1987, by Peter Pfister.

CD 2 recorded at the Taktlos-Festival, at Rote Fabrik, in Zurich, Switzerland, on March 27th, 1988, by Peter Pfister.


Descriptions, Reviews, &c.
"The contrabass grew in significance in the symphony orchestra in the latter part of the 19th century. Beethoven made good use of it, and his contemporary Dragonetti (himself a bass player), even wrote concertos for the instrument. However, the bass has usually been a sympathetic supporter rather than a dominant voice. The instrument didn't seem to have the range - nor its practitioners the technique - to become truly expressive in its own right. The coming of the 20th century, and in particular the arrival of jazz, expanded the bass player's role, but it was the end of the 1930s before the potential of this hitherto textural instrument suddenly exploded into life. An inheritor of both these traditions - because he is busy in the world of improvisation as he is in formal music - is the London bass player Barry Guy, whose work is the focus of this album.
Guy is, quite simply, a double bass phenomenon. Artists and commentators from many areas of contemporary music making have sung his praises. Iannis Xenakis greeted the Englishman's performance of his composition 'Theraps' with the observation that "it has power, refinement and musicality and it could be considered a kind of model". The magazine Jazz Monthly in a Barry McRae review described Guy's playing as "quite phenomenal". Even in an era of greatly expanded technical achievement for reeds, brass, basses and percussion, which jazz has done much to bring about, such effectiveness in very different spheres is exceptional. As an instrumentalist, Barry Guy explores a startling double bass range (from explosive low register sounds to scurrying harmonics), a wealth of tone colour from the rich and pulsating to the percussive and even violent, and a sense of both rhythm and dynamics that galvanises everything he plays. And as a musical thinker, Guy displays the kind of open-mindedness that would quickly loosen sectarianism and repressive distinctions between 'serious' and 'light' work if there were more like him. For twenty years he has been as much at home with the jazz tradition as with the European classical one - and the first is not a 'relaxation' or a 'diver-sion' from the second, it is an equal part of his musical life.
This double album features performances by a long time favourite project of Barry Guy's, The London Jazz Composers' Orchestra, which was formed in 1970 as a vehicle for improvisors to work with new compositions that did not spring from the orthodox line of jazz writing. At the time he formed it, Barry Guy had been busy as both an orchestral and jazz musician for five years. He had originally planned a career in architecture, playing jazz as a sideline, but the speed with which he absorbed the techniques of the instrument soon opened up a very different world. He enrolled at the Guildhall School of Music and before the end of the 1960s, he was regularly working both in the free improvisation scene that flourished at a London venue, the Little Theatre Club, in orthodox jazz and bebop circles as a member of the pool of 'house' musicians at Ronnie Scott's Club, and as a member of various London chamber groups. During this period, Guy met many of the jazz based musicians who were to become regular playing partners of his of that time on - like Howard Riley, a schooled musician who was similarly at home in either improvised or composed music, John Stevens, a drummer originally preoccupied with the free jazz of Ornette Coleman, and Evan Parker, who was to become one of the most technically adventurous saxophone players in the world. Guy's jazz associates were all explorers, frequently working in territories that abandoned the conventional harmonies and rhythmic concepts of the mainstream of jazz.
These gatherings of kindred spirits led to the formation of an action group, the Musicians' Cooperative, to further the interests of the British free players, and then to the founding of the London Jazz Composers' Orchestra, originally to perform Guy's own composition 'Ode', and explore just how far a traditionally held belief in the incompatibility of creative jazz and creative notated music could be stretched, or even dismissed.
The pieces here are recent works in the 18 year history of the project. 'Polyhymnia' is by Guy himself, the others are by the American composer and multi-reed instrumentalist Anthony Braxton, a man similarly fascinated by jazz/conservatoire marriages and as influenced by Stockhausen and John Cage as by John Coltrane. 'Polyhymnia' was recorded at the Orchestra's November '87 visit to the Rote Fabrik in Zurich, and the four pieces by Braxton were performed at the Taktlos Festival in March 1988, with the composer himself directing.
Taken together, the works reveal the breadth of the LJCO's scope. Barry Guy maintains that 'Polyhymnia' represents the 'third era' of the band's activities. The first was the original version featuring the ground-breaking British free improvisors of the early 1970s which quickly developed into a vehicle for an abstract music frequently using such conservatoire devices as tone rows, but increasingly tightening the scores to the growing frustration of the improvisors. In the second phase, Guy started to use the textures of the performers' most successful group improvisations as the basis for scores that would em-phasise textural changes rather than notated passages. During this period, in which the improvisors' role was reinforced, pieces concentrating on the same territory were furnished by Howard Riley, percussionist Tony Oxley and trombonist Paul Ruther-ford, among others. Given the erratic work opportunities for a band like this, changes of personnel were inevitably frequent. German musi-cians Peter Kowald and Peter Brötz-mann came into the band, as did British saxophonists Tony Coe and Larry Stabbins.
In the 'third phase', Guy has sought to bring the original tightness of conception and the subsequent looser approach into balance, and the instrumental colours have been enriched by new recruits - such as the trumpeter Jon Corbett and the saxophonists Simon Picard, Paul Dunmall and Peter McPhail.
In some respects, these changes of personnel have inevitably given the LJCO a 'jazzier' sound, because its most recent recruits reflect a current general move back to tonality, though informed by both positive and nega-tive lessons learned from the free era. Both Guy's and Braxton's pieces are structured as knots of notated ensemble playing which leave extensive space for the improvisors. 'Polyhymnia', opening with a darting, agitated unaccompanied tuba solo augmented by stormy broodings of the basses, moves progressively through dissonant ensemble pas­sages toward a kind of triumphant consonance, as if the improvisors and the writer have collaborated to beat a fiery, white-hot metal into a sculpture of poise and resolution. In this respect, 'Polyhymnia' anticipates the more harmonically elegant 'Harmos', which the LJCO has also recorded and which will feature on a subse-quent disc.
Anthony Braxton's compositions, which have emerged from an astoni-shing body of notated work that now numbers some 350 pieces over 20 years, follow principles he has devoted his life to refining. Braxton often augments othodox notation with symbols of his own to regulate speed, intensity, dynamics and the selection of instruments. On this album you will hear Nos. 135 (+41,63,96), 136 (+96), 108B (+86,96) and 134 (+96).
The London Jazz Composers' Orchestra's performances of these works are not simply fascinating instances of adventurous music being made on the borderline between idioms, nor even simply engaging as increasingly rare examples of music that resists the late-Eighties drift towards retrospectives - they are also resounding demonstrations of the scope for formal and improvised musics together if the meeting is in the hands of sensitive marriage-brokers. Though the LJCO will be 20 years old at the turn of the decade, it continues to react to developments at the forefront of musical research, and to musical languages in transition. Given Barry Guy's indefatigable energies and commitment to the enterprise, it is likely to continue to do so well into the 21st century."-John Fordham, London
Biography "Marc Charig"Biography "Simon Picard"Biography "Henry Lowther"Biography "Jon Corbett"Biography "Steve Wick"

Artist Biographies

Track Listing:


CD1



1. Polyhymnia 37:30

CD2



1. Compositions 135 (+41,63,96), 136 (+96), 108B (+86,96),135 (+96) 56:47

Related Categories of Interest:


Intakt
Improvised Music
Jazz
Free Improvisation
London & UK Improv & Related Scenes
Large Ensembles
Staff Picks & Recommended Items
New in Improvised Music

Search for other titles on the label:
Intakt.
---

Recommended & Related Releases: