Democ, Adrian / Apartment House

Hlaholika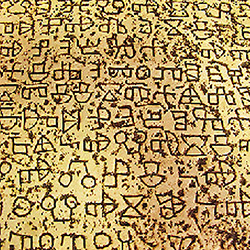 Commissioned by Another Timbre for the quarantine commissions series, Hlaholika was developed by composer Adrián Demoč for the Apartment House ensemble as a quintet of violin, double bass, clarinet, viola & piano, using the configurations for 3 other works performed here by Apartment House; plus a piece for an ensemble from the Janacek School of Music in the Czech Republic.


product information:



Label: Another Timbre
Catalog ID: at169
Squidco Product Code: 30023

Format: CD
Condition: New
Released: 2021
Country: UK
Packaging: Cardboard Gatefold
Tracks 1, 3 and 4 recorded at Goldsmiths Music Studio, in London, England, in August, 2020, by Simon Reynell.

Track 2 recorded at Janacek Academy of Music and Performing Arts, in Brno, Czech Republic, May, 2005.


---
Personnel:


Adrian Democ-composer

Reiad Chibah-viola

Mark Knoop-piano

Heather Roche-clarinet

Students of the Janacek Academy of Music in Brno-performers

Mira Benjamin-violin

Mark Knoop-piano

James Opstad-double bass

Click an artist name above to see in-stock items for that artist.

Sample The Album:


Descriptions, Reviews, &c.
"Second CD release by Adrian Democ following his highly regarded debut Ziadba. Four beautiful chamber works, three performed by Apartment House, one by an ensemble from the Janacek School of Music in the Czech Republic. The title track, Hlaholika, was commissioned by Another Timbre as one of the label's 'quarantine commissions' during Covid lock down in 2020. The front cover shows a stone tablet engraved in Glagolitic script."-Another Timbre
Interview with Adrián Demoč by Lukáš Borzík
Let's start at the end of the disc, with the final track - the duo for violin and double bass, because I know you're particularly fond of it. What is it that you like about the recording?
First of all, I'd like to say that I'm really happy with the whole album; the musicians played all the pieces with great care and devotion.
But to answer directly, in 2019 Slovak violinist Milan Paľa asked me for a piece for violin and double bass. During the writing process I had a dream where I was listening to Circles and Landscapes, Philip Thomas's CD of piano works by Jürg Frey. I imagined the duo playing this piece with Philip's piano sound doubling the music. So finally the piece received the title ...mit Simon und Jürg (und Philip ist auch...), and is scored for violin, double-bass and optional piano as a third instrument - which just doubles the "chords" of violin and double-bass and may be placed whether close or from distance, in another room for example. '...mit Simon und Jürg (und Philip ist auch...)' is a tiny homage to three extraordinary musicians: Jürg Frey, Philip Thomas and Simon Reynell. I find the Circles and Landscapes album a very special encounter between the composer's aesthetics, the way of recording and of the performer.
Musically speaking, this piece is probably the most abstract on the disc. But when I listened to the studio recording, I felt I had found something which I hadn't been really been aware of (or had suspected, but simply didn't have proof). It shares something of the same bell-like quality as the rest of the pieces of the album, but this time it resembles 'decay' rather than 'attack', both in a musical and emotional sense. That's why I´m happy that the piano wasn't included in this recording, as the piano chords might articulate the music rather too clearly. I think that in this duo version, the piece has something of a liminal quality (in a timbre/chord sense in this case) which I find inspiring for my future work.
But I cannot say what future pieces will 'be about', as I believe the music should say it, and not me beforehand.
Next Hlaholika, tell us about how this piece came about, and why the unusual instrumentation?
The unusual instrumentation of Hlaholika is a result of a rather pragmatic thinking for this project. Simon Reynell asked for a new piece for Apartment House for the CD, which was also going to include the piece for violin and double bass and a trio for clarinet, viola and piano. So I decided to write a quintet that would use all the musicians involved in the other two pieces. The numbers of musicians and the material itself required a longer form and the piece is almost twenty minutes long.
I was eager to rehearse and record the piece with the musicians for the recording session, but due to Covid restrictions I wasn't able to travel to UK, which was really frustrating, of course. I often keep shaping my pieces till the very last moment, when I really 'face it'. That's also the decisive moment when you really start to understand what the piece is about - where you discover that the piece might also be about something that you were not really aware of, even though you composed it yourself. And also you might help the musicians to discover something which might otherwise stay hidden (often even a slight change of, let's say, the metronome mark may cause a huge change in the 'light' of the music). But I think the Apartment House musicians found a key to the piece during their rehearsals and recordings.
The Old Slavic Glagolitic ("Hlaholika" in Slovak language) script consists of three elements - a circle, a triangle and a line. Did you think about this aspect when you were composing Hlaholika?
Yes, but this metaphor came to my mind only when the piece was almost finished (the original working title of the song was simply "Zvony" which means "Bells"). My Hlaholika also uses a very restricted number of elements from which a certain musical situation is made. The listener will certainly not have a problem recognizing these elements.
I got fascinated by the combination of the words "hlahol" ("a mixture of strong, incoherent, but pleasant sounds", according to Slovak dictionary) and a certain "methodics" (in Slovak "metodika" with the suffix -ika). I struggled to order these restricted sound elements and the overall musical process and to create from them a convincing and understandable language. At the same time, the word Hlaholika in Slovak associates the ringing of bells (as we use the word "hlahol" mostly in association with bells), which I think captures this piece quite well.
So as you can see, the title refers to multiple layers of inspiration.
And what does the title Ma fin est mon commencement refer to?
It refers, of course, to Machaut's famous composition, which is remarkable for a very consistent counterpoint, which very cleverly "displays" the text itself (the third voice is a strict retrograde of the first voice, the second voice "goes back to its origin in the middle of the composition). I wrote the piece for the Slovak ensemble Ricercata. I was searching for some kind of more naked three-part texture, although in my first attempts more expressive passages kept appearing in contrasting blocks. Gradually, however, the composition crystallized into the form in which it was premiered. It is based on a strict contrary motion of the outer voices, the middle voice remains static almost all the time (I entrusted that to the piano, the biggest and most powerful instrument of the trio). The form of the piece could be described as a 1) long A (quiet) and 2) a final coda (even quieter).
In this piece you have abandoned musical contrasts and created a fragile music for trio. At the premiere on Slovak Radio, I felt completely disarmed by the power of tenderness and the extraordinary beauty of this work.
Thank you, I'm sincerely touched by your reaction. I think the piece itself "demanded" that I leave aside the strong contrasts you mention. I've tried several options while composing, but at the moment of writing, a break usually occurs, when you start to identify with the music in some way. In this case, I identified with the music at the moment it became this piece you heard at the concert. By the way, the already mentioned strict contrary motion is very important for the composition. But there are a few exceptions in the score, which are quite important to me. Perhaps a visit to Tallinn also played a role. I remember staring into the window of Arvo Pärt's house in the late hours. For all the exceptions to this counterpoint rule, I would draw flowers (similarly to Pärt in the Pro Alinna manuscript).
"Lešenie k zahĺbeniu" (which means "Scaffold to an immersion/meditation") is an immersion towards concentrated silence. Tell me more about this piece...
If I were to write Lešenie k zahĺbeniu today, the music would definitely look different, but it remains an important piece for me. I consider it something like my opus 1.
It's written for quite an unusual instrumentation: alto or bass flute, bass clarinet, alto saxophone, bassoon, French horn and percussion (gongs and tam-tam). Probably because of that, it's only been performed once.
The whole composition is based on one chord, which is constantly flowing and trembling with the help of a precisely written vibrato.
I wrote most of this piece in Lithuania and finished it in Czech Republic, all the time concerned just about the musical "being" of the piece. But while rehearsing it with the musicians, I found that this music also speaks about rain, about the nostalgia I experienced in the trams of Vilnius, and about feelings of solitude.
This album has been reviewed on our magazine:




The Squid's Ear!

Artist Biographies

Track Listing:


1. Ma Fin est mon Commencement 11:57

2. Lesenic k Zahlbeniu 7:01

3. Hlaholika 19:52

4. ...mit Simon und Jurg (und Philip ist Auch...) 7:25

5. ...mit Simon und Jurg (und Philip ist Auch...) 9:12



Related Categories of Interest:


Compositional Forms
Large Ensembles
European Improvisation, Composition and Experimental Forms
London & UK Improv & Related Scenes
Quintet Recordings
Trio Recordings
Duo Recordings
New in Compositional Music

Search for other titles on the label:
Another Timbre.
---

Recommended & Related Releases: