Taylor, Cecil Mixed To Unit

Structures Revisited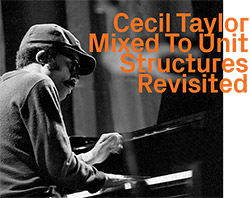 Bringing together two essential and impeccably remastered 1960's Cecil Taylor albums — Cecil Taylor Unit Structures and Cecil Taylor Unit Mixed — presenting both traditional influences and Taylor's unique approaches to modern jazz, featuring two septets with musicians including Jimmy Lyons, Henry Grimes, Archies Shepp, Ted Curson, Andrew Cyrille, Roswell Rudd, Sunny Murray, &c.


Sample The Album:


product information:

Personnel:


Cecil Taylor-piano

Jimmy Lyons-alto saxophone

Ken McIntyre-alto saxophone, bass clarinet

Eddie Gale Stevens Jr.-trumpet

Cecil Taylor-piano

Henry Grimes-double bass

Alan Silva-double bass

Andrew Cyrille-drums

Archie Shepp-tenor saxophone

Ted Curson-trumpet

Roswell Rudd-trombone

Sunny Murray-drums

Click an artist name above to see in-stock items for that artist.
---


UPC: 752156111023

Label: ezz-thetics by Hat Hut Records Ltd
Catalog ID: ezz-thetics 1110
Squidco Product Code: 29968

Format: CD
Condition: New
Released: 2021
Country: Switzerland
Packaging: Cardboard Gatefold
Recorded at Van Gelder Studio, in Englewood Cliffs, New Jersey, on October 10th, 1961, and May 19th, 1966.


Descriptions, Reviews, &c.
"When Cecil Taylor died in 2018, it was somewhat shocking to reflect that he had begun recording more than 50 years earlier and had released nearly 80 records. It's a measure of his complex reputation that almost none of them have made it into the modern jazz repertory. Taylor was, perhaps, admired more than he was loved. People were afraid of his music and of him. They found a label for it, "atonal", that makes not a whisper of sense. Schoenberg thought the idea of "atonalism" nonsensical because it implied a music without tones; he tried unsuccessfully to replace it with "atonicality", but it never caught on. It doesn't apply to Taylor in either form. His music was polytonal or pantonal, relying on rich clusters of sound or notes played with extreme proximity that the overtones became infinitesimals.
His recording career began in 1956, with one of the most extraordinary debuts in modern music. Charlie Parker had been dead for less than a year. Ornette Coleman had not yet recorded his radical new music. John Coltrane was only just emerging as a significant solo artist. Cecil Taylor was the vanguard of the new modern movement. Jazz Advance found him still covering the work of others, including Monk and Ellington, but also "There's Danger In Your Eyes, Cherie". Two years later, a first glimpse of the mature Taylor came on Looking Ahead! which combined a wonderful fantasia on "Take The 'A' Train" but also an original composition that evoked the cityscape that so influenced him, "Excursion On A Wobbly Rail". No one else plays it. To hear it, you have to listen to Taylor's version.
His emergence as a composer and new star of jazz was complicated. In 1962, three of his compositions were included on an Impulse! record called Into The Hot. It was credited, not to Taylor or the other composer involved, John Carisi, but to arranger Gil Evans, who was considered a safer and more marketable name. The three Taylor tracks also saw the light of day on a compilation titled Mixed in the more appropriate company of Roswell Rudd's group, but this wasn't the only time the industry shied away from his "difficult", "complex" reputation; a later record under Taylor's leadership was reattributed to rising star Coltrane. Even though his name was definitely not in lights, Taylor's music on Into The Hot, included here, was highly significant. "Pots", "Bulbs" and "Mixed" are fascinating for the glimpse they offer of a rapidly evolving vision of modern jazz that blended early jazz, Harlem stride, 20th century art music, not much bebop but lots of singing (Taylor told me that he listened to Billie Holiday every day of his life; he also admired Gloria Gaynor and Beyoncé) into a unique form that positively shimmers with harmonic potential. For which you have to be prepared to listen.
Writing liner notes for a Cecil Taylor record is a daunting business, not because his music is "difficult" or the artist himself "challenging", but because he wrote such good ones himself. When Unit Structures came out [on Blue Note] in 1966, the composer appended a short cover essay called "Sound Structure of Subculture Becoming Major Breath/Naked Fire Gesture". Somewhat like the notes Anthony Braxton sometimes provides for his compositions, the piece didn't necessarily help explain what was going on in the music. For some, it merely added to the confusion. But it also usefully posed a question about what a liner note is for, something that all of us who even occasionally write them should be asking every time.
Taylor's word-pieces, or sound-texts (we can't really call them prose poems) became an important part of his stage presence. They became so important that he once released a whole album of them called Chinampas. They are about as far as possible from the kind of liner note that merely enthuses about the record you're about to hear (Ralph J. Gleason was guilty of many) or tries to set the work in the context of the artist's wider career (something Nat Hentoff was uniquely qualified as a writer/producer to do). Taylor's incantations, like the essay that accompanied Unit Structures was simply a way of preparing the purchaser to listen, which in the modern world is by far the most atrophied of our social skills.
Taylor's essay on the cover of Unit Structures, which came along four years later, was an attempt to prepare the listener for his new music. The music consists of a naturally flowing aggregation of cells which create or propose directions for improvisation, combinations of players, and tonal and rhythmical variations. Can you hum "Enter, Evening" or dance to "Tales (8 Whisps)"? The consensus would be: no. Along with "atonality", Taylor was quickly saddled with a reputation for being unswinging. He often danced before a recital to prove that you could indeed express this music physically. Indeed, almost the only way to appreciate this music is to dance to it, as I invariably do. It isn't a spectacle that needs to be shared with others, but in Mr Taylor's absence can I invite you to find his remarkable essay and let it enter your head before you take the floor. Don't think about this music. Feel it, and let it move you. Literally."-Brian Morton, June 27th, 2020
This album has been reviewed on our magazine:




The Squid's Ear!

Artist Biographies

Track Listing:


1. Pots 5:50

2. Bulbs 6:56

3. Mixed 10:18

4. Steps 10:19

5. Enter Evening (Soft Line Structure) 11:04

6. Unti Structure / As Of Now / Section 17:46

7. Tales (8 Whisps) 7:13

Related Categories of Interest:


Hat Art
Improvised Music
Jazz
Free Improvisation
NY Downtown & Metropolitan Jazz/Improv
Septet recordings
Jazz Reissues
Staff Picks & Recommended Items
Top Sellers for 2021 by Customer Sales
Hat Hut Masters Sale

Search for other titles on the label:
ezz-thetics by Hat Hut Records Ltd.
---

Recommended & Related Releases: