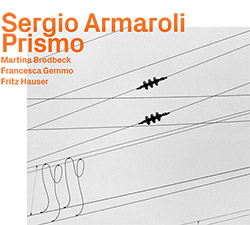 The quartet of Sergio Armaroli (vibraphone), Martina Brodbeck (cello), Francesca Gemmo (piano), and Fritz Hauser (drums & percussion), also heard in free improvisational duos and trios, perform Armaroli's "Structuring the Silence", aiming to extend the performers' improvisational freedom using time and space through broad compositional instructions.


product information:



UPC: 752156102229

Label: ezz-thetics by Hat Hut Records Ltd
Catalog ID: ezz-thetics 1022
Squidco Product Code: 29815

Format: CD
Condition: New
Released: 2020
Country: Switzerland
Packaging: Cardboard Gatefold
Recorded at "Il Pollaio" Studio; Recording by Piergiorgio Miotto, Ronco Biellese (Biella) on April 27-28, 2019; CD-master by Peter Pfister; Cover photo by Hans Stockhausen; graphic concept by fuhrer vienna; Liner notes by Andy Hamilton; Recording produced by Sergio Armaroli; Associate producer: Christian C. Dalucas, Executive producer: Werner X. Uehlinger.


---
Personnel:


Sergio Armaroli-vibraphone

Martina Brodbeck-cello

Francesca Gemmo-piano

Fritz Hauser-drums, percussion

Click an artist name above to see in-stock items for that artist.

Sample The Album:


Descriptions, Reviews, &c.
"Percussionist Fritz Hauser, a member of the quartet on this recording, has long been fascinated by silence: "Developing sounds out of silence, fading into silence, stopping a cymbal crescendo to let the silence explode into space," he explains. The composition they perform, Sergio Armaroli's Structuring The Silence Extended (2019), is an essay in Cageian themes. It follows Armaroli's 2017 release Structuring The Silence, in which he was partnered by Fritz Hauser. Armaroli explains that "I intended to broaden the improvisation experience by incorporating a typically Cagean conception of time and space...for Cage silence is the world, what we do not control".
Music is a sounding, vibrating phenomenon, patterns of intentionally-produced sound that begin and end in silence. If architecture is the articulation of space, then music is the articulation of silence. "Articulation" is not just enclosure - it means both "expresses" and "breaks up". It also suggests that the space, or silence, is not pre-existing, but created. In these artistic senses, space and silence are not an observer-neutral Newtonian plenum, but human creations. (Kant's understanding of space as mind-dependent, and Einstein's understanding of observer-relativity, may be less alien to the artistic picture.) Silence frames the musical performance, but also occurs within it, as a result of music's humanly physical status. Music-making traditionally involves blowing, plucking, stroking, vocalising and other actions, which produce non-continuous sound and therefore silences.
According to the modern philosopher of silence, John Cage, total silence does not exist - any more than a total vacuum does. Cage's concern with silence was stimulated by his visit to Harvard University's echo-free anechoic chamber. Its walls, ceiling and floor, lined with sound-absorbent material, minimised reflection and insulated the room from external noise. In the room one hears only direct sound, with no reverberation - an unsettling and disorienting experience. Cage heard a high sound, and a low one - the engineer explained afterwards that these were his nervous system, and his blood circulation.
For Cage, all sound, including silence, is music; he concluded that he was creating music unintentionally and continuously. Hence 4' 33", in which form became emptiness, emptiness became form. It is not really a silent piece, as it features contingent ambient sound. At the première, Cage recalled, "You could hear the wind stirring outside during the first movement. During the second, raindrops began pattering the roof, and during the third people themselves made all kinds of interesting sounds as they talked or walked out."
Cage's philosophical claims need contextualising. On a liberal, postmodern definition, any sound can be music. But the definition is parasitic on the existence of traditional music - an art of tones, of relatively fixed and enduring pitched sounds. As with conceptual and readymade visual art, we couldn't respond to Cage's 4' 33", if we had not experienced traditional music- making. Aesthetic responses to non-musical sound are parasitic on aesthetic responses to tonal sound - and arguably, 4' 33" is soundart rather than music.
Armaroli's Structuring The Silence addresses Cageian themes while making connections with more traditional music-making - in particular, through the art of improvisation which the American maverick professed to reject. Armaroli argues that Cage discovered its value late in his career, through collaboration with improvisers like Fritz Hauser, for whom he wrote one of his Number Pieces. The score for Structuring The Silence develops Cage's technique in those Pieces, in which "time is conceived as a possible container of musical form." In the Number pieces, Cage's focus is on duration rather than rhythm, and this is another factor that makes his work soundart rather than music - though the boundary between these categories is always contestable. And I'd reiterate that Armaroli's work has more affinities with traditional music-making - the performances on this recording are clearly tonal and rhythmic.
Armaroli was born in Italy in 1972, and lives in Milan. He is a painter, poet and "percussionist concrète", who's worked with Sylvano Bussotti, Alvin Curran, Walter Prati and Elliott Sharp. Hauser, born in 1953 in Basel, composes for solo percussion, percussion ensembles, chamber orchestra and choir. He's created sound installations and music for films, and works with architects and choreographers. For this recording, the Armaroli-Hauser partnership becomes Quartet Prismo, with Francesca Gemmo, Italian pianist and composer, and Martina Brodbeck, principal cellist of the basel-sinfonietta. Here, Armaroli plays vibraphone, and Hauser percussion.
Armaroli's score is conceptual, containing instructions such as: "Choose nine sounds (or groups of nine sounds) in the order: 9 + 9 + 9...with fixed characteristics (amplitude, tempo, overtone structure, duration, etc.) and nine elements: gestures, intention, words and other suggestion(s) etc." Durations and dynamics are free: "The sounds to be made are long and short or very short. Instruments can play alone, duo or trio." Four instruments are specified: drums, cello, piano and vibraphone.
A score such as this invites the question: When does interpretation become improvisation? Conceptual and graphic scores undermine the distinction, and this seems especially true for Structuring The Silence. Influenced by Cage's ideas of duration, silence and non-intention, the quartet's exploratory quest and fragile balance results in music that perhaps sounds improvised - but they convey the rightness and certainty of the most persuasive composition. Gemmo's quicksilver and delicate piano figurations, Armaroli's sonorous vibraphone, Brodbeck's classical and jazzy cello and Hauser's protean, sometimes explosive percussion make for a soundworld that is tantalisingly liminal. If pressed on whether a performance "sounds improvised", often I'd ask, "It depends what you mean by improvisation and composition - because improvisation is itself a method of composition, in the sense of putting things together in an aesthetically pleasing way". These sensitive performances bear out that important uncertainty."-Andy Hamilton, 2019

Artist Biographies

Track Listing:


1. Quartetto Cinque 3:39

2. Trio Due 5:03

3. Trio Uno 3:39

4. Duo Sette 1:40

5. Duo Cinque 2:10

6. Duo Due 3:28

7. Quartetto Quattro 2:03

8. Structuring The Silence Extended 30:13

9. Duo Quattro 3:41

10. Duo Quattro 4:38

11. Quartetto Sei 7:54

Related Categories of Interest:


Hat Art
Improvised Music
Jazz
Free Improvisation
European Improvisation, Composition and Experimental Forms
Saxophone & Drummer / Percussionist Duos
Duo Recordings

Search for other titles on the label:
ezz-thetics by Hat Hut Records Ltd.
---

Recommended & Related Releases: