Parker, Charlie

Be Bop Live [2 CDs]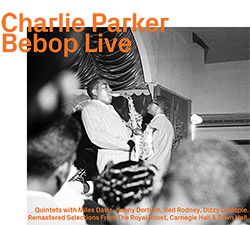 Remarkably remastered recordings of Charlie Parker's quintets from 1945-49, performing live at Carnegie Hall, Royal Roost, & Town Hall with configurations of Miles Davis, Dizzy Gillespie, Kenny Dorham, Red Rodney, Don Byas, Al Haig, Max Roach, Roy Haynes, Kenny Clarke, Tommy Potter & Curley Russell, allowing us to re-live the consistent brilliance of the leader and his sidemen.


product information:



UPC: 752156111320

Label: ezz-thetics by Hat Hut Records Ltd
Catalog ID: ezz-thetics 2-1113
Squidco Product Code: 29684

Format: 2 CDs
Condition: New
Released: 2020
Country: Switzerland
Packaging: Cardboard Gatefold
CD-master by Peter Pfister: Liner notes by Art Lange; Cover photo by Ted Williams at The Pershing Room, Chicago, 1949, licensed from IconicImages; graphic concept by fuhrer vienna; Executive producer: Werner X. Uehlinger.


---
Personnel:


Charlie Parker-alto saxophone, composer

Miles Davis-trumpet

Al Haig-piano

Curley Russell-bass

Dizzy Gillespie-trumpet

Don Byas-tenor saxophone

Kenny Clarke-drums

Kenny Dorham-trumpet

Max Roach-drums

Red Rodney-trumpet

Roy Haynes-drums

Tommy Potter-bass

Click an artist name above to see in-stock items for that artist.

Sample The Album:


Descriptions, Reviews, &c.
"Their amplification has no limits, they left not only reason but fancy behind them, and produced combinations of confused magnificence that not only could not be credited, but could not be imagined."
"When the British literary giant Samuel Johnson wrote these words in 1779, he was referring, rather unfavorably, to the so-called Metaphysical Poets of the previous century, most famously John Donne and Andrew Marvell, complaining that their poetic rhythms were too rough, jagged, and speechlike, their content too irrational, unpredictable, and crude. In fact, the argument condemning those who dared to break the norms of convention and discretion has been a common theme of protest against radical change in the arts over time - following, for example, the same line of thought that the so-called "moldy figs" used against the revolutionary emergence of bebop in the mid-1940s.
And yet, even in his objection, there is that marvelous phrase "confused magnificence," which suggests that while Johnson intellectually disdained their unorthodox style and methods, he may have felt on a deeper, intuitive level, something sublime and compelling taking shape in a manner beyond even his imagination - which, nevertheless, from his conservative standpoint, must be rejected precisely for its unconventional brilliance and genre-expanding riskiness.
Ironically, hearing even the originators of bebop, much less the second-to-fifth generation of stylistic inheritors (or imitators) today, I suspect the typical response to be from the opposite perspective. Though the product of specific and unrepeatable circumstances - musical, social, and philosophical - of the previous century, the style and intensity of bebop is to our time familiar and comfortable, seldom surprising and no longer revolutionary. We recognize its magnificence, and seem no longer confused by it. But I wonder if we now suffer from an artistic and historical disconnect. Listening to Charlie Parker today, having lost the shock and discomfort of his uniqueness, no longer challenged by his once-disconcerting and equally astonishing innovative creativity, do we now hear the music merely as entertainment, and no longer the transformational experience his art once was?
If this is indeed the case, that our critical sensitivity and ability to empathize with the most extreme and therefore most meaningful conditions of bebop have been anesthetized by decades of ever more radical sounds, then a close contemplation of this music may provide an antidote. Of course, records have always been around for us to hear, from Parker and Gillespie to Sonny Stitt and Phil Woods and umpteen more. But this release can be seen, informed by the 100th anniversary of Parker's birth, as an occasion for not only celebration, but reexamination and rediscovery, based upon the special qualities these particular performances provide.
As the title unequivocally informs us, this is Bebop Live, which is one reason why the music is special. Admittedly, it is a common canard that the "confined" nature of the studio inhibits jazz musicians, and that live performances allow them complete, unfettered freedom. This doesn't take into account that some musicians may react to the unrepeatable immediacy and exposure of playing in front of an audience by taking fewer risks rather than more. But that is certainly not the case here. This is not a documentation of those legendary, ofttimes mythic, jam sessions where Parker reportedly played half-hour solos of inexhaustible imagination, these are examples of the weekly grind of club dates and concert halls, fortunately surviving because someone had the foresight to record the radio broadcasts. The song selections often repeat from week to week, and one of the joys possible is the ear-opening comparison of one version, or one band, with another. And there is much magic to be heard.
We sometimes forget that these were the innovations of young men - Parker was still under 30 at this time, and he apparently liked to nurture even younger trumpeters. Miles and Red Rodney were only 22, Dorham 25. They each have their moments of swaggering inspiration and recklessness, especially in contrast to the exhilaration and authority audible when Dizzy (who was three years older than Bird) takes the stage. Al Haig is the model of consistency throughout; Tommy Potter a pillar of strength; Max Roach is frequently amazing, as expected.
But Parker is the focal point, the vortex of energy and ingenuity. The effect of hearing him in this arena of spontaneity and inventiveness is like watching Edison at work in his laboratory. From one gig to the next, his solos reveal different facets of his creativity. One may highlight his wit (inserting improbable, near surreal song quotes and non sequiturs); another, focused explosions of accelerated tempos; breathtaking twists of melodic contours; or realigned phrase lengths in dazzling patterns. This is Parker at his most audacious - and prophetic. The seeds of these solos will blossom, not in the disciples of bebop, but in the expansive future of the music's exploration - Ornette Coleman, Jimmy Lyons, Eric Dolphy, Anthony Braxton. This is the truth of his damaged, self-destructive, undeniable genius."-Art Lange, Chicago, October 2020

Artist Biographies

Track Listing:


CD 1113-1:

Charlie Parker, Miles Davis, Al Haig, Tommy Potter, Max Roach, Live At Royal Roost,

December 11, 1948:

1 Groovin' High By Dizzy Gillespie 4:51

2 Big Foot 4:44

3 Ornithology By Benny Harris, Charlie Parker 5:38


December 12, 1948:

4 Hot House By Tadd Dameron 4:25

5 Salt Peanuts 3:52
By Dizzy Gillespie, Kenny Clarke


December 18,1948:

6 Chasin' The Bird 4:22

7 Out Of Nowhere 3:20
By Edward Heyman, Johnny Green


Kenny Dorham replaces Miles Davis. January 15, 1949:

8 Scrapple From The Apple 4:08

9 Be Bop By Dizzy Gillespie 3:18

10 Hot House By Tadd Dameron 5:09 January 22, 1949:

11 Oop Bop Sh'bam 4:59 By Dizzy Gillespie, Jay Roberts, Walter Gil Fuller

12 Scrapple From The Apple 4:34

13 Salt Peanuts 4:10
By Dizzy Gillespie, Kenny Clarke

February 5, 1949:

14 Scrapple From The Apple 3:46

15 Barbados 3:53

16 Salt Peanuts 3:39
By Dizzy Gillespie, Kenny Clarke


CD 1113-2

Charlie Parker, Kenny Dorham, Al Haig, Tommy Potter, Max Roach, Live At Royal Roost, February 12, 1949: 1 Scrapple From The Apple 4:30 2 Barbados 3:53 3 Be Bop By Dizzy Gillespie 3:15 February 19, 1949:

4 Groovin' High By Dizzy Gillespie 4:48

5 Confirmation 3:35

6 Salt Peanuts 3:42
By Dizzy Gillespie


Kenny Clarke Charlie Parker, Red Rodney, Al Haig, Tommy Potter, Roy Haynes
Live At Carnegie Hall, December 24, 1949.

7 Ornithology 4:24

8 Cheryl 5:02

9 KoKo 5:10

10 Bird Of Paradise 6:08

11 Now's The Time 5:10


Dizzy Gillespie, Charlie Parker, Don Byas on 12 only, Al Haig, Curley Russell, Max Roach.
Live At Town Hall, June 22,1945.

12 Be Bop By Dizzy Gillespie 6:38

13 A Night In Tunisia By Dizzy Gillespie 7:16

14 Salt Peanuts 6:55
By Dizzy Gillespie, Kenny Clarke


All compositions by Charlie Parker except otherwise indcated.


Related Categories of Interest:

Hat Art

Improvised Music
Jazz
NY Downtown & Metropolitan Jazz/Improv
Quintet Recordings
Melodic and Lyrical Jazz
Staff Picks & Recommended Items

Search for other titles on the label:
ezz-thetics by Hat Hut Records Ltd.
---

Recommended & Related Releases: