Various Artists (Guy / Leandre / Mazur / Nilssen-Love / Kaucic / Fernandez / Gustafsson / Vandermark / Trzaska / Brotzmann / Ste Swell / Holmlander / Homburger)

Not Two... But Twenty [5 CDs in Wooden Box]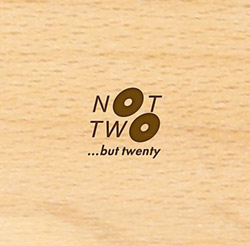 Not Two Records celebrates their 20th Anniversary with a festival in Wlen, Poland, inviting 13 of the finest European & US improvisers--Guy, Leandre, Mazur, Nilssen-Love, Kaucic, Fernandez, Gustafsson, Vandermark, Trzaska, Brotzmann, Swell, Holmlander, & Homburg--performing in configurations from duo to quintet, released in a limited 5-CD wooden box set.

Price:

$79.95






Out of Stock
Quantity in Basket: None

Log In to use our Wish List Shipping Weight: 16.00 units


product information:


Descriptions, Reviews, &c.
"Intro
There are some things worth celebrating in style, one of them being marked persistence in the face of adversity. That pretty much describes the continued existence of any jazz record label in these straitened times. To mark its 20th anniversary, Not Two Records convened an unprecedented line up of thirteen musicians from nine countries for a three day festival in the small village of Wlen in south-west Poland.
The talent on display was mouth-watering: Peter Brötzmann, Agusti Fernandez, Barry Guy, Mats Gustafsson, Per-Åke Holmlander, Maya Homburger, Zlatko Kaucic, Joelle Leandre, Rafal Mazur, Paal Nilssen-Love, Steve Swell, Mikolaj Trzaska and Ken Vandermark. Each evening the assembled company performed in different configurations over four sets, which took in everything from hushed quiescence to rampaging drive. What was notable was how consistently they hit the heights.
That so many top names should gather in the bucolic Polish countryside provided eloquent testimony to not only the importance of the Not Two imprint, but also the regard in which label boss and promoter Marek Winiarski is held. Over the last two decades, the label has emerged as one of the world's most adventurous sources of avant-garde jazz, ranking alongside the likes of NoBusiness, Intakt and Clean Feed, and has released over 270 albums since its inception.
Winiarski founded Not Two in 1998 after his first label GOWI folded when his partner, drummer Zdzislaw Gogulski, declined to get involved in CD production. The moniker for the new venture came from the title of one of GOWI's most successful releases which featured reedman Mikołaj Trzaska and a guest appearance by Art Ensemble of Chicago trumpeter Lester Bowie, but also denoted that henceforth Winiarski was in sole command.
On the face of it, a palace in rolling wooded environs of Wlen was not the location you would expect for a festival of avant-garde music. But there are precedents, with other left field events such as the Nickelsdorf Jazz Konfrontationen and the Ulrichsberg Kaleidophon likewise sited far from centers of population. They work on the principle that if the cast is sufficiently appealing, then the people will come. And so it was here too: the concerts took place in front of an enthusiastic select audience of friends, family, supporters and well-wishers from Poland and further afield all of whom had made a special effort to attend.
[...] descriptions of each set in full review on All About Jazz [...]
Outro
But it wasn't quite the last act. Unbeknownst to Winiarski, the organizing team had one last stunt. They had prepared a series of cards containing instructions, pictures and oblique symbols which were laid out on a table. So now the label supremo had the opportunity to become an orchestral supremo too and lead the assembled musicians in one final conduction. After much persuasion he showed the band a card and they were off. Fortunately they were all much more practiced at this sort of endeavor than him and weren't phased by anything he threw at them, such that a coherent piece of music arose from the random instructions. All the concerts were recorded for potential future release, though whether this set makes the cut remains open to question. But such was the overwhelming success of the event that, future birthday celebrations notwithstanding, there must be every chance that musical happenings at Wlen come along more often than once every twenty years."-John Sharpe, All About Jazz
Get additional information at All About Jazz

Artist Biographies

Track Listing:


CD1



1. Hymne (8.Jhd.) Veni Creator Spiritus 1:50

2. "Annunciation" From Mystery Sonata No 1 2:22

3. Hommage a J.S. B 1:30

4. Tales Of Enchantment For Violin And Bass 12:07

5. Peter Brotzmann / Barry Guy / Zlatko Kaucic 23:30

6. Joelle Leandre / Steve Swell / Agusti Fernandez 27:06

CD2



1. Mats Gustafsson / Mikoiaj Trzaska / Per-Ake Holmlander / Rafai Mazur 20:01

2. Peter Brotzmann / Mikoiaj Trzaska / Per-Ake Holmlander / Agusti Fernandez 23:37

3. Mats Gustafsson / Rafal Mazur / Paal Nilssen-Love 24:18

4. Mats Gustafsson / Rafal Mazur / Paal Nilssen-Love 4:17

CD3



1. Joelle Leandre / Barry Guy 15:57

2. JoelleLeandre / Barry Guy / Zlatko Kaucic 10:54

3. Joelle Leandre / Barry Guy / Zlatko Kaucic / Steve Swell 12:38

4. Joelle Leandre / Barry Guy / Zlatko Kaucic / Steve Swell / Ken Vandermark 6:04

5. Joelle Leandre / Barry Guy / Zlatko Kaucic / Steve Swell / Ken Vandermark 5:25

6. Joelle Leandre 12:18

7. Joelle Leandre / Mikoiaj Trzaska 14:00

CD4



1. Hymne (8.Jhd.) Veni Creator Spiritus 0:32

2. Grave From The A Minor Sonata 3:16

3. Aglais 11:07

4. G Moll Adagio - Con Sordino 3:39

5. Peter Brotzmann / Paal Nilssen-Love 6:18

6. Peter Brotzmann / Paal Nilssen-Love 11:09

7. Peter Brotzmann / Paal Nilssen-Love 11:07

CD5



1. MatsGustafsson / Ken Vandermark 9:36 2. Mats Gustafsson / Ken Vandermark / Steve Swell / Per-Ake Holmlander 11:38 3. Agusti Fernandez / Zlatko Kaucic / Barry Guy / Rafai Mazur 22:31 4. Not Two But Twenty Orchestra

Related Categories of Interest:

Box Sets

Improvised Music
Jazz
Free Improvisation
European Improvisation, Composition and Experimental Forms
Chicago Jazz & Improvisation
Solo Artist Recordings
Duo Recordings
Trio Recordings
Quartet Recordings
Quintet Recordings
Mats Gustafsson
Peter Brotzmann
Ken Vandermark
Staff Picks & Recommended Items
Top Sellers for 2020 by Customer Sales

Search for other titles on the label:
Not Two.
---

Recommended & Related Releases: