Drasler / Jackson / Thompson

Nauportus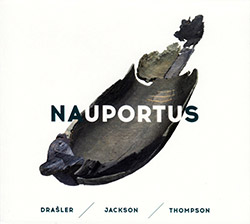 Clarinetist Tom Jackson, guitarist Daniel Thompson and drummer Vid Drasler met in 2016 as part of the CRAM Records residency at FriForma in Ljubljana, at which time they performed and recorded as a trio, vowing to collaborate again; this album of open-minded free improvisation is the result: "Nauportus" in 5 parts, ebbing and flowing from near silence to animated interaction.


Sample The Album:


product information:

Personnel:


Vid Drasler-drums, percussion

Tom Jackson-clarinet

Daniel Thompson-acoustic guitar

Click an artist name above to see in-stock items for that artist.
---


UPC: 5609063405958

Label: Creative Sources
Catalog ID: cs595
Squidco Product Code: 27604

Format: CD
Condition: New
Released: 2019
Country: Portugal
Packaging: Cardboard Gatefold
Recorded at Ljubljanica River Exhibition, at Trzaska 32, in Vrhnika, Slovenia on March 25th, 2018, by Jure Gruden.


Descriptions, Reviews, &c.
"I was struck immediately by Nauportus, from a trio of two of the better known English improvisers of the younger generation together with Slovenian percussionist Vid Drašler, and as recorded for the Ljubljanica River Exhibition in March 2018. Drašler was new to me, and although generally understated in his contributions (& honoring Zlatko Kaucic as his mentor elsewhere), he surely serves to spur the subtly distinctive feel here... such that I expect to hear much more from him soon. That said, Nauportus seemed like an unassuming release in a long list from Creative Sources, but my interest was piqued by the participation of both Tom Jackson (clarinet) & Daniel Thompson (acoustic guitar), two musicians whose improvisations I seem consistently to enjoy: Jackson appeared in this space with Thompson on long-time favorite Hunt at the Brook (first discussed here in June 2015), so already involving two thirds of this new trio, but also on various other productions (e.g. Four Quartets as discussed here in November 2016). And his wonderfully sustained lyricism does much to animate Nauportus, suggesting (at least at times) easygoing music that seems to encompass an alternate sense of history....
Meanwhile, I should probably be saying more specifically about Thompson, who seems to be becoming a fixture in this space.... Here again, though, his contribution often seems understated & in the background, weaving around the others & never indulging in showmanship. However, he currently appears on four favorites here, including Runcible Four & Ag, the latter both with Adrian Northover on reed (rather than Jackson), such that his playing must appeal to me strongly if less obviously. And all four of those albums do have superficial similarities, particularly involving the striking melodicism that they tend to bring to a post-serial orientation - perhaps engaging a sense of nostalgia or even primitivism, but beyond the confines of Western tonality (& any other specific tradition). But whereas the larger Runcible Quintet allows for a wider variety of counterpoint & interaction (including via two overlapping trio structures, as discussed here back in May 2017), Ag involves by far the most similar feel to Nauportus for me, thus highlighting Thompson's centrality to both: In either case, guitar & percussion might work together tightly, perhaps as a duo for a while, but also interact with the reed both as support & in a more balanced tapestry - often yielding the sense of a timeless horn & percussion duo buoyed by contemporary guitar within an overall acoustic setting. In this, Nauportus involves longer lines on the clarinet, i.e. is more thoroughly lyrical, as well as projects more sense of quiet & space in general - right from the slowly emerging, languid beginning.
In contrast, Ag involves more staccato or pointillism, and begins with striking combos around gonging or chiming metallic percussion. (The latter also serves to undermine any simplification I might otherwise be inclined to make, particularly as oriented on comments from earlier this month regarding a "paleo" vibe to the general horn & drums combo - although notions of genuinely ancient music are certainly evoked. But e.g. the gamelan involves striking metal, i.e. beyond found objects, and so there's still a kind of pan-global ethnomusicological vibe layered beneath the more specific addition of the guitar & its strings. These albums do seem to prod me with thoughts about adding iron age string technology to a quasi-paleo horn & drums setup in general, such a trio suggesting a minimal or canonical sort of fusion in that sense - albeit all three musicians actually employing more complicated, industrial age technology.) There's also a basic lightness to the articulation on these acoustic albums that resists notions of primitivism (or the past in general, according to common & deceptive modernist norms) as heavy or plodding or indeed overly harsh & aggressive, and if anything, Nauportus is rather mellow (& maybe sometimes a little eerie). Bent tones are also prominent across the trio (& can be subtly metallic themselves), but particularly buoy many of the extended lines on clarinet, adding both to the timeless feel & delicacy of the album. Later there's also a bit of a more tangible "modern jazz" feel, as well as some forceful or insistent sections, but most of its evocations do seem almost timeless: Not only does Nauportus (& Ag) involve more of a mensural universe, i.e. soaring melodies without the overall rhythmic conditioning of bar lines, but there's also a sense that the basic ingredients of the performance could have been combined in earlier decades. (A review elsewhere of the first Runcible album basically stated as much, wondering what made it new or notable at all. The answer is not in the ingredients of the mix, but the fluency with which they're combined & articulated. The same might be said of the development of medieval music performance practice since the 1970s as well....)
It's thus a rather personal - yet collective - quality of post-serial - yet melodic - articulation that's being explored in these albums, including via extended technique, but not with an emphasis on novelty. (Returning to Hunt at the Brook, then, there's already a real sense of nostalgia being projected, and indeed that drummerless trio does seem to engage with an English sense of melody more specifically, combining with a sort of naturalism as previously noted. Its spacious articulations also come to build considerable density, making for what increasingly seems like a classic production. Apparently the trio does also continue to tour....) The result is fresh & sophisticated, but also doesn't seem especially fussy or complicated: Given the evident lyrical orientations of all of these albums, I'd also be curious to learn what unprepared listeners who explicitly hate dodecaphony (or believe that they do) have to say. (I mean, I very much enjoy the melodies, but I'm accustomed to post-serial music, and so I'm genuinely curious.) In any case, for me it makes for a very engaging combination, such that I'm finding Nauportus to be independently compelling alongside these other, similar albums involving Thompson."-Todd McComb, Jazz Thoughts
Get additional information at Todd McComb's Jazz Thoughts

Artist Biographies

Track Listing:


1. Nauportus I 7:52

2. Nauportus II 20:28

3. Nauportus III 6:08

4. Nauportus IV 8:48

5. Nauportus V 4:09

Related Categories of Interest:


Creative Sources
Improvised Music
Free Improvisation
Jazz
Trio Recordings
European Improvisation and Experimental Forms

Search for other titles on the label:
Creative Sources.
---

Recommended & Related Releases: