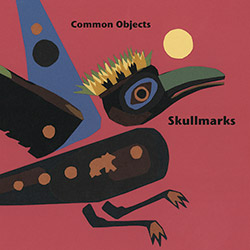 [x] close image
Distributing the group--John Butcher, Angharad Davies, Lina Lapelyte, Lee Patterson, Pat Thomas, and Rhodri Davies--inside the Pitt Rivers Museum in Oxford, Butcher chose 4 shamanic objects from the museum's ethnographic collection, evoking water, air, earth, spirit, ritual and utility, used as a score orchestrating varying combinations of players; intense and profound improvisation.


Sample The Album:


product information:

Personnel:


John Butcher-soprano saxophone, tenor saxophone

Angharad Davies-violin

Rhodri Davies-electric harp

Lina Lapelyte-violin

Lee Patterson-amplified devices and processes

Pat Thomas-electronics

Click an artist name above to see in-stock items for that artist.
---


Includes liner notes by Rhodri Davies and John Butcher in English and Japanese (translation by Megumi Sakata)

Label: Meenna
Catalog ID: meenna-980
Squidco Product Code: 26633

Format: CD
Condition: New
Released: 2018
Country: Japan
Packaging: Cardboard Gatefold
Recorded at the Pitt Rivers Museum, in Oxford, UK, on March 22nd, 2016, by Simon Reynell.


Descriptions, Reviews, &c.
"The group Common Objects was formed in 2005 by the British harpist/composer Rhodri Davies. The group has had a fluid membership, but in recent years its core members have been the six musicians performing on this album: John Butcher, Angharad Davies, Lina Lapelyte, Lee Patterson, Pat Thomas, and Rhodri Davies. Common Objects performs a wide range of music, from composed works to improvisation. Skullmarks documents the group's first project in which objects are used as scores.
In 2016 Common Objects selected three museums as performance venues and carried out a mini-tour called "Sonorous Matter." Each of the six musicians had chosen items from among the museums' collections as the basis of a score to be performed by the group. "Skullmarks," the work recorded on this album, was based on four historical objects that John Butcher selected from the huge ethnographic collection at the Pitt Rivers Museum in Oxford. These objects were displayed to the musicians and audience during the performance held at the museum on March 22, 2016. The concert, which had a strange and mysterious mood due to the shamanic objects and the atmosphere of the museum at night, resulted in a superb performance with a rare aura and energy."-from the liner notes
"Skullmarks was performed by Common Objects in 2016 inside the cavernous Pitt Rivers Museum, home to a mysterious ethnographic collection of over half a million items.I chose these four objects to display to the musicians and the audience, setting a special focus and atmosphere for the music. They are made of wood, bone and clay, evoking consideration of water, air, earth, spirit, ritual and utility.The score orchestrated different combinations of the players, distributed inside the very large central space and the upper galleries. The Museum building itself should be thought of as a fifth object, intrinsically evocative and enabling rich sonic perspectives - from acoustic sounds in extreme resonance to hermetic electronics."-John Butcher
"I formed Common Objects in 2005 for a series of concerts at the LMC Festival. At first the group had a fluid membership, but in recent years the line up has settled to:John Butcher / Angharad Davies / Rhodri DaviesLina Lapelyte / Lee Patterson / Pat Thomas.
I have wanted to use objects as stimuli for improvisation ever since I began the group. During the last thirteen years, we have worked with semi-structured pieces, graphic notation and free improvisation, but this is the first time we have used objects as a score. I am also interested in the relationship an improviser has with the object that is their instrument as well as the preparations they use. Musicians form unique connections with their instruments and often end up anthropomorphizing them. I get attached to my preparations for different reasons: some were given to me as gifts, some remind me of people I've played with. Over time, the instrument and objects, like our bodies, carry scars and knocks and different memories.
In 2016, the group made a mini tour called Sonorous Matter, co-produced with Sound and Music with a grant from the Arts Council England and sponsored by Resonance Extra.We each spent time engaging with the collections at the Pitt Rivers Museum, The Manchester Museum and The Oriental Museum, Durham University - all of which, of course, have their own relationship to Britain's colonial histories.
We identified items to form the basis of new object scores to be performed by the group. This resulted in six new pieces, one by each group member:
Lee Patterson - Five Objects, Angharad Davies - Sounds Out with Objects, Rhodri Davies - JADE, Lina Lapelyte - Gold & Mirrors, Pat Thomas - FOR GEORGE SALIBA and John Butcher - Skullmarks.
"-Rhodri Davies
"Scattered among the colonial and shamanic bric-a-brac of Oxford's cavernous Pitt Rivers Museum, Rhodri Davies' sextet tease out their alien and befittingly antediluvian semi-scores, engaging with and guided by four ritualistic objects (ceremonial animal masks, a bird-shaped vase and painted bear skull), all selected by John Butcher from the site's ethnographic collection.
The psychogeography of the location has a vivid and curious bearing on what transpires, the ensemble hewing spooky noises from illusory ley-line fissures in the galleries, extracting nuggets of primeval force from the extended aura of Butcher's gathered artefacts.
A skewbald tapestry of animalistic rumblings, scuffs and arco fidgets seem at least partially guided by some elemental uber-Ouija conducting the musicians' collective muse. Leaving behind the stimuli of unremarkable items, Common Objects have kindled a gnostic drama as mysterious and obscure as a John Cowper Powys passionplay."-Spencer Grady, Jazzwise
"Welsh harpist Rhodri Davies first convened Common Objects in 2005, and you could say that it has evolved patiently between then and now. Once unfixed, the group's line-up has settled upon six musicians (Davies, electric harp; Angharad Davies and Lina Lapelyte, violins; John Butcher, saxophones; Pat Thomas, electronics; Lee Patterson, amplified devices and processes). The players' collective experience encompasses established and emergent classical music, electroacoustic improvisation, and electric and acoustic jazz. Common Objects' performances have been freely improvised and guided by various unconventional scores, but the 2016 concert reproduced on this CD is the first time that the score was made up of objects.
They were by no means common objects. Butcher selected them from the collection of the Pitt Rivers Museum, an anthropological institution based in Oxford, England. Each of the four objects was made to contain animistic energy. The musicians aren't believers, nor do they do anything so gauche as to try and create some sort of shamanic ritual in the objects' presence. But they are all serious diviners of the spirit of the moment, tuned into each other and the space that contains them. It is large but crammed with display cases, and one choice that Common Objects has made is to avoid both the regularity and the density of the museum's layout. The music develops organically from the opening scrapes of the two violins, adding machine-like churning and bird-like reed cries that test the space's resonance. The timbral contrasts between dry wood, spit-dampened reeds and bumping electronic tones trace the outlines of a space in common flux. The musicians move carefully through that space, managing proximity with senses that most people don't know they have, let alone how to use them. Is that magic guiding them, or a conscious effort to imagine how long-dead magic might once have motivated small cabal of believers? Whichever notion you choose, there's no denying that this music casts a spell."-Bill Meyer, Dusted Magazine
Includes liner notes by Rhodri Davies and John Butcher in English and Japanese (translation by Megumi Sakata)
This album has been reviewed on our magazine:




The Squid's Ear!
Get additional information at Dusted Magazine

Artist Biographies

Track Listing:

Related Categories of Interest:


Improvised Music
Electro-Acoustic
Electro-Acoustic Improv
London & UK Improv & Related Scenes
Sextet Recordings
John Butcher
Staff Picks & Recommended Items
Recordings Utilizing the Natural Resonance of a Space

Search for other titles on the label:
Meenna.
---

Recommended & Related Releases: