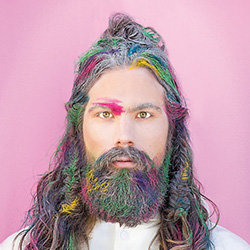 Known more for his double bass work, Christian Meaas Svendsen releases a stunningly beautiful album of unusually orchestrated pop songs with an 8-piece band of Nordic improvisers and performers, a dramatic album of tension and release which, despite lyrics in Norwegian, draws all listeners in through inventive and innovative musical structures.


product information:


Sample The Album:


Descriptions, Reviews, &c.
"Avin is the solo project of musician Christian Meaas Svendsen. The album consists of Norwegian lyrics in a traditional singer/songwriter-style wrapped in a somewhat challenging and unconventional format. The music is arranged for an 8-piece band consisting of some of Norway's finest musicians.
Avin is a Kurdish maiden name meaning love. Avin is also the name of Svendsen's girlfriend. The central theme on the album is their unfinished love, and the texts and the music describe Svendsen's feelings and reflections in the turbulent phases of the relationship. Loss, anger and despair are repeating themes, but amidst it all there is hope and a strange kind of underlying positivism. The music is inspired from early American contemporary music, modern nordic improvised music and different types folk songs. The result is a more meek version of the modern contemporary music, a slightly more strict version of improvised
music and jazz, and a somewhat detached way of presenting conventional singer/songwriter material. It is creative music with some healthy resistance presented in an earnest, convincing and personal way.
Svendsen has also made a music video together with filmmaker André Løyning. The video is done like a one-take; a 20 minute continuous shot which has resulted in a video which is just as much a short movie and an art movie as it is a music video. It is challenging our consumption of visual impressions and short attention span, indirectly arguing that the music video as an art form must not be devoured by commercial powers and tabloid formats.
Christian Meaas Svendsen is normally playing bass, leading his own projects or functioning as a sideman in countless other creative projects. But on this recording he is singing his own lyrics and playing the guitar himself."-Nakama Records
"There's a heavy emotional weight that acts as a counterbalance to the lovely melodic persona of Avin. The key component that secures both qualities is how Christian Meaas Svendsen slips between evocative, poignant expressions with a fluid grace that's almost stunning for its subtle transformations. The album is effectively split between two suites. The gentle lullaby of "Da du og var vi" transitions into the tense "Kretsløp" without a pause between, and the comforting tone becomes more ominous. And then this, too, shifts into the wistful titletrack "Avin." Here, the harmonics reflect an uneasy state of existence... a far cry from the thick, heartmelting harmonies of the suite's opening. Svendsen's vocals are delivered with an even hand and a light touch, and nothing about those qualities hides the impassioned feelings of the words themselves.
"I Berlin" is a solitary piece that separates the two sections. The ensemble's chamber music nature shines strongest here, and the seamless way in which the string section switches between a disarming and a choppy melodicism is emblematic of the album's approach and its structure.
"Katarsis" begins the second section with silence, interrupted by spoken word that leads into the melancholy "11 Dager," a song that features Svendsen's acoustic guitar, a duet with another vocalist, and then a thin ray of sunlight at song's end in the form of warm harmony from a children's choir. Those harmonics lead right into the album finale "Tørr og sliten jord." It's a song that brings the album full circle with the emotional tones and personable tunefulness of the album's opening track, but with a mood that shades more to a state of contemplation.
The album's title and the artist's liner notes indicate this album is about love and his current relationship and all of the turbulence, uncertainty and joy that comes with it. That assertion rings true from every note of this gorgeous album."-Dave Summers, Bird is the Worm
Also available on vinyl LP.

Artist Biographies

Track Listing:


1. Da Du Og Jeg Var VI 5:00

2. Kretslop 5:37

3. Avin 7:36

4. I Berlin 5:37

5. Katarsis 1:00

6. 11 Dager 7:39

7. Torr Og Sliten Jord 4:53



Related Categories of Interest:


Improvised Music
Compositional Forms
Rock and Related
Avant Folk, Etc.
Song Based Music
Octet Recordings
European Improvisation, Composition and Experimental Forms

Search for other titles on the label:
Nakama Records.
---

Recommended & Related Releases: