Archer, Martin

Story Tellers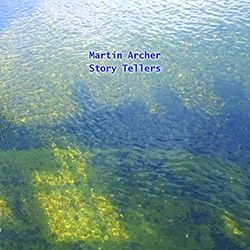 Martin Archer introduces a new sextet based on Chicago's AACM approach to free improvisation, in a 2-CD set of 6 large works divided into 5 or 6 chapters each, presenting character themes, rhythm ideas, composed duets, and improvised instructions; superb!

Price:

$16.95






In Stock
Quantity in Basket: None

Log In to use our Wish List
Shipping Weight: 4.00 units


product information:



UPC: 5051078949321

Label: Discus
Catalog ID: 57CD
Squidco Product Code: 23374

Format: 2 CDs
Condition: New
Released: 2016
Country: UK
Packaging: Cardboard Gatefold 3 Panels
Recorded at Chairworks, in Castleford, England on Septe,ber 19th and 20th, 2015 by David Watts, and at Discus Msuic, June 2016 by Martin Archer.


---
Personnel:


Martin Archer-alto, sopranino saxophone, baritone saxophones, bass clarinet, bass recorder, flute, shaker, chimes, loops, electronics

Mick Somerset-alto saxophone, bass, meditation, geisha flute,drone flutes, chalumeau clarinet, bass clarinets, shawm, shruti boxes, shaman drums, bells, rattles, gongs, trine, jews harp

Kim Macari Stone-Lonergan-trumpet

Corey Mwamba-vibraphone

Anton Hunter-guitar, electronics

Peter Fairclough-drums, percussion

Click an artist name above to see in-stock items for that artist.

Sample The Album:


Descriptions, Reviews, &c.
"First recording by a new sextet, and another release from Discus which follows through Martin's obsession with AACM innovations expressed via dynamic and creative composition twinned with top flight improvising.
A double CD of six long pieces, each thematically linked to make one long cycle which moves between completely notated and completely improvised passages, combinations of both elements, some electric Miles inspired grooves, and strange folk-like drums and drones.
The Story Tellers cycle is divided into six Books each containing five Chapters. Each Book begins with a version of the Story Tellers theme which is played by everyone. The second Chapter is drawn from a group of rhythm pieces. Each Story Teller has their own individual theme, performed as a solo third Chapter. These individual themes are also combined in different pairs with additional textural material and improvisation models to form more Chapters, heard fourth. Some Books end with a Shaman Drone; others have an individual coda as a fifth Chapter.
Most of the music here is heard exactly as played by the sextet in the studio with minimum post production edits and overdubs.."-Discus
"How a story begins can be the key to what follows. And so it is here. Peter Fairclough earns his place in the band inside the first three minutes. He answers the introductory fanfares with a lucid percussion conversation that beats a ringing authority upon the drum heads. They are literally twice upon a time; the tom-toms propelling the whole septet into a shuffling deep-funk of glorious proportions. The Corey Mwamba vibraphone set-up is jumping across the melée like a keyboard, while the Archer/Stone-Lonergan horns blow through the rich theme allowing an articulate, agile flute to skid across the groove, cleverly underpinned by guitar chords that sound like they were sampled from a James 'Blood' Ulmer session. (They weren't, but you know, that's how gravelly they come on. Hunter-does-good.)
There is well over two hours of music on this beautifully put together two-disc recording. Martin Archer is a stickler for detail, so much so this is not a session for the casual listener. Musically it is packed full of information and enquiry, it travels distance both in real time within the studio and in the post-production mixing and engineering. And the ear has to be tuned to the story telling if the listener hopes to make sense of the density of the detail. There is no voice, no text, yet the music contains its own narrative. I always imagined that Miles' Sketches Of Spain had a lyric. Like Mr Fairclough's drums, language is not always via the spoken word.
A glance at the make-up of the six musicians involved and the variety of instruments, juxtaposing the double reed shawm, vibraphone, big guitar and a continuum of saxophones and trumpet, makes for multiple colours. The ensemble contains a couple of 'now' names like the aforementioned vibes player, Corey Mwamba and guitarist Anton Hunter, alongside UK stalwart-drummer, Peter Fairclough from the Tippett and Westbrook bands. Then there is trumpeter Kim Macari Stone-Lonergan, fast getting herself a high profile around Manchester, and best-kept-secret Mick Somerset, who is a genuine genie when it comes to interpreting the Archer raison d'être. Structurally the music is divided into six books or characters - one for each musician and then subdivided again; each 'book' containing at least one short solo entry for a particular musician plus a 'band version' track of one of the characters and a version of the Story Tellers main theme. Each 'book' also includes a severe 're-mix' or a coda.
It may all appear rather confusing in print (or screen), but once you sit back with two hours to spare simply exercising the ears, Story Tellers comes into focus just as if you had switched the lights on. Ms Stone-Lonergan is a fine soloist and her horn hones a deep vein centre whenever the whole band gets it 'on'. Mr Somerset's flute collection is a prize gift. He is not in the least fey or romanticised, nor 'jazz' in the Rahsaan Roland Kirk sense, rather he is an ascetic, a sound-painter with a precise front-line presence which permeates both the 'written' and improv sections. His acappella solo on Disc A, track 13, The Wounded Healer, is a delight and the ingenuity displayed in the segue into track 14, The Barbarian, with its weird call-and-response with Archer is a brilliant thing. This in-turn ushers in a fabulous trumpet passage over inactive brushwork from Mr Fairclough. It is definitive 2015/16 contemporary jazz. I hope Martin Archer will be happy with such a description; I mean it as the highest of compliments. By the time they hit Disc A's track 15, Shaman Song, with the hand percussion pulsing the piece as if digging a path to a rocky salvation, you know this is a band who can work real time just as well as they do the studio.
I can't allow myself not to mention Anton Hunter's contribution. The Sandy Brown Jazz website was early to arrive on the Hunter-case. Both of the Hunter brothers (Anton and his sibling, the drummer, Johnny Hunter) have associations with Martin Archer projects. The Guitar-Hunter is not your standard six-string picker. He's prone to feedback. I love it. He controls the electrics. He pushes it hard. But he also checks it. It can crash. Smash a space. Fry the air. Ride right across a straight rhythm. Drone it. Bury it in crackle as if the circuits have blown. The mercurial Disc B starts with a massive bout of electrics (I think some of it is additional post-production). The Guitar-Hunter is chronic, scratching the surface for two exquisitely tortured minutes before giving way to track 2, the magnificent Like It Was (the damned relative of Like It Is on Disc A). How music can heal its own fractures!! Like It Was pours saxophone, horns, vibes and drums onto the danger represented by the guitar showcase. By the end of Like It Was Anton Hunter is circling Martin Archer's baritone as if he were begging for a Blue Note.
The closest music I know to the Story Tellers soundtrack is a collaborative album Jah Wobble and Evan Parker made in the year 2000 called Passage To Hades. It also featured Clive Bell on Thai pi saw flute and Jean-Pierre Rasle on bagpipes and crumhorn. And there is something about the use of these 'non-conventional' instruments alongside reeds and drums which is both disconcerting yet ultimately empowering. On Story Tellers, by the time Kim Macari Stone-Lonergan hits her stride on the final trumpet coda, Roscoe's Blues, she has become indispensable. Her classic jazz instrument has had to negotiate its way through such a dense orchestra of colour that somehow it shines forth all the more having kept such exotic company as shawm and jews harp.
I originally picked up on Martin Archer in the previous Millennium when he was a member of the groundbreaking Hornweb Saxophone Quartet. Later, much later, he started working with Julie Tippetts, producing recordings such as Ghosts Of Gold, Fluvium, and the suspend-your-hearing-feel-the-temperature classic that few people know about, Serpentine (all available on the Discus label). There's a narrative that links Story Tellers to Mr Archer's other current project Engine Room Favourites. Both carry dedications to the venerable AACM collective from Chicago (Muhal Richard Abrams, Roscoe Mitchell et al). Sheffield may seem a mighty distance from the Velvet Lounge, South Side Chicago; sometimes your closest neighbour is not in the immediate vicinity. I rate this new double-disc album highly. What's two hours? The time it takes to watch a movie; switch off your screens, make a cup of tea and put on the audio, your ears will thank you."-Steve Day, Sandy Brown Jazz
This album has been reviewed on our magazine:




The Squid's Ear!

Artist Biographies

Track Listing:


CD1



1. Story Tellers #1 2:22

2. Like It Is 7:00

3. The River Follower 1:33

4. The Casuist 8:13

5. Shaman Song #1 8:01

6. Story Tellers #2 4:00

7. Go Heavy 5:05

8. The Barbarian 3:42

9. Dedication Coda - Muhal's Way 7:55

10. Story Tellers #3 3:01

11. Like It Is 2:14

12. The Wounded Healer 3:10

13. The Barbarian 2:18

14. Shaman Song #2 7:32

15. Track 15 9:51

CD2



1. Story Tellers #4 2:08

2. Like It Was 5:34

3. The Casuist 3:49

4. The River Follower 6:05

5. Dedication Coda 5:48

6. StoryTellers #5 4:52

7. Like It Will Be 8:08

8. The Wayfarer's Bastard 1:55

9. The Rain Maker 7:51

10. Shaman Song #4 10:20

11. Story Tellers #6 4:16

12. Time Twist 3:53

13. The Wounded Healer 5:00

14. The Rain Maker 3:35

15. The Casuist 3:34

16. Dedication Coda 2:22

Related Categories of Interest:


Improvised Music
Jazz
Free Improvisation
London & UK Improv & Related Scenes
Sextet Recordings
Staff Picks & Recommended Items

Search for other titles on the label:
Discus.
---

Recommended & Related Releases: