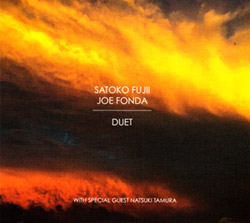 First meeting of Japanese pianist Satoko Fujii and New York bassist Joe Fonda, initiated at the suggestion of Fonda, recording in Portland, Maine at the Dimensions in Jazz Series, a beautifully recorded and intimate duo of superb dialog between two seasoned improvisers.


Sample The Album:


product information:

Personnel:


Satoko Fujii-piano

Joe Fonda-bass

Click an artist name above to see in-stock items for that artist.
---


UPC: 8032089000369

Label: Long Song Records
Catalog ID: LSRCD140/2016
Squidco Product Code: 22158

Format: CD
Condition: New
Released: 2016
Country: Italy
Packaging: Cardboard Gatefold
Recorded at Woodfords Congregational Church in Portland, Oregon, on November 15th, 2015, by Peter Nenortas.


Descriptions, Reviews, &c.
"Great improvisers reveal a lifetime of experience and artistry in every note. For both pianist Satoko Fujii and bassist Joe Fonda, that brings to bear an estimable history of collaboration with some of the music's greatest practitioners and travel that spans the globe. It also means that despite the fact that their winding paths had never previously crossed, they immediately tapped a rich vein of musical understanding during their first-ever performances together.On Duet, a live recording of their second concert in November 2015, they share a seemingly telepathic link that makes the music intimate and mercurial. It's an adventurous musical exchange that features some of their best playing on record. Duet was released October 7, 2016, on Long Song Records.
Both artists are travel the world to perform with their ensembles. Fujii is in the midst of a yearlong international celebration of the 20th anniversary of her Libra Records label. Fonda, one of the most in-demand bassists in new jazz, is often on the road leading his own groups, performing with one of the many collaborative bands he's in, or travelling as a sideman. While Fonda was on tour with Conference Call in Germany, a promoter recommended that Fonda give Fujii a listen. "He thought that I would love her music and might enjoy playing with her," Fonda says. "I thought if he is so excited about her, I'd better check out her playing. So I did and immediately knew I had to play with her. So I got in touch with her."
Fujii was surprised to hear from him. Their mutual friend talked about Joe a lot, but she didn't think that he'd ever heard her music. "Of course, I knew his name, but to tell the truth I hadn't heard much of his playing," she says.
When she mentioned she was coming to New York, Joe organized a few concerts. "As I suspected it would be," Fonda says, "it was quite magical."The rapport between them is magical indeed. They seem to anticipate each other, sometimes spontaneously playing the same phrases at the same time, finishing each other's thoughts, or concluding independent lines simultaneously. The woody sound, intense physicality, and percussive quality of Fonda's bass contrasts beautifully with Fujii's more flowing lines. And both are eager explorers of unusual timbres and extended techniques that add color and depth to the music. Fujii structures her improvisations around sharp contrasts, sudden changes in direction, and her ability to absorb what her bandmates are doing into her own musings. Fonda, with long experience with collective bands, is an unfailingly supportive partner who can subtly insert ideas that shape and direct an improvisation. When they welcome trumpeter Natsuki Tamura to join them for the second set, the music grows richer and even more complex and layered.
"Joe is very open and flexible and that made me feel so free to play anything," Fujii says. "And he plays very strong, puts all of himself into his music, which inspires me to dig deeper into myself."
Critics and fans alike hail pianist and composer Satoko Fujii as one of the most original voices in jazz today. She's "a virtuoso piano improviser, an original composer and a bandleader who gets the best collaborators to deliver," says John Fordham in The Guardian. In concert and on more than 80 albums as a leader or co-leader, she synthesizes jazz, contemporary classical, avant-rock and Japanese folk music into an innovative music instantly recognizable as hers alone. Her most recent group, Satoko Fujii Tobira with trumpeter Natsuki Tamura, bassist Todd Nicholson, and drummer Takashi Itani, released their debut recording Yamiyo Ni Karasu in 2015. ""There are pulse-pounding rhythms, vibrant tones and dark chords woven together into a multi-shaded tapestry of soundŠWhat an absolute pleasure to listen to Satoko Fujii." wrote Travis Rogers Jr. in The Jazz Owl. Over the years, Fujii has led some of the most consistently creative ensembles in modern improvised music, including the ma-do quartet, the Min-Yoh Ensemble, and an electrifying avant-rock quartet featuring drummer Tatsuya Yoshida of The Ruins. She has also established herself as one of the world's leading composers for large jazz ensembles, leading Cadence magazine to call her, "the Ellington of free jazz." Her ultimate goal: "I would love to make music that no one has heard before."
Joe Fonda "is a serious seeker of new musical horizons," according to the Boston Phoenix. From 1984 to 1999, he was the bassist with composer-improviser and NEA Jazz Master Anthony Braxton. Fonda also has been an integral member of several cooperative bands, including the Fonda-Stevens Group with Michael Jefry Stevens, Herb Robertson, and Harvey Sorgen; Conference Call, with Gebhard Ullmann, Stevens, and George Schuller; the Fab Trio with Barry Altschul and Billy Bang; and the Nu Band with Mark Whitecage, Roy Campbell, and Lou Grassi. He is currently a member of 3dom Factor, Alschul's trio with saxophonist Jon Irabagon, and guitarist Michael Musillami's trio, among others. He has collaborated and performed with other artists such as Archie Shepp, Ken McIntyre, Lou Donaldson, Bill and Kenny Barron, Wadada Leo Smith, Randy Weston, and Carla Bley.
Fonda has led some truly unique ensembles of his own including From the Source, which features four instrumentalists, a tap dancer, and a body healer/vocalist; and Bottoms Out, a sextet with Gerry Hemingway, Joe Daley, Michael Rabinowitz, Claire Daly, and Gebhard Ullmann. He has released twelve recordings under his own name.
From first learning about one another in Bielefeld, Germany, to a stunning performance in Portland, Maine, the duo of Satoko Fujii and Joe Fonda has covered a lot of territory, both geographically and musically. "That's the way things work in the music business," Fonda says, "things just happen. And you have no idea why the door swings open so that you end up working with a particular person. It just happens that way-the door swings open, you walk through, and you find your new musical associate on the other side." "-Long Song Records
"The story behind the creation of the miraculous album, Duet by pianist Satoko Fujii and bassist Joe Fonda is one of those things that makes one a believer in karma.
Although both have played with reed man Gebhard Ullmann in various configurations, Fujii and Fonda had never met, and had not heard much, if any, of each other's music. Now, this might seem strange since both are acknowledged leaders of free/avant-garde jazz, and both have powerful musical personalities and immediately recognizable sounds. However, that such highly creative and directed musicians, closely focused on their own playing, composing and touring, had never met is almost natural, despite knowing each other by reputation.
The meeting ended up happening because of a suggestion made to Fonda that he should listen to Fujii's music and would then want to play with her. Fujii's music made a deep impression on Fonda, and he contacted her. For her part, Fujii was surprised to hear from Fonda and they managed to get together on November 14, 2015 at the Buttonwood Tree Performing Arts & Cultural Center, in Middletown, Connecticut for the 10th Annual Jazz CT Composers and Improvisers Festival.
This recording was made the next night in Portland, Maine at the Woodfords Congregational Chapel for the Dimensions in Jazz Series run by Paul Lichter. The superb quality of the sound is immediately evident-the piano sings and the bass is woody and fully focused; you are there.
The music created de novo is reminiscent of an earlier Fujii encounter with Carla Kihlstedt, recorded as Minamo. It is just as intense and just as amazingly organic in its development. Fujii spoke of how she and Kihlstedt connected, and in that mysterious manner of supreme improvisors, create coherent music with no preparation; the same happens here with Fonda. In the former, Kihlstedt floats above Fujii, while here Fonda bubbles below her.
Fonda is an extremely powerful player, and from a good playback system, will almost knock you over. He is quite used to playing in loose co-operative groups, but, in recordings at least, not so much in such a completely free and exposed venue, which could be said to be Fujii's forte. In any case, Fonda matches Fujii as far as being a "force of nature" and pushes as much as he is pulled. The energy flowing between them is palpable, exciting and occasionally almost unbearable.
The only quibble is that there is "only" just under forty-nine minutes of music presented in two tracks, the first over three times as long as the second. Perhaps the rest of the music will appear someday.
The first track is a bravura performance that features many of the musical mannerisms that will be familiar to those who follow Fujii and Fonda. The duo produces astonishing musical textures that arise out of the mists. They engage in what sounds like joyous battle at times, only to swerve in a flash to produce ethereal sounds that float in mid-air.
The audience is silent, and must have been holding its collective breath. At the end of thirty-seven continuous minutes of intense concentration, the condensed atmosphere virtually melts as everyone murmurs in amazement at what had just taken place.
The second track, taken from the second set, includes Fujii's husband and musical partner, trumpeter/sound-maker Natsuki Tamura, and so naturally the textures produced are different. As might be expected, Fujii and Tamura know each other extremely well, but Fonda is definitely not a third wheel, and indeed, matches Tamura's virtuosic sound production when playing the flute in the last third of the track.
Duet is a perfect example of the paradox that is Creative Improvised Music in that the recording captures and seals in amber a spontaneous musical happening which can never, ever occur again. Those familiar with this genre will revel in its easy virtuosity and deep musical spirituality; for those unfamiliar, both Duet and Minamo are phenomenal performances."-Budd Kopman, All About Jazz
This album has been reviewed on our magazine:




The Squid's Ear!
Get additional information at All About Jazz

Artist Biographies

Track Listing:


1. Paul Bley 37:32

2. JSN 11:24

Related Categories of Interest:


Improvised Music
Jazz
Free Improvisation
NY Downtown & Metropolitan Jazz/Improv
Duo Recordings
Staff Picks & Recommended Items
Melodic and Lyrical Jazz

Search for other titles on the label:
Long Song Records.
---

Recommended & Related Releases: