Akama, Ryoko / Bruno Duplant / Dominic Lash

Next To Nothing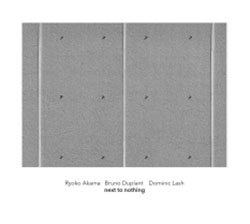 Four text scores composed by Ryoko Akama and performed by himself on VCS3 synthesizer with Bruno Duplant on percussion & tone generator and Dominic Lash on double bass, clarinet & laptop; four beautifully evolving and carefully paced works.


Sample The Album:


product information:

Personnel:


Ryoko Akama-VCS3

Bruno Duplant-percussion, tone generator

Dominic Lash-doublebass, clarinet, laptop, percussion

Click an artist name above to see in-stock items for that artist.
---


Label: Another Timbre
Catalog ID: at79
Squidco Product Code: 20019

Format: CD
Condition: New
Released: 2014
Country: UK
Packaging: Cardboard Gatefold
No recording data listed.


Descriptions, Reviews, &c.
"Four pieces composed and performed by Ryoko Akama (VCS3 synthesizer), Bruno Duplant (percussion, tone generator) and Dominic Lash (double bass, clarinet & laptop). The pieces are all text scores, carefully and exquisitely realised by three of the most interesting musicians to emerge on the experimental music scene in the last few years. The musicians combine in a fruitful and intimate exchange, producing a delicate and fragile web of sounds."-Another Timbre
Interview with Bruno Duplant
How did this collaboration come about?
Ryoko and I had just finished a project (for the Suppedaneum label) based on the magnificent book "Species of Spaces" by Georges Perec. The close understanding between us, both from a human and a musical point of view, was real, smooth and fruitful. We wanted to develop this friendly relationship further. I already had in mind a trio project, including a score which I'd already completed ('a field, next to nothing'). The decision to work with Dominic was an obvious one for me - I am a double bass player as well. Availability and kindness did the rest.
This is one of many projects that you have been involved in where pieces are created by file-sharing between musicians who don't actually meet and play together. Is this a form of music-making that you choose and which you positively enjoy, or is it simply the only way in which you can collaborate with the musicians whose work you like?
Both. First and foremost it was the only way in which I could work with other musicians. I live in a small town in the north of France, far removed from any musical 'scene', or established circuit for experimental music-making or distribution. So over the course of a number of years I have developed different methods of musical practice, including exchanging files - something which was done long before me by, for instance, Derek Bailey and Han Bennink on their 'Post Improvisation' CDs. Over time I have grown particularly fond of this form of creation. The development, use and exchange of scores (graphic and / or textual) seems to me to be one of the most accomplished and fruitful forms of music-making, as on this project with Ryoko and Dominic.
Can you tell us a bit about your own background in music? When did you start playing, and how did you come to experimental music?
I started playing music quite late; I took some piano lessons about ten years ago in order to be able to play Satie and Monk. However, thanks to a number of LPs and cassettes, I had discovered adventurous music very early - some jazz (Miles, Coltrane, Mingus, Monk, Coleman etc...) as well as composers such as Cage and Feldman. Then some time later, with the help of an old PC and some software (transformed from its original function), I experienced the joys of creating my first experimental compositions (to the great distress of my neighbours!) In fact I have always been interested in transforming musical objects, for instance, taking an instrument and using it in ways that are different from those for which it was originally intended, thus taking it into new territories, as I also do today with field recordings.
It's great that you started music late and yet haven't let that inhibit you or hold you back, and now compose and play several instruments. There must be many people - like myself! - who keep telling themselves that it's too late to start and so never do anything. Nonetheless, do you sometimes find it frustrating that, for example, you don't have the dexterity as an instrumentalist that you would if you'd started younger? Or, conversely, do you think that there are advantages in starting late?
Both. Firstly I think it's a great advantage, because, once you take the plunge, you don't feel there are any real barriers to what you can play or create. So, for example, I began playing double bass at 40. Also, because I started as an adult, I haven't come out of any group or school. But on the other hand, I am sometimes really frustrated, not by the lack of dexterity (which I certainly do not have), but by not being able to compose or play a 'real' score (though I am certainly not the only one in this case). So I have to invent my own solutions again and again. But I still have dreams, like playing viola da gamba.
You say that you don't come from any school, but in the last few years you have collaborated with a number of musicians from the Wandelweiser collective, and have released discs on both Radu Malfatti and Eva-Maria Houben's own labels. Do you now consider yourself a 'Wandelweiser musician' - or is this just one influence amongst others?
I don't really consider myself to be a 'Wandelweiser musician', but it's not up to me to say. However, I very much like the musical aesthetic of both the B-boim and Diafani labels (which I see as a sort of radical and poetic minimalism), and I especially appreciate the human qualities of Eva-Maria Houben and Radu Malfatti. I really like their honesty, sincerity and simplicity, which are for me very rare qualities today. Antoine Beuger is another person that I truly appreciate and with whom I like to correspond. I have also had the chance to work with Stefan Thut, who is a wonderful person and a great musician, on a project on my own label Rhizome.s - "equinox I solstice", and also on a duo we made together on Diafani, "the fullest extent of possible movements in two particular places".
So in answer to your question I would say that Wandelweiser could be considered as one of the different paths which I like to pace up and down, especially when playing solo.
I find the realisation of your piece on the CD 'Next to Nothing' particularly beautiful. Could you explain how the piece works? Is it a graphic score, are pitches specified, and so on?
When I wrote the score I had in mind a particular trio with Antoine Beuger, Jürg Frey & Radu Malfatti (I really hope that one day they will play the piece live). 'A field, next to nothing' is a text score with some indications about durations, pitches and intensities. It could be played by one or several players. The piece works with repeated sequences with just some minimal variations in each part. My idea was to try to express what could exist, or what can be found 'next to nothing'. For me it is something quiet and without end, but also something which is quite monotonous but at the same time very beautiful. I hope other listeners will feel those emotions too.
You have been prolific in the last few years - remarkably so seeing as you have a job and a family! - and have released numerous discs in collaboration with a lot of other musicians. Do you move from project to project as they arise, or do you plan the direction in which you're heading musically?
I don't think about whether I'm being prolific or not. I just make music when I can and want, alone or with people I find interesting to collaborate with. Over time I have had some great interactions with people I respect a lot, like Gil Sansón, Ryoko Akama, Stefan Thut or David Velez. I usually have a lot of projects planned. Some will be realised, others not. I just try to enjoy myself. I also find time to run a small label with my friend Pedro Chambel, Rhizome.s, and we release discs by other musicians as well as ourselves.
This album has been reviewed on our magazine:




The Squid's Ear!
Get additional information at Rhizome Homepage

Artist Biographies

Track Listing:


1. A Field, Next To Nothing 25:30

2. Grade Two 11:50

3. Three Players, Not Together 9:00

4. Grade Two Extended 10:15

Related Categories of Interest:


Electro-Acoustic
Organized Sound and Sample Based Music
Compositional Forms
Sound, Noise, &c.
New in Experimental & Electronic Music
Instant Rewards

Search for other titles on the label:
Another Timbre.
---

Recommended & Related Releases: