Crane, Laurence / Apartment House

Chamber Works 1992-2009 [2 CDs]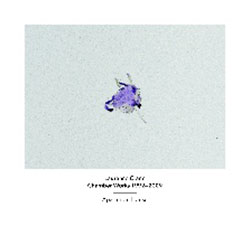 A double CD of UK's experimental music ensemble Apartment House performing 14 chamber pieces composed by and under the supervision of Laurence Crane, beautiful and informed minimal work from a unique voice in modern composition.


Sample The Album:


product information:

Personnel:


Laurence Crane-composer

Apartment House

Click an artist name above to see in-stock items for that artist.
---


Label: Another Timbre
Catalog ID: at74x2
Squidco Product Code: 19185

Format: 2 CDs
Condition: New
Released: 2014
Country: UK
Packaging: Cardstock 3 page foldover
Recorded at the University of East Anglia, Norwich, the University of Huddersfield and St Paul's Girls' School, London, September to December 2013 except "Bobby J' which was recorded in Hoby, Leicestershire in August 2013, and 'Riis' which was recorded at Church of St Silas, Kentish Town, London in March 2004.


Descriptions, Reviews, &c.
"One of the several mysteries of Laurence Crane's music is how its apparently normalised structure subverts itself. This is often music of tonal harmony and four bar phrases - and, for the most part standard classical instrumentation. It never goes on too long. It is hardly ever abrupt or unexpected. Logical. Clear. Orderly. Quiet. Yet it is also, to my ears, quietly crazy, even absurd in its extremely understated way.
It would not surprise me if someone hearing the music for the first time would say something like, "It sounds like ordinary music." This ordinariness is right there on the surface. But if I have learned anything from Laurence's music it is that "the ordinary is not." I've also never run into anyone who knew his music who thought it was as simple as it appeared. Why is that?
There are the titles. Andrew Renton Becomes An International Art Critic. Derridas. Ethiopian Distance Runners. and so on, embedded into the more mundane sounding ones. Pieces are sometimes named after people: Erki Nool, Raimondas Rumsas. Bobby J. - and it does seem to me that the titles name the pieces in ways that are more than humorous or droll. They are like the way people are named. Gradually the music comes to fit its name.
When I play a Crane piece for the guitar or the piano, I start to feel that the most basic features of tonality become something like a fetish. A major chord in 2nd inversion, a suspension, or a simple movement in voice leading: those things that most composers of our age learned at the very beginning of our training. They have the fascination of a raw material, but we were encouraged to move along past them, not to dwell on such apparently simple objects. However when you look at them closely, under the microscopes of isolation and repetition, such things can seem to be the real miracles of music. The machinery that makes the 2nd inversion chord unstable always works; it is so infallible that it borders on comedy. Laurence's music, for all its good humor, also has a sense of awe for those small mechanics.
In a way, they are a little like readymades. The individual elements in the abstract can usually be found somewhere else. And it seems to me that Laurence takes great pleasure in making the distance between a tonal cliché and the material used in his piece as small as possible. (An aesthetic of inserting a molecule of foreign substance into the flour, water, yeast and salt.) But this very slight twist that Crane gives in voicing or instrumentation - or simply the placement of an element, is enough to render the commonplace odd; or to return it to its original, inexplicable and much greater oddity.
The work does not invite interpretation by the listener by involving her in complexities to resolve. It demands to be broken open. It exhibits what Reza Negarestani has called "a rigorous and twisted mode of closure." Hermetic and a bit distant, with a beauty fragile enough that one is afraid to get close - calling up (once again) an artist who to me seems like the odd uncle to Crane: Marcel Duchamp. The airtight container that gets punctured briefly any time one chooses to listen; but only to be resealed, just as fresh, for the next time. It laconically refuses to give anything away.
This is not minimalism. It does not take justification in "less is more" or "only what is necessary". It takes us beyond those points: it is less than necessary. It says, basically, nothing is necessary. And perhaps, also, "let's be happy with this." "-Michael Pisaro

Artist Biographies

Track Listing:


CD 1

1. Sparling (1992) 5:37

2. Trio (1996) 5:50

3. Raimondus Rumsas (2002) 5:49

4. See Our Lake (1999) 2:55

5. See Our Lake (1999) 3:28

6. Sparling (1992) 5:21

7. Riis (1996) 10:12

8. Bobby J (1999) 8:24

9. Sparling (2000) 6:15

10. Estonia (2001) 3:57

11. Estonia (2001) 3:41

12. Estonia (2001) 4:27



CD 2

1. Seven Short Pieces - I (P: Apartment House) 1:35

2. Seven Short Pieces - II (P: Apartment House) 1:12

3. Seven Short Pieces - III (P: Apartment House) 1:22

4. Seven Short Pieces - IV (P: Apartment House) 1:27

5. Seven Short Pieces - V (P: Apartment House) 1:20

6. Seven Short Pieces - VI (P: Apartment House) 1:55

7. Seven Short Pieces - VII (P: Apartment House) 1:50

8. Piano Piece No.23 'Ethiopian Distance Runners' (P: Apartment House) 21:50

9. Four Miniatures - I (P: Apartment House) 1:36

10. Four Miniatures - II (P: Apartment House) 2:26

11. Four Miniatures - III (P: Apartment House) 1:13

12. Four Miniatures - IV (P: Apartment House) 2:56

13. Come Back To The Old Speciment Cabinet John Vigani, John Vigani (P: Apartment House) 11:13

14. John White In Berlin (P: Apartment House) 13:29

Related Categories of Interest:


Compositional Forms
Large Ensembles
London & UK Improv & Related Scenes

Search for other titles on the label:
Another Timbre.
---

Recommended & Related Releases: