Various Artists

To Live And Shave In L.A. - The Grief That Shrieked To Multiply [3 CDs + Download]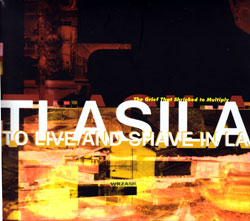 TLASILA was an experimental music collective founded in 1990 by composer Tom Smith; this 3 CD + download releases finds a massive cast of artists restructuring the improvisations from the "Noon and Eternity" album into a massive 240 minute work.


product information:



UPC: 5908310927459

Label: Monotype
Catalog ID: mono056
Squidco Product Code: 17925

Format: 3 CDs
Condition: New
Released: 2013
Country: Poland
Packaging: 3 CDs in a cardstock gatefold sleeve
Recorded on various dates at different locations.


---
Personnel:


RM74

Howard Stelzer

Blevin Blectum

Aprox.

Alexei Borisov

Carlos Giffoni

Truth Serum

Aaron Dilloway

Core of the Coalman

Curt Newton

Andy Ortmann

Otto Von Schirach

16 Bitch Pileup

Isaac Linder

Philippe Petit

Medroxy Progesterone Acetate

Hull Curve

Krapoola & Noish

Wolfram

Astrid Hagenguth & Pit Noack

Sickboy Milkplus

RWL

Dave Philips

Anton Nikkila

Dylan Nyoukis

Torstein Lavik Larsen

Staplefahrer

Richard Devine

Terminal 11

Sudden Infant

Panagiotis A. Stathis

Ulle Matzen

Karmakumulator

Diego Castro Magas

Rudolf Eb.er's R&G

Cornucopia

Weasel Walter

Family Battle Snake

Thee Majesty

Tree Creature

Don Fleming

Olga Nosova

The Teknoist

Achim Wollscheid

Wouter Jaspers

Patrick Spurlock

Alexandr Kibanov

C. Spencer Yeh

Chrissy Murderbot

Jared Louche

William Fowler Collins

Komora A

Stefan Roigk

Don Hassler

Andreas Bruning

Graham Moore & Nutchild

Toecutter

Raionbashi

Torturing Nurse

Ironing

Kevin Drumm

Evil Moisture

Click an artist name above to see in-stock items for that artist.

Sample The Album:


Descriptions, Reviews, &c.
TLASILA lyrics:
What can you bench? The lie of penury.
Who are your heroes? Enclosed space, blank canvas.
The actual books or the audio versions? All this talk of taverns makes me yearn for sand.
Do you remember learning to cycle? Horses had to be pulled.
What sorts of music are most popular for therapeutic purposes? Depressed keys produced no sound.
Behold, the one true sarcoma, To Live and Shave in L.A.! What incisive analyses might one parse from their extraordinary reign of failure? Are there epidemiological verities to be pried from the sludge? Why should anyone care about anything they did? WHY?
Because of their commitment to a particularly inflexible strain of aestheticism. They were beyond adamantine. There was no hermeneutic metric for the maleficent slab that was To Live and Shave in L.A.
They refused.
"Genre is obsolete!" maintained their founder and leader, Tom Smith. Sound for his imperious, peremptory, fantastically arrogant cabal was no lustrous totem of antiquity; the notion of artistic "authenticity" itself was branded as mere sentimentality, a woeful expedience. Theirs was not a music of comfort. The ultimate goal of To Live and Shave in L.A. was the null set - the unnegotiable precipice.
Simply writ, TLASILA was a transcendent cultural critique. Smith loathed as few have dared. (No misanthropist, he - his intolerance was reserved for the edifice.) The apogee? Works of unparalleled, unapproachable complexity, high-water marks of fractured acoustics and convulsive, hyper-literate declamation - their metier was hysteria; revulsion as pharaoric talisman. And, of course, they often failed.
Facts:
To Live and Shave in L.A. was begun by Tom Smith in May 1990 in Adel, Georgia, USA. (Other, conflicting dates abound on the Internet, but May 1990 is the definitive moment of conception.)
The initial TLASILA demos (tracked through July '90) established a rough template for all that was to follow.
More professional recording and conceptual fine-tuning (1991- 1992) accelerated the process.
By March of 1993, live performances - exceedingly chaotic, poorly attended affairs - commenced.
The earliest of these featured Smith performing solo, armed only with a cassette deck and a sheathe of hand-scrawled texts.
(The majority of the post-demo, 1991-1993 sessions and performances were undertaken using the Peach of Immortality name, owing to a contractual agreement Smith had entered into with ne'er-do-well logo Noiseville. They bare no resemblance to POI proper (1984-1989), however, and no "Miami POI" recordings were ever issued. All were released as TLASILA recordings. When Noiseville went bankrupt in September 1993, Smith reverted to the TLASILA name.)
The first members of TLASILA were friends from Miami Beach - Rachel "Lady Tigra" Derougement, erstwhile member of Miami Bass-inflected pop-rap duo L'Trimm, budding filmmaker Oscar Perez, and party scene habitue Tracie Phillips.
(This quartet, accompanied by Smith's fiancee, Angela Terrell, collaborated with legendary sexploitation director Doris Wishman in 1993 on the "Spatters of a Royal Sperm" video.)
By the late autumn of 1993, Frank "Rat Bastard" Falestra, who more often than not could be found ensconced behind the mixing board at Churchill's, the sleazy breeding ground where To Live and Shave in L.A., Harry Pussy, and a motley fistful of other artists aired their neuroses, slowly joined forces with Smith.
Bastard recorded dozens of early TLASILA performances; by the end of the year, he had joined the group.
Smith's marriage in November 1993 provided the nascent ensemble a period of respite.
During the break, TLASILA's debut album, "30-minuten männercreme," was assembled.
It was issued on Smith's Love Is Sharing Pharmaceuticals imprint in July 1994.
Electronics wunderkind Ben Wolcott came aboard in late summer of '94.
Many other recordings, performances and tours followed.
By 1996, the group, now a burgeoning collective, ventured into Europe for a series of feral, heretical, often wholly shambolic performances, primarily witnessed by displeased bartenders and rough gangs of noise enthusiasts.
TLASILA's 1999 "free-glam" trek across the USA attracted a tremendous amount of attention, cementing the reputation of the ensemble (for both good and ill).
In 2000, after an unprecedentedly demonic performance in Brooklyn, the group sundered.
While Smith retreated to his Western Blot studio assemble a final mix of "The Wigmaker in Eighteenth-Century Williamsburg" album, a plague of TLASILA spin-off groups appeared: there were two TLASILA 2 ensembles, a TLASILA 3, TLASILA 1975, I Live in L.A., Born in East L.A., and possibly others.
By the time the clone contagion passed, Smith had moved to Switzerland to begin rehearsals for Ohne, the group he'd co-founded with neo-Aktionist multi-hyphenate Dave Phillips in the meantime.
Before Ohne's extensive tour of Eastern and Central Europe took place, TLASILA's "The Wigmaker" was released to near-universal acclaim.
While Ohne was on hiatus, Smith and Bastard reconvened TLASILA.
In 2004 they returned to live action in the USA, headlining the final night of the very first No Fun Fest.
Later in that same year, the expanded lineup, featuring Andrew W.K., Sightings' Mark Morgan, producer Don Fleming, and the trio of Wolcott, Falestra, and Smith, traveled throughout the States.
The "Noon and Eternity" album was recorded after the tour at Sonic Youth's NYC studio, and featured new Shave recruit Thurston Moore.
Thus engorged with star power, TLASILA headlined Washington DC's "Noise Against Fascism" festival in January 2005.
Tours in 2006 and 2007 followed, but Smith was tiring of the bombastic formula, and yearned for the aesthetic acuity exemplified by Ohne.
To Live and Shave in L.A.'s 2008 tour of Europe was its most stripped-down, challenging and abstract to date, introducing a new cast of performers, including Hungarian percussionist Balazs Pandi, American experimental sound artist Gaybomb, Belgian techno producer Sickboy Milkplus, and fellow Belgian performance artist Orphan Fairytale.
Early dates also saw Joke Lanz (aka Sudden Infant), joining TLASILA on stage and in the studio.
This lineup comprised the final live iteration of To Live and Shave in L.A.
Prior to the tour, work began on an ambitious "anti-remix remix" project, "The Grief That Shrieked to Multiply."
The album - intended as a mammoth, 240-minute piece and possible only through the incredible generosity and astonishing contributions of nearly 70 partner artists - was released via MonotypeRec.
In conclusion:
To Live and Shave in L.A. was an oppositional epiphany with an idiopathic antecedent (Ron Jeremy's enfeebled 1986 porn parody of William Friedkin's often bracing 1985 policier To Live and Die in L.A.). They promulgated convulsive textural involution, timbral degeneracy, and a monomaniacal attack against aesthetic and cultural assumptions (including, most reassuringly, their own). With TLASILA as his weapon, Tom Smith conveyed a hermetic hysteria that wrestled calamity from the pallidly profane. His texts were simultaneously abstruse and impious - a vertiginous conflation of recondite sleaze, Emil Cioran and Bonnie Rotten locked in a profoundly unsettling embrace. TLASILA was the perfect mix of high and low.
This album has been reviewed on our magazine:




The Squid's Ear!

Artist Biographies

Track Listing:


DISC 1 (78:44) My Finger Was Hooked

101 RM74 - Bones, Beers and Muscles

102 Howard Stelzer - Untitled (edit)

103 Blevin Blectum - TLASILA BB v01

104 Aprox. - Hellmaschine

105 Alexei Borisov - Version 2

106 Carlos Giffoni - Untitled (edit)

107 Truth Serum - Grief-Truth Remix

108 Aaron Dilloway - In Memory of Phil Anselmo (vocal version)

109 Core of the Coalman - Untitled

110 Newton - 2010 Odyssey Shave

111 Andy Ortmann - Fashionably Irritated Mix

112 Otto Von Schirach - Cream Pie 2 (TLASILA Rmx 2)

113 16 Bitch Pileup - TLASILA-SC Edit Three

114 Isaac Linder - RIFF&.WAVEfmt datah (for Guy De Cointet & Walead Beshty)

115 Philippe Petit - Pataphysique

116 Medroxy Progesterone Acetate - The Witch Is Riding You

117 Hull Curve - NJKD

118 Krapoola & Noish - Sin titulo

119 Wolfram - Call Me Later

120 Astrid Hagenguth & Pit Noack - Ohne Titel

DISC 2 (78:22) I offer syrup

201 Sickboy Milkplus - TLASILA THAF Remix

202 RLW - Materali Sonori

203 Dave Phillips - dpTLASrmx0806

204 Anton Nikkila - TLASILA vs. Philips Background Music Service

205 Dylan Nyoukis - Tape Loops in the Gym Hall

206 Larsen - tlasilamixfinal

207 Staplerfahrer - Straight Razor Place

208 Richard Devine - V2 Mix

209 Terminal 11 - Imploding Mega Yacht Mix

210 Sudden Infant - Jesus Kiss Our Children

211 Panagiotis A. Stathis - Thee Eidetic Sacrament of Herr Smith's Phlegm

212 Ulle Matzen - TLASILArmx

213 Duran Duran Duran - TLASILADDD

214 Karmakumulator - tlasilarmxl

215 Magas - TLASILA_Magas

216 Rudolf Eb.er's R&G - Protest

217 Cornucopia - Winds and Riptides

218 Weasel Walter - Untitled

219 Family Battle Snake - Untitled

220 Thee Majesty - Thee Way of Thee World II

221 Tree Creature - Untitled

DISC 3 (78:05) I Offal and I Stumble

301 Don Fleming - DFJLASILA

302 Olga Nosová - tlasila rmx by nosova

303 The Teknoist - Moonwalking Tree Goat Remix

304 Achim Wollscheid - Number 4

305 Wouter Jaspers - 1

306 Patrick Spurlock - reMIX

307 Alexandr Kibanov - Inexorable Shifts

308 C. Spencer Yeh - TLSILA-CSYremix

309 Chrissy Murderbot - Untitled

310 Jared Louche - Unspoken

311 William Fowler Collins - TLASILA WFC 01

312 Komora A-Untitled

313 Stefan Roigk - IWiSH

314 Don Hassler - Untitled

315 Andreas Brüning - Zur Sofortigen Verrichtung

316 Graham Moore & Nutchild - Griefy Dixxx

317 Toecutter - Remix 2

318 Raionbashi - RaionbashiJLASILA

319 Torturing Nurse - Living Xmas Trees De-mix

320 Ironing - Untitled

321 Kevin Drumm - To Live and Shave in Blistering Statick

322 Evil Moisture - BBQ Flavour

DISC 4 (80:34) Between Your Kidneys

DOWNLOAD

401 Kasra Mowlavi - Mucky Jpegs Rmx

402 Dino Felipe - Untitled

403 Elizabeth Peyton - Ana Logica (Cerulean Shriek)

404 Audiomat - Nabereschnyje Tschelny

405 Kristin Calvarese - Untitled 2

406 Micose & the Mau Maus - M&MMS Do TLASILA

407 Mink Marie - OmTone 2

408 Howard Stelzer - Untitled (complete version)

409 Carlos Giffoni - Untitled (complete version)

Related Categories of Interest:


Electro-Acoustic
Sound, Noise, &c.
Organized Sound and Sample Based Music
Various Artists & Compilations
Physical Releases that include Download Codes

Search for other titles on the label:
Monotype.
---

Recommended & Related Releases: