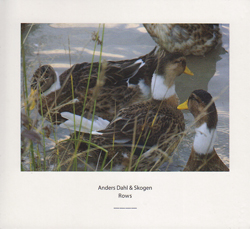 Sweden's Skogen returns with a beautiful work for chamber ensemble with Magnus Granberg, Angharad Davies, Toshimaru Nakamura, Ko Ishikawa, Anna Lindal, Henrik Olsson, Petter wastberg and Erik Carlsson, interpreting a piece by Anders Dahl using a 12 tone system.


Sample The Album:


product information:

Personnel:


Anders Dahl-composer

Angharad Davies-violin

Magnus Granberg-piano, clarinet

Ko Ishikawa-sho

Anna Lindal-violin

Toshimaru Nakamura-no input mixing board

Henrik Olsson-bowls, glasses

Petter Wastberg-contact mic, objects, feedback

Erik Carlsson-percussion

Click an artist name above to see in-stock items for that artist.
---


Label: Another Timbre
Catalog ID: at64
Squidco Product Code: 17920

Format: CD
Condition: New
Released: 2013
Country: UK
Packaging: Cardstock gatefold foldover
Recorded in November 2012 at Atlantis, Stockholm by Janne Hansson.


Descriptions, Reviews, &c.
"The return of the Swedish-based ensemble Skogen, after the success of their previous CD 'Ist gefallen in den Schnee'. This time the ensemble interpret a piece by Anders Dahl to produce what is, in the composer's words, 'the simplest twelve tone music possible'. With Magnus Granberg, Angharad Davies, Toshimaru Nakamura, Ko Ishikawa, Anna Lindal, Henrik Olsson, Petter wastberg and Erik Carlsson."-Another Timbre
Interview with Anders Dahl
"I set out to create the simplest twelve tone music I could think of...."
Could you explain how 'Rows' is structured, and how much freedom the instrumentalists are given in their interpretation of the score?
Let me start from the beginning. I was thinking about how Schoenberg's nice and simple solution to avoiding keys in music, the twelve-note technique, became used in a more and more advanced way as time went on. The technique was that you have to play each note of the chromatic scale once before you're allowed to repeat any note again. In that way all the twelve notes became equally important, which is heart-warming. It later evolved into serialism and everything started to get dictated by different series in an amazing level of detail. I started wondering about how it would have sounded if they had simplified it instead. So I set out to create the simplest twelve tone music I could think of. The solution I came up with was to play each note of the twelve tone row once and then be done.
So each row is randomly generated as a twelve-tone row with a set duration. The musicians play all the notes once and in the specified order, at any point within the time assigned to that row. The musicians can play the note however they like. Only the letter for the note is specified so they can play it in any octave. They can also skip any note or replace it with an unpitched sound or noise. In addition some of the Rows have a title, which suggests a particular approach, and acts as a kind of guide which they can either follow fully, partly or not at all.
There is one more thing that's central to the piece. On the first recorded version of Rows (which will hopefully be released on the Bombax Bombax label at a future date), all the musicians were recorded individually without hearing any of the other tracks. The tracks were then layered on top of each other, creating an indeterminate interplay. The surprising thing, at least to my ears, was that the perceived interplay was very strong. I think this is because we are so used to music involving interplay that when there is none our brain creates a phantom interplay for us. The music also felt free from clichés as the musicians couldn't account for what the others were playing, and therefore sometimes one musician would merrily steamroll someone else without knowing it.
Now, this version of Rows was recorded with everyone playing together in one big room, but I was keen to retain some of that 'phantom' and 'ruthless' quality from the previous recording. So I asked the musicians to plan out ahead what to play and try to stick to that plan as much as possible. Of course I couldn't expect the musicians to succeed in this completely, but it still brought an interesting dynamic where they were trying to avoid their habit of improvising together.
The purpose of the composition is to create a certain kind of environment for the musicians to work in, but not to control them in detail.
That's great; I've listened to the recording lots of times now and hadn't realised that was what was going on! But the music certainly has both a freshness and an unpredictability that fits with everything you describe. Can you say a bit more about why you want to disrupt the habitual playing patterns of improvised music?
I thought of a long answer for this, but it's really simple: what's not to love? I just don't like my music to be predicable.
I've been experimenting with this for a while, starting around 2003 when I was working on the album Hundloka. At the time I developed it as a sort of a tool to help me with my own shortcomings, but on this project I'm working with great improvisers who don't need any aid. And yet I can still hear the effect it has on, for example, Henrik (Olsson) and Magnus (Granberg), both of whom I've known for a very long time. They are doing stuff in a different way than I ever heard before.
So can you tell us a bit more about your musical background? When did you start playing experimental music, and have you always been involved with both composition and improvisation?
I began tinkering with music in art school in 1994. You could say that it was experimental from the beginning. At the time I was working mostly with computer manipulation of recorded sound. After school I got an office job. Working with art has always been a slow process for me, and I realised I never had time to get into it with the long hours I was working. With sound I could just listen to something and I was there immediately, so I started to do more and more sound and less art.
Improvisation began when I started working with Henrik in 2001. From the beginning I was just doing live computer manipulation of his sounds, but I started to get more and more involved in the sound making as time went on and my confidence grew. By a stroke of luck the hard drive of my laptop crashed one day before a gig. What I had done until that point was mostly based on recording/replaying sounds (a bit like Alvin Lucier's I'm sitting in a room but more chaotic) and using sinewaves. So I armed myself with a cassette recorder and a tuning fork and tried to manage that gig as well as I could. That set me on the path that I'm on now.
In a way composition has always been the main focus, but it's been based around recording myself and others, and then arranging the results. Rows is the first composition that I've made on paper and then just recorded and mixed.
"After art school you have a lot of baggage and you need to figure out what to keep and what to discard."
What about Skogen? When did the group form, and have you been involved with them from the start?
Magnus Granberg created Skogen in 2005 to realise composition ideas he was working on. I knew the people in the core group well (Erik Carlsson, Magnus Granberg, Henrik Olsson, Leo Svensson Sander & Petter Wästberg), but I wasn't involved with Skogen until I started to help them by mixing their albums, as with, for example, the Ist gefallen in den Schnee CD that was released on Another Timbre. We also did a collaboration under the name Skog och Dal that was released on Bombax Bombax, but I think that Rows is the first time that Skogen has performed a composition that wasn't written by Magnus.
I'm struck by how many of the musicians I interview trained in visual arts as opposed to music. Do you think that formal musical training can actually be a hindrance for experimentation?
After art school you have a lot of baggage and you need to figure out what to keep and what to discard. Switching from art to sound sort of sidestepped that issue, for me at least. You're able to find your own voice faster. But also, what you learn at art school applies very nicely to experimental music.
For me when I started with sound, I worked the same way that I did when I started off with traditional painting (my first school was very traditional): working intuitively and just re-working, re-working and re-working stuff until I was happy with it. That way the individual instruments weren't so important, but I focused on the piece as a whole. I think that carried over into my improvising too. Also you're never seduced to fall back into impressing people with your skill whenever you lack inspiration, because you have no skill to show off.
More musicians should switch to art and cheat the same way.
This album has been reviewed on our magazine:




The Squid's Ear!

Artist Biographies

Track Listing:


1. Row 32: For Björn Nilsson 3:30

2. Row 36: Numb 3:30

3. Row 35 5:30

4. Row 28: Interference 6:30

5. Row 24: Four Steps Forward, One Step Back 6:30

6. Row 26 2:30

7. Row 29: Palindrome 4:30

8. Row 21 2:30

9. Row 31: White Noise 8:04

Related Categories of Interest:


Compositional Forms
Electro-Acoustic
lowercase, micro-improv, sound improv
Electroacoustic Composition
Objects and Home-made Instruments
Instant Rewards

Search for other titles on the label:
Another Timbre.
---

Recommended & Related Releases: