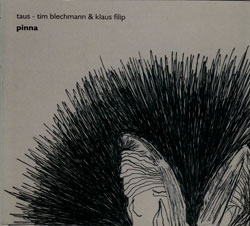 An improvisation for two laptop computers performed by Tim Blechmann and Klaus Filip, recorded live in Vienna at "neue musik in st ruprecht", 2010, contrasting minimal tones with massive bass rumble and frothing frequencies.


product information:



Label: Another Timbre
Catalog ID: at49
Squidco Product Code: 15697

Format: CD
Condition: New
Released: 2011
Country: UK
Packaging: Cardstock gatefold foldover
Recorded live at "Neue Musik in St Ruprecht" on July 4th, 2010.


---
Personnel:


Klaus Filip-laptop computer

Tim Blechmann-laptop computer

Click an artist name above to see in-stock items for that artist.

Sample The Album:


Descriptions, Reviews, &c.
"For someone with so restricted an improvising vocabulary - sinewaves and almost nothing else - Klaus Filip has built quite an impressive discography. The clue lies in its relative slenderness, evidence of his prudent choices in playing partners and contexts: lustrous drones for Los Glissandos quintet with clarinettist Kai Fagaschinski; disciplined, tonally rich exchanges with Toshimaru Nakamura on Aluk; and rigorous harmonic research conducted in the company of Radu Malfatti on Imaoto.
Those duos locate and calibrate often minute gradations of movement, texture and contrast within narrowly defined parameters. Not coincidentally, this is also the strength of Pinna, a 50 minute duo with laptopper Tim Blechmann recorded in a Viennese church in 2010. Blechmann is the more active of the two, counterpointing Filip's wafer-thin tones with striated, fizzing frequencies and gritty bass rumble. His contributions give the album a relatively expansive sweep, as well as an undulating, linear momentum, with clusters of louder, busier passages linked by passages of elongated static that seem to arc and slide at the same time. True to type, they build to a sustained, noisy climax in the last ten minutes. The performance recording is lightly pockmarked with audience noise in the form of sundry bangings and clatter. They helpfully complement its digital textures, imbuing them with a sense of dimension while grounding them in a physical space."-Nick Cain, The Wire
Interview with Tim Blechmann
Why 'Taus'? What does it mean?Klaus and me first played together at the fund-raising concert for the klingt.org webserver. Dieb13 (who runs klingt.org) asked for a name and suggested `Taus' as a combination of Tim and Klaus. A similar name was used by the duo of his girlfriend Billy Roisz with Silvia Fässler, who performed as `Silly' before renaming to `Skylla', and Dieb13 and Billy sometimes use the name `Dilly'.
Pinna sounds very different from your earlier duo on L'Innomable. Can you describe what you see as the differences between the two discs?Our first release `The Organ of Corti' was a digital studio recording. We spent a few days at Kleylehof, Klaus's atelier/farmhouse on the border between Austria and Hungary, playing and recording every night. The sound is very clean, because everything is digitally generated and recorded. `Pinna' was a recording of a concert that we played in a small church in Vienna. It is a microphone recording of a 'real' sonic space: we used 5 or 6 speakers distributed in the space, e.g. one speaker was laying on the gallery facing the ceiling. The microphones captured the sound from the speakers, the reverberation of the space ... and all kinds of environment sounds like birds, audience movements, people passing by, etc, which cannot be separated from the music.
Yes, I really like the fact that you hear the space in Pinna; it seems to me that any improvisation is specific to the context in which it was played, and it's often good to hear something of this in a recording. But could you tell us more about the instrumentation for this church concert? Whatexactly were you both playing?Klaus and I were using computer. Klaus uses only sine waves, while I am playing noise textures and crackle sounds. These sounds are very easy to distinguish, because they don't mask each other. We always hear precisely what the other musician is playing, so we can react very directly to the situation. However, the computer itself doesn't produce any sound, so we need loudspeakers to transform the electrical signal into vibrations. When playing a concert, it's always a question, which speakers?, how many?, and where to place them? For Klaus's sine waves, it doesn't really matter where you place the speakers, but he always likes to have a subwoofer to be able to play very low-frequency sounds. But for my noise textures, the placement of the speakers matters a lot because they are very easily locatable, and I try to play different sounds on different speakers.
Musically the piece is mostly very quiet, and yet the sound seems really full and rich. I suppose that comes from the spatial aspect. Was it evident to you at the time that the set you were playing was very strong, or did you only think it was worth releasing on disc once you'd heard the recording?It was probably one of our most relaxed concerts. As it was a rather hot weekend in July, not so many people came to listen to the concert and therefore the situation was very concentrated. Bob Ostertag once wrote that John Zorn refused to play for too many people because it ruined the music. He has a good point there, as it is much more inspiring to play for an attentive audience. Playing with Klaus in such a situation is almost a form of meditation.
We actually didn't think of a recording, but Thomas Grill, one of the organisers, brought a mobile recorder. When I heard the recording, I was pretty surprised that it really captured the atmosphere of the concert. There were actually some rather loud parts towards the end of the concert: in fact I had to reduce the volume of the final part for the CD to avoid listeners having to adjust the volume themselves when the quiet part is too quiet or the loud part is too loud.
You say that playing with Klaus is almost a form of meditation, and that really hit home today when I was trying to select a short extract from the piece to use as a taster on the label website. It was really hard, because the pace at which the music moves is glacial. It's like waiting for New Zealand to bump into Chile. This isn't so evident when you're in the flow listening to the whole piece, but picking out a 2 or 3 minute extract feels meaningless; it tells you next to nothing about the music in its totality.
To quote Morton Feldman: "All we composers really have to work with is time and sound - and sometimes I'm not even sure about sound". I suppose this applies to almost any music. When the music is performed, it is always in a context: a specific event does not come on its own, but it is preceded and followed by other music. When taking a small sniplet, this context gets lost.
Could you say a little about the improvised music scene in Vienna? You've mentioned Dieb13 and Billy Roisz, as well as Thomas Grill - and Katharina Klement and Angelica Castello are credited on the sleeve - all musicians who I rate very highly. There seem to be a lot of active and interesting players. Do you think there are any distinctive features about the scene in Vienna?
There are quite a few interesting musicians in Vienna, although I am not sure if they consider themselves mainly as `improvising' musicians. However one common aspect of many Viennese musicians is the use of electronics. One reason might be the electronic music course, `Elak', that many Viennese musicians attended in one way or another, and where Austrian computer music legend Günther Rabl taught for many years. It's also where Thomas and Katharina are currently lecturing. At the moment all my regular collaborators from Vienna use electronics: Klaus is using a laptop, Manuel Knapp plays analogue feedback devices, and Conny Zenk uses a computer to do video projections.
Could you tell us how you earn your living? Is it possible to make money from musical activities in Austria?
I am definitely not able to make my living from music. And I know only very few musicians who can make their living from their own music. I mainly earned money from developing software. Some of my projects are somehow related to music, although it doesn't happen very often that they are related to my own music. Currently I am looking for a way to do a PhD somewhere in the field between computer sciences and computer music.
In general I suppose it is really hard to make one's living from music, unless the music is suitable for the mass, institutionalised or you are extremely lucky.
Yes, it's the same in the UK, but I suspect there's even less state support for this kind of music here. But then people like Seymour Wright argue that in some ways it's better if your music is totally separate from the business of earning your living, because that way commercial factors don't affect your aesthetic choices at all.
One can probably distinguish between making a living from arts, making a living from something related and doing something completely different. However it is double-edged: if you try to survive with arts it is possible that you adapt it. Or even worse: you could change the focus from developing
your work to promoting it. But on the other hand you have much more time to focus on your own works, if you don't have a day job. When doing something related to arts, you at least use the same tools/techniques and it is not
completely detached.
Personally, I like to have the distinction between my work/research which is more of an intellectual challenge for the brain, and my music/art that is for the heart to make life worth living.
This album has been reviewed on our magazine:




The Squid's Ear!

Artist Biographies

Track Listing:

Related Categories of Interest:


Improvised Music
Electro-Acoustic
Electro-Acoustic Improv
Free Improvisation
Duo Recordings

Search for other titles on the label:
Another Timbre.
---

Recommended & Related Releases: