Capece, Lucio / Birgit Ulher

Choices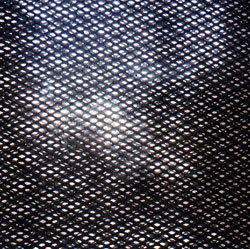 The first meeting on disc of two of the finest and most innovative electroacoustic instrumentalists in Germany, performing on reeds, trumpets, radio, speakers, and preparations.


Sample The Album:


product information:

Personnel:


Lucio Capece-soprano saxophone, bass clarinet, preparations

Birgit Ulher-trumpet, radio, speakers, preparations

Click an artist name above to see in-stock items for that artist.
---


Label: Another Timbre
Catalog ID: at41
Squidco Product Code: 14585

Format: CD
Condition: New
Released: 2011
Country: UK
Packaging: Jewel Tray
Recorded live on May 14th, 2010 at Blurred Edges Festival in Hamburg by Michael Maierhof and Boris Vogeler.


Descriptions, Reviews, &c.
Three pieces from 2010, the first meeting on disc of two of thefinest and most innovative instrumentalists in Germany.
Another Timbre's Interview with Birgit Ulher, February 2011
Listening to Choices there seems such a similarity between your andLucio's approaches to your respective instruments, that it's almostsurprising that this is your first disc as a duo. When did you firstplay with Lucio?
- In September 2008 I shared a concert with him at Alberto Ukebana inBerlin, where we both played with other musicians. As we liked eachother's playing we decided to try playing together, and did this thenext time I came to Berlin. I felt an affinity with his approachstraightaway and it worked musically from the beginning.
You both use preparations to great effect, and at times Choices soundsas close to percussion as it does to wind or brass music. Have you madea conscious decision to distance yourself from the 'natural' sound of atrumpet? Or do you sometimes play 'pure' notes in an improvisingcontext?
- I always had an affinity with percussion and used to play it forseveral years, though mostly just for myself. I rarely play 'pure' notesin an improvising context because I think everything in this area hasbeen done already. I'm more interested in the subtle tonality and finegradations between sounds than in the obvious one, which is generallycalled tonality. The sounds have an internal structure, and thepreparations are used as resonating systems. For me this is the resultof many years working on the sound of the trumpet and not a question ofhow far I can get away from its 'natural' sound. But it's also been aconscious decision to work in the field which interests me most. I'ddescribe this field as material research and the placement of sounds ina time structure.
You trained as a visual artist, and are largely self-taught as amusician. Does your background in the visual arts affect the way youapproach your instrument?
- Absolutely. As a visual artist I have been into material research aswell. In the visual arts it is much more common to work in very specificareas, while in music it is still common to play different styles ofmusic. Maybe it has to do with the different tasks of composers andinterpreters, which never existed in the visual arts. Morton Feldman hasa great point on this in his essay 'The Anxiety of Art'.
Lucio has frequently been linked with the term 'reductionist', and onChoices your playing is very similar to his. But I know it's a termthat you're not altogether happy with. What are your reservations aboutthe concept?
- My playing on Choices isn't that far from my playing on my solo CD'Radio Silence No More' and the CD 'Tehricks' with Gregory Büttner.I have always been interested in reductionism, but I don't like to becategorised by any 'ism'. What I didn't like so much about the earlyBerlin reductionism was the strict concept and rules that came with it.On the other hand it might have been important at that time to make aradical break for creating something new. But I've always beensuspicious of categories and somehow I don't care whether something is'reductionist' or not as long as I'm convinced by the music.
Do you feel that in general there's been a gentle stepping away from theextremes of 'reductionism' within improvised music in Germany over thepast five years?
- Yes, it's quite a while since the term reductionism was establishedand the work of the musicians who were mainly involved has developed inmany different directions. Also the improvised music scene in Berlin haschanged a lot. Many musicians have moved there from all over the worldand brought their own approaches, so there are lots of differentapproaches at the moment. In Berlin there's currently a tendency todissociate from the term 'improvised music' and work more on conceptualor composed pieces.
Berlin has historically been the centre for improvised music in Germany,and you went there to record two of the tracks on Choices in Lucio'sstudio. But the long piece on the disc was recorded at a festival inHamburg, where you've been based for nearly 30 years. Do you thinkbeing outside Berlin has advantages as well as difficulties for animprovising musician in Germany? - Yes, it does. Now I'm quite contentliving in Hamburg, but for many years I thought about moving to Berlin,and would have for sure if Hamburg wasn't so close. I've always playedwith Berlin musicians like Chris Heenan (who is part of my groupNordzucker) and Ute Wassermann, to name just those I work withregularly. What I like about the Berlin scene is that improvised musicis taken and discussed really seriously, which isn't always the case inHamburg. And there are certainly many more interesting musicians inBerlin. But there are so many musicians there that there's more of aseparation from other musicians, which doesn't happen so much inHamburg, because the scene here is very small. Sometimes there's a hypeabout certain ideas or concepts in Berlin, which is quite uncriticallytaken over. I'd be afraid of getting stuck in Berlin; you can play a lotof gigs there, and great musicians come to town all the time, but Iguess that while this would keep you very busy, maybe you'd forget aboutworking outside the city. If you live in Hamburg you really have to workon getting around, otherwise you'll be stuck there with very smallinput. But the advantage of living in Hamburg is being able toconcentrate on your own work without the distraction of hundreds ofconcerts happening every month. And since the improvised music scene isvery small you get in contact much more with other scenes likeelectronic or new music. There's been a lot going on here in the lastfew years, since we founded an association for sound art, improvised,electronic and composed music. We found new ways of organising concertslike the 'blurred edges festival', where one track of Choices wasrecorded.
This album has been reviewed on our magazine:




The Squid's Ear!

Artist Biographies

Track Listing:


1. physical 9:16

2. chance 27:44

3. orbital 4:51

Related Categories of Interest:


Improvised Music
Electro-Acoustic
Electro-Acoustic Improv
European Improv, Free Jazz & Related
Staff Picks & Recommended Items
London & UK Improv & Related Scenes
Free Improvisation
Duo Recordings

Search for other titles on the label:
Another Timbre.
---

Recommended & Related Releases: