Agnel / Gauguet / Neumann

Spiral Inputs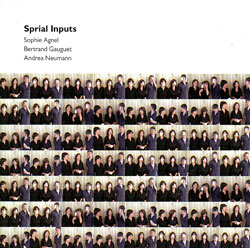 Pianist Agnel, saxophonist Gauguet, and electronic/piano frame artist Neumann in 4 beautifully crafted pieces recorded using a spatialised sound system developed by Benjamin Maumus.


product information:



Label: Another Timbre
Catalog ID: at39
Squidco Product Code: 14583

Format: CD
Condition: New
Released: 2011
Country: UK
Packaging: Jewel Tray
Tracks #01 and 04 recorded on February 19th, 2010 at La Filature, Mulhouse. Track #02 recorded live on June 12, 2008 at La Maison de la Musique, Le Garric. Track #03 recorded live on February 20th, 2010 at Biblioteque Grand'Rue, Mulhouse.


---
Personnel:


Sophie Agnel-piano

Bertrand Gauguet-soprano saxophone, alto saxophone

Andrea Neumann-piano frame, electronic devices

Click an artist name above to see in-stock items for that artist.

Sample The Album:


Descriptions, Reviews, &c.
Four beautifully crafted pieces recorded 2008 - 2010 using a spatialised sound system developed by Benjamin Maumus.
"Benjamin worked with the spatial diffusion while we were playing, which had the effect of troubling our sense of the sound sources and the sound balance.... Playing in this way drew you into a sense of losing control, forcing us to de-centre our methods of playing and listening." Bertrand Gauguet
Another Timbre's Interview with Bertrand Gauguet, March 2011
"There was a speaker under the piano frame which only broadcast the sounds of the alto saxophone..."
I sent a copy of Spiral Inputs to someone without telling him what it was. He was very enthusiastic, and said that "from the first moments you know you're in safe hands". By this he meant that there's a confidence and cohesiveness in the interplay between the three of you that is remarkable. So when and how did the trio come into being, and - given that you all live in different cities - how much have you worked together as a group?
- Sophie and I originally had a duo, but we wanted to develop it into a trio. As we wanted the music to be oriented towards electronics, we contacted Andrea. We first worked as a trio during a residency at GMEA d'Albi in France and had our first concert there in June 2008. The central feature of this residency was that we should work with the sound technician Benjamin Maumus, in order to carry out explorations using amplification and the experience of listening in a playing situation. Benjamin set up a system whereby our sounds were distributed more or less randomly across 15 speakers, and so our sonic sources were being widely diffused in a way that modified our processes of listening.
Later we had another residency which was organised by the Festival Météo in Mulhouse, where we did two concerts. So we haven't played together all that often, but when we have, we've had both the time and space to explore together.
Tell me a bit more about the electronic diffusion of your sounds. Was it a strange experience to hear 'your' sounds coming from elsewhere? And did it change the way you played and listened?
- Yes, very much. For example, there was a speaker under the piano frame which only broadcast the sounds of the alto saxophone, and another underneath that which carried Andrea's sounds. And there was another right next to me which only broadcast the piano, and so on. Benjamin worked with the spatial diffusion while we were playing, which had the effect of troubling our sense of the sound sources and the sound balance so that a different sonic image was produced. Listening to and playing in this way drew you into a sense of losing control, forcing us to de-centre our methods of playing and listening. It was a truly enriching experience.
In Spiral Inputs melodic elements are used to an extent that's unusual in improvisation. It's not that there are any tunes, but there are certainly places where melody is used alongside more customary 'abstract' textural sounds. Was this something that you decided to explore, or did it just happen?
- It just happened !
The melodic elements, together with the cohesiveness of the music, made me wonder to what extent these pieces are 'free improvisation'. Did you prepare or rehearse the music in any way?
- Some of the pieces were improvised without any prior discussion. But others were the end result of a process of research into our different ways of playing, the different materials we use, and into the ways in which we listen and react to each other.
Tell me a bit about yourself. When did you start playing improvised music?
- I became committed to this area of music after meeting Michel Doneda in 1999, and then Barre Phillips the following year. As a result of these encounters I was able to see more clearly what areas I wanted to focus on, areas that I was already exploring intuitively both with the saxophone and with electronics. It was at this time that I also began organising concerts in Rennes and founded a group for working in interdisciplinary arts
Who are the players who have affected you the most?
- Aside from the two musicians I mentioned before, the players who stand out for me (and for very different reasons) are probably: Archie Shepp, Steve Lacy, Evan Parker, John Butcher, Axel Dörner, Lê Quan Ninh, Otomo Yoshihide and John Tilbury.
What direction do you see yourself following in the near future?
- I want to continue the work I've done with electronics, which is something I've let slip a bit recently, so this year I have a residency at Muse en Circuit where I want to produce an album. As for improvisation, there are lots of new pathways that I'm exploring, but I'd rather not talk about them until they've become more concrete....
Explain a bit more about your work with electronics. I've only heard you on saxophone, and didn't realise you've had a long-term involvement with electronics as well.
- It's a part of my work that's remained fairly obscure up to now. I produced some electronic pieces for artists' films, for choreographers and also for the radio. It's a music that you could describe as lo-fi but which is also abstract and has narrative elements.
From outside, France appears to offer a lot more state support for experimental musicians than most other countries. I'm sure the reality probably isn't so rosy, but does the system there make it viable for people like to you make a living from the music?
- In France there's a mechanism whereby if an artiste can prove that he or she has a certain number of professional engagements, then they are entitled to a monthly allowance from the state on which you can live. But this system has been dramatically tightened in recent years and many artistes have lost that status. For musicians involved in experimental work such as improvisation, it's often particularly difficult to maintain your status because of the commitments and pressures of the area. But it is true that in France arts and culture are funded overwhelmingly by the state.
Reviews:
"Recorded in two sessions in 2008 and 2010, Spiral Inputs, published by Another Timbre, brings together three great explorers in four hallucinating improvisations. One disc, two sessions, three musicians, four improvisations, five instruments for only one result: a very singular dream voyage, neither anxious nor calm, navigating through strata that are autonomous and fluctuating, but according to a certain logic and never gratuitous.
The first thing that strikes you in these improvisations is the singularity of the timbre (probably largely due to the originality of the instrumentation), but also its expanse and its richness. The meeting of these three musicians is alchemical: while the musical personalities are clearly distinct, they couldn't be better coordinated or balanced. The delicacy and attention to detail of Sophie Agnel allows Bertrand Gauguet space to deploy his discrete gentleness, while the infinite creativity of Andrea Neumann enriches the wealth and depth of these four improvisations. At first sight each player seems to be exploring and employing only one single parameter and instrumental timbre, independently of the others, but they are listening and take account of each other in ways that bring together their experiments into a homogenous and coherent sonic landscape. The experimentation forms layers and strata which overlap, interlock and unfold in a simple but organic architecture.
"If the ensemble sound is coherent and homogenous, the sonic landscapes are extremely diverse and heterogeneous. Spiral Inputs navigates between different biospheres governed by different laws (differentiation, opposition, symbiosis, etc..) and within multiple environments. These creation of these musical territories contain multiple energies composed of cold, abstract levels, obsessive repetitions, disturbing arpeggios and abyssal resonances. As many soft sounds as violent form this strange and unreal musical cosmos, ghostly, almost evanescent as each phase seems ephemeral and precarious. I say "almost" because this evanescence is rather dream-like: if each landscape seems volatile, it has nevertheless the consistency of a dream-scene, guided by the inaccessible logic of the sleeper.
Spiral Inputs unites three musicians who know how to explore the deep foundations of their collective unconscious, and that of their instruments, and who can thus lay bare the creative process. An introspective and poetic journey which leads the listener into the abysses of a creativity that is at once rich and minimalist, as reduced as it is profound. Four electroacoustic pieces, dreamy, captivating and bewitching."-Julien Heraud, improv-sphere
This album has been reviewed on our magazine:




The Squid's Ear!

Artist Biographies

Track Listing:


1. Spiral #1 18:16

2. Spiral #2 18:39

3. Spiral #3 9:47

4. Spiral #4 4:54

Related Categories of Interest:


Improvised Music
Electro-Acoustic
Electro-Acoustic Improv
European Improv, Free Jazz & Related
London & UK Improv & Related Scenes
Free Improvisation
Trio Recordings
Instant Rewards

Search for other titles on the label:
Another Timbre.
---

Recommended & Related Releases: