Rouge Ciel

Bryologie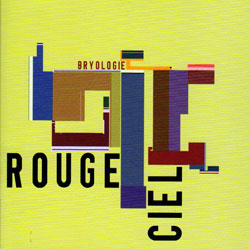 This Canadian quartet of Guido Del Fabbro, Simon Lapointe, Antonin Provost & Nemo Venba merge rock, prog, jazz and contemporary concepts in impressive ways; reference Conventum, recommended!

Price:

$13.95






Out of Stock
Quantity in Basket: None

Log In to use our Wish List
Shipping Weight: 1.00 units


product information:



UPC: 771028251926

Label: Monsieur Fauteux
Catalog ID: MFMV? 19
Squidco Product Code: 13897

Format: CD
Condition: New
Released: 2010
Country: Canada
Packaging: Cardstock foldover
Recorded by Bernard Grenon and Robert Langlois at the Studio 270.


---
Personnel:


Guido Del Fabbro-violin, 5 string violin, electric violin, electronic processing, programing, banjo

Simon Lapointe-piano, organ, Fender Rhodes, analog synthesizer

Antonin Provost-electric and acoustic guitars

Nemo Venba-drums, trumpet

Click an artist name above to see in-stock items for that artist.

Sample The Album:


Descriptions, Reviews, &c.
"With Bryology, the quartet pushes further transmutation of genres already started with their previous albums. Games forms combining improvisation and tight composition. Acoustic, electric and electronic textures served amid rock, jazz or avant-garde. A band with an unusual line-up Guido Del Fabbro (violin and electronics), Simon Lapointe (keyboards), Antonin Provost (guitars) and Nemo Venba (trumpet and drums), Rouge Ciel offers a music turned towards the pleasure of creation without constraints.
Rouge ciel, a young band from the younger generation, is one famous collective of composers and improvisers who switch back and forth between scored and improvised music. Their diverse pieces draw elements from Eastern European folk, jazz, and down-and-dirty rock music... A wide array of instruments - from acoustic guitar and melodica to turntables - are put to contribution in their devilish, captivating beats. Their joie de vivre is irresistible!"-Monsieur Fateux
Rouge Ciel interview
by Marcello Marinone in Agartha (Italy), March 15, 2005 " 2805"One of the most interesting and original new bands, a mixture of rock, prog, jazz, folk and contemporary music."
One of the most interesting and original new bands, a mixture of rock, prog, jazz, folk and contemporary music. We talk with Rouge Ciel's violinist: Guido Del Fabbro .
1. The beginning, the history, the influences, the origin of the name, of Rouge Ciel
The band started in 1996 as an acoustic guitar/violin duo (Antonin Provost and me).The name come from this period but sincerely, I really don't know when it come out, but like our music it's more an impression than anything else. By the way in French it mean "red sky" or in fact " sky red " (not as: the sky that is red but as a color name). In '97 we met Simon Lapointe, jamming at a high school winter camp and Némo Venba joined the band one year later (for 3 months R.C. was a sextet). For the first 3 years we were mainly influenced by early jazz-rock, acoustic projects from Windham Hill records, late '70 ECM albums and some prog bands old stuff but new- music and contemporary music were gradually incorporated in the band composition process and general approach.
2. Your first album will be reviewed by the critics as strongly referred to the historical Canadian band Conventum...which is your opinion.
Even we never tried to imitate their work Conventum surely was a great inspiration for us. The way they blended their folk influences into their own vision of music is incredible. What André Duchesne, René Lussier and Jean-Pierre Bouchard did since Conventum are still strongly interesting us.
3. Make a description of your music
It's a blend of new-music, folk, dirty rock, contemporary and classical influences. Sometimes separately and sometimes at the same time.
4. Which aspects of your music do you think are really innovative elements? and which ones are taken from the tradition or comparable to other artists works?
I think it's quite impossible to say that you are making something really new in music. It's all about how you use your imagination to construct a music of your own. In Rouge Ciel the possibilities of different instrumentations and playing and the restriction of having no bass player really build our sound. We are inspired by the past and our era but we are very curious of what we will do with all this in the future. The greatest thing, I think is that we can't really know.
5. What about the Canadian alternative music scene? There are some interesting new bands? Do you know some Italian bands?
For the last two years I've been listening to a lot of new song writers (franco and anglo) from Montreal and Quebec area, to old rock, country and bluegrass albums. So apart of the "musique actuelle" scene that I'm close of I haven't seen that much in alternative scene. There is one band i'm in you should look at, it's Concorde Crash you can hear some stuff on concordecrash.com. Shame on me I don't know much about the alternative Italian music scene since PFM but really I must look at it. Here, there is a revival of old popular songs in the italo-canadian musical community that is very interesting.
6. A new album is ready to release, the difference from your first, the release date, a brief history about the production.
We all have taken some experience since the first album so it was easier to work on this one. We recorded it in 3 days in October '04 at the Studio Victor in a big room with an acoustic piano. We played all the main parts the 4 of us at the same time and after we add some overdubs. I think this album sounds better, it's more raw and have more soul in the producing process. We mixed it at the 270, a smaller studio with a really good mixing board. I hope it will please our public because we're happy about the result. The funny thing is that even if it's a new album the more recent compositions are from 2000. It's suppose to be available in the beginning of spring.
7. There is a future for non-conventional music in your opinion?
Yes, because non-conventional music and musicians are a source of inspiration for more mainstream artists.
8. Which is the feedback for your first album? Are you satisfied?
The critics were very good with us in general and we are pleased with that. The sales part is an other story but it's not that bad.
9. Who or what inspired your first two albums?
We composed this music between the mid '90's and 2000 (from 15 to 20 years old) and it was a period of great musical discovery so it's hard to point on one or two specific things that inspired us . It's more the open state of mind that we were in that was important.
10. Which musical aim do you want to reach with your compositions?
Challenging ourselves, having fun and play with feeling no matter how complex or not the music we are playing is and never be afraid of trying new ways of composing or playing our instruments.
11. By the way, which kind of method do you prefer to use to obtain new solutions in your compositions?
We tried a lot of concepts like everybody is writing the part of someone else or everybody write a section of a piece etc. Sometimes it worked at the first try but a lot of time the results were not as good as the intentions so the pieces did not make it to the albums. Individually we all have our ways of deconstructing or re-exposing basic ideas using conceptual restrictions of all kind. Writing parts that are not in the natural field of the players is maybe one that we all enjoy.
12. What about the choice to be a full instrumental band? Do you think it could be possible to incorporate vocal parts in your music?
It's an esthetic choice in this band. The four of us could worked on songs together but it would be something else than Rouge Ciel."-Luke Martin in Splendid E-Zine (USA), June 6, 2002

Artist Biographies

Track Listing:


1. Bond precisionnel 2:24

2. Imbroglio 5:02

3. Agitato 4:34

4. Tess 3:16

5. Antimemoire 7:19

6. Bryologie 8:05

7. Sous le vent 3:18

8. Jubilation prozoaire 9:20

Related Categories of Interest:


Rock and Related
Improvised Rock
Improvised Music
Rock and Related

Search for other titles on the label:
Monsieur Fauteux.
---

Recommended & Related Releases: