Delta Saxophone Quartet

Uneasy Dreams [DVD]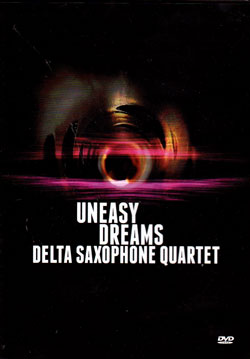 The Delta Saxophone Quartet presents works by some of UK & Ireland's most original composers: Michael Finnissy, Mike Searby, Stephen Goss, Gerald Barry, and Tim Ewers.


Sample The Album:


product information:

Personnel:


Martin Robertson-soprano saxophone and alto saxophone

Peter Whyman-alto saxophone and soprano saxophone

Tim Holmes-tenor saxophone and alto saxophone

Chris Caldwell-baritone saxophone, tenor saxophone and alto saxophone

Graeme Blevins-soprano saxophone

Click an artist name above to see in-stock items for that artist.
---


UPC: 9781902440064

Label: FMR
Catalog ID: FMR DVD004-0310
Squidco Product Code: 13791

Format: DVD
Condition: New
Released: 2010
Country: Great Britain
Packaging: DVD snap case
All tracks recorded in the period of November, 2007 and November, 2008 Except Tracks 2, 22, and 23, 'Uneasy Dreams', recorded June 2006. Engineered by Ebby Acquah.


Descriptions, Reviews, &c.
"Following on from ground breaking commissions and CD releases, the Delta Saxophone Quartet in partnership with Kingston University London, has now produced this art house DVD which forms part of its 25th anniversary celebrations. The music presented here features works by some of the UK's and Ireland's most original and challenging composers: Michael Finnissy, Mike Searby, Stephen Goss, Gerald Barry, and Tim Ewers, combined with eclectic soundscapes from the quartet.
The visual design is by Frank Millward and combines analogue studio footage with digital 3D spectrographic responses to each of the music tracks.
The DVD also includes a variety of interviews which give a unique insight into the often hidden worlds of composers and performers living in contemporary UK plc today. It's all disturbingly reassuring.
Formed in 1984 the Delta Saxophone Quartet is one of the UK's leading contemporary music groups.The quartet has been broadcast on many television and radio stations worldwide including: BBC, ABC, Radio New Zealand, Dutch Radio 6, Rai 3, WDR, Taiwan TV, Moscow TV, Uzbekistan State TV, Star TV Hong Kong, DPRK (North Korea, State TV plus numerous European and US internet radio feeds.
The DSQ has performed in a variety of European and Asian cities such as London, Edinburgh, Moscow, Tashkent, Samarkand, Ferghana, Taipei, Khaosiung, Taichung, Perugia, Catania, Ljublijana, Rovinj, Beijing, Brandenburg, Groeningen, St Poelten, Hong Kong and Pyongyang. Extensive tours have also been made in Austria, The Netherlands, Uzbekistan, Taiwan and the UK. The quartet has also been featured in numerous International Festivals, for example, London Jazz Festival, Meltdown Festival, Etnafest, Huddersfield Contemporary Music Festival, Brighton International Festival, Steiriche Herbst, Gandusiana Music Festival, Zomer Jazz Fiets Tour, Sounds of the Dolomites Festival.
They have received international acclaim for their five solo CD releases, with Minimal Tendancies receiving 5 stars from the BBC Music Magazine, and Dedicated To You But You Weren't Listening being selected as album of the year in a variety of jazz and rock magazines.
Uneasy Dreams (2006) is based on fantasy sequences from films directed by Terry Gilliam and is in three sections: Tideland, A Blues for Sam Lowry and The Fisher King. The opening section, Tideland, conjures up eleven year old Jeliza Rolse's elaborate flights of fancy. The piece begins in murky twililght, the air punctuated by swarms of fireflies; the texture gradually transforms to evoke an underwater dream world. Sam Lowry, the anti-hero of Gilliam's film Brazil, is an ordinary man trapped in a totalitarian dystopia but resigned to his fate. Gilliam's film The Fisher King retells the Parsifal story in modern-day New York. The music for this final section is a distorted and half remembered chorale that draws on a chord sequence from Wagner's Parsifal.
All three sections of Uneasy Dreams run without a break; the piece lasts 8 minutes. The title is borrowed from the first sentence of Kafka's Metamorphosis: 'As Gregor Samsa awoke one morning from Uneasy Dreams he found himself tranformed in his bed into a gigantic insect...'
Before the Road (1997) was composed for Saxophone or Clarinet Quartet and commissioned by BBC Radio 3 for the radio drama series Between the Ears. It was a preparatory study for The Road for Orchestra, commissioned bu the Frankfurt Radio Symphony Orchestra. The composer's note for the first performance stated that;
'The title refers to an image from childhood of sun with high wind on a remote road. The music is looked at as if it were a series of objects whose secret must be grasped - there is no turning away until the force of each is perceived. This intent looking gives the material a vertiginous aspect and clouds its origin. The music is not programmatic, the title and note came after the music was composed...'
In spite of the composer's last sentence the music does show many characteristics of programmatic or film music which is not surprising given the nature of the commission. This is caused by the music's fragmentary and quixotic nature with seemingly crazy changes of mood mid-phase. The music is unpredictable and wonderfully rich in its allusions. The most audible of these is the relationship with Stravinsky's music, particularly his earlier chamber music such as the Octet for wind instruments and The Soldiers Tale.
Before the Road is in eleven very short movements and creates a variety of contrasting musical moods and textures. The expression markings in the score are vivid, fpr example the first movement is marked 'volatile', the second 'chugging' and the the fifth 'vicious'. In the final movement the markings move from 'sad' to 'cheerful' back to 'sad' and finally to 'sanguine' in only 5 bars giving a clear example of the mood swings in the piece. The final bar of the work is an exact replica of the opening, suggesting a reprise but then breaking off - a typical device of Barry's music.
Mike Searby
On The Edge was written especially for the Delta Saxophone Quartet and the title was inspired by Chris Caldwell's website; www.musicontheedge.com. The name suggested to me the feeling of nervous excitement, possibly fear felt when standing at the edge of a new venture and the state of unreality experiences in certain dreams. These feelings, in turn, inspired the fluttering and hesitant nature of the main theme with its quarter tone inflections of the melodic line. In common with most of my music, it is written in a single movement but contains five sections each separated bu a short chordal refrain.
Tim Ewers
Arias and Ghosts was composed in 2006 for the Delta Saxophone quartet and first performed in May 2007 at Kingston University. It consists of five contrasting movements: Desolate Landscape; Quicksilver; Polish Canons; Shocks and Arias and Ghosts. Arias and Ghosts is inspired by Xenakis's stunning Saxophone Quartet Xas, and used a multi-octave scale from the latter piece to generate all its pitch material. Each movement explores a particular textural landscape, and the titles illustrate how the movements are created or conceived. Desolate Landcapes explores the scale through sustained but ever-shifting harmonies. Quicksilver makes use of the virtuosity of the quartet in a frenetic and increasingly impassioned movement.
Polish Cannons alludes to Lutoslawski's Funeral Music for Strings because of the similarity of the structure of its pitch material (using semitones and augmented fourths) and the use of canonic techniques. Shocks explores the layering of varied repeated notes which create a complex shifting texture; the shocks in the title are sharp accented chords which spark the music into life. Arias and Ghosts gives each player in turn an aria which is ghosted by the other players to create its accompaniment. The relatively conventional melodies in the final movement are controlled by an aleatoric process which creates unpredictable twists and turns to the line. The other musical model that I had in mind is Ligeti's Ten Pieces for Wind Quintet which is a masterpiece of short but vivid textural sketches.
Selected Movements of Great Masters was commissioned by the Delta Saxophone Quartet for first performance at the Huddersfield Contemporary Music Festival in November 1996. It is dedicated to the then director of the festival, Richard Steinitz.
Finnissy has always frawn on a wide range of musical sources for inspiration including folk music from around the world as well as the whole range of Western classical music. In this piece however, references to the music of the great masters are fleeting, capturing the essence of the music rather than explicitly delivering quotes and remain, almost entirely, below the surface of the dense, polyphonic musical texture. The density of the texture is also increased by the range of two alto and two tenor saxophones, thereby reducing the available pitch range. The music is constructed in overlapping layers; each player has a solo section and there are three tutti sections, but only in the final tutti do the players share a common tempo. The composer also indicates the spatial disposition and movement of the players; the tuttis are performed seated at the front of the stage and the solos are delivered from the back of the stage and facing away from the audience. During their solos, the players are asked to perform a variety of physical actions. These should be done as un-self-conciously as possible and should not be exaggerated or played for laughs.
Selected Movements of Great Masters - Spohr tugs at his forelock, Schubert brushes his teeth, C.P.E. Bach scratches his bottom, Beethoven blows his nose...
Tim Ewers
Stephen Goss (b.1964)
Reader in Composition at the University of Surrey, he writes communicative and accessible music that draws freely on a number of styles and genres. These eclectic influences result in the unexpected juxtapositions that characterise much of his work. His music has been recorded on over 40 CDs by more than a dozen record labels including EMI, Decca and Telarc. Recent commissions have come from: Grammy winner David Russell, Natalie Klein, William Bennett, The Choir of St Paul's Cathedral, The Yehudi Menuhin School and the Barcelona Symphony Orchestra. His piece The Garden of Cosmic Speculation for violin, 'cello, bass clarinet and piano (2005) was profiled on The South Bank Show on ITV1. Xuefei Yang's recording of Goss's The Chinese Garden for guitar (2008) was nominated as Editor's Choice in Gramophone Magazine and won Best Instrumental CD in the Canton Radio Classical CD awards in China. In October 2009, the Royal Liverpool Philharmonic Orchestra gave the first performance of Stephen's Albeniz Concerto (2009); this piece will be released on EMI Classics in 2010.
Gerald Barry (b.1952) was born in Clarecastle, County Clare, Ireland and studied music at University College, Dublin. He subsequently studied composition with Stockhausen, Kagel, Schat and Cerha. In 1982 he was appointed as a lecturer in music at University College, Cork but since 1986 (after his election to the Aosdana - the state sponsored academy of creative artists) he has been a full-time composer. From the late 1980's onwards his music has been recognised internationally with commissions from the BBC Proms (Chevaux-de-frise for orchestra in 1988) and in 1995 his second opera The Triumph of Beauty and Deceit was broadcast by Channel 4.
He has written several other opera's, The Intelligence Park, The Bitter Tears of Petra von Kant and La Plus Forte (The Stronger). The Bitter Tears of Petra von Kant was staged at English National Opera and at the Basle Opera. The Interlligence Park is recorded on the NMC label and The Bitter Tears of Petra von Kant on the RTE label. A CD of his chamber music is also recorded on NMC. The Triumph of Beauty and Deceit and La Plus Forte recently received their American premieres with the Los Angeles Philharmonic and the New World Symphony Orchestra. In 2010 there will be four performances of La Plus Forte with the Toronto and London Symphony Orchestras and the Netherlands Philharmonic.
Barry's music shows the infuenceof Kagel through his use of quotation and his interest in opera and music theatre. He also uses chance-like processes to generate the pitches in his works and his structure often start mid-process and end abruptly. Essentially he is avoiding cliche and traditional approaches in his compositional techniques. His music is uncompromising and iconoclastic and clearly modernist in its expression and concerns, but still allows a wealth of illusion.
Tim Ewers (b.1958) is a Senior Lecturer in Music at Kingston University. He has a distinguished record in composition and has worked, amongst others, with Gemini, The Wallace Collection, Quorum, The Fibonacci Sequence, Jane Manning and Jane's Minstrels. His latest piece The Blackbird Sings was commissioned by Al Farabi Concerto for the Liverpool 10/10 Ensemble and was given its premier in March 2010 in the Wigmore Hall.www.tim-ewers.co.uk
Mike Searby (b.1960) studied composition at Manchester University with Geoffrey Poole and at York University with Richard Orton. He completed his PhD at Goldsmiths College on the later music of Gyorgy Ligeti in 2006. He has lectured in music at Salford University and is presently Principal Lecturer at Kingston University overseeing the teaching of composition at undergraduate and postgraduate levels. He has composed for a wide range of ensembles including Marabou for Soprano and Piano written for Jane Manning. Two images for four Chinese instruments (recorded on Hugo CD's: ML-C5007), Lament and Dance for solo trumpet written for Paul Archibald (published by Brass Wind Publications) and several works for various chamber ensembles. The style of his music is quite eclectic - composers that influence his work include Birtwhistle, Reich, Zenakis and Ligeti. He has also piblished extensively on the music of Ligeti including his book Ligeti's Stylistic Crisis: Transformation in his Musical Style 1974 - 1985 publishes by Scarecrow Press in 2010.
Michael Finnissy (b.1946) showed an early interest in music, both composing and playing the piano. He was awarded a scholarship to study composition at the Royal College of Music with Bernard Stephens and Humphrey Searle and following this continued his studies in Italy with Roman Vlad. Finnissy's early works were well received and he soon established a reputation in both this country and Europe as a composer of challenging and exciting music and as a formidable performer of his own piano music. He has been associated with the ensembles Ixion and Suoraan and has also worked extensively with dance companies and has a long association with the London School of Contemporary Dance where he established a music department in the 1970's. He has taught at the Dartongton Summer School, the Royal Academy of Music, Winchester College, the Katholieke Universiteit of Leuven (Belgium) and at the University of Sussex. He is currently Professor of Composition at Southampton University."-Uneasy Dreams website

Artist Biographies

Track Listing:


Improvisations by Delta Saxophone Quartet
(1) Quantitive by Delta Sax Soundscape
(15) Easing by Delta Sax Soundscape

Uneasy Dreams by Stephen Goss
(2) Uneasy Dream: Tideland

(22) Uneasy Dreams: A Blues for Sam Lowry (Brazil)
(23) Uneasy Dreams: The Fisher King

Before the Road by Gerald Barry
(3) Before the Road 1
(4) Before the Road 2
(6) Before the Road 3
(12) Before the Road 4
(13) Before the Road 5
(14) Before the Road 6
(16) Before the Road 7
(17) Before the Road 8
(18) Before the Road 9
(20) Before the Road 10
(21) Before the Road 11

On The Edge by Tim Ewers
(5) On the Edge

Arias and Ghosts by Mike Searby
(7) Arias and Ghosts: Desolate Landscape
(8) Quicksilver
(9) Polish Canons
(10) Shocks
(11) Arias with Ghosts

Selected Movements of Great Composers by Michael Finnissy
(19) Selected Movements of Great Composers

Extras - Interviews with the Composers
Stephen Goss interviewed by Mike Searby
Tim Ewers interviewed by Stace Constantinou
Mike Searby interviewed by Stace Constantinou
Chris Caldwell interviewed by Stace Constantinou
Michael Finnissy interviewed by Tim Ewers

Related Categories of Interest:

DVD

Compositional Forms
Improvised Music
FMR Records

Search for other titles on the label:
FMR.
---

Recommended & Related Releases: