Coltrane, John

Chasin The Trane, Revisited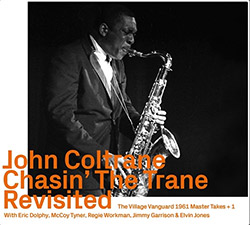 The 4-night engagement at the Village Vanguard in November 1961 with sidemen Eric Dolphy, McCoy Tyner, Reggie Workman, Jimmy Garrison & Elvin Jones resulted in saxophonist John Coltrane's 1962 "Live at the Village Vanguard" album, his evolving freedom surprisingly divisive and even decried as "anti-jazz", here reissued and remastered with a bonus version of "Spiritual".


product information:



UPC: 752156112020

Label: ezz-thetics by Hat Hut Records Ltd
Catalog ID: ezz-thetics 1120
Squidco Product Code: 31014

Format: CD
Condition: New
Released: 2021
Country: Switzerland
Packaging: Cardboard Gatefold
Recorded at The Village Vanguard, in New York, New York, on November 2nd and 3rd, 1961.


---
Personnel:


John Coltrane-tenor saxophone, soprano saxophones

Eric Dolphy-bass clarinet

McCoy Tyner-piano

Reggie Workman-double bass

Jimmy Garrison-double bass

Elvin Jones-drums

Click an artist name above to see in-stock items for that artist.

Sample The Album:


Descriptions, Reviews, &c.
"Chasing the Trane isn't a perfunctory pursuit. It's a lifelong undertaking and commitment. Countless curious souls have and continue to engage the endeavor, attempting to decode and internalize the essence of John Coltrane as a saxophonist and his associative lineaments, some conspicuous to quotidian inspection, others more subjective and elusive. Attendant with that everlasting attention eventually came the expected hagiography and habiliments of sainthood. John Coltrane arguably accumulated the most of any of his peers, particularly posthumously, but such a securely seraphic stature in the jazz firmament wasn't always a foregone conclusion.
The tectonic shifts John Coltrane orchestrated in music, not just endemic to jazz, but across global styles and forms, were so impactful and prodigious that skepticism and unalloyed indignation from certain recalcitrant quarters was inevitable. Such reactionary and defamatory detractors can be difficult to fathom, let alone reconcile, given how indelible John Coltrane's artistic imprint remains today. But he and allegiant confrere Eric Dolphy weathered more than their share of targeted ignominy when and after making their pivotal progress together as musical collaborators.
John Coltrane amassed accolades throughout his career, from envied professional beginnings with Johnny Hodges and Dizzy Gillespie through his subsequent ascendancy as a Miles Davis sideman and later with Thelonious Monk. It was with the anatomy of recorded music that came out of a four-night engagement at the Village Vanguard in early-November of 1961 that his prominence as fearless pioneer began to accelerate in earnest. The saxophonist's stand wasn't the first time that the venerable Manhattan club had served as an incubating hot house for the forces of jazz evolution, and it wouldn't be the last. Four years earlier, to the day, Sonny Rollins had used the stage to further explore his piano-less trio advancements. The rousing results, released in various commercial incarnations as Live at the Village Vanguard, would become one of the cornerstone concert recordings of the Blue Note imprint.
John Coltrane embraced the same harmonically treacherous format to make his most audacious and impactful statement of the engagement with the sea changing improvisation that titles this collection. Two previous iterations of the basic structural components performed the night prior and earlier the night of involved Eric Dolphy, and in the case of the second version, Roy Haynes replacing Jones on drums. Those preceding adventures have much to recommend them, but it's the final nearly sixteen-minute, unfettered blues edifice that's carried the cachet of a conquering hero over the ensuing decades.
An aura of the apocryphal accompanies the origins of the piece's title, but veracity reveals that it rests in recording engineer Rudy Van Gelder's dogged efforts to faithfully capture John Coltrane in motion from the stage by physically shadowing his ever-ambulating horn. The piece itself is a marvel of extended extemporaneous invention as expressway to visceral exultation. Jimmy Garrison's strings lock and release with the steady clip of Elvin Jones' sticks across cymbals and snare. Combined, it's the mighty engine room that would power the coalescing Classic Quartet, incarnate. Elaborating on germinal ideas absorbed from fellow tenorist John Gilmore, John Coltrane pours himself into a marathon solo that mixes familiar rhythmic potency with the atomizing, electrifying deconstructions of tone and texture that signify a protean template for thousands of free jazz performances to follow.
At the time, it was a lightning rod, inviting adulation and alienation in near proportional measure from throughout the jazz community. The ensuing polemic reached a nadir months later with the publishing of a myopic Down Beat essay penned by Leonard Feather declaiming the music "anti-jazz."John Coltrane and Eric Dolphy responded with a charitably reasoned rebuttal in the magazine's pages, but the orthodoxy - mired opprobrium still had a deleterious effect on the trajectory of their partnership with the elder saxophonist retreating in part to an arguably more conservative footing in the ensuing months, at least in the studio. That as pure and persuasively complementary an association as theirs had to endure such a crucible seems egregious and unnecessary with the sagacity of hindsight.
The remaining master takes and a second rendering of "Spiritual" demonstrate just how integral said alliance was to John Coltrane's development and direction. Eric Dolphy was an enthusiastic embodiment of formidable chops and kaleidoscopic imagination. Crevassespanning interval leaps, tonal distortions, and precisely channeled velocity were all aspects of his immense musical acumen. John Coltrane integrated them all into the music, deferring to Eric Dolphy's input with a consistency that instantly nullified in any accusations of ego.
Dolphy maximized on the good faith extended him with improvisations and ensemble contributions that were as original as they are memorable. His throaty, fricative bass clarinet brings field holler immediacy and gravity to "Spiritual." On the comparatively exotic take of "India," the same instrument helps conjure a completely different meta-cultural milieu with tandem basses augmenting the ensemble to sextet size. Even on the other pieces where Eric Dolphy is present, but horns silent, his influence is palpable.
John Coltrane is the steady catalyst, channeling galvanizing thoughts and energy through the tangible mechanics of his horns and sometimes running momentarily afoul of the lacunae between intent and implements. That it was all accomplished from the comparatively cramped confines of a basement jazz club stage is both the miracle and promise of momentous jazz music. The boon of emotional reciprocity between band and audiences was in optimal effect across these nights, even if there were sleeper agents amongst the second contingent committed to objection and grievance. History hasn't been kind to those naysayers and faultfinders, and while there were many who came to John Coltrane and Eric Dolphy's defense at the time and after, what ultimately eroded acrimony and resistance was the abiding efficacy and potency of the music. Still accessible and advantageous to anyone with ears open and invested. Still attracting ardent converts, daily."-Derek Taylor, July 19, 2021

Artist Biographies

Track Listing:


1. Spititual 13:32

2. Softly As The Morning Sunrise 6:28

3. Chasin' The Trane 15:57

4. India 13:58

5. Impressions 14:47

6. Track 06 14:45

Related Categories of Interest:

Improvised Music
Jazz
Free Improvisation
NY Downtown & Metropolitan Jazz/Improv
Sextet Recordings
Jazz Reissues
Staff Picks & Recommended Items
Top Sellers for 2021 by Customer Sales

Search for other titles on the label:
ezz-thetics by Hat Hut Records Ltd.
---

Recommended & Related Releases: