April, 2019

Page 1 of 2
| 1 | 2 |
76 products
Page 1 of 2 | 1 | 2 | 76 products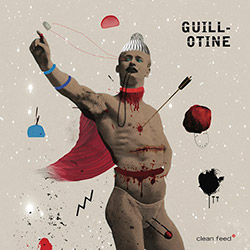 Guillotine (Lopes / Ceccaldi / Wildhagen):
Guillotine
(Clean Feed -- Portugal )



Price: $14.95



In Stock
Recalling the French Revolution, Portuguese guitarist Luis Lopes joins forces with French cellist Valentin Ceccaldi and Norwegian drummer Andreas Wildhagen as they slice through complex electric improvisation in a triptych for Marie Antoinette, ending in a Robespierre-like reign of terror "Orgasmic Dance"; muscular, convoluted, unsettling and exultant.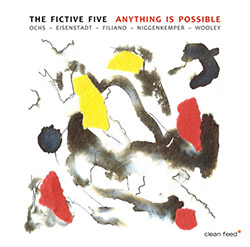 Fictive Five, The (Ochs / Wooley / Filiano / Niggenkemper / Eisenstadt):
Anything Is Possible
(Clean Feed -- Portugal )



Price: $12.95



In Stock
A tour-de-force of modern creative jazz from the quintet of Larry Ochs on tenor & sopranino saxophones, Nate Wooley on trumpet, Ken Filiano on bass & effects, Pascal Niggenkemper on bass & effects, and Harris Eisenstadt on drums, the familiar history of the musicians and the staggering skill of each bearing out the album's title, in 2 collective and 3 Ochs compositions.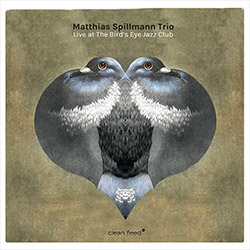 Spillmann, Matthias Trio (Spillmann / Lang / Baumgartner):
Live At The Bird's Eye Jazz Club
(Clean Feed -- Portugal )



Price: $12.95



In Stock
Matthias' Spillmann's Trio with the leader on trumpet and flugelhorn, Swiss drummer Mortiz Baumgartner and Danish Bassist Andreas Lang are caught live at Bird's Eye Jazz Club, in Basel Switzerland in 2017 for a lyrical and informed album of hard bop, seminal free jazz and jazz standards, including pieces by Ornette Coleman, Billy Strayhorn, Joe Lavano, and William C. Handy.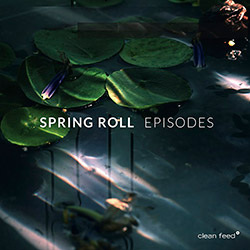 Spring Roll (Helary / Mayot / Rayon / Lemetre / Davis):
Episodes
(Clean Feed -- Portugal )



Price: $12.95



In Stock
Picking up from flutist Sylvaine Helary's 2015 Ayler release "Spring Roll/Printemps", this evolved album of chamber jazz performed with Hugues Mayot on saxophone & clarinet, Antonin Rayon on piano & Moog, Sylvain Lemetre on vibes & percussions, and Kris Davis on piano, presents sophisticated compositions from Helary, Davis, Rayon Dan Blake, and Matt Mitchell.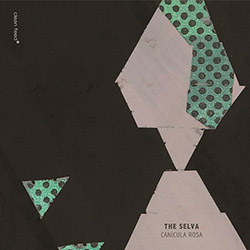 Selva, The (Jacinto / Almeida / Morao):
Canicula Rosa
(Clean Feed -- Portugal )



Price: $14.95



In Stock
The 2nd album from the Portuguese trio of cellist Ricardo Jacinto, double bassist Goncalo Almeida, and drummer Nuno Morao, blending free jazz and freely improvised music using effect pedals and electronic devices to expand their collective improvisations, textured playing influenced by folk melodies and an experimental post-rock bent; mesmerizing and passionate.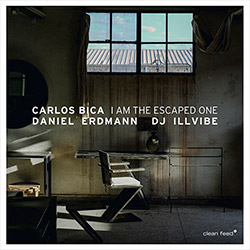 Bica, Carlos / Daniel Erdmann / Dj Illvibe:
I Am The Escaped One
(Clean Feed -- Portugal )



Price: $14.95



In Stock
Portugese double bassist Carlos Bica joins forces with German saxophonist Daniel Erdmann and turntablist DJ Illvibe, the son of pianist Alexander von Schlippenbach, for a unique album of improvisation blending experimental and jazz approaches with substantive layers of genre-blending from Illvibe's record arsenal, all handled with accessible control and lyrical sophistication.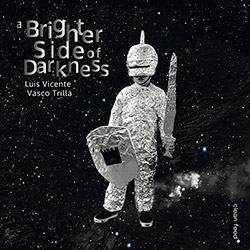 Vicente, Luis / Vasco Trilla:
A Brighter Side Of Darkness
(Clean Feed -- Portugal )



Price: $12.95



In Stock
Starting from silence, the improvisations on this collective and fully spontaneous album from trumpeter Luis Vicente and percussionist Vasco Trilla never reaches cathartic crescendo, but as only skilled innovators such as they can do, they captivate the listener in other-worldly environments of advanced technique and profound intention; engrossing and ineffable.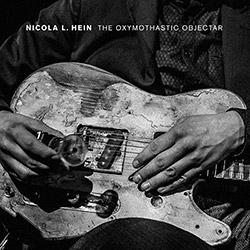 Hein, Nicola L. :
The Oxymothastic Objectar
(Shhpuma -- Portugal )



Price: $12.95



In Stock
Using an electric guitar, preparations, and objects as a tool of reflection, Nicola L. Hein presents an album of philosophical bent, about the question of skepticism in music, or a skeptical form of improvisation, through tumultuous playing of impressive technique caught live at Spectrum in NYC, as each track title presents observations or questions that Hein seeks to resolve.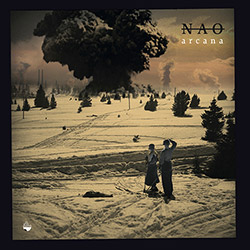 NAO (Vaz / Silva / Marques):
Arcana
(Shhpuma -- Portugal )



Price: $12.95



In Stock
With sections of dark grooves, wild free improv, seething electronics, and even moments of "Set the Controls..." surrealism, the trio of Alexandre Vaz on keys, guitar & saxophone, Joao Silva on synths & drum machine, and Vasco Marques on bass & synth, take their listeners on an unexpected and wide-ranging journey of uneasy and informed, rich exploration.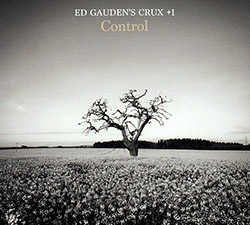 Gauden's, Ed Crux+1:
Control
(FMR -- UK )



Price: $14.95



In Stock
Birmingham drummer Ed Gauden's Crux trio with bassist Colin Somervell and saxophonist Mark Hanslip add keyboardist Steve Tromans in their 3rd album for FMR after their self-titled and "Believe" releases, originally developed from the sax and drum duo of Gauden & Hanslip; here in an extended studio improvisation of considerate exploration and lyrical intention.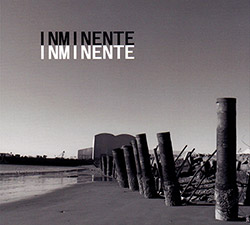 I Nm I Nente (Yoshihide / Molina / Irarrazabal / Roman / Rios):
I Nm I Nente
(FMR -- UK )



Price: $14.95



Out of Stock
A quintet of audio explorers that includes Otomo Yoshihide, recording in NY for 11 abstract non-idiomatic improvisations using electronics, drums, turntables, 4 electric guitars, double bass, analog synth, and effects to create identifiable and aberrant sound sources, elements used for reverie or building into unlikely yet cogent grooves; fascinating.

Gjerstad, Frode / Dag Magnus Narvesen :
Live At Tou
(FMR -- UK )



Price: $14.95



In Stock
The first proper tour for these two Norwegian musicians performing live at Stavenger's cultural center Tou Scene, Frode Gjerstad performing on alto & tenor sax, alto flute and clarinet, Dag Magnus Navesen (DAMANA octet, Von Schlippenbach) on drum set and percussion, as they approach free jazz with subtle but spirited control in an impressive set of five improvisations.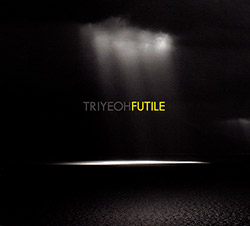 Triyeoh (Bashford / Trigg / Yeoh):
Futile
(FMR -- UK )



Price: $14.95



Out of Stock
London violinist Pei Ann Yeoh started TriYeoh while doing her postgraduate work at Royal Birmingham Conservatoire, bringing together UK drummer Jim Bashford and bassist Ash Trigg as they perform her lyrical and exciting compositions, seeking to elevate the role of the violin in an avant-garde jazz setting; compelling, upbeat, energetic and enthusiastic improvisation!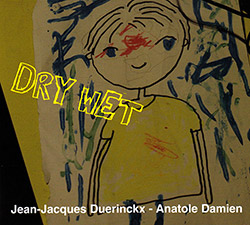 Duerinckx, Jean-Jacques / Anatole Damien :
Dry / Wet
(FMR -- UK )



Price: $14.95



In Stock
A duo of Brussels audio explorers, Jean-Jacques Duerinckx on sopranino saxophone and Anatole Damien on tabletop guitar and electronics, contrasting acoustic "dry" and highly effected "wet" sounds, the two develop sonic environments that build and release using unusual reed techniques and mutated string scrabbling in a strangely compelling set of dialogs.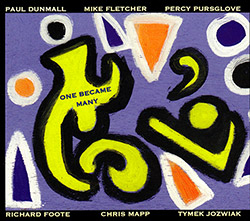 Dunmall, Paul / Mike Fletcher / Percy Pursglove / Richard Foote / Chris Mapp / Tymek Jozwiak:
One Became Many
(FMR -- UK )



Price: $14.95



Out of Stock
A live album from Birmingham of informed free improvisation, recorded at the Lamp Tavern in 2018 by the quintet of Mike Fletcher on alto saxophone, Tymek Jozwiak on drums, Paul Dunmall on tenor saxophone, Richard Foote on trombone, and Percy Pursglove on trumpet, slowly evolving each of two extended improvisations while allowing focused interplay between group members.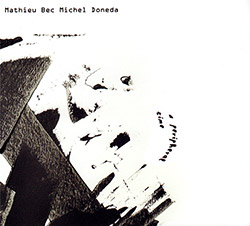 Bec, Mathieu / Michel Doneda:
A Peripheral Time
(FMR -- UK )



Price: $14.95



Out of Stock
Using the natural resonance of the chapelle St Sylvestre des Brousses, French improvisers Michel Doneda on saxophone & radio and Mathieu Bec on snare drum and objects explore the space in four mostly acoustic improvisations, using masterful technique as their interactions intensify and recede, allowing space for each other and the unspoken third voice of the chapel itself.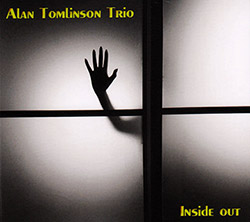 Tomlinson, Alan Trio:
Inside Out
(FMR -- UK )



Price: $14.95



In Stock
A live performance at IKLECTIK in London in 2018 from trombonist Alan Tomlinson's inventive trio with Phillip Marks on drums & percussion and Dave Tucker on electric guitar, with special guest John Edwards joining on bass violin for the title track, in a superb display of free jazz led by an essential member of the London free jazz scene since the 70s.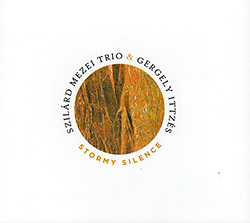 Mezei, Szilard Trio & Gergely Ittzes:
Stormy Silence / Viharos Csend
(FMR -- UK )



Price: $14.95



In Stock
The Serbian trio led by violist Szilard Mezei with Istvan Csik on drums and Ervin Malina on double bass are joined by Hungarian flutist Gergely Ittzes performing on piccolo, alto and bass flutes, as Mezei's as Mezei's chamber-oriented free jazz trio reflects on the words of poet Szegedi-Szabo Bela.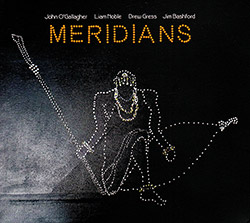 O'Gallagher, John / Liam Noble / Drew Gress / Jim Bashford:
Meridians
(FMR -- UK )



Price: $14.95



In Stock
NY Drummer Jim Bashford brought together the quartet of John O'Gallagher on alto saxophone, Drew Gress on bass, and Liam Noble on piano, writing these lyrical free jazz compositions that they brought on a tour of the UK, recording this album in the studio in Birmingham while touring, the band on fire as they work through Bashford's martial art's-influenced pieces.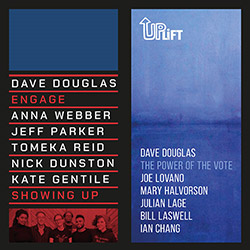 Douglas, Dave:
Showing Up / The Power of the Vote [7" VINYL]
(Greenleaf Music -- USA )



Price: $13.95



In Stock
2019 Record Store Day release, a 7" from trumpeter Dave Douglas in two different configurations: the lead track from his album "Engage" featuring guitarist Jeff Parker and cellist Tomeka Reid along with Anna Webber, Nick Dunston & Kate Gentile; and a B-Side from 2018's "Uplift" featuring Joe Lovano and Bill Laswell alongside Mary Halvorson, Julian Lage, and Ian Chang.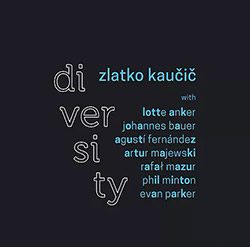 Kaucic, Zlatko (w/ Evan Parker, Agusti Fernandez, Rafal Mazur, Lotte Anger, Artun Majewski, Phil Minton, Johannes Bauer):
Diversity [5 CD BOX SET]
(Not Two -- Poland )



Price: $64.95



Out of Stock
Slovenian percussionist Zlatko Kaucic reinforces the title of his "Diversity" box set over 5 CDs in a variety of solo, duo, trio and quartet setting, including some of the UK & Europe's finest improvisers--Evan Parker, Agusti Fernandez, Lotte Anker, Artur Majewski, Rafal Mazur, Phil Minton, and Johannes Bauer--an excellent example of his wide-ranging work as an improviser.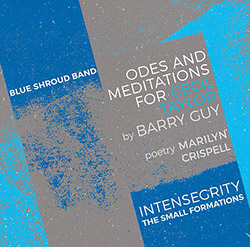 Guy's, Barry Blue Shroud Band:
Odes and Meditations for Cecil Taylor [5 CD BOX]
(Not Two -- Poland )



Price: $64.95



Out of Stock
Barry Guy's Blue Shroud Band is the bassist's ensemble performing in a variety of configurations, capable of executing his sophisticated compositions that pay hommage or reflect larger subjects, here in 5 CDs of performances at Alchemia Club and on Radio Krakow in Poland, approaching the work of late pianist Cecil Taylor through multi-part Odes, Meditations, and even some "Strange Loops".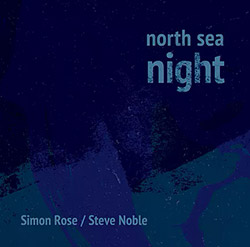 Rose, Simon / Steve Noble:
North Sea Night
(Not Two -- Poland )



Price: $15.95



Out of Stock
An impressive concert of free jazz from the UK duo of Simon Rose on baritone sax and Steve Noble on drums, their collaborations over many years, particularly their working relationship in their trio with Simon H. Fell, bringing obvious confidence in their conversation as each pushes their playing into both energetic and reflective moments of masterful skill.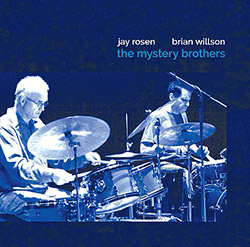 Rosen, Jay / Brian Willson:
Mystery Brothers
(Not Two -- Poland )



Price: $13.95



Out of Stock
Official issue of the drumming duo of Jay Rosen (Trio X, Cosmosomatics) and Brian Wilson (Pauline Oliveros, Ivo Perelman), performing at Whitman Hall in Brooklyn College in 2008, presenting 5 concertos for two drums written by both performers, through pristine recordings demonstrating melodicism through rhythm as they explore a wide range of timbre and color.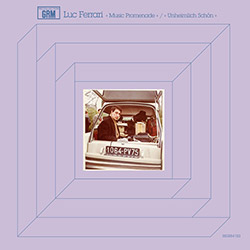 Ferrari, Luc:
Music Promenade / Unheimlich Schon [VINYL]
(Recollection GRM -- Austria )



Price: $22.95



Out of Stock
Two works from French composer Luc Ferrari: "Music Promenade" (1964-69) an electroacoustic work for four stand-alone tape recorders presenting a series of colliding realistic sounds and sonic images; and "Unheimlich Schon" (1971), a quiet work of Musique concrete with spoken word--"How does a young woman breathe when thinking about something else?"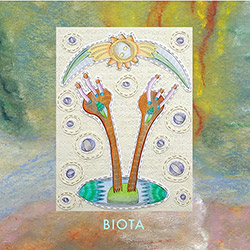 Biota:
Fragment For Balance
(Recommended Records -- USA )



Price: $15.95



In Stock
From Mnemonist Orchestra to Biota, with 18 albums in total, the Colorado collective Biota presents its 11th album on ReR, taking 4 years to complete this genre-defying album of gorgeous abstraction through free improvisation and composition, absorbing styles and reflecting them in a filtered ray of melody & song using unusual instrumentation and arrangment; absolutely recommended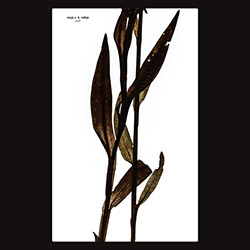 Ratkje, Maja S.K.:
Sult
(Rune Grammofon -- Norway )



Price: $15.95



Out of Stock
Starting with a pipe organ, adding metal tubes, PVC tubes, a wind machine, guitar strings, a bass string, a resin thread, metal and glass percussion, and a bow, Maja SK Ratjke developed this unusual instrument for a live performance in Jo Stromgren's ballet "Sult" ("Hunger"), taking the instrument to the studio for this extraordinarily interesting album of keys and song.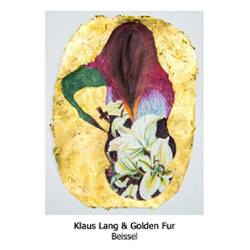 Lang, Klaus / Golden Fur :
Beissel
(Another Timbre -- UK )



Price: $15.95



Out of Stock
A collaboration between Austrian composer/organist Klaus Lang and the Golden Fur ensemble of Samuel Dunscombe on clarinet, Judith Hamann on cello & James Rushford on viola & harmonium, reworking a hymn from 18th century composer Johann Conrad Beissel, using an algorithmic system to reinterpret the piece through orchestration, dynamic movement, harmonic density & harmonicity.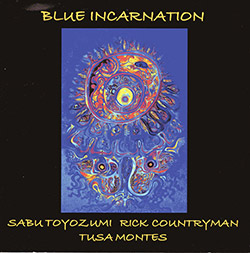 Toyozumi / Countryman / Montes:
Blue Incarnation (Improvisations for Kulintang)
(ChapChap Records -- Philippines )



Price: $13.95



In Stock
Also known as "Improvisations for Kulintang", this live album of energetic and informed free jazz occurred between legendary Japanese percussionist Sabu Toyozumi and Philippine-based saxophonist Rick Countryman in Dec 2018, with featured guest Tusa Montes performing on prepared Kulintang percussion, a set of horizontally laid gongs that add tympanic melody.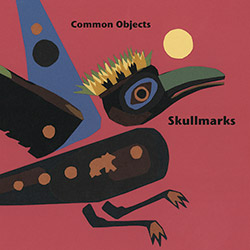 Common Objects (Davies / Butcher / Davies / Lapelyte / Patterson / Thomas):
Skullmarks
(Meenna -- Japan )



Price: $16.95



In Stock
Distributing the group--John Butcher, Angharad Davies, Lina Lapelyte, Lee Patterson, Pat Thomas, and Rhodri Davies--inside the Pitt Rivers Museum in Oxford, Butcher chose 4 shamanic objects from the museum's ethnographic collection, evoking water, air, earth, spirit, ritual and utility, used as a score orchestrating varying combinations of players; intense and profound improvisation.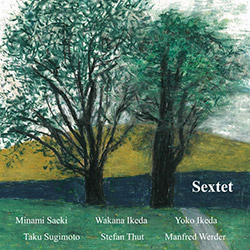 Saeki, Minami / Wakana Ikeda / Yoko Ikeda / Taku Sugimoto / Stefan Thut / Manfred Werder:
Sextet
(Meenna -- Japan )



Price: $16.95



Out of Stock
While touring Europe in the autumn of 2017, Minami Saeki (voice), Wakana Ikeda (flute), Yoko Ikeda (viola), and Taku Sugimoto (guitar) visited Switzerland and met up with Swiss musicians Stefan Thut (cello) and Manfred Werder (glockenspiel & typewriter), recording these five minimal improvisations in a recording session at the concert venue Theater Delly.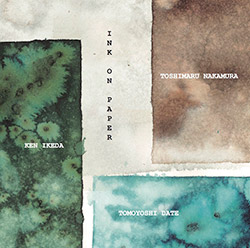 Nakamura, Toshimaru / Ken Ikeda / Tomoyoshi Date:
Ink on Paper
(Meenna -- Japan )



Price: $16.95



Out of Stock
The second recorded collaboration of Japanese no-input mixing board player Toshimaru Nakamura with London-based electronic artist Ken Ikeda and Japanese sound artist Tomoyoshi Date, a large, rich and detailed work of slowly evolving sonic environments, showing masterful control in developing sumptuous sound and then subtly deflecting it with unusual excursions.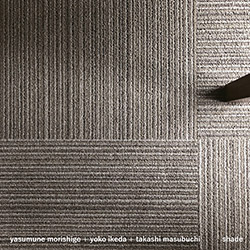 Morishige, Yasumune / Yoko Ikeda / Takashi Masubuchi:
Shade
(Meenna -- Japan )



Price: $16.95



Out of Stock
A live recording of a concert at Ftarri in 2018, performed by Yasumune Morishige (cello), Yoko Ikeda (viola), and Takashi Masubuchi (guitar), three improvisers active mainly in Tokyo, in an entrancing confluence of strings building from delicate weaving of languorous tones with pizzicato interventions to an assertive second section, that then furtively dissolves; spellbinding.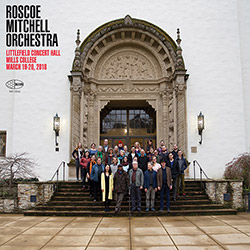 Mitchell, Roscoe Orchestra:
Littlefield Concert Hall Mills College
(Wide Hive -- USA )



Price: $14.95



Out of Stock
Roscoe Mitchell 25 Piece Orchestra returns with an outstanding follow-up to his 2017 release "Discussions", recorded in concert at the Littlefield Auditorium in Mills College, reworking earlier pieces that take advantages of Mitchell's systems designed to articulate and capitalize on the tensions between composition and improvisation; an impressive achievement.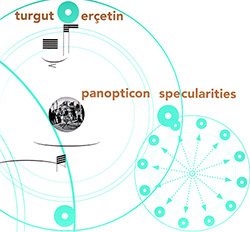 Ercetin, Turgut (Ensemble Mosaik, Ensemble Apparat, Ensemble Adapter, Sonar Quartett):
Panopticon Specularities
(Edition Rz -- Austria )



Price: $15.95



In Stock
Istanbul composer Turgut Ercetin (Daad artists-in-Berlin 2016 award winner) completed his doctorate studies at Stanford University, developing works engaged with issues of sound as sonic entities dealing with time and space, here in a string quartet performed by Arditti Quartet, and a work for voice and live electronics performed by Neue Vocalsolisten Stuttgar.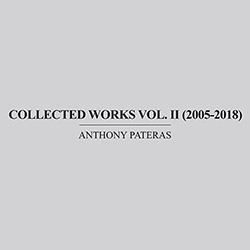 Pateras, Anthony:
Collected Works Vol. II (2005-2018)(5 CDS)
(Immediata -- Australia )



Price: $64.95



Out of Stock
The second volume in composer and audio explorer Anthony Pateras' "Collected Works" series, a sturdy 5 CD box set assembling 26 collaborations and solo works that bridge experimental and contemporary compositional work investigating electro-acoustic orchestration, temporal hallucination and sound phenomena, a remarkably diverse and fascinating collection. Ullmann, Jakob :
Femde Zeit Addendum 5
(Edition Rz -- Austria )



Price: $14.95



In Stock
Jakob Ullman's 5th solo work for piano is atypical for a piano performance, using electronic playback and requiring three assistants sustaining a soundscape to realize a concept of "gravity" that Ullman applies as laws in a conceptual soundscape modified by a series of abstract images, resulting in unexpected sonic environments, tones, timbres and momentum.

Franco, Mario / Samuel Rohrer / Joao Paulo Esteves da Silva:
Brightbird
(Arjunamusic -- Germany )



Price: $14.95



In Stock
A lyrical piano trio album from Swiss drummer Samuel Rohrer and two Portuguese musicians, pianist Joao Paulo Esteves da Silva and bassist Mario Franco, recording in France for 13 sophisticated pieces of melodic compositions used as a jumping off point for nuanced improvisation and exploration, all three revealing beauty in embraceable motifs and luminous song.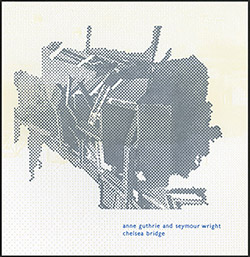 Guthrie, Anne / Seymour Wright:
Chelsea Bridge
(Wind Measure Recordings -- USA )



Price: $9.95



Out of Stock
Bringing field recordings from New York and London, French Horn player Anne Guthrie and alto saxophone player Seymour Wright focus on London's Chelsea Bridge, also referencing the standard by Billy Strayhorn, as the two collaborators assemble a curiously fascinating narrative from location recordings and recordings of their extended and unique instrumental techniques.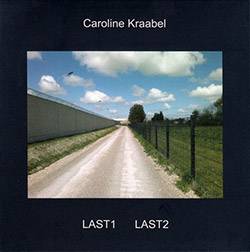 Kraabel, Caroline :
Last1 And Last2
(Emanem -- UK )



Price: $16.95



In Stock
LAST is part of a series by Caroline Kraabel (LIO, Remote Viewers) mixing live improvisation with pre-recorded material provided by Robert Wyatt for this purpose, performed live at Cafe OTO in two versions: first where the 15-piece ensemble has not yet heard the Wyatt interventions, and second where they were familiar with and use his voice to structure what they play.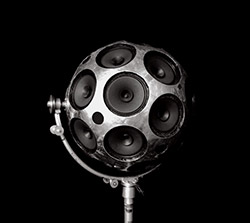 Kubisch, Christina :
Schall und Klang
(Fragment Factory -- Germany )



Price: $14.95



In Stock
Hermann Scherchen (1891-1966) was a conductor & champion of 20th-century composers; in 1954 he established an electroacoustic experimental studio, with guests including Iannis Xenakis, Luc Ferrari, Edgar Varese and Luigi Nono; here Christina Kubisch provides a remarkable portrait of Scherchen in sound, merging his recordings, recited texts, and recordings from her own research.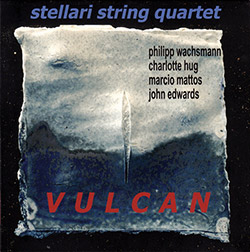 Stellari String Quartet (Wachsmann / Hug / Mattos / Edwards):
Vulcan
(Emanem -- UK )



Price: $16.95



Out of Stock
The brilliant free improvising group Stellari String Quartet came together more than ten years ago, with members from Brazil, England, Swizerland and Uganda, here in only their 2nd release, using improvisational processes in the 11 pieces of of their live album recorded at St. Mary's Church Stoke Newington and Iklectic Art Lab London 2018.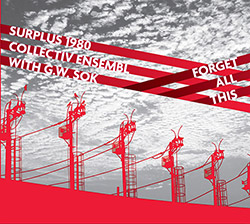 Surplus 1980 Collectiv Ensembl With G.W. Sok :
Forget All This
(Music a la Coque -- Italy )



Price: $9.95



In Stock
Surplus 1980 Collectiv Ensembl takes the current members of drummer Moe! Staiano's Surplus 1980 along with associated musicians, including Kyle Bruckmann, John Shiurba, Vicky Grossi, Paul Costuros, &c, with vocals from Dutch vocalist G.W. Sok (The Ex), in an album of avant post-punk rock, sophisticated but determined and pointed music, an unusual hybrid of impressive styles.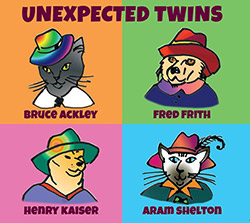 Ackley, Bruce / Fred Frith / Henry Kaiser / Aram Shelton:
Unexpected Twins
(Relative Pitch -- USA )



Price: $13.95



In Stock
Born out of Eugene Chadbourne's Twins band concepts from the 70s, which included over time saxophonist Bruce Ackley, and guitarists Henry Kaiser, and Fred Frith; fast forward to 2018 as Ackley & Frith return to the concept with Henry Kaiser and saxophonist Aram Shelton to revisit the original approach through pieces by those artists plus Steve Lacy, Eugene Chadbourne, and John Zorn.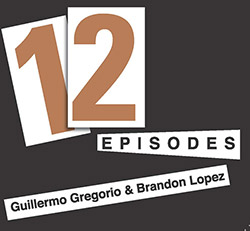 Gregorio, Guillermo / Brandon Lopez:
12 Episodes
(Relative Pitch -- USA )



Price: $13.95



Out of Stock
Known best for his Chicago trios, Argentinian born clarinetist Guillermo Gregorio joins forces with New York contrabassist Brandon Lopez for 12 "episodes" of free improvisation that never loses track of a jazz basis, both players using an arsenal of techniques, from circular breathing to extracting sound from the physical forms of their instruments.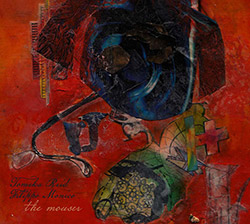 Reid, Tomeka / Filippo Monaco:
The Mouser
(Relative Pitch -- USA )



Price: $13.95



Out of Stock
Tomeka Reid is a Chicago based cellist, composer and free improviser, versed in classical and jazz contexts, here in a duo with Italian drummer Filippo Monaco recording in his studio in Milano, a lively conversation of extended acoustic improvisation using diverse techniques and approaches with an arsenal of percussive instruments; impressive and engaging.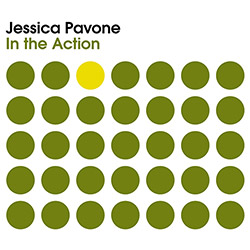 Pavone, Jessica:
In The Action
(Relative Pitch -- USA )



Price: $13.95



In Stock
Four distinct pieces for solo viola and effects from NY composer/improviser Jessica Pavone, each piece using electronic elements to blur wave motions interacting with minimalist motifs, merging folk elements with avant elements, using extended bowing techniques to blend unlikely matches of acoustics and electronics in unconventional and appealing performance.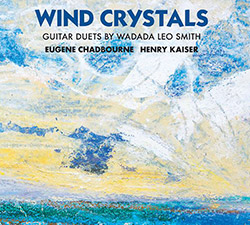 Chadbourne, Eugene / Henry Kaiser:
Wind Crystals: Guitar Duets By Wadada Leo Smith
(Relative Pitch -- USA )



Price: $13.95



In Stock
Long-time collaborators, guitarists Henry Kaiser and Eugene Chadbourne perform the compositions of trumpeter Wadada Leo Smith, starting with their recording from 1977 of his "Wind Crystals", then improvising over 5 other Smith compositions, ending the album with an updated, 2017 version of "Wind Crystals"; an excellent refresh and retrospective from two incredible improvisers.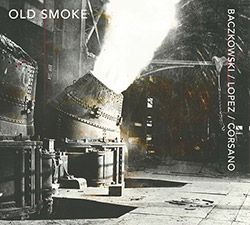 Baczkowski / Lopez / Corsano:
Old Smoke
(Relative Pitch -- USA )



Price: $13.95



In Stock
This smoking album of free jazz leads the New York trio of Steve Baczkowski on saxophone, Brandon Lopez on bass, and Chris Corsano on drums to fiery playing as they burn up the stage at Hallwall, in Buffalo, New York in 2018, over seven concise collective conversations expressing both passion, restraint, and profoundly masterful skill.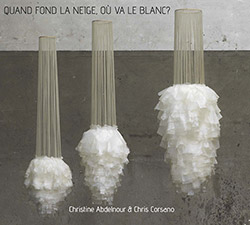 Abdelnour, Christine / Chris Corsano:
Quand Fond La Neige, Où Va Le Blanc ?
(Relative Pitch -- USA )



Price: $13.95



Out of Stock
Through extended approaches to their instruments, Lebanese saxophonist Christine Abdelnour and NY drummer and slide clarinetist Chris Corsano create anomalous and unorthodox sound environments, Abdelnour making acoustics sound electronic through growls, smears and odd harmonics, while Corsano abuses an impressive palette of sound from every inch of his drums.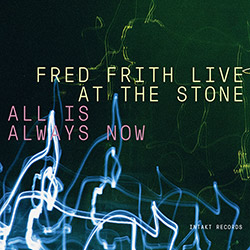 Frith, Fred :
All Is Always Now (Live at the Stone) [3 CDs]
(Intakt -- Switzerland )



Price: $45.95



In Stock
Guitarist Fred Frith performed 80 concerts at NY's The Stone between 2006-2016, in diverse configurations of duos, trios, quartets and large ensembles with some of the planet's finest improvisers, of which 23 recordings, titled from NY Times headlines of each concert's day, are presented in this essential 3-CD package, which includes a 24 page booklet detailing the collection.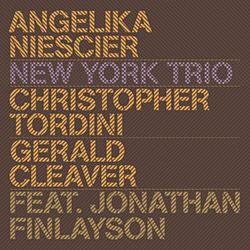 Niescier, Angelika (w/ Christopher Tordini / Gerald Cleaver feat Jonathan Finlayson):
New York Trio
(Intakt -- Switzerland )



Price: $18.95



Out of Stock
After last year's release of "The Berline Concert", Cologne-based saxophonist Angelika Niescier returns to New York to record in the studio with the quartet of bassist Christopher Tordini, with whom she's recorded before, plus trumpeter Jonathan Finlayson and drummer Gerald Cleaver, the excitement of their playing unmistakable in 8 Niescier compositions.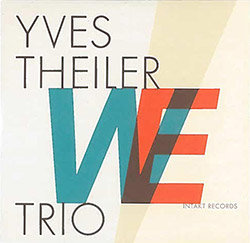 Theiler, Yves Trio (w/ Luca Sisera / Lukas Mantel):
WE
(Intakt -- Switzerland )



Price: $18.95



Out of Stock
Swiss pianist and composer Yves Theiler's Trio with bassist Luca Sisear and Lukas Mantel in a lyrical and upbeat album of contemporary jazz, balancing free playing with optimistic melodic arrangements leaving himself and his players plenty of room for expression, their association since 2012 bringing a nearly telepathic rapport in their enthusiastic interaction.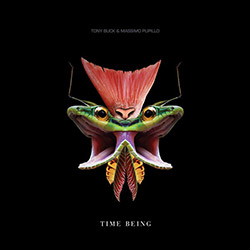 Buck, Tony / Massimo Pupillo:
Time Being [VINYL]
(Trost Records -- Austria )



Price: $22.95



Out of Stock
Italian composer and bass-player Massimo Pupillo (ZU) and Australian drummer Tony Buck (The Necks) collaborate in a beautifully haunting, absorbing ambient set, taking in electronic abstraction and free improvisation, released in two distinct editions--"Time Being" on vinyl LP and "Unseen" on compact disc, each with two different improvisations.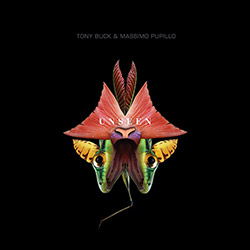 Buck, Tony / Massimo Pupillo:
Unseen
(Trost Records -- Austria )



Price: $16.95



Out of Stock
Italian composer and bass-player Massimo Pupillo (ZU) and Australian drummer Tony Buck (The Necks) collaborate in a beautifully haunting, absorbing ambient set, taking in electronic abstraction and free improvisation, released in two distinct editions--"Time Being" on vinyl LP and "Unseen" on compact disc, each with two different improvisations.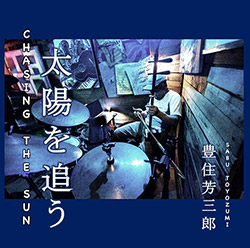 Toyozumi / Countryman / Tan:
Chasing The Sun [VINYL]
(ChapChap Records -- Philippines )



Price: $29.95



In Stock
Two lives sets at Tago Jazz Cafe in the Philippines in 2018 from the trio of master percussionist Sabu Toyozumi on drums, American ex-pat Rick Countryman on alto saxophone, and Simon Tan on acoustic bass, this their 3rd album of solid free improvisation of extended and masterful discourse, unusual percussive devices, and powerful rhythmic foundation.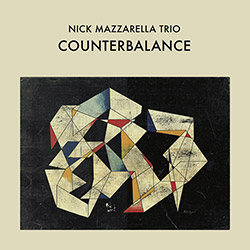 Mazzarella, Nick Trio:
Counterbalance [VINYL]
(Astral Spirits -- USA )



Price: $19.95



Out of Stock
From 2008-16 until drummer Frank Rosaly moved to Amsterdam, alto saxophonist Nick Mazzarella's Trio was an active part of Chicago's creative jazz scene; in early 2018 Rosaly returned for a visit and Mazzarella composed a suite of 6 new pieces to commemorate the trio's tenth anniversary, the exuberant result this excellent concert recorded at Co-Prosperity Sphere!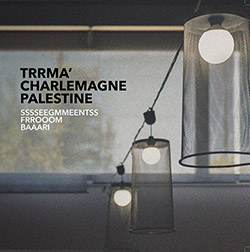 Trrma' / Charlemagne Palestine:
Sssseegmmeentss Frrooom Baaari [VINYL]
(BeCoq -- France )



Price: $20.95



Out of Stock
Stochastic music for percussion and synthesizers from New York avant conceptualist and keyboardist Charlemagne Palestine, here on piano & electronics, with the Italian duo Trrma' of Giovanni Todisco on percussion and Guiseppe Candiano on synth, in two side-long works of irregular rhythm, complexity and dissonance that build and recede in a suspenseful journey.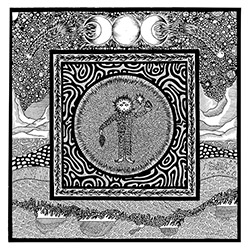 IQ+1:
Conversaphone Plus [VINYL]
(Mappa -- Slovokia )



Price: $20.95



In Stock
Describing their approach to their submersive electroacoustic music as a seance, the Czech Republic septet IQ+1 with Peter Vrba, George Bagdasarov, Veronika Hladka, Jana Kneschke, Michal Zboril, and Katerina Bilejova release their 3rd album, a mix of strings, trumpet, clarinet, harmonium, synth, electronics & field recordings, creating a virtual acousmatic music of great detail.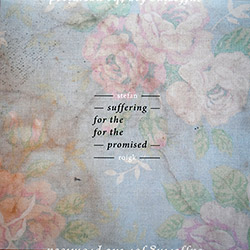 Roigk, Stefan :
Suffering For The Promised [VINYL]
(Fragment Factory -- Germany )



Price: $19.95



In Stock
Multi-disciplinary artist living in Berlin, Stefan Roigk developed "Suffering For The Promised" over a 14 year period, composing this large work of acousmatic music as an atmospherically intense yet utterly fragile piece, combining concrete sounds, field recordings and devotional vocal fragments in an eclectic and highly intimate composition of great depth and detail.