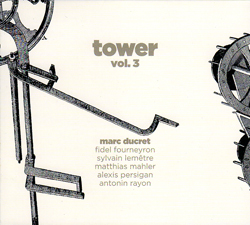 Ducret, Marc:
Tower, Vol. 3
(Ayler -- France )



Price: $14.95



In Stock
Guitarist Marc Ducret's sextet performs comments on the music previously played in the other albums of the Tower series, either as rewritten fragments or developments of excerpts or patterns.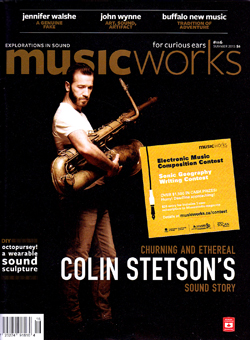 MusicWorks:
#116 Summer 2013 [MAGAZINE + CD]
(Musicworks -- Canada )



Price: $15.95



In Stock
Summer 2013 issue with 8 track CD. On the cover and featured: Colin Stetson. Profile on Buffalo new music. Articles on SlowPitch's Emoralis, soft-circuit sound sculpture. Plus reviews, events, words, &c.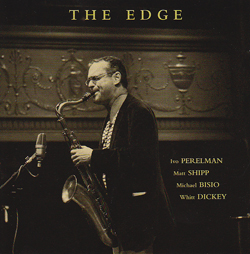 Perelman, Ivo / Matt Shipp / Michael Bisio / Whitt Dickey:
The Edge
(Leo Records -- UK )



Price: $15.45



In Stock
A quartet session led by saxophonist Ivo Perelman, with pianist Matthew Shipp, drummer Whitt Dickey and bassist Michael Bisio performing 9 works penned by Perelman, succinct and superb NY jazz.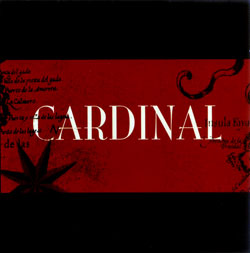 Cosottini / Melani / Miano / Pisani:
Cardinal
(Impressus Records -- USA )



Price: $13.95



In Stock
The quartet of Cosottini, Melano, Pisani, Miano (EAQuartet Electroacoustic) in compositions referring to the 4 cardinal map points using graphic scores, games, open readings, &c.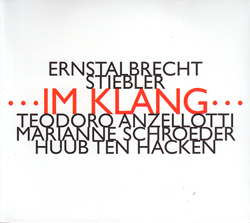 Stiebler, Ernstalbrecht:
...Im Klang...
(Hat [now] ART -- Switzerland )



Price: $16.95



In Stock
Composer Ernstalbrecht Stiebler presents three solo pieces, one for accordion (Teodoro Anzellotti) one for piano (Marianne Schroeder) and the third for organ (Huub Ten Hacken).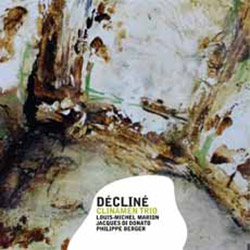 Clinamen Trio (Marion / Di Donato / Berger):
Decline
(Creative Sources -- Portugal )



Price: $15.95



In Stock
Roman philosopher Titus Lucretius Carus named "Clinamen" the unpredictable (in time and space) swerve of atoms falling in the void, which aptly describes the unexpected directions taken in subtle free improvisation from this French trio, led by bassist Louis-Michel Marion, with Jacques Di Donato on clarinet, and Philippe Berger on viola.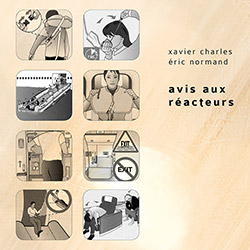 Charles, Xavier / Eric Normand :
Avis Aux Reacteurs
(Inexhaustible Editions -- Slovenia )



Price: $15.95



In Stock
Recorded live at Silence Sounds in Guelph Canada, the duo of Xavier Charles on clarinet and Eric Normand on electric bass & objects eschew idiom in favor of their unique natural language on their instruments, applying patient development of truly idiosyncratic and fascinating command through a single extended work punctuated in seven diverse passages.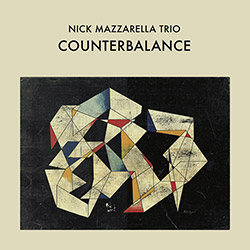 Mazzarella, Nick Trio:
Counterbalance [VINYL]
(Astral Spirits -- USA )



Price: $17.95



In Stock
From 2008-16 until drummer Frank Rosaly moved to Amsterdam, alto saxophonist Nick Mazzarella's Trio was an active part of Chicago's creative jazz scene; in early 2018 Rosaly returned for a visit and Mazzarella composed a suite of 6 new pieces to commemorate the trio's tenth anniversary, the exuberant result this excellent concert recorded at Co-Prosperity Sphere!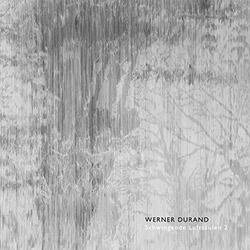 Durand, Werner :
Schwingende Luftsaulen 2
(ANTS Records -- Italy )



Price: $14.95



In Stock
A beautifully hypnotic album of saxophone, accompanied by Pan-Ney, Shruti Box and Organ, recorded in overdubs by composer/wind player Werner Durand in this 2nd chapter of his trilogy focused on the Pan-Ney, a self-built instrument for repetitive foundations, as Durand draws on elements of nature, mythology, dance, religion, literature and folklore.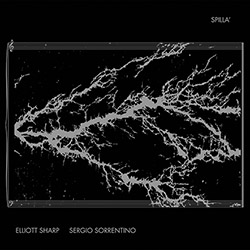 Sharp, Elliott / Sergio Sorrentino:
Spilla'
(ANTS Records -- Italy )



Price: $14.95



In Stock
'Spilla' means 'to play' in the language of Neapolitan musicians, and playing here are NY guitarist and composer Elliott Sharp and Italian guitarist Sergio Sorrentino, presenting world premier recordings of 4 works recorded live in Vercelli, Italy: two improvisations and two graphic scores performed on electric guitar with incredible technique and passion.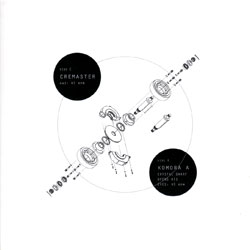 Cremaster / Komora A:
split [7-inch VINYL] [Used Item]
(Monotype -- Poland )



Price: $12.95



In Stock
A split 7" release between Cremaster (Alfredo Costa Monteiro (electronics) and Ferran Fages (feedback mixing board and electroacoustic devices); and the Komora A trio of Karol Koszniec (electronics), Dominik Kowalczyk (laptop) and Jakub Mikolajczyk (modular synth).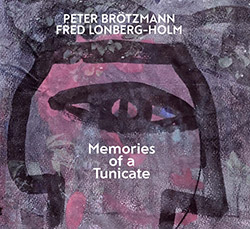 Brotzmann, Peter / Lonberg-Holm, Fred:
Memories Of A Tunicate
(Relative Pitch -- USA )



Price: $13.95



In Stock
While both improvisers were in New York City for the 2019 Vision Festival, multi-reedist and European Free Improv legend Peter Brötzmann met Chicago cellist and electronics artist Fred Lonberg-Holm to record their 3rd album together, their 1st album in the studio a diverse set of incredible concentration, with Brötzmann performing on tenor saxophone, woodwind, and clarinet.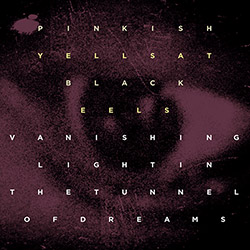 Pinkish Black & Yells at Eels:
Vanishing Light...
(Ayler -- France )



Price: $14.95



In Stock
Trumpeter Dennis Gonzalez merges his Yells at Eel project with bassist Aaron Gonzalez and drummer/percussionist Stefan Gonzalez, with Texas-based experimental rock band Pinkish Black--Daron Beck on keyboards and Jon Teague on drums & synthesizers--for a gripping and masterful hybrid of improvisation, dark synthetic rock and heavy moods; a riveting journey.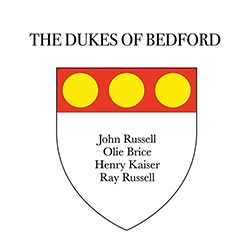 Russell, John / Ray Russell / Henry Kaiser / Olle Brice:
The Dukes of Bedford
(Balance Point Acoustics -- USA )



Price: $12.95



In Stock
Exploring the lineage of the Dukes of Bedford, the Russell lineage in Bedford, England, in groupings of acoustic & electric guitarists John Russell, Ray Russell, and Henry Kaiser along with double bassist Ollie Brice, from duos to quartets, eight Duke "Russells" from 1680 to 2003 are explored through intricate and joyfully creative and technically amazing string improvisations.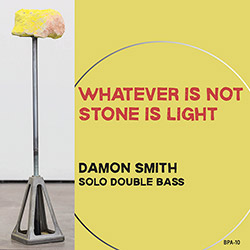 Smith, Damon:
Whatever Is Not Stone Is Light
(Balance Point Acoustics -- USA )



Price: $13.95



In Stock
Taking his title from a poem by Octavio Paz with titles from translations by Lysander Kemp of other Octavio Paz poems, this solo album from double bassist Damon Smith is his definitive statement on the instrument: 23 tracks from 46 seconds to 5 minutes 50, developed over 15 years and displaying Smith's incredible technique and creative intent; incomparable.