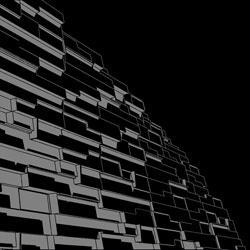 Aperiodic:
Future Feedback [VINYL LP & CD]
(Phratry Records -- USA )



Price: $12.95



Out of Stock
A combination of noise and free jazz with elements of no wave and hardcore, Aperiodic (Kevin Parrett, Ben Perkins, Matt Schulz) uses gu qin, rudra veena, and surbahar as well as standard Western instruments to create unique, improvised music.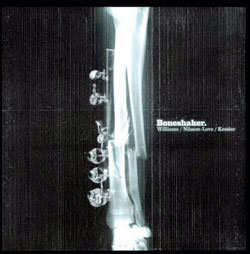 Boneshaker (Williams / Nilssen-Love / Kessler):
Boneshaker [VINYL]
(Trost Records -- Austria )



Price: $21.95



Out of Stock
An apt title for the driven and exhilarating free jazz from the transatlatic trio of Mars Williams (reeds, toy instruments), Paal Nilssen-Love (drums & percussion) and Kent Kessler (bass).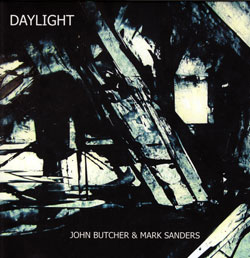 Butcher, John / Mark Sanders:
Daylight
(Emanem -- Great Britain )



Price: $16.95



Out of Stock
Percussionist Mark Sanders and saxophonist John Butcher in recordings from two concerts: the 2010 Freedom of the City festival in London, and a year later at Southampton University; exceptionally expressive and technically unique playing.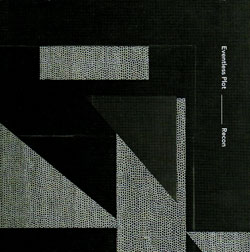 Eventless Plot:
Recon
(Aural Terrains -- Greece/UK )



Price: $17.95



In Stock
The Eventless Plot trio hails from Thessaloniki, Greece, borrowing elements from different genres and aesthetics to build a hybrid of free improv, noise, new electronica, electroacoustic composition and jazz.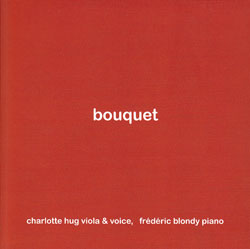 Hug, Charlotte & Frederic Blondy:
Bouquet
(Emanem -- Great Britain )



Price: $16.95



Out of Stock
Using extended techniques on viola and piano, Charlotte Hug and Frederic Blondy draw the listener into unusual and encompassing sound worlds that feel electronic, yet are created through acoustic improvisation.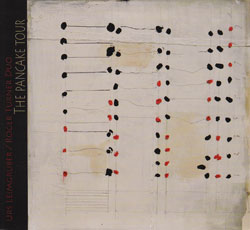 Leimgruber, Urs / Roger Turner:
The Pancake Tour
(Relative Pitch -- USA )



Price: $13.95



In Stock
2011 live recordings from The Loft in Cologne of Swiss saxophonist Urs Leimgruber and London drummer/percussionist Roger Turner, 7 improvisations that shifts from introspective to highly active discourse using extended and unusual techniques.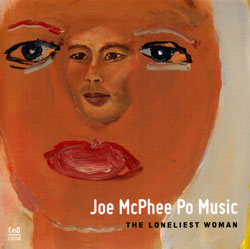 McPhee, Joe:
The Loneliest Woman [CD EP]
(Corbett vs. Dempsey -- USA )



Price: $14.95



In Stock
A rich and unusual interpretation of Ornette Coleman's "Lonely Woman" recorded in Boswil, Switzerland in 1981 with McPhee, Pierre Favre, Irene Schweizer, Radu Malfatti, Daniel Bourquin, &c., in its first-ever release.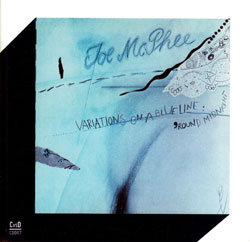 McPhee, Joe:
Variations on a Blue Line / 'Round Midnight
(Corbett vs. Dempsey -- USA )



Price: $12.95



In Stock
A much-needed reissue of McPhee's 1979 Hat Hut LP documenting his 1977 concert at Salle Ste Croix des Pelletiers, performing 3 original compositions and Monk's "Round Midnight" with incredible skill and inventiveness.

Moondoc, Jemeel / Connie Crothers:
Two
(Relative Pitch -- USA )



Price: $13.95



In Stock
Two New York jazz originals, pianist Connie Crothers and alto saxophonist Jemeel Moondoc, performing 6 improvisations and one original compositions from each artist; melodic and deeply sensitive playing.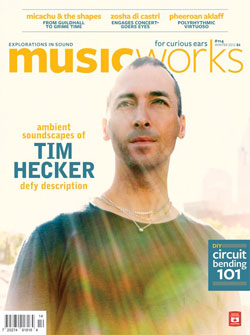 MusicWorks:
#114 Winter 2012 [MAGAZINE + CD]
(Musicworks -- Canada )



Price: $15.95



In Stock
Winter 2012 issue with 8 track CD; on the cover and featured: Tim Hecker; Featured Pheeroan Aklaff; Featured: Michachu & The Shapes; Profile on Zosha di Castri. Articles on Circuit Bending; Sonic Geography of NYC, Time Square.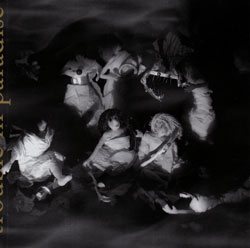 Phantom Orchard Orchestra:
Trouble In Paradise
(Tzadik -- USA )



Price: $13.95



Out of Stock
Phantom Orchard, the duo of Zeena Parkins and Ikue Mori, is expanded with 5 performers representing some of the most exciting women in modern creative experimental music, releasing a surprising, riveting, and amazing album.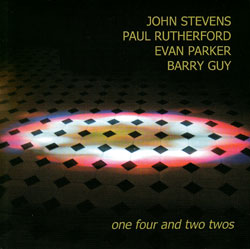 Stevens / Rutherford / Parker / Guy:
One Four and Two Twos (1978/79/92)
(Emanem -- Great Britain )



Price: $16.95



Out of Stock
John Stevens organized this improvised quartet session in 1978 at Riverside Studios, London with Paul Rutherford, Evan Parker and Barry Guy, originally released on the View and Konnex labels, here with 2 unreleased duo performances.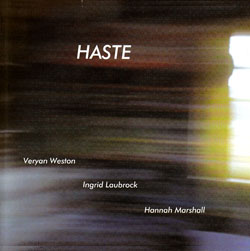 Weston / Laubrock / Marshall:
Haste
(Emanem -- Great Britain )



Price: $15.95



Out of Stock
After several years together the trio of Veryan Weston (piano), Hannah Marshall (cello), and Ingrid Laubrock (saxophone), illustrate their empathetic and authoritative style in 3 recordings live from Barcelona at the 2011 Festival Internacional de Improvisacion.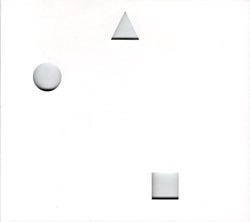 Zorn, John:
The Concealed
(Tzadik -- USA )



Price: $13.95



Out of Stock
John Zorn brings together two of his most admired groups, Bar Kokhba and The Dreamers, for an album of beautiful, melodic, exuberant and dynamic improvisation performed by a masterful set of players including Joey Baron, Trevor Dunn, John Medeski, &c.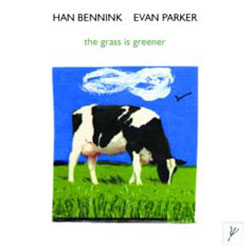 Bennink / Evan Parker, Han:
The Grass Is Greener
(psi -- Great Britain )



Price: $16.95



Out of Stock
Dutch percussionist Han Bennink meets tenor saxophonist Evan Parker for their first duo release recorded in the studio in Gateway Studios, London, 2000.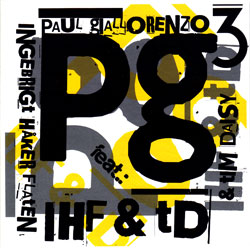 Giallorenzo, Paul Trio featuring Ingebrigt Haker Flaten and Tim Daisy:
Pg3 IHF & tD
(Not Two -- Poland )



Price: $19.95



In Stock
Chicago-based pianist Paul Giallorenzo trio with fellow Chicago drummer Tim Daisy and Norwegian bassist Ingebrigt Haker Flaten performing a set of Giallorenzo compositions that balance melodic and free moments with authoritative playing.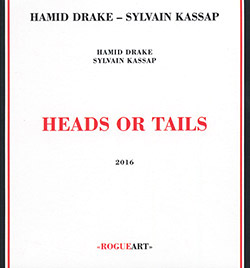 Drake, Hamid / Sylvain Kassap:
Heads Or Tails [2 CDs]
(RogueArt -- France )



Price: $23.95



Out of Stock
A masterful fountain of melodic ideas, intriguing rhythms, and exceptional technical skill from the duo of Hamid Drake on drums and frame drum, and Sylvain Kassap on clarinets and chalumeau, recording live at the France Musique at Studio Theatre dŐAlfortville and in the studio.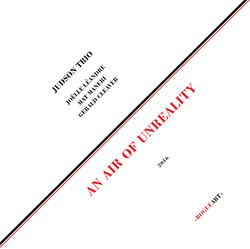 Judson Trio (Joelle Leandre / Mat Maneri / Gerald Cleaver):
An Air of Unreality [VINYL]
(RogueArt -- France )



Price: $19.95



Out of Stock
A live performance at Judson Church in Manhattan as part of the 20th Vision Festival from the NY/France free improvising trio of Joelle Leandre on double bass, Mat Maneri on viola, and Gerald Cleaver on drums and percussion, two tracks of steadily building, incredibly compatible dialog.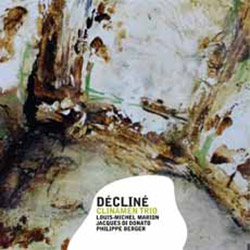 Clinamen Trio (Marion / Di Donato / Berger):
Decline
(Creative Sources -- Portugal )



Price: $15.95



In Stock
Roman philosopher Titus Lucretius Carus named "Clinamen" the unpredictable (in time and space) swerve of atoms falling in the void, which aptly describes the unexpected directions taken in subtle free improvisation from this French trio, led by bassist Louis-Michel Marion, with Jacques Di Donato on clarinet, and Philippe Berger on viola.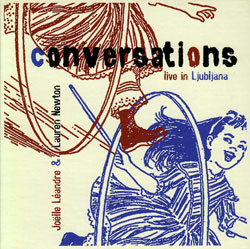 Leandre, Joelle & Lauren Newton:
Conversations live in Ljubljana
(Not Two -- Poland )



Price: $20.95



Out of Stock
French bassist Joelle Leandre and US vocalist Lauren Newton recorded these duos live at Club Gromka in Ljubljana, Slovenia in 2010; absorbing and unusual interactions between two significant improvisers.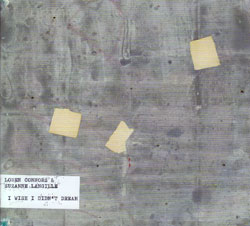 Connors, Loren & Suzanne Langille:
I Wish I DidnŐt Dream
(Northern Spy -- USA )



Price: $12.95



Out of Stock
The first duo in 14 years between guitarist Loren Connors and vocalist Suzanne Langille inspired by and using slides of MP Landis' WD series of paintings, which he created live during music performances.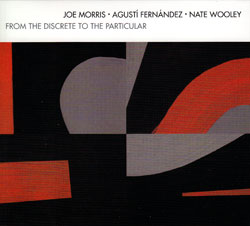 Morris / Fernandez / Wooley:
From The Discrete To The Particular
(Relative Pitch -- USA )



Price: $13.95



In Stock
An incredible trio of two New York improvisers - Joe Morris on guitar and trumpeter Nate Wooley - with European free improv legend pianist Augusti Fernandez, for 7 remarkable free improvisations of astounding skill.