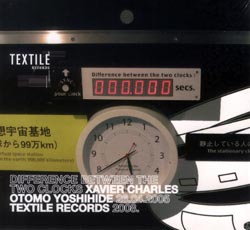 Difference Between the Two Clocks, the first effort sprung from the collaborative efforts of multi-instrumentalist Xavier Charles and Japanese experimental musician Otomo Yoshihide, is spent in search of correspondences between various orientations toward time and certain musical procedures. The latter generally enacts the forms — hindsight, amnesia, a certain presence in the moment — while the other goes through the procedures - inexact imitation, hazy refraction's, a pell-mell switching and conflating of terms, and, finally, a sort of shell-shocked ambience.
In this kind of relation, the duo never sounds cerebrally detached or merely secondhand. They engage each other like gears, particularly on the opening work. The two focus solely on texture at first, building a certain substance out of spidery, skeletal guitar and smeared layers of sputtering motors, and then give rise to fuzzy emissions of clarinet and non-beat rhythms that act as a kind of inbuilt commentary, upsetting the stomach of the piece and causing all sorts of groaning and fragile, gritty guitar grating.
Further tracks are carried out with more of a customary clarity and polished precision. The second track is a drone piece, issuing a more sustained sense of sound and space. It's a drone with internal motion, though, attested to by the fact that as the limpid clarinet and detuned guitar phrases spool on, the piece gradually becomes queasy, poisoned; its density decreases, revealing rather than creating a subterranean current of volatility in the seemingly idyll convection. The solid half-melodies that were submerged behind the accruing layers of grit and slit of earlier tracks also become microtonal in later stages, and they shiver through the mix like distant aftershocks. Only a small number of perspectives are canvassed, yet those that are find complex and superbly controlled structures that allow for a play of curiosity and stimulation in their assessment.
Comments and Feedback: